Click on the link below to use our Artgrid discount code and get 2 months free at Artgrid (over 16% off)!
Artgrid is a subscription based stock video site that starts at $299/year (use our unique Artgrid discount code to get 2 months free). That price gets you unlimited access to the company's extensive library of quality stock footage, which it sources directly from indie filmmakers all over the world. In fact, we regularly source extra video footage for our YouTube videos from Artgrid.
If you are also looking for music to use in your commercial video projects, check out our Artlist discount code.
Artgrid isn't your average stock video site. Firstly, as filmmakers themselves, they understand the industry and what it takes to succeed. Subsequently, as a company, they offer a platform that allows you to express your creativity and be properly paid for it.
They focus on filmmakers and creating opportunities in today's dynamic world of film production.
The website is designed to provide full creative freedom to filmmakers. As a result, Artgrid delivers simplicity with unlimited story-driven stock footage from today's top cinematographers.
The Catalogue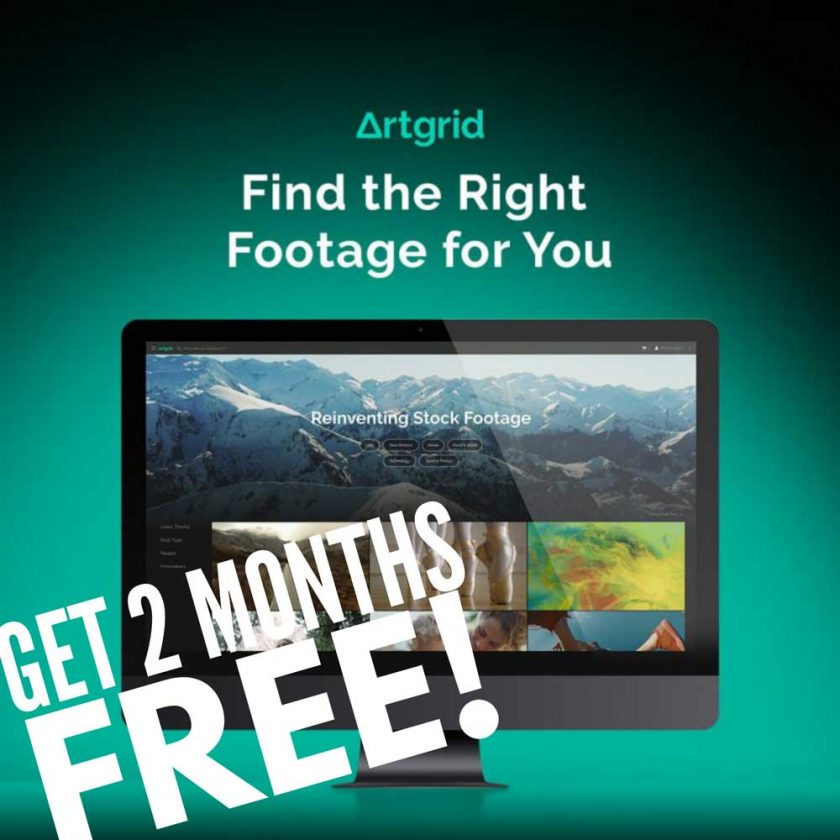 Firstly, filmmaking is their passion. This means Artgrid understands what today's creative filmmakers need to produce amazing films. It's not a marketplace full of random shots, but a catalogue focused on footage that inspires creativity.
Finally, discover story-driven footage from today's top cinematographers from around the world.
The Artgrid Mission
Most importantly, your work and your time are valuable. Therefore Artgrid's mission is to provide you with the best stock footage available in a simple and easy way that fits into your creative workflow.
Firstly, they give you one simple license and full access to our entire footage catalogue for an affordable annual subscription fee. In addition to this the user interface makes it fast and easy to find exactly the clips you need and download it immediately (psst when now have an exclusive Artgrid discount code).
Finally, the quality of the footage is second to none, shot with the best cameras available today like Arri, Red and Phantom flex.
Can I use this Artgrid discount code on all plans?
Yes, Artgrid offers 3 plans for every type of video creator. This means from Youtubers to ad agencies to major cinematic productions, you will find a pricing plan that will fit perfectly with your content and budget.
In addition to this all plans have the same unlimited license and full access to every clip in the catalogue (make sure you use the Artgrid discount code above!). The difference between them is based on the footage format you can download.
3 annual plans:
Junior – HD $25/month ($299 billed annually)
Creator – 4K-8K $40/month ($479 billed annually)
Professional – 4K-8K + RAW/LOG $50/month ($599 billed annually)
Find the perfect footage fast!
Most importantly, Artgrid has developed an innovative solution to the painful process of digging through hundreds of random clips.
As a result all of the footage is presented as part of a story, created by the filmmakers rather than standalone clips. This means the site is constantly growing with new footage added daily so you will always have fresh content for your videos.
How does a Story-Driven catalogue stand out?
Unlike other stock footage catalogues, Artgrid is not just a tool to fill in those missing clips in your edit. As a result their content is designed to inspire your creativity while supporting your creative workflow with story-driven content from beginning to end.
To sum up, with just one simple license, you can use the footage without having to worry about additional fees or expiration.
So what are you waiting for? make sure you follow our Artgrid discount code link above to get 2 months free!