If you're a regular follower of ADAPT, you'll know that we're big fans of the royalty free music and sound effects (SFX) site Artlist. In fact, we source all the music for our YouTube videos from the platform.
Since its humble beginnings, as a bootstrapped music licensing company in 2016, Artlist has
worked to expand its catalogs and services, with the eventual aim of providing everything a video creator needs.
The first expansion move was to launch the stock footage site Artgrid in the spring of 2019. This was closely followed, a year later, with the release of a vast library of high-quality sound effects. The third move was the acquisition of digital assets marketplace Motion Array. And, recently we saw another major addition, with Artlist purchasing FXhome. This enabled the brand to offer its users the HitFilm visual effects (VFX) and video editing software, becoming a true all-in-one video asset company.
Artlist Max: All-in-one platform for video creators
Following on from this, Artlist has just launched a new subscription plan that bundles most of these assets together. An 'Artlist Max' subscription gives video creators access to royalty free music and SFX, stock footage, video templates and plugins, as well as the HitFilm video editing software.
What's more, is that an 'Artlist Max' subscription is much cheaper than subscribing to each service individually. So, you save money as well as time. You can use our Artlist discount code to get 2 months free (saving 17%).
Artlist Max pricing plans (with Artlist discount code)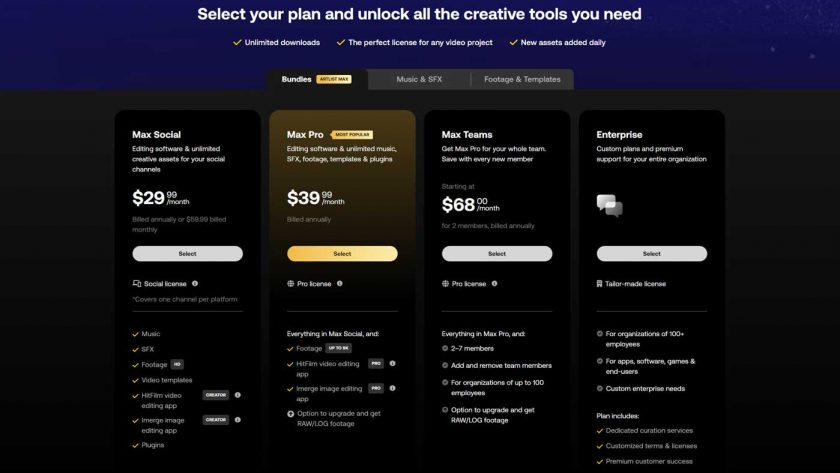 Max Social
Social media use only
Regular price: $29.99/month ($359.88 billed yearly)
With discount code: 2 months free (save $60)
Max Pro
Unlimited use
Regular price: From $39.99/month ($479.88 billed yearly)
With discount code: 2 months free (save $80)
Teams
Unlimited use
2–7 members
Regular price: From $68/month ($816 billed yearly)
With discount code: 2 months free (save $136)
What's next for Artlist
'Artlist Max' is a huge step forward towards Artlist's ultimate goal to "create a multi-asset search
experience that is connected to the users' preferred editing software and enables an ideal, streamlined process of video creation."
However, creators who are looking for specific assets will still be able to purchase the individual subscriptions, such as music and SFX, stock footage and video templates (as part of the footage subscription).
Additionally, Artlist's stellar licensing terms remain in place. Once you've used our Artlist discount code, you can download as many video assets as you like per month, with no restrictions. Any film or video projects that you publish as a subscriber are covered forever, even after you cancel your subscription.