Whether you're looking for an electronic beat to use in your YouTube intro, or a chilled background track for your latest product review, it's important to source royalty free music.
If you use music that you don't have a license for, then you could get hit by a copyright strike. The last thing you want is to spend hours creating the perfect YouTube video and then be prevented from monetising it.
Thankfully, there are several royalty free music sites that offer a catalogue of music for you to choose from. You can simply download your preferred music tracks for free or a one-time fee and use them in your YouTube videos and even other commercial projects.
Best royalty free music sites
Artlist
The best royalty free music site for YouTubers, social media influencers and filmmakers
From just $9.99 (US) per month
Founded in 2016, Artlist is now our favourite place to source royalty free music for our YouTube videos. The site offers an extensive library of quality music, which it sources directly from indie musicians all over the world. Music from all genres is available, so you can be sure to find something that fits your video style. The site is also really easy to navigate, thanks to clever filters, and it's regularly updated with new music and sound effects.
A standard yearly subscription to Artlist costs just $199/year, which covers all commercial uses. However, Artlist recently launched the 'Personal' plan, which offers YouTubers and social media influencers an even cheaper option, at just $120/year.
Regardless of which plan you choose though, you can use our exclusive Artlist discount code to get 2 months free (over 16% off)! You get unlimited access to all music on the platform. And, any film or video projects that you publish as a subscriber are covered forever, even after you cancel your subscription. That's a great deal for any content creator!
Epidemic Sound
From $9.00 (US) per month
Epidemic Sound has been in the royalty free music game for a long time. Established in 2009, the platform offers a wide range of music to choose from. As well as complete music files, you can also download individual stem files for each track. Stem files are individual elements of a music track, such as drums, bassline, lead and vocals. So, if you just want to use the drum stem in your project, you can easily do so with Epidemic Sound.
The platform offers three subscription levels aimed at different use cases. 'Personal' costs $108/year, 'Commercial' costs $228/year, and 'Enterprise' is priced based on your specific requirements. Regardless of which plan you choose though, you can use our exclusive Epidemic Sound discount code to get 10% off for 12 months! It's a great option for many content creators. However, Artlist gets our top spot thanks to its simple and affordable subscription model that covers everything.
PremiumBeat
An offshoot of Shutterstock, PremiumBeat is another reliable site to source high-quality music tracks for your videos. Like Artlist and Epidemic Sound, the platform has a diverse and sizable collection of royality-free music. These are curated by genre, mood, artists, instruments, beats per minute, and duration.
Tracks can be purchased individually for $49. Alternatively, a $64.95/month subscription gets you five tracks (which works out at $12.99/track). While PremiumBeat is the most expensive option on this list, it might be a good place to source one or two tracks for a special project.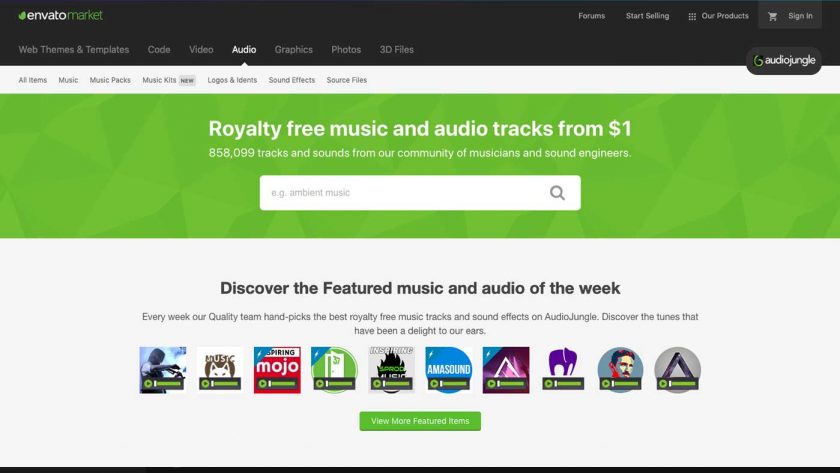 Audio Jungle
From just $1 (US) per track
Like PremiumBeat, royalty free music tracks on AudioJungle can be purchased individually or as part of a monthly subscription. Individual tracks can be licensed for as little as $1, making AudioJungle a very affordable option. However, this license normally only covers use in a single project, so it's not as flexible as some of the other platforms.
Additionally, while you can find some great tracks for corporate projects, we find that the music can sound too generic for YouTube videos at times.
YouTube Audio Library
YouTube's own archive of royalty free music is also worth checking out. You'll be hard pressed to find anything unique on this platform, since many YouTubers take advantage of this service. However, all tracks are completely free to use (some requiring attribution in the YouTube video description).
Like the other platforms discussed in this article, you can download music and sound effects to work offline. However, if you need to quickly swap out a background track in an existing YouTube video—due to a copyright claim for example, you can do so thanks to the integration with YouTube Studio.
Share this post