If you're a video creator, like us, you've probably used popular video editing software programs like Adobe Premiere Pro and Apple's Final Cut Pro. These have both been around since the turn of the century and are often considered the gold standard of professional grade video editors.
With that being said, we've recently come across an alternative visual effects (VFX) and video editing software that's rammed with features perfect for the modern YouTube and social media videographer—HitFilm by Artlist.
HitFilm has actually been around for some time; it was originally developed by FXhome as a replacement for EffectsLab Pro, which was the software company's initial video editor. However, last year Artlist—our go-to source for royalty free music—acquired FXHome following its previous acquisition of the video asset marketplace Motion Array. Since then, the two teams have combined resources and expertise to develop HitFilm into a video editing package like no other.
One of the major upgrades that Artlist has brought to the table is the inclusion of royalty free music and sound effects (SFX). Even users of the free version of Hitfilm have access to a selection of copyright free songs to use in their videos. Combined with all the extra features included in the pro version, this gives HitFilm an edge against most other video editors on the market.
With that being said, we've tested out both versions, so you don't have to. Let's dive straight into the review of HitFilm Free, which in our opinion is one of the best free video editing software programs on the market today.
HitFilm video editing software review (Free version)
The free version of HitFilm, formally HitFilm Express, is a polished video editor with an easy-to-use interface. Whether you're editing your very first social media video, or you're an experienced videographer, you'll find the interface easy to navigate and use. Artlist certainly delivers on its claim that Hitfilm is 'built for all creators'. The drag-and-drop transitions and ready-to-use presets are of particular note here. These make it possible to stitch together clips, into a professional edit, with very little work.
HitFilm tutorials
For those switching from a different video editor, the new 'Learn Panel' speeds up the transition process, with handy guides to Hitfilm's layout and toolkit. This can be toggled on and off through a simple button, to the right of the top menus.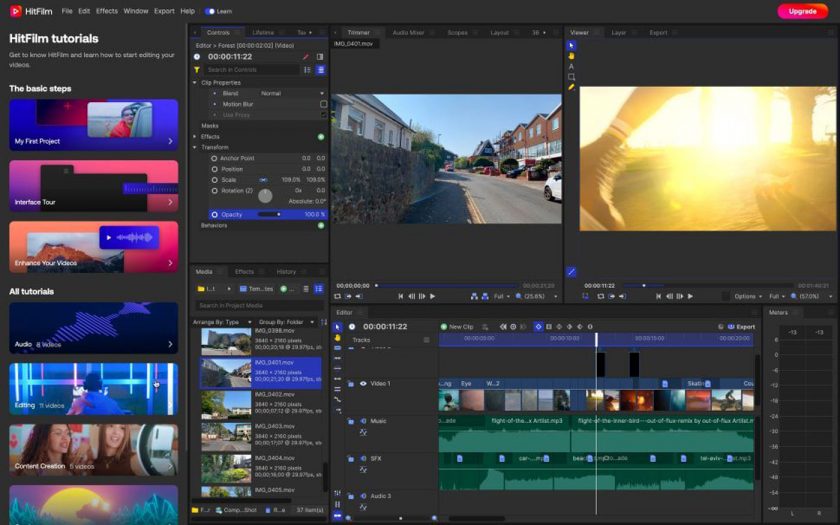 If you're completely new to video editing software, the three videos displayed on the 'Learn Panel' explain the basics. You'll learn how to manage your media and export your finished product. Digging deeper into the learn feature will reveal an extensive collection of tutorial videos. At the moment, the HitFilm 'Learn Panel' ships with 39 tutorial videos designed to teach you most aspects of filmmaking, from green screen work to changing the pitch of audio.
The idea is that new users can make progress within their video project and learn more about each of HitFilm's features and functions as they need them. It's a great addition for anyone to learn the platform quickly, no matter their level of video editing experience.
Hitfilm advanced video editing tools
The beginner-friendly toolset doesn't limit Hitfilm's capabilities; under-the-hood, it's a very powerful video editor. Beyond the basic suite of tools, advanced text features can be used to add subtitles or craft stylish 2D and 3D titles. Additionally, the included visual effects package makes HitFilm a true all-in-one post-production program. Keying feels familiar and the colour correction and grading tools yield professional results.
For a genuine alternative to Adobe Premiere Pro and Adobe After Effects, you'll still need to upgrade to HitFilm Pro. However, you'll be hard pressed to find a more capable free video editor than Hitfilm. In fact, as we touched upon earlier, HitFilm now comes with a library of royalty free music, sound effects and templates. And, the free version of HitFilm even includes 10 songs, 25 audio effects, and 5 ready-made templates. Audio can also be automatically synced with video footage, using the 'Audio Sync' feature, for a seamlessly fast workflow.
For comparison, Apple's Final Cut Pro offers a free 90-day trial, then a $300 fee to officially purchase. Some customers claim that it's not ideal for first-time users because of its pricing structure and utility. Further, Final Cut Pro is only compatible with MacOS, which restricts its user base to Mac customers only. On the contrary, like Adobe Premiere, HitFilm is compatible with both Microsoft Windows and Mac operating systems.
HitFilm Pro review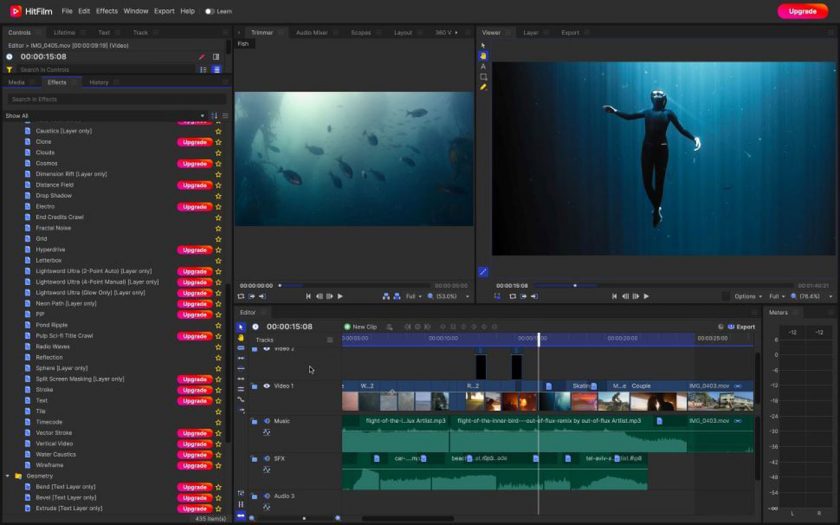 Like any other platform that offers a pricing model alongside its free alternative, HitFilm Pro offers a wider range of video editing capabilities. While a large range of tools are available for use in the free version, some of the more advanced features are watermarked. This includes the 360-degree animated lasers, blur, and bulge effects. On the audio side, the noise reduction, equalizer, and dopple shift options are also watermarked. However, in HitFilm Pro, these features are completely unlocked.
With that in mind, we think that HitFilm Pro is better option for YouTube and social media video creators. It offers a larger array of royalty free music, sound effects, and templates to use in videos. Currently, HitFilm Pro includes 200 songs, 200 audio effects, and 50 ready-made templates.
Additionally, in the free version, video can only be exported up to HD. However, HitFilm Pro supports video exports up to 8K.
Additional special effects tools with HitFilm Pro
If that's not not enough, HitFilm Pro truly hits unicorn status when it comes to special effects. With the Pro version, users not only have access to 950+ VFX and presets, but also Foundry's 3D camera tracker, world-class text, chroma key, and so much more. Some other features worth mentioning are the dynamic colour correctors, particle simulators, and masks.
For those doing 3D work, you can also seamlessly import 3D models into any scene and even access a 360-degree viewer that can be used with peripheral recording devices.
One-time purchase and subscription pricing options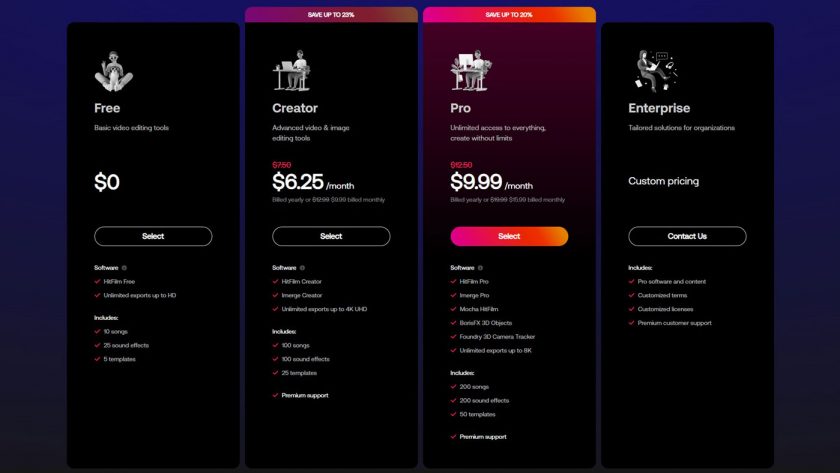 Subscription-based pricing plans
With Artlist's acquisition of FXhome, Hitflim Pro is now available through two subscription-based tiers. These offer different features for a monthly or yearly fee. Currently, you can also get up to 25% off through a special launch offer.
Free
Software: HitFilm Free
Exports up to HD
Includes: 10 songs, 25 sound effects and 5 templates
Creator
Software: HitFilm Free and Imerge Creator
Exports up to 4K UHD
Includes: 100 songs, 100 sound effects and 25 templates
Regular price: $7.50/month ($90 billed yearly)
Offer price: $6.25/month ($90 billed yearly)
Pro
Software: HitFilm Pro, Imerge Pro, Mocha HitFilm, BorisFX 3D Objects and Foundry 3D Camera Tracker
Exports up to 8K
Includes: 200 songs, 200 sound effects and 50 templates
Regular price: $12.50/month ($150 billed yearly)
Offer price: $9.99/month ($119.88 billed yearly)
Perpetual pricing plans
If you're not a fan of subscriptions, fear not: perpetual licences for HitFilm Pro and Imerge Pro are still available for a one-time fee. Currently, Hitfilm Pro costs £308.86 (UK) / $364.50 (US). This includes 12 months of updates and technical support. It also comes with a three-seat license, so users can run the software on up to 3 computers simultaneously. Once purchased, users can use the Hitfilm Pro software forever. However, to take advantage of the latest features, they can choose to renew their license for another 12 months for just £247.09 (UK) / $291.46 (US).
HitFilm VFX and video editing software
Verdict
If you're looking for free video editing software, then HitFilm is one of the most capable options on the market. For those looking for a true alternative to Adobe Premiere Pro or Apple's Final Cut Pro, then it's certainly worth upgrading to HitFilm Pro.
Pros
Professional-grade software for free
Runs on Windows and MacOS
New embedded training videos
Pro version is true alternative to Adobe Premiere Pro and Adobe After Effects
Pro version includes very powerful VFX tools
Affordable subscription and one-time purchase options
Cons
High system requirements
No direct option to export videos to DVD or Blu-Ray
Not compatible with Linux operating systems