Page 1 of 2
This article originally appeared on Cadence Mag and has been edited and republished with permission. Words and photos by Scot Whitlock.
Exploring France means different things to different people. For some, it means a weekend city break in bustling Paris. Others embrace the lure of the Mediterranean sun, sea and mass of lively resorts. But, an increasing number of travellers find these tourist hotspots suffocating. These independent spirits value timelessness; they resent hurry and want something different, something inspiring and uncharted.
The Creuse and the Corrèze are such places. If you take time to peruse the bookshelves in your local bookshop, you will find it annoyingly devoid of any reference to these great examples of 'Hidden France'. However, if you're looking for high-quality cycling, then look no further! Set in the green heart of France, the varied terrain, stunning scenery and virtually traffic-free roads of both areas provide a great location to push those pedals. From climbing and descending some of the many local river gorges, to more relaxing undulating routes alongside lakes, rivers and forests—there are cycle routes suitable for every type of rider.
Getting here
Plane: There are seasonal flights to Brive de Vallée de la Dordogne airport or year-round flights to Limoges airport from the UK.
By train: Eurostar to Paris and then jump on the TGV to La Souterraine.
By road: Guéret is 672 km from Calais.
Day One: From Faux La Montagne to Aubusson (65km)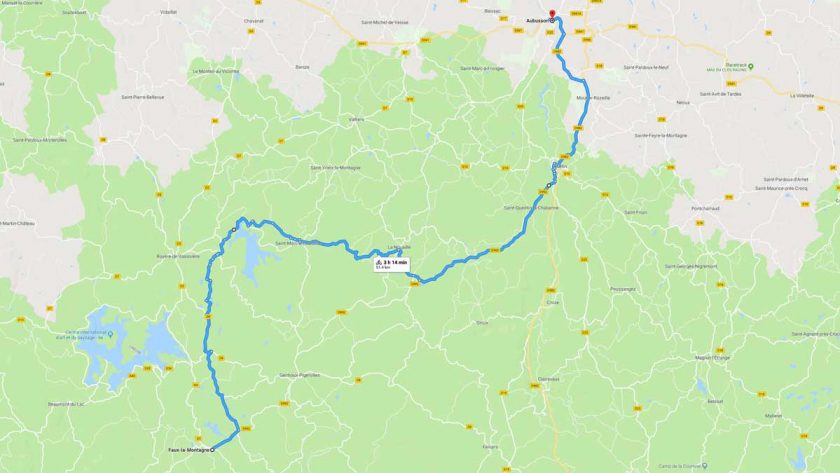 I set off from the lovely Faux La Montagne, north on 'La véloroute Creuse' towards Aubusson, passing the Vassiviere and Lavaud-Gelade lakes. If you are not in a great hurry, there is so much to explore and appreciate on the route. It's a land of green hills topped by forests and valleys with meandering rivers and streams; it will make you feel more alive.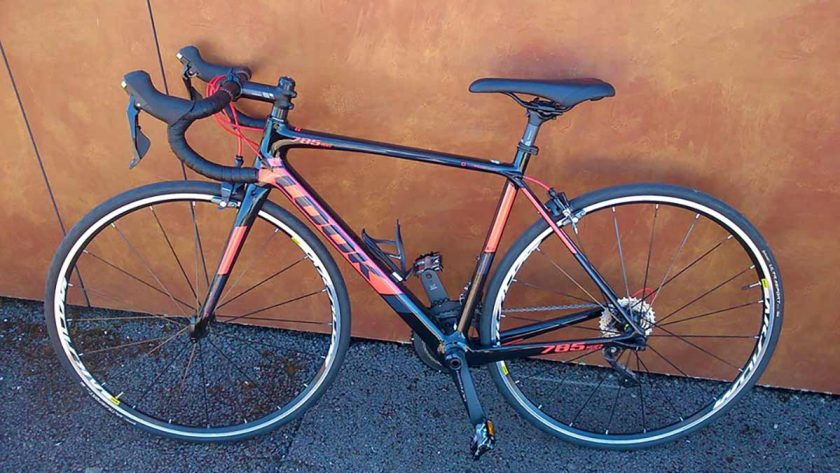 The bike was a dream: surprisingly I had been let loose with a pricey lightweight racer. The Look 785 d'huez was a joy in carbon, aesthetic, responsiveness and durability.
The route mostly runs through countryside dotted with farming villages. With the roads mostly empty, it is ideal for exploration on two wheels. Quicker than expected, I entered the small and picturesque town of Felletin. The birthplace of the Marchoise tapestry, the town is also home to a beautiful church that originates from the 12th century.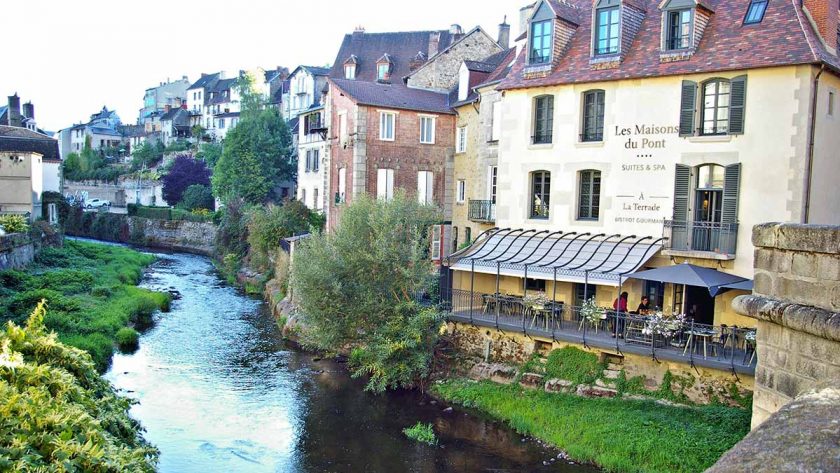 A rather rapid 10 km later and I had arrived in Aubusson. This charming town is famed for its tapestry making, due in part to the unusual chemical composition of the River Creuse (running through the town) that naturally fixed the pigments to the tapestries. A stroll through the town reveals picturesque narrow streets, large houses with theatrical turrets, and fountains. Granite, an omnipresent material in the town's architecture, gives the place undeniable charm. Few would argue with the town's inclusion in Plus Beaux Detours de France.
We checked into our hotel located in the sublime old quarter. Les Maisons du Pont is a stunning building which has been lovingly refurbished to provide contemporary décor while remaining true to its ancient heritage.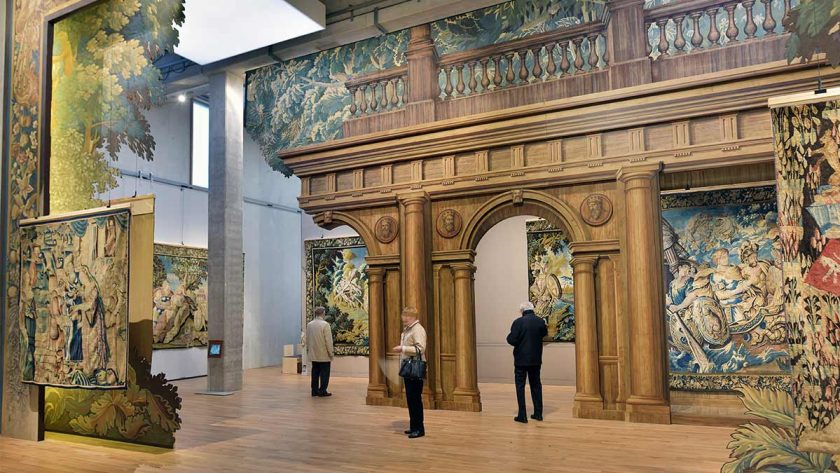 Aubusson tapestry was recognised by Unesco for its cultural heritage in 2009 and we had been invited to discover more at the town's main attraction the Cite international of tapestry. Opened in summer 2016, the museum is home to an eclectic congregation of tapestries from some of the most famous names. The highlight is the Tolkien project, an ambitious undertaking that began in 2013 after negotiations with the Tolkien family. The plan is to produce a collection of tapestries depicting the writer's work and ideas by 2021.
Dinner was a gastronomic indulgence at Le Bistrot Gourmand 'A la Terrade' which offers its guests informal cuisine of the highest quality, in a relaxed atmosphere. The restaurant is spread over two floors in a historic riverside building that was designed and decorated in 2016 by an interior architecture practice.
Day Two: From Aubusson to Boussac (85km)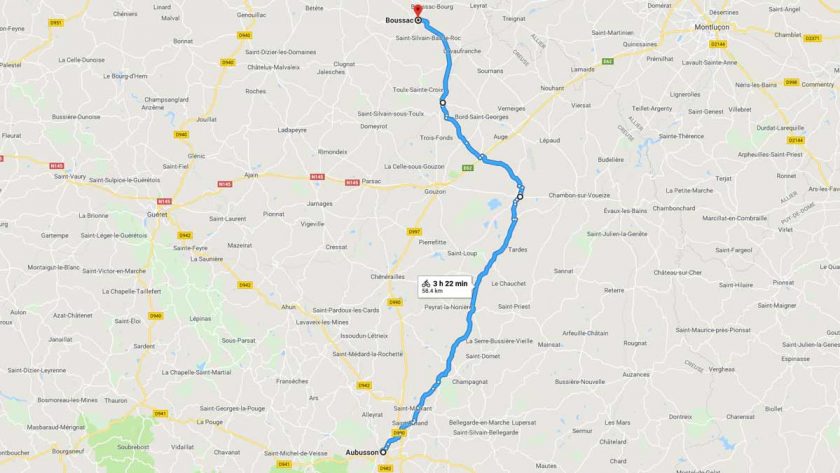 The weather was glorious—possibly too glorious for a lengthy stint in the saddle (the temperature was expected to reach 31°c). The undulating road to Boussac, covering 85 km, leaves Aubusson northwards on 'La Veloroute Est' which, after a short while, climbs gradually. The little roads through the charming villages of Saint-Domet and Lussat are attractive and mostly traffic-free. My sunglasses had become essential, not only to prevent sun glare but also to protect my eyes from local insects.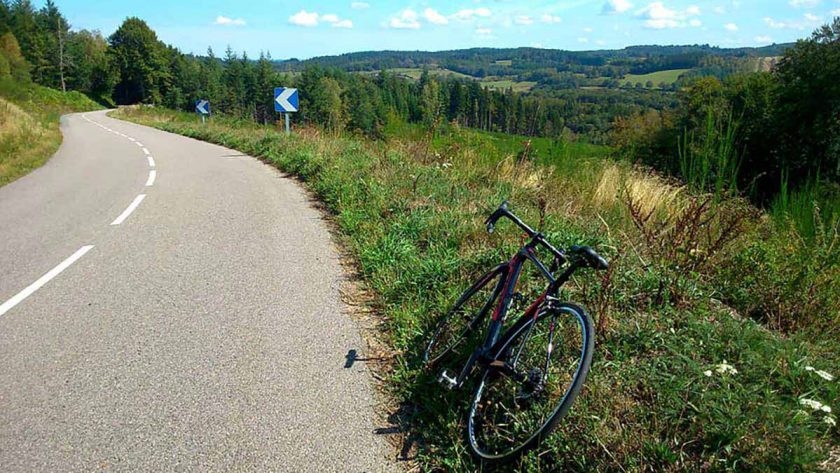 Forests and fields flank the roads to étang des Landes, an ornithological reserve classified in 2004. The reserve occupies an area of 165,584 hectares and protects a pond and its surrounding environment. Encouragingly, it shelters more than 950 animal species and nearly 500 plant species. The walk around the lake takes approximately 2.5 hours and is well settled, signposted and largely level.
Even in the height of summer, this glorious hinterland is remarkably quiet and uncrowded, with a pace of life that is far more appealing and relaxing. It was lunchtime when I arrived in Chambon-sur-Voueize. The charm-filled village is situated on the boundaries of the Limousin, the Bourbonnais and the Auvergne. Not much was open, apart from the occasional bustling restaurant; it's a great place to rest, especially by the dramatic abbey-church.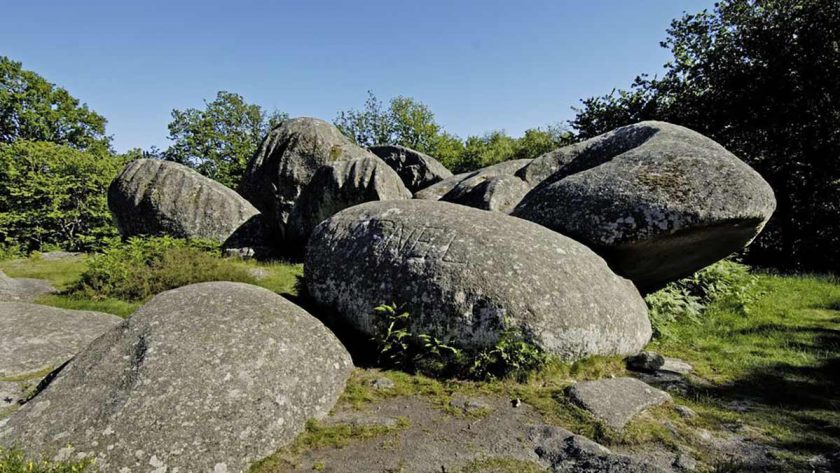 Suitably rested, I pushed on towards Boussac. The heat and the climbing increased to a crescendo at Toulx Ste Croix before a speedy descent to Pierres Jaumâtres. Located just on the outskirts of Boussac, this is a magical place dominated by a collection of stone giants. So many legends linger over these enormous blocks of granite, which emerge and stand in an improbable balance. The site also offers a panoramic view of Berry, Bourbonnais and the Boussac Valley.
I was enjoying myself immensely in the saddle; the changing views and the colours of the onset of autumn kept my concentration. It's sad to think that most people pass through this rural idyll without ever realising how much they are missing.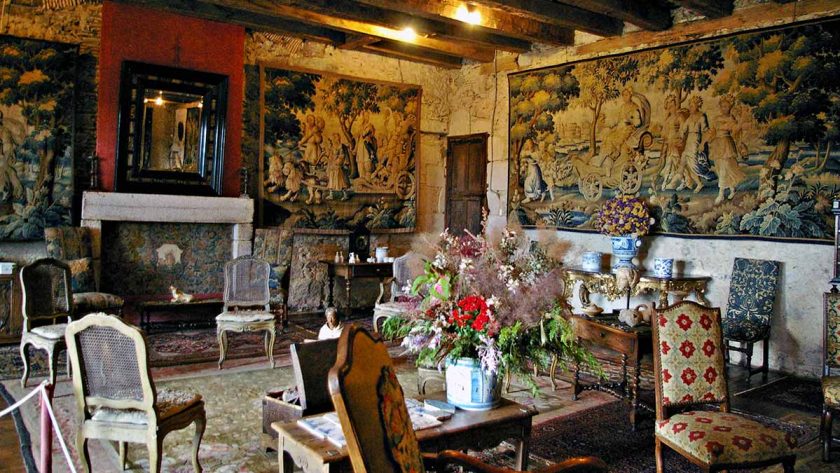 Practically every village or town in the area has something of interest to offer the visitor, and Boussac is no exception. The Castle of Boussac is famous for the 'Dame à la Licorne' tapestries which were discovered by the writer George Sand, who often stayed at the chateau. Interestingly, the owner Madame Blondeau still resides in the chateau, alone. Over time she has collected a myriad of exhibits, including canes, travelling cases and the exemplary tapestries which are used so effectively to temper the sobriety of the stone.
The Chateau has not had a placid history; it dates from the 12th, 13th and the beginning of the 15th century and was destroyed by those 'pesky' English. Guided tours are available, but visitors are encouraged to explore for themselves—there is plenty to see.
Our base for the evening was in Nouzerines (7km from Boussac). La Bonne Auberge is a lovely Logis establishment with a respected gastronomic restaurant (which was unfortunately closed during our visit). The six rooms are a bucolic delight, decorated with care, and each have a different atmosphere; we were ensured a serene nights sleep.
Whether you decide to strike out on your own or follow the path/s we have sleuthed out for you, we encourage you to simply explore and allow yourself to fully immerse in rural France at its best. In Part Two of our journey, we will focus on the delights of the Corrèze.
For more information on the Creuse: click here
Page 1 of 2