The iconic road trip is a rite of passage for many. However, one day of junk food and forced sitting in the tight confines of a car may be all you can stomach. If you'll be hitting the road this season, keep the following tips in mind to stay healthy and maintain a sunny disposition along the journey.
Get Exercise on the Road
Prolonged stationary activity, such as sitting in a car for multiple hours on end, can cause neck and back pain, stress, and in extreme cases, deep vein thrombosis – a condition in which blood clots can form in the legs after sitting for long stretches. Prevent any health issues by following these tips:
Move at pit stops: When you stop at rest stops or roadside attractions, take a few extra minutes to stretch your muscles. Looks for parks or playgrounds where the children's playground equipment can double as gym equipment. As an alternative, look for the brown roadside signs that indicate state parks or nature preserves. Most include walking trails. Even historical markers by the road will have a short distance to walk to read placards or to see historic sites. All get the body moving. Do you have kids with you? Five minutes of tag or a quick running race to the slide and back will be enough to feel healthier and less tense when you reenter your car.
Stretch at the wheel: Even while driving, you can undertake a few simple moves. Changes to your body posture can alleviate muscle and spine stress. While sitting, squeeze glutes and release them slowly, tighten abs and relax to the beat of the music on your radio, and try slow neck rolls when safe to do so.
Stretches in the passenger seat: When you're the passenger rather than the driver, it's even easier to get your body moving. Try abdominal stretches, extending your torso as you sit and raising your feet off the floor. This naturally elongates your spine and improves your posture.
Hotel Room Workout
Even if your hotel lacks a gym (or anything resembling a gym), you can still get a workout in your room. Try a 15-minute yoga practice or get a toning and cardio workout without any equipment via a bodyweight program. Need to get outdoors? Ask the front desk personnel for directions to a nearby jogging or bike trail. Easy items to bring from home to improve any hotel room workout include: a yoga mat, resistance bands, running shoes.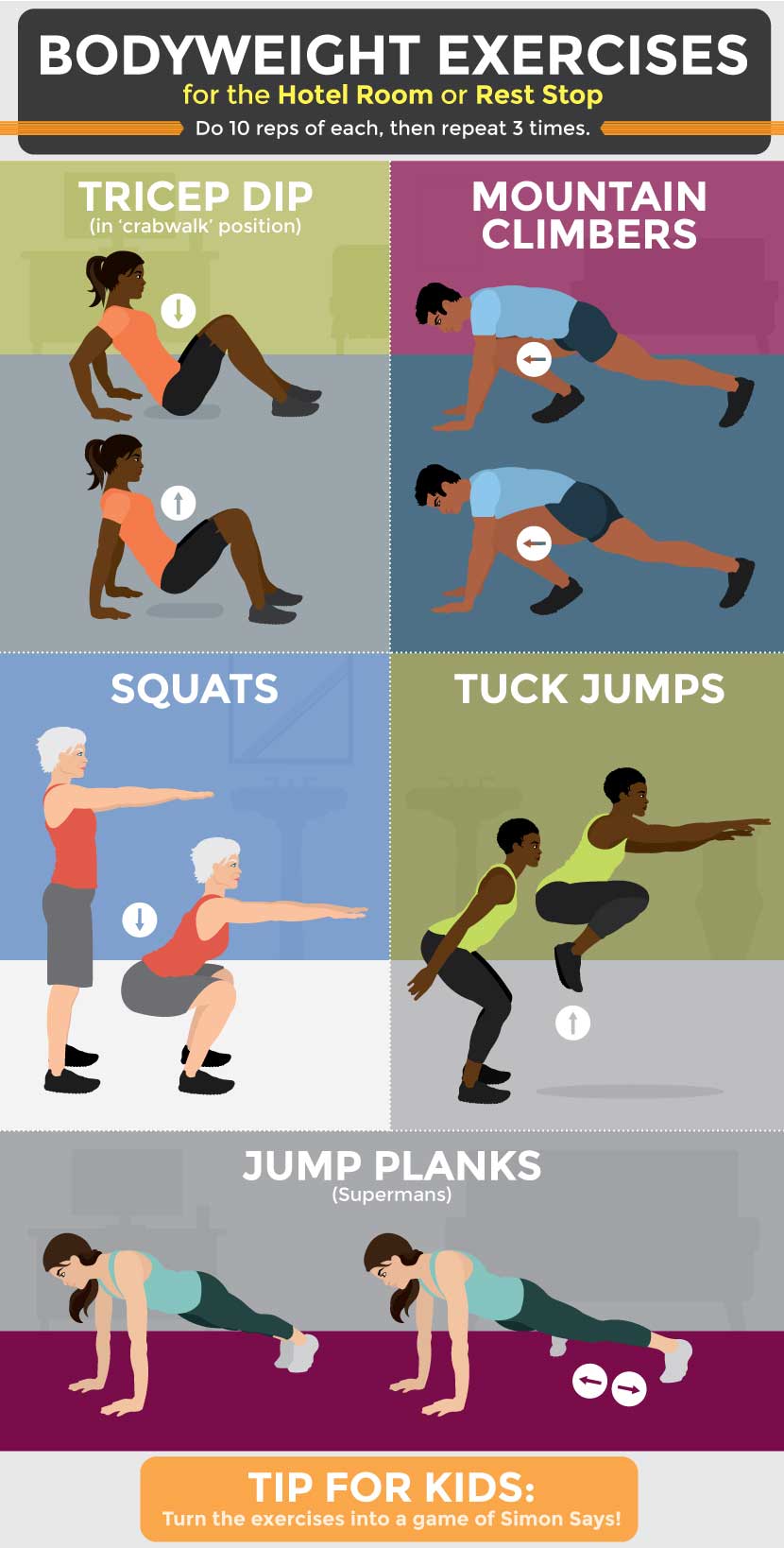 Healthy Road Trip Eating
Healthy eating and road trips can go hand in hand if you know what to avoid and what to buy (and eat) instead. Think outside the (fast-food snack) box to eat well on a road trip without feeling deprived.
Patronize farmers' markets and food trucks instead of fast-food joints: Find farmers' markets along your road trip route by checking Facebook pages or visitors' information websites of cities before you arrive. Most public markets occur on weekends and at least one weekday throughout the summer and offer a taste of local culture in addition to fresh foods. Or try food truck fare. Food trucks are gaining popularity even in small towns. Use an app such as Food Truck Fiesta or Eat St. to easily find food truck locations in both major and minor cities across the U.S.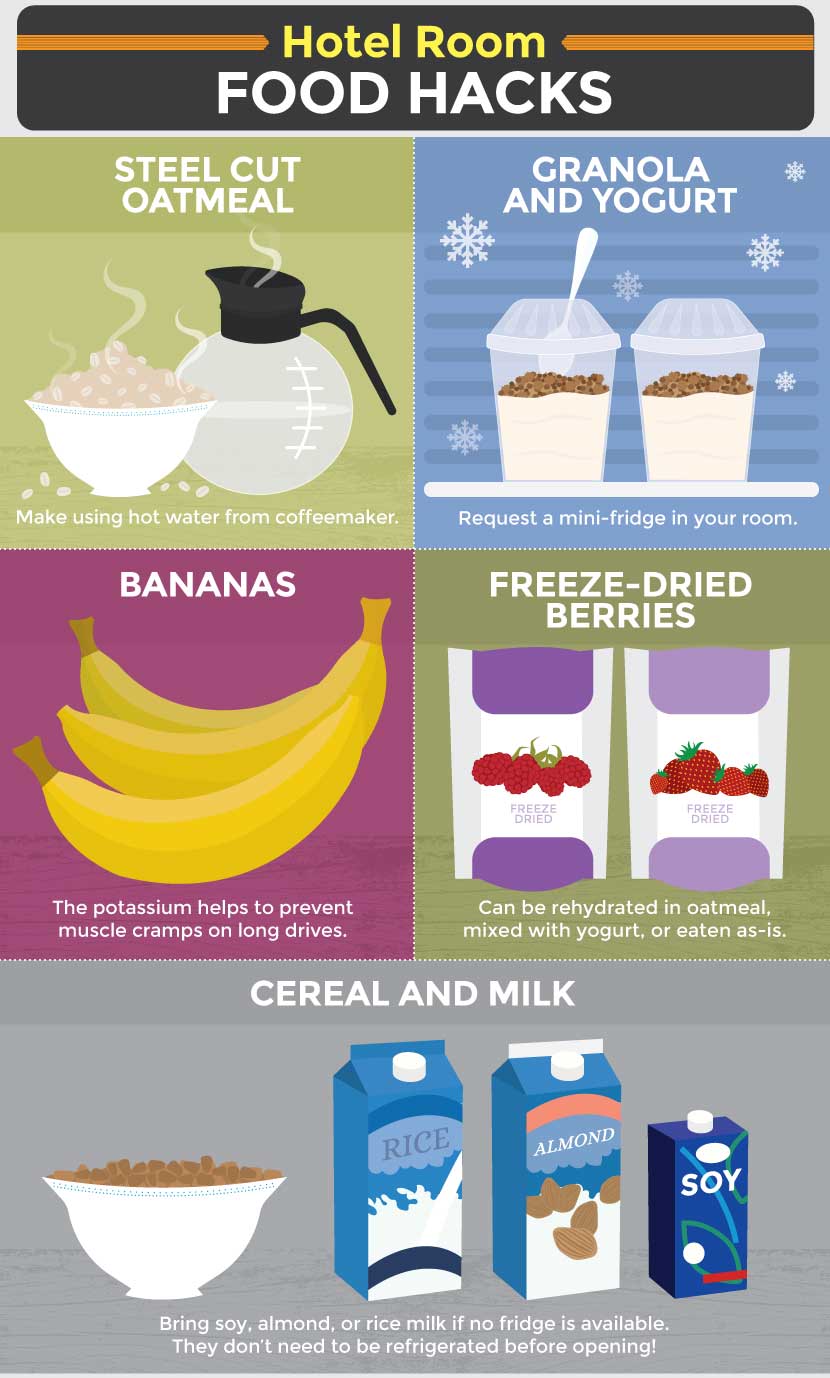 Shop in supermarkets instead of convenience stores: Instead of stopping at gas stations for convenience food items full of preservatives, stop in supermarkets or natural food stores. You'll save money buying from supermarket delis and produce areas or save even more by buying unprepared foods to "cook" in your hotel room. Oatmeal, instant soups, and cold cuts for sandwiches make for fine hotel room dining (in a pinch).
Drink water instead of soda: We all know soda dehydrates the body, whereas water restores it. Buy or bring an insulated water bottle to keep water refreshingly cool and save money and time by passing up soda or energy drinks.
Plan on frequent stops and exercise instead of coffee: Coffee wakes you up, you say? So do fresh air and exercise! Stop often and jog or stretch to keep drowsiness at bay instead of buying caffeinated drinks. Make your stops at national historic sites or parks to find easy-access walking trails and green space or look for public beaches or lake access (indicated by a swimming symbol on roadside signs).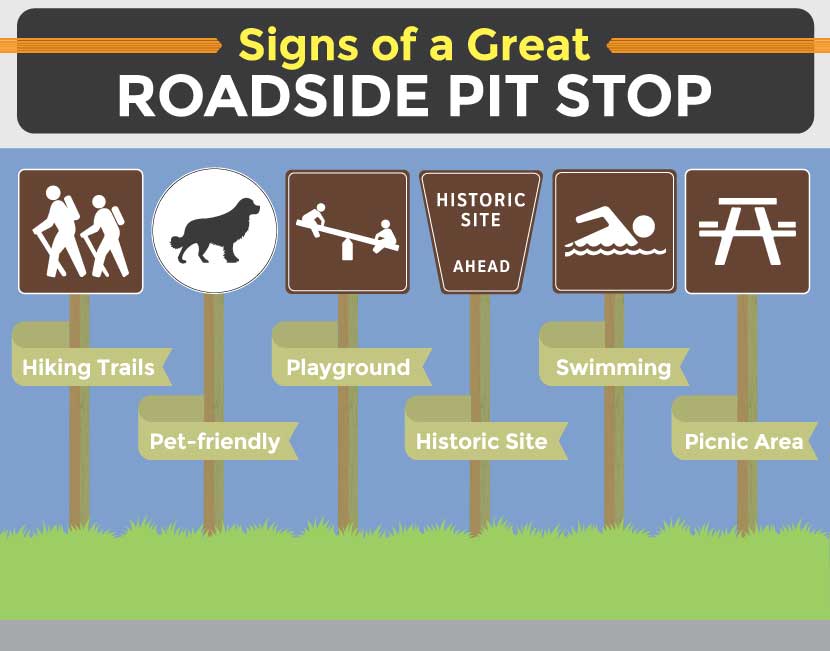 Staying Cool in Summer Road Trip Heat
Besides cranking the A/C in the car, what can you do to stay cool in the summer heat? When the temperatures skyrocket, try the following:
Stay hydrated: drink eight cups of water per day, even if it means more bathroom stops. Buy a 64-ounce mega water bottle, and you'll be set!
Cool your core body temperature: use a wet bandana or cooling gel neck wrap when you exit the car for exercise.
Find water play pit stops: look for public county or city parks with free splash pad areas or low-cost public swimming pools. It's not necessary to be a resident of the city or county to use these facilities, and like farmers markets, such stops can add local flare to your road trip.
Use your cooler: freeze yogurt tubes, grapes, and bananas for cold treats to consume while on the road.
Don't Forget About Those UV Rays
Just because you're spending the majority of your time in your car doesn't mean you get a pass on applying sunscreen! Be sure to keep the following summer-health items in your bag or purse:
Sunscreen: yes, even in the car. Car windows don't block all UV rays. You'll need SPF 30 or higher.
Sunglasses: make sure they block UVA, UVB, and HEV light. Opt for a pair with polarized lenses to be on the safe side.
Sunshades for windows: keep your car cooler while it's parked by putting sunshades over the windshield and invest in side-window sunshades, which can be used while en route. Look for parking spaces under trees to ensure a little shade for your car's interior while you're out.
Getting out on the open road is always a relief, but there's no denying the disruptive effects it can have on your eating and sleeping schedule. Follow these tips to stay healthy on the road, so you can enjoy all the sights along the way!
Article by Amy Whitley in association with Fix