Though a little excess never goes amiss on holiday, if you counterbalance it with some fresh air and pedal-power you won't have to come home feeling guilty for eating that extra pastry in the coffee shop.
This doesn't mean that you have to undertake a full-on cycle adventure, however. If you are not adverse to the odd pedal, then a city cycling break can be the ideal 'best of both worlds' allowing you to burn calories and see the sights. With a little planning and a good pair of bike panniers (to carry your food and gear) you'll be amazed by how much you can fit in during a day city sight-seeing on two wheels. To give you some ideas on where to go, we've compiled a list of cycle-friendly cities bound for your bucket list.
Copenhagen, Denmark
When it comes to the king of the cycling culture, Northern Europe and Scandinavia are locked in a close battle. Both areas boast numerous cities that are set up to favour bikes as much as (if not more than) cars. Yet Copenhagen seems to unanimously win the top prize; the whole city's culture revolves around cycling and the city council has invested heavily in providing the infrastructure for it.
In Copenhagen you will find cycle-only superhighways, bridges and routes around the harbour—they have even built in traffic lights that favour cyclists over cars in rush hour. According to Visit Copenhagen, the city is so cycle-dependent that only 29% of households even own a car, and who would need one with 454km of cycle tracks to navigate.
Cambridge, UK
The iconic image of a Cambridge student pedalling between the old colleges is for once, not a fallacy. For those of you planning a staycation this year, the historical city has long been established as the UK's cycling centre and it has the infrastructure to back it up. Cambridge boasts over 80 miles of cycle tracks, as well as traffic restrictions making 30% of the city only accessible via bike.
It's also worth pointing out that the city's cycle paths are flat as a pancake so you won't get caught out by any surprise hills in the morning. If you are travelling on a budget, you can borrow bikes locally and cheaply from people nearby on peer-to-peer rental sites like Fat Lama.
New York, USA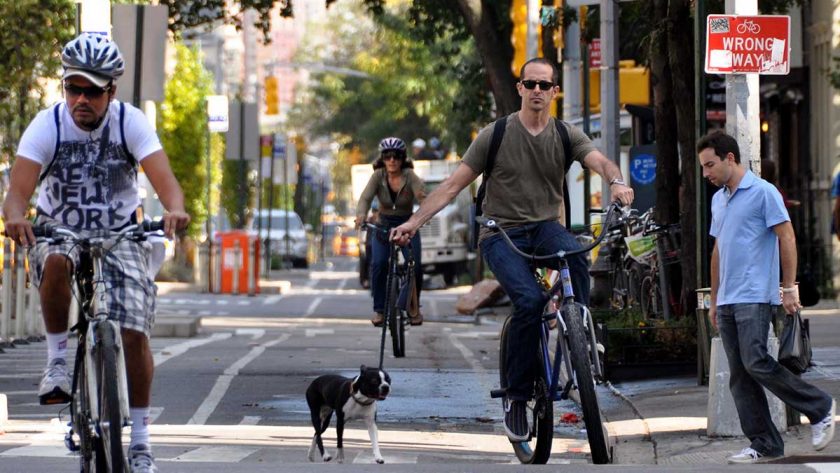 Perhaps not the first city that springs to mind when you think of cycling, but New York has invested heavily in its cycling infrastructure in the past few years leading to a new network of protected bike lanes springing up. In light of how congested the traffic can be and how sweltering the subway is, the value of these lanes cannot be underestimated. If you are planning a summer visit it would be well worth your time picking up a bike for the day. Other US cities notable for their cycling culture are Boulder, Chicago and Portland.
Amsterdam, The Netherlands
Amsterdam has been famous for its cycling culture for many years; like Cambridge, the naturally flat terrain lends itself perfectly to bikes as the primary means of transport. But the Dutch seem to embrace this on a whole new level with the number of bikes outstripping the population at 880,000 to 800,000 respectively!
The popularity of bikes is clear when you visit and see bikes chained up on almost every available space, though in recent years this has been challenged by the rise of the scooter. If you are planning a long weekend, there are a multitude of cycle tours you can choose from including flower fields, windmills and markets.
Seville, Spain
By all accounts, Seville is more famous for its oranges and flamenco dancing than its cycling. In fact, about a decade ago, cycling in the city was almost nonexistent with less than 0.5% of journeys taking place by bike. Yet, politics moved on and about 10 years ago Seville proved that change can indeed happen almost overnight.
Tired of congested rush hours (4 times a day in Spain when you factor in the siesta) the city decided to invest heavily and rapidly in cycling. Now you can find the centre open only to bikes, pedestrians and taxis plus an additional 160km of cycle track to explore. So if you can hack the heat, it's possibly the most cycle-friendly city in Southern Europe.
Tokyo, Japan
Cycling in Tokyo is undoubtedly popular, but in a rather different way to the other cities mentioned on this list. There is no shortage of bikes, yet, unlike the commuter-style efficiency of Northern Europe and Scandinavia, Tokyo's cyclists tend to travel short distances on heavier bikes and predominantly on the pavements. The efficient transport system means that few inhabitants rely on them for commuting, but rather for shorter local trips. If you are planning a visit, hiring yourself a bike and exploring the neighbourhood via the pavements is very much accepted and rather fantastically low key for such a buzzing metropolis.
Planning a city cycling break?
The good news for cyclists everywhere is that this is far from an exhaustive list; other notable cities include: Utrecht, Malmo, Oslo, Strasbourg, Barcelona, Berlin, Ljubljana and Buenos Aires to name but a few. Cycling in cities is a fantastic way to see the sights while keeping fit and having fun. Most major cities cater for it in some capacity, however, there are exceptions to this rule and if you get it wrong your trip could turn into a two-wheeled disaster. So to avoid ending up on a freeway in rush hour make sure you put in a little research before you book your next city cycling trip.
Related: Best urban bikes for city touring – 2018 reviews
This article was written by Flora Dallas and brought to you by Fat Lama.
Featured image: Mike Gibson/Flickr