"My name is Will Hodson and I am Super Cycling Man."
It's the words of a modern day super hero. Hodson's on a five year cycling adventure that will take him 100,000km across all seven continents of the world (including Antarctica). His aim? To inspire children and adults alike to get on their bikes and to raise £100,000 to support the amazing work done by The World Cancer Research Fund, Parkinson's UK, World Bicycle Relief and Sustrans.
Spoken like a true hero. We spoke to Hodson to find out more about how he's getting on.
1. Tell us about yourself. What gave you the idea to become the 'super cycling man'?
My name is Will Hodson. I'm 39 years old and I am aiming to become the first person to cycle coast to coast across all seven continents… even Antarctica!
To cycle around the world has been a personal dream of mine for many years. It took me a long time to save up the money I wanted for the trip and to pluck up the guts to quit my job and really commit to making it happen. But it feels so good to be finally living the dream I've had for so long. So far, I have made it 25,000 kilometres from the UK to China. So, I still have a long way to go, but that's OK, as it's been a really enjoyable adventure so far.
You might notice from the photo that I am wearing a superhero costume. Well, that came about from when I used to work as a primary school teacher in London. One day at school I was reading a book about superheroes called "Max" to my class of five year olds and the message was that we can all be heroes by being kind to others. I really liked this idea and we scrapped all the lesson plans for the week and made our own superhero costumes celebrating what each of us was good at. I have always loved cycling, so I designed and made some superhero pants and cape and created my own "SuperCyclingMan" character. I thought wearing a superhero costume on the bike would be a great way to get children to follow the adventure and learn about the world with me. I am visiting schools in all the different countries I go through and I hope I'm inspiring them with my message that #WeCanAllBeHeroes by being kind to others, going for your dreams and not giving up.
Wearing a slightly ridiculous superhero costume is also definitely helping me to raise more money for charity too. My father has Parkinson's and I'm aiming to raise £100,000 for Parkinson's UK and several other charities. The cape and pants are also a good ice-breaker with any grumpy border guards! So, all in all, I'm pretty happy I'm cycling in a superhero costume and I'd recommend it to anyone!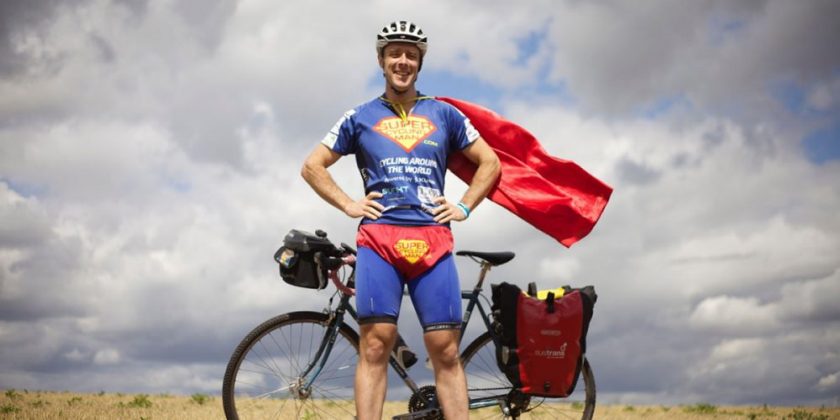 2. Why did you set yourself this particular challenge?
Cycling around the world had been my dream for many years. When I first sat down with a large world map poster and a marker pen to draw a line of the route I wanted to take around the world, it didn't feel right to me that I should leave out an entire continent such as Africa or South America. And then I thought, why not cycle across all continents then? Even Antarctica. I started looking into whether anyone had ever cycled across all seven continents before and nobody had. I found that really exciting to be taking on something original.
3. What's been some of the highlights so far?
I have visited over 40 schools now in 20 countries on my way around the world. These school visits have without a doubt been some of my favourite moments on the trip. The children's enthusiasm and energy is incredibly contagious. They also email me with some pretty weird and wonderful questions, often about how I go to the toilet or how I wash my clothes when I have no washing machine on my bike!
Cycling in Tajikistan was a real highlight for me too. I had dreamt about cycling along the Pamir Highway and drooled over other people's pictures of cycling there for years. The scenery there is so beautiful with stunning river gorges and jagged mountain peaks towering into the sky, sometimes literally a stone's throw from Afghanistan. The Tajik people are also incredibly friendly—the country even has a tourism slogan of "Feel the Friendship".
I got invited into a lot of people's houses there and enjoyed some mind blowing hospitality. Which leads me to my final highlight: the unbelievable kindness of strangers. In every single country I've been to I have been met with insane levels of hospitality and generosity. People have handed me food out of their car window while driving along the road and I've lost count of the number of houses I've been invited to stay in. I was even invited to a wedding in Azerbaijan! I find that incredibly reassuring that there are a lot of good people all over the world.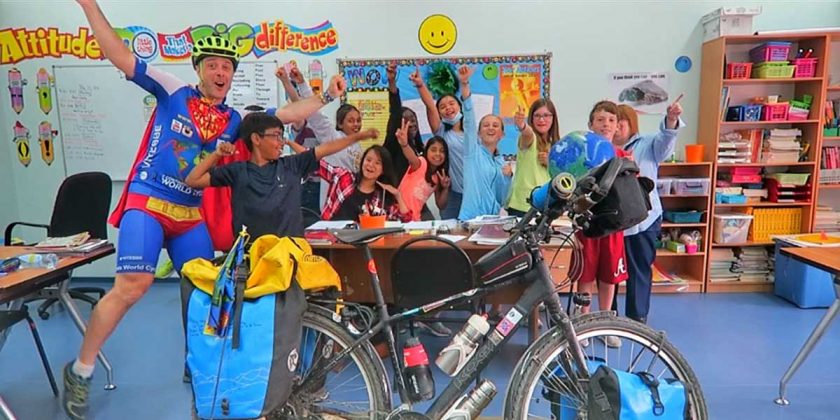 4. What challenges have you faced?
Hmmm… how long have you got? Every day on the road seems to present new challenges! I think just starting was the hardest part: saving up as much money as I could, planning and researching my route, convincing my parents that this was not a ridiculous and dangerous thing I was doing.
All the advice from people who had done similar big adventures was that just getting to the start line would be the hardest part. They were dead right. As soon as I left, all my worries and stresses just melted away. As for the challenges I've faced along the way, well, there have been many. I was initially refused a visa to enter China, I was diagnosed with having a stomach hernia a year into my trip in Azerbaijan and the front forks on my bike snapped in the middle of nowhere. But when these problems come along, I've really learned that it's best not to panic! Pretty well any problem can be solved if you stay calm, think about what you can do and then do it. My visa application for China was successful when I tried for a second time a few days later, as the initial refusal had been because of the heightened security around the G20 summit the country was hosting. My stomach hernia is a pain (I have to watch my diet and can no longer drink coffee, alcohol or fruit juice) but if I take a small tablet each day, things are OK. And as for the front forks breaking on my bike… well, I got some great advice from some friends on Facebook on how to fix it and with some chopsticks, a tent peg, a spoon handle and a lot of zip ties I was able to bodge together some kind of repair job so the forks got to me to the next town where I could wait for a replacement set to be posted out to me.
5. What have you learnt from the children that you've met? 
This might sound a little weird, but essentially, I have learned to be more like them. Was it the Dalai-Lama who said: "We should aim to be more childlike"? Let's just say he said it anyway! I totally agree with this—not to be more childish but childlike. There's an important distinction there. Children are always quick to smile and want to have fun. They don't seem to care where someone is from or what religion they are. I think children can be bigger risk-takers than adults too. As adults we can over-think things and think of a million reasons not to do something and talk ourselves out of something before we have even tried. Whereas children often just get on with stuff and give it a go.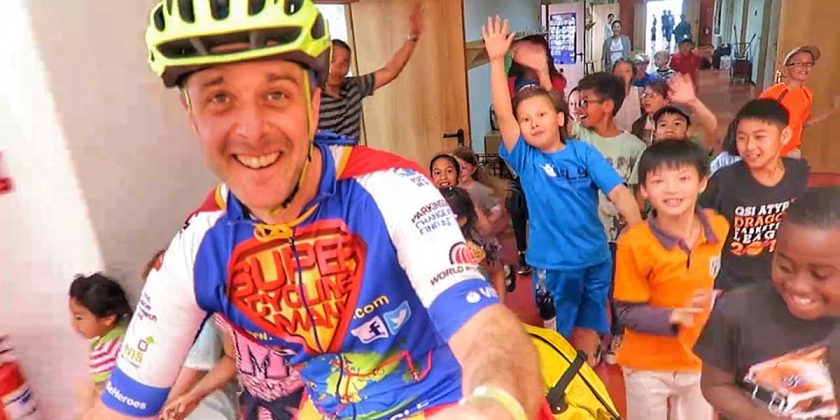 6. What's in store for 2017? 
I'm looking forward to some warmer weather in 2017 as I'm heading into South East Asia and finishing up in Australia by Christmas 2017 hopefully. So, by the end of the year, that will be three continents down, only four more to go!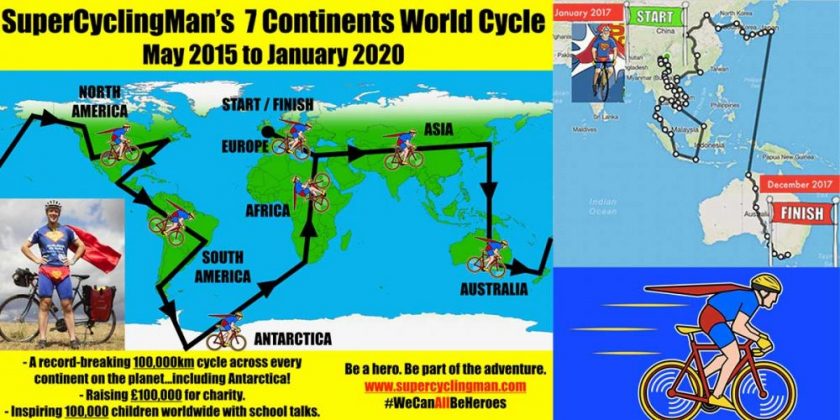 What an inspiration! You can follow the adventures of SuperCyclingMan as he pedals around the planet in his superhero cape and pants on his Facebook page. If you'd like to make a donation to help him towards his £100,000 charity fundraising total, his online fundraising page is here.