Page 4 of 8
Snowdonia, Wales
Snowdonia National Park is home to the biggest mountain in Wales and England, Snowdon (1,085 m/3,560 ft), and while it doesn't have the 'Outdoor capital' name that Fort William carries, the area is just as extreme. Snowdonia has a little trick up its sleeve as well; the recent 'Surf Snowdonia Wavegarden' project makes the National Park a unique and beautiful location for adventurers who want to surf as well has hit the mountain, and it's on this list because of this unique combination.
Mountaineering and Hiking
This is what most adventurers traditional travel to Snowdonia for. Tackling a route towards the summit of Snowdon is a must for any trip. While The Pyg trail is the easiest and shortest way to the top, if you are more experienced, a grade 1 scramble along the Crib Goch route will sure get your adrenaline pumping.
The route starts with a steep scramble up to a pyramidal peak and the start of Crib Goch, a knife edge Arête leading along a horseshoe towards the peak. The scramble up to Crib Goch is challenging but there is no need for a rope—though this can be useful to reassure a less experienced mountaineer. Along the Arête itself, the exposure level is severe with steep drop-offs on both sides, leading to a scree-slope on the right. The highlight of the route, is the exposed chimney climb towards the end of Arête. While a relatively simple climb, the high exposure level will definitely give you an adrenaline rush.
Check out Trail Magazines recent feature on the route below:
Surfing
Snowdonia is located closely to the coast and therefore there are number of surfing beaches nearby, offering fun summer waves and more powerful winter swells. However the new 'Surf Snowdonia Wavegarden' changes the game completely—offering world class waves 365 days a year.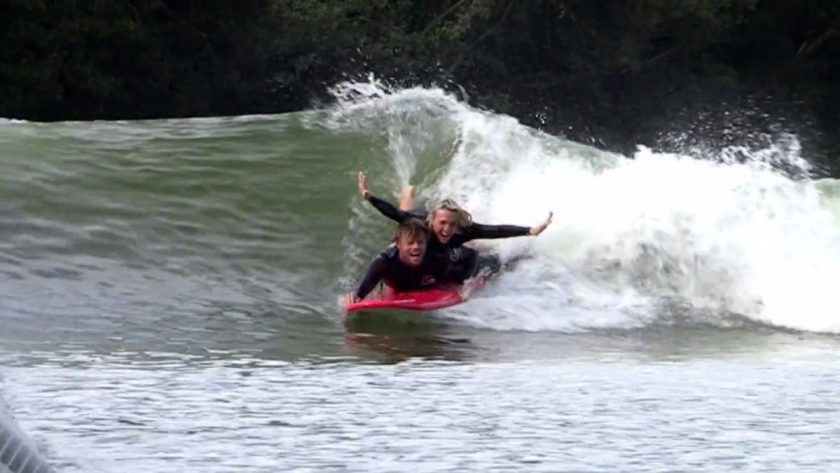 Opening this summer, Surf Snowdonia will feature a world first for artificial surf technology and promises a scaled-up version of 'The Wavegarden' (tested in Spain). While you will have to pay to surf here, it won't be very expensive and what you get in return is magical. Of course, other artificial waves already exist but they aren't desirable in terms of the punch surfers seek. The slow mushy sections, created by Wavegarden's predecessors will be replaced by the best long range surf forecasts North Wales, and the UK is ever likely to see.
Mountain Biking
Snowdonia has a great selection of mountain bike trails available to ride. The Mawddach Trail, which is a 9 mile stretch from Dolgellau to Morfa Mawddach, is probably the most popular cross country routes, but there are numerous technical downhill docents in the area.
Trials bike legend Martyn Ashton, recently shot a short film in Snowdonia documenting his journey back onto a mountain bike after his accident that left him paralyzed from the waist down. It's an inspirational watch but also showcases some of the best flowy single-to-double track that Snowdonia has to offer.
Page 4 of 8