Page 6 of 8
Devon and Cornwall Coast, South West UK
The action sports haven of South West England features some of the most dramatic and beautiful coastline in the whole of Europe. While there are lots of options for mountain biking and climbing, surfing is where Devon and Cornwall really shines.
Surfing, BodyBoarding and SUPing
For more than 40 years, Cornwall and Devon has been known as the home to British surfing with Newquay in particular the breeding ground for national and international champions. Now, it's beginning to become recognised as one of the best places to surf across Europe, with many inland river surfers making the trip for their first taste of ocean swell.
The waves which pound the South West coastline are created by deep Atlantic low pressure systems which unleash their powerful swells eastwards creating some of the best surfing conditions in Europe. There are lots of different coves facing north, west or south, so you can always find a spot which is pumping. In the summer, waves are fun (reaching 6 ft/1.8 m at times) and when the winter comes the ocean can be pumping 20 plus feet/7 + m. In the winter some of the south or north facing coves come into their own, by taking the edge off of the swell and cleaning up the wave face.
In terms of variety of waves, together, the Devon and Cornwall coast has it all. Classic beach breaks can be found all along the north coast with some of the most well known spots being Fistral, Perranporth and Crooklets. Steep A-frame barrels, typically sort after in Hawaii, can even be found kicking in around the far westerly points when conditions are right. Woolacombe and Croyde, further up the coast, offer a surprising range of surf-types. From classic beach breaks to point and even reef breaks—it's no wonder that Woolacombe has been named a top-five beach in Europe.
Rock Climbing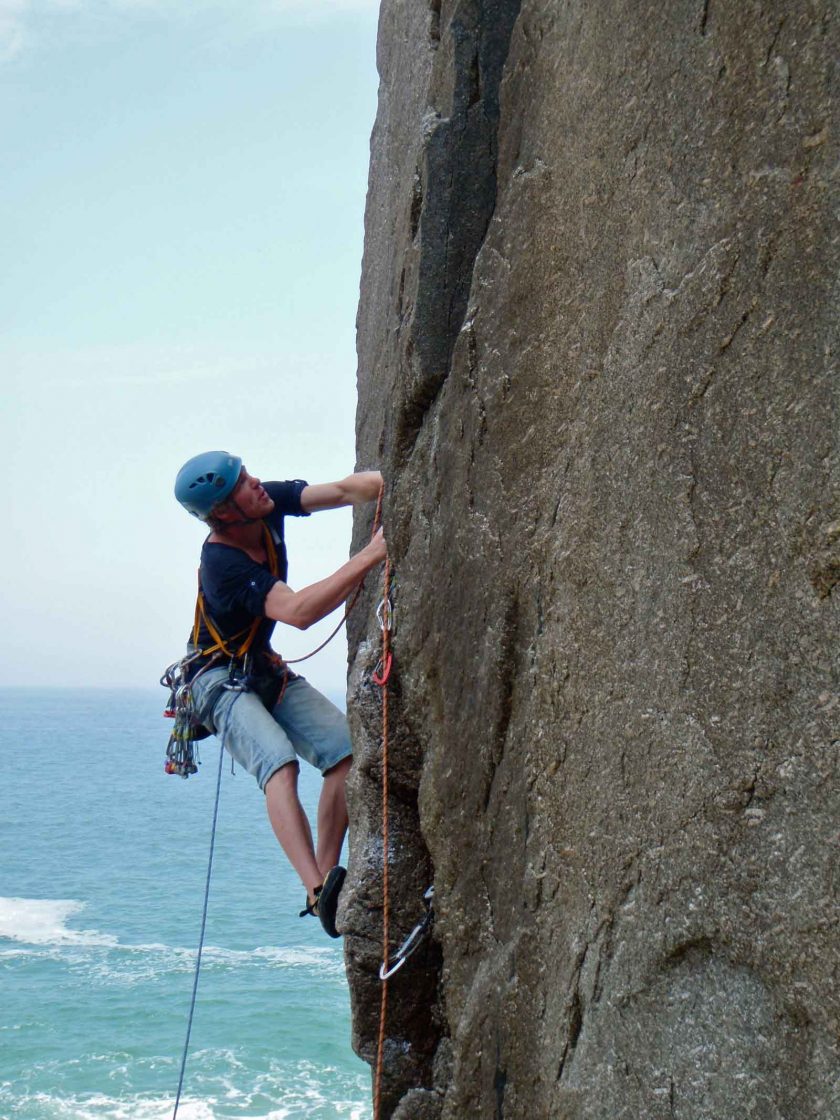 There are some great locations across South West UK for rock climbing. Traditional pitches can be found on both Dartmoor and Bodmin Moor, with the former providing more challenging climbs. If you able to travel a few miles north east, then Cheddar Gorge offers some very popular bolted pitches. However, the dramatic vertical cliffs of the coastline provide some of the best sea cliff climbing you'll find in the world. It's a great experience, with the sea crashing against the rocks beneath you it really does give it a more adventurous feel.
Hiking
While there's no real mountaineering to speak of in this area, Dartmoor offers some seriously tough trekking, highlighted by the fact that the UK army trains there. If you're an experienced hiker, a weekend expedition across the moor and a night's wild camping is a great challenge.
The South West Coast path is a must for long-distance hikers. One of the UK's longest waymarked long-distance trails, it stretches for 1,014 km / 630 mi, running from Minehead in Somerset, along the coasts of Devon and Cornwall, to Poole Harbour in Dorset.
Other Excursions and Adventure Activities
There are so many adventure sports and activities to do in this area, that it would take a whole post to write about them, however here are some highlights. The coastline lends itself to sea kayaking, a great opportunity to get close to some of the South West's wildlife—anything from the common grey seal to basking sharks can be spotted off the coast. Large sandy beaches and strong winds from the ocean also make ideal conditions for power and traction kiting (either on a board or buggy).
Page 6 of 8