With spring well underway, motorcycles have returned to the roads in earnest, and riders of all kinds are out there celebrating and sampling the fresh spring air. But if you're like many of us, you haven't had the chance to take a big riding trip yet this year.
We imagine you might be ready to change that. If you've been itching to grab your bike, your buddies and your motorcycle Bluetooth headset, there's no better time than now to get on the road. And when you're ready to rev up, here's our top 10 places to ride this spring.
Best places to ride in the US this spring
Blue Ridge Parkway: North Carolina & Virginia
There's no spring like an Appalachian spring. The Blue Ridge Mountains were old when the Rockies were still in diapers, and the Blue Ridge Parkway is the ideal way to take in their gentle, rolling beauty. Make sure to see Great Smoky Mountains National Park while you're here, and check out some of its many opportunities for motorcycle camping. If you head down a little further into Tennessee, you can take on the Tail of the Dragon and its legendary curves, as well as the equally-impressive Cherohala Skyway.
Beartooth Highway: Montana & Wyoming
If you like your scenery a little more dramatic, the Beartooth Highway will give you what you're looking for. This route through the wilderness of Montana and Wyoming is technically only 68 miles, but it's surrounded by hundreds of miles more of amazing riding roads. And as if that weren't enough, the Beartooth's northeastern terminus is Yellowstone National Park, so it offers a great opportunity to see one of America's greatest natural treasures while you're on the road.
Columbia River Highway: Oregon
The Columbia River Gorge is one of the true geological treasures of North America. It's figured in almost every part of the continent's recent history, from a Native American transportation corridor to the route Lewis and Clark took to the sea. And US 30, the Columbia River Highway, is an incredible place for motorcyclists, with mile after mile of primo twisties and numerous places to stop and enjoy the views. Be prepared for hills aplenty—the constant elevation changes of the Gorge are part of what gives it the spectacular scenery and diverse ecosystems it's known for.
Chattahoochee National Forest: Georgia
Georgia has Chattahoochee, its own answer to the Smokies and the Blue Ridge, and it's just as breathtaking—perhaps more so when you figure in the relative lack of crowds. Hundreds of miles of two-lane twisties snake through this gorgeous forest, and the infamous Wolf Pen Gap Road provides a challenge that hangs turn for turn with the Tail of the Dragon. And if you like your rides with a side of the weird, stop in at the town of Helen, a strange living attraction themed like a Bavarian village, as well as the mysterious Nacoochee Mound, a Native American burial site.
State Route 3: Maine
If you've never seen a New England spring, you're missing out. State Route 3 from Bar Harbor to Bath will take you through the beautiful heart of Maine. Although it's only a little over 100 miles, the road is so packed with fascinating detours that those who like exploring will have no problem spending three or four days here, at least. It's well worth exploring the many tiny peninsulas that jut out into the Atlantic from the route. If you like small-town charm and hospitality, you'll find it in abundance here—along with some truly life-changing lobster rolls.
San Juan Skyway: Colorado
Up for a challenging ride that rewards you with some of North America's most beautiful landscapes? Colorado's San Juan Skyway is calling. You may have heard of the Million Dollar Highway, a cliff-hugging stretch of road that's famous for its lack of guardrails and shoulders. But the entire Skyway is worth the ride, thanks to its jaw-dropping views of the San Juan Mountains, and history buffs will love the many preserved mining towns that give a glimpse into the genesis of the American West.
Natchez Trace Parkway: Alabama, Mississippi & Tennessee
Want to ease off the throttle and take a leisurely cruise through the Deep South? The Natchez Trace Parkway is a road trip that's just as good for beginners as it is for seasoned riders who appreciate a beautiful and historic ride. You'll find plenty of places worth stopping, from Civil War battlegrounds to finger-lickin' barbecue restaurants, and the curves of the road are gentle enough that they won't be too much for less experienced riders. It's also a notably well-maintained road with smooth pavement and restrooms approximately every 30 miles.
Pig Trail Scenic Byway: Arkansas
If you've never seen spring in the Ozarks, make this the year you fix that! Arkansas' Pig Trail Scenic Byway is the perfect way to experience this wonderful stretch of America, and its swathes of greenery and explosions of color from wildflowers will make you wonder why you didn't come here sooner. Combine this route with the nearby Mount Magazine Scenic Byway and Ozark Highlands Scenic Byway and you've got an Ozark road trip that you'll never forget.
Pacific Coast Highway, Carmel to Morro Bay: California
A scenic roadway like no other, the Big Sur section of California's coastal highway offers a smorgasbord of treats: crashing surf, towering redwood forests, seal-dotted beaches, and enough curves to keep you contented end to end. This cliff-hugging ribbon stretches 120 miles and has frequent turnouts for enjoying the stellar views. It's enough to whet your appetite for more, and that's no problem. It's part of the longer Pacific Coast Highway, which extends along pretty much the entire California coast, from Malibu to the Oregon border and beyond. Planning: Avoid busy weekends, and be sure to book a visit to Hearst Castle well in advance. And dress warm: Big Sur is famously fogbound, especially in spring months.
Tunnel of Trees: Michigan
Head up to northeastern Michigan (about at the tip of the middle and ring finger on the mitten) and you'll find M-119, also known as the Tunnel of Trees. This beautiful rustic road is known for the trees that interlock like fingers over it for most of its length, as well as for the charming small towns and businesses that dot it. M-119 is extremely straight and designed for leisurely driving, so it's not the place to go for a wild ride. But if you want to take in the smell of spring, jam to some tunes on your Bluetooth motorcycle speakers and celebrate the miracle of nature, it's an incredibly relaxing and fun way to do so.
Also, be sure to stop by the Barn Animal Sanctuary while you're in the Michigan area. Set on a 70-acre farm, this homestead haven is home to over 100 abused and neglected farmed animals in need. You may have even seen the sanctuary on its own TV show, which aired on Animal Planet in 2019.
Pin this post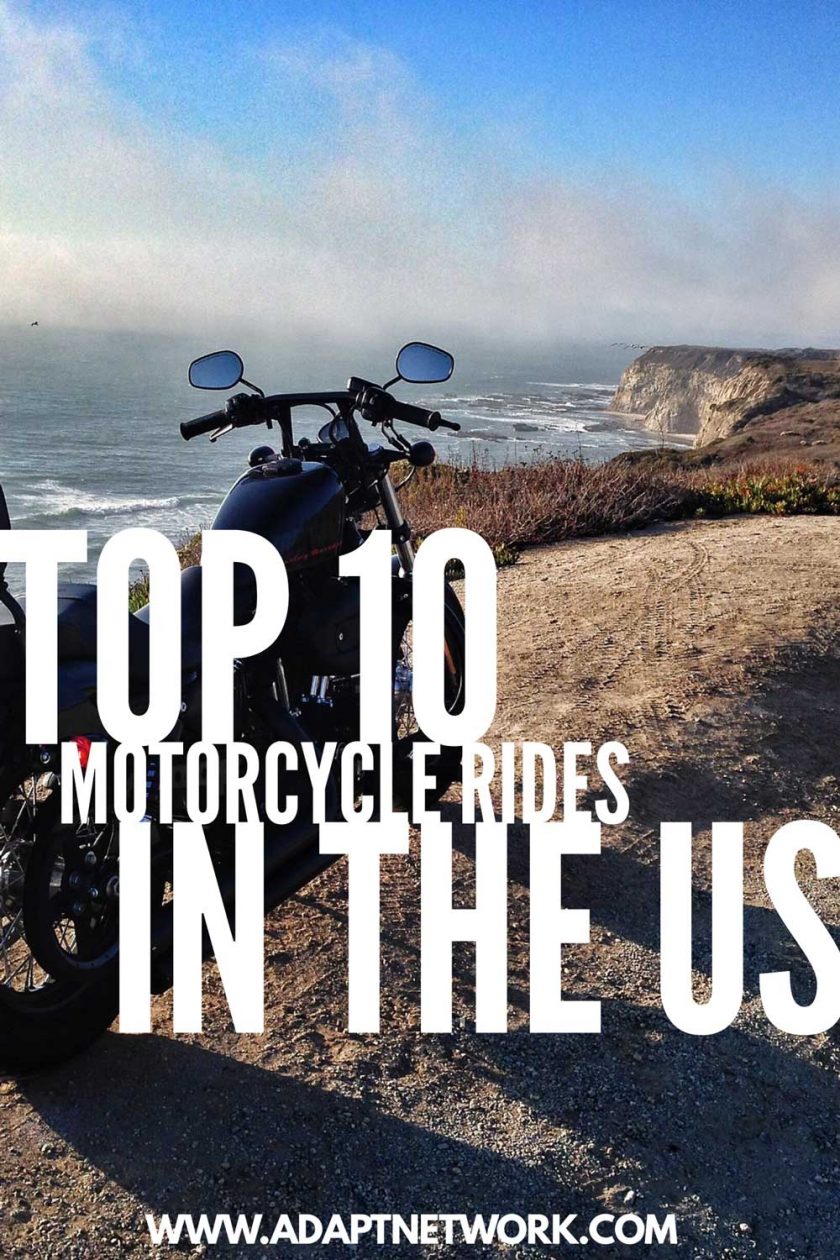 Featured image: mob mob/Flickr