Famed for its stunning landscape, Snowdonia in Wales, UK is one destination you can't miss if you're looking for a jam-packed adventure, in Europe. The National Park, known for the second highest mountain in the UK, Snowdon, is the perfect destination for anyone looking for an adrenaline-fuelled getaway. Access is easy for international travelers, as well, with close links from Liverpool and Manchester airports.
While the weather is unpredictable, there are plenty of things to do inside and outside to get your heart racing. Although the transport links are fairly decent, to get the best out of the trip a car is certainly recommended and is advised to help you reach some of the more remote gems. With the abundance of holiday cottages around the Park, renting is also fairly cheap — especially outside of the summer season.
So sit back, get your pen and paper ready and start planning for your next adventure holiday:
1. Zip World
Zip World is a relatively new experience to come to Snowdonia. Situated in three different locations throughout the Park, Zip World offers you a range of unique adventures to get involved in. From zip-lining, high rope adventures, underground via ferrata and even trampolining in caves! From their list of adventures, the one most likely to get your heart racing is 'Velocity'. Being Europe's longest zipline, it is also the World's fastest and is seen as the closest experience a human can get to flying. Each participant is strapped headfirst onto the line with a harness and sent shooting across a disused slate quarry at speeds of around 100mph. While the experience costs around £60 each, for a once in a lifetime opportunity it is certainly worth it.
2. Surf Snowdonia
Opened in 2015, Surf Snowdonia houses the World's first commercial artificial surfing lake. Using a wave machine, the lake allows surfers of all abilities to get on their boards and ride the waves below a stunning mountainous setting. The company also offers surf lessons for beginners and intermediates and will also host the UK Pro Surf Tour for the first time next month. If you're not into surfing, there is also a water assault course which sees participants clambering across monkey bars, a spinning turnpike and a ball and rope swing. Known as the 'Crash and Splash Lagoon', the participants also get the chance to bounce on the catapult 'blob'. This is no mean feat. Jumping from heights of around 12ft, participants catapult one another by jumping onto the blob. With two people jumping down, it sends the participant at the end flying 10ft plus into the air. If that doesn't get your heart racing, what will?
3. Llechwedd Slate Caverns
For all those willing to get up that little bit earlier, the Llechwedd Slate Caverns offer 50% off their ticket price for trips before 11am, making it a well worth visit. For those who like a lie in, the company also offers a 25% reduction for those who book both this and the Zip World Bounce Below adventure, as it is housed nearby. Taking around an hour, the tour takes you into the deep depths of the old slate mine where you learn how slate was once extracted during the Victorian era. With a series of videos and talks you really become immersed in the lives of the past miners and learn about the shocking ways they had to mine for slate, sometimes in complete darkness.
4. Penrhyn Castle
For all National Trust members and non-members, this castle is a must see. With slate mining being heavily embedded in North Wales' history, this castle is the perfect place to see how the elite profited. Located not far from Zip World's Velocity, it is also perfectly placed to do both adventures on the same day. The former family of the castle actually owned the mine where Velocity is now situated. Rich with history and culture, the castle also details the relatively unknown Great Strike at the Penrhyn Quarry in 1900. Being one of the largest disputes ever seen in the industrial history of Britain, the local townspeople still feel the effects today and won't step foot in the castle in protest.
5. Cwm Idwal Walk
Located near Bethesda, this challenging three-hour route is also well situated near Zip World Velocity. Famed for its dramatic mountainous scenery, the walk takes you into a normally inaccessible upland environment and around the Cwm Idwal – a "bowl-shaped hollow" filled with the crystal clear waters of Llyn Idwal. Forged during the Ice Age, the walk gives you the perfect opportunity to see some of the most dramatic rock formations in North Wales and also some rare plant species.
While the list of adventures in North Wales is almost inexhaustible, the list gives you a great place to start for planning your next trip. Alongside these five, climbing Snowdon (free parking at the bottom of the road instead of £10 car park,) mountain biking at Coed-y-Brenin and white water rafting in Bala are all must do activities.
With its accessible location, Liverpool and Chester are also only one to two hours drive away. Known for their rich history, architect and art, these cities are great if you fancy taking a short rest from the outdoors. Be sure to check events before visiting as they often host food, art and music events which could be of interest.
In the US? Looking for an epic adventure destination closer to home?
If Europe is a bit too far for you to travel this season, we recommend exploring the Rocky Mountains of Colorado, and one of the best mountain resorts—Beaver Creek.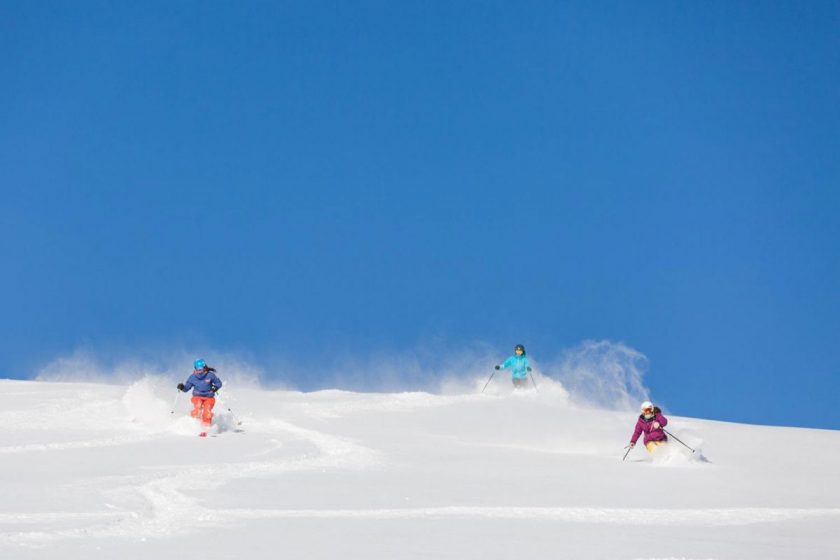 Beaver Creek has a great selection of world-class ski runs for skiers and snowboarders of all abilities to explore. The resort also has perfect terrain for Cross Country Skiing and Telemark Skiing. Aside from a ski school, Beaver Creek plays host to the Audi Birds of Prey World Cup, the Beaver Creek Running Series: Snowshoe Edition, as well as a "winter culinary" weekend in January.
It's an incredibly diverse resort offering a multitude of activities for all ages and tastes. In the summer, activities include white water rafting, stand up paddle boarding, horseback riding, and alpine hiking.
For those closer to Utah, Park City is a must—it's actually America's largest ski resort. California also gets it's share of fresh pow during the winter season—Heavenly, Kirkwood, and Northstar resorts are top of our list.
This post includes sponsored links in partnership with Vail Resorts. All opinions and text are our own.