TripRider is a travel app that helps explorers plan, manage and share their adventures. It is available for the iOS platform, with an Android version planned for launch soon.
There's both a free and a paid full-version of the app. The free version is limited to 3 trips, 3 days duration, 3 maps, etc, while the full version retails at £3.99 ($4.99) on the app store. We've teamed up with the dev team behind TripRider, Minoa, to giveaway 5 full-versions of the app—see below for details.
The dev team describes TripRider as "a smart travel notebook for organizing, managing, sharing and keeping trip details in one place," with The Travel Magazine calling it the "ultimate trip planning app".
With the app store already flooded with useful travel apps, why do we need another and how is TripRider any different?
Mojca Weber, from Minoa, answers this directly explaining that "there is no pre-filled info in it, so you put together your own trip. You can organize what YOU want and plan it exactly how YOU want". In other words TripRider is like a blank canvas, or more accurately a blank notebook.
This 'fresh-page' design however, does not mean that it's feature-limited—it's packed with useful tools, incorporating some of the great travel-focussed functionality found in other stand-alone apps into one install. For example: like Tripit—it enables you to keep track of schedules; like Google Maps—you can take screenshots of maps and directions for quick reference, like Evernote—you can keep notes of things you'd like to see and do; and like GetPacked, it can help with building and organising your gear-list. So this means that instead of having to cross-check between a number of different apps, all of your travel info can be easily found and amended in one place.
The visual design of the app is based on a vintage-looking notebook. This actually looks pretty cool and has a Indiana Jones or Tin Tin adventure feel about it. Sure it's a gimmick, but a fun one.
Features
Packing List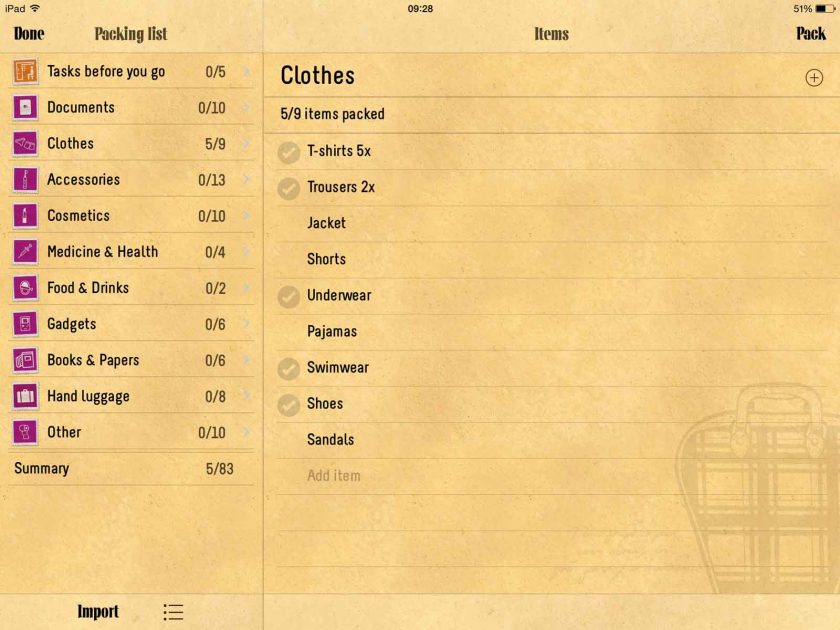 This is organised into 9 categories such as Documents, Clothes, or Gadgets, which further organises your gear without you lifting a finger. The smart-filtering and check features helps when remembering to pack all important items, minimising those last minute 'have I packed my hiking boots?' moments.
Wallet
TripRider enables you to take a photo of your important documents, such as your passport and credit card, and store them electronically. Designed as a backup in case of theft of these documents, the app can also encrypt these files behind a password. Note that this has to be enabled via options; though this should be enabled by default with an option to turn-off.
Maps & Location List
The maps feature allows you to take screenshots for quick reference. This means that if you are using a wifi-only device or want to save data-charges then you can pre-load your device with all the maps you need before venturing out. The location list is also a fun feature, enabling  you to keep track of places you visit by pinning them onto a map and adding a photo to each location. This would work pretty well for a road trip or maybe a biking or hiking expedition. However to use this feature in the wild you would need a mobile data connection, which is probably not worth the extra costs in most cases. You can however manually add trip points at anytime over a wifi connection.
Trip Plan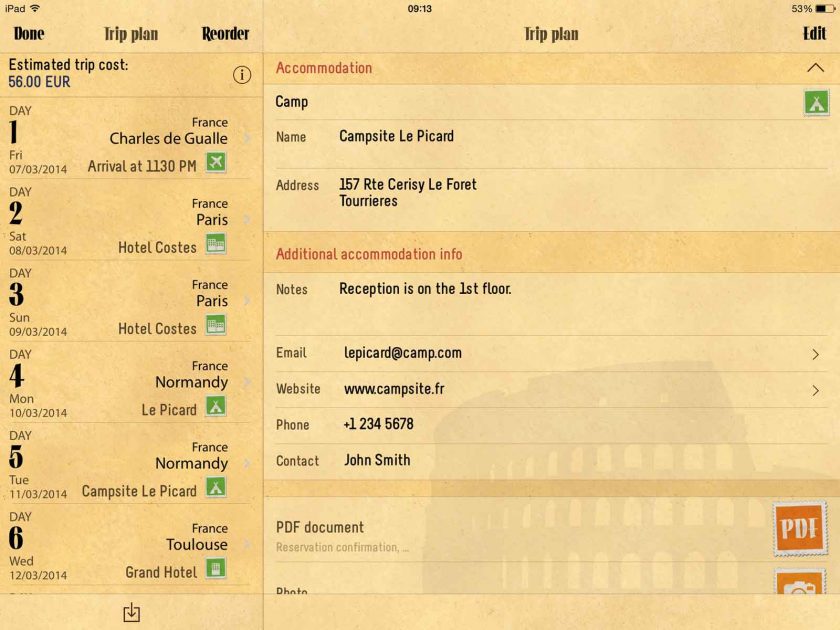 TripRider allows you to add a detailed day-by-day schedule if needed. You can also prioritise items—labelling them as 'must see or do'—on the list for better time management. The app will automatically regroup the list by date and by place in the 'Must see and do section' if this prioritisation feature is utilized. Similarly to the maps feature, you can also uploaded images of maps with directions, so that they are available for quick reference when needed, even when there is no internet connection or GPS signal.
Briefing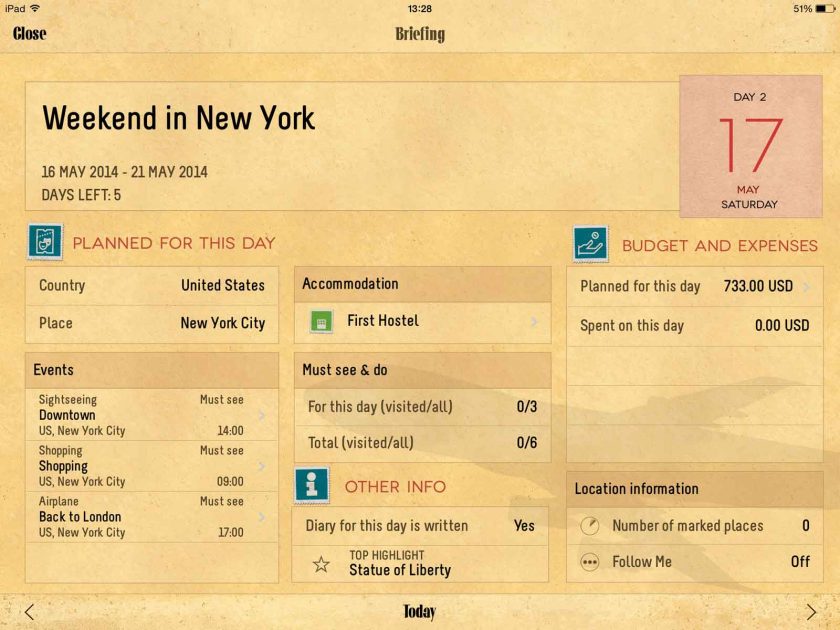 This section has a number of uses and can be tailored to specific trips, which really highlights TripRider's 'blank notebook' design. For example you could use it to check that you have covered everything you wanted to see or to check that your spending was within a daily budget.
Trip Book & Photo Album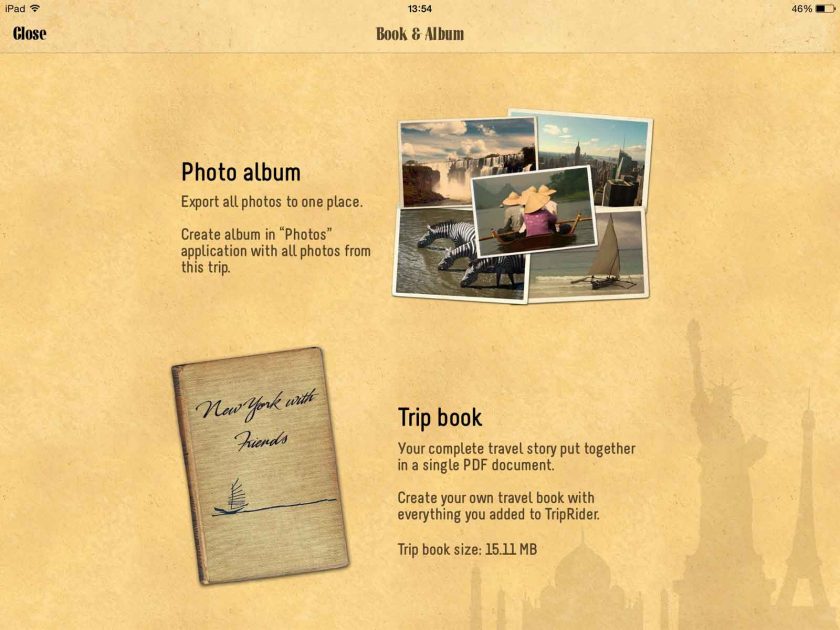 This is a neat little feature. Once you return from an adventure TripRider can be used to organise your trip photos into a PDF iBook. This can then be printed or shared on Facebook or Twitter etc.
Expenses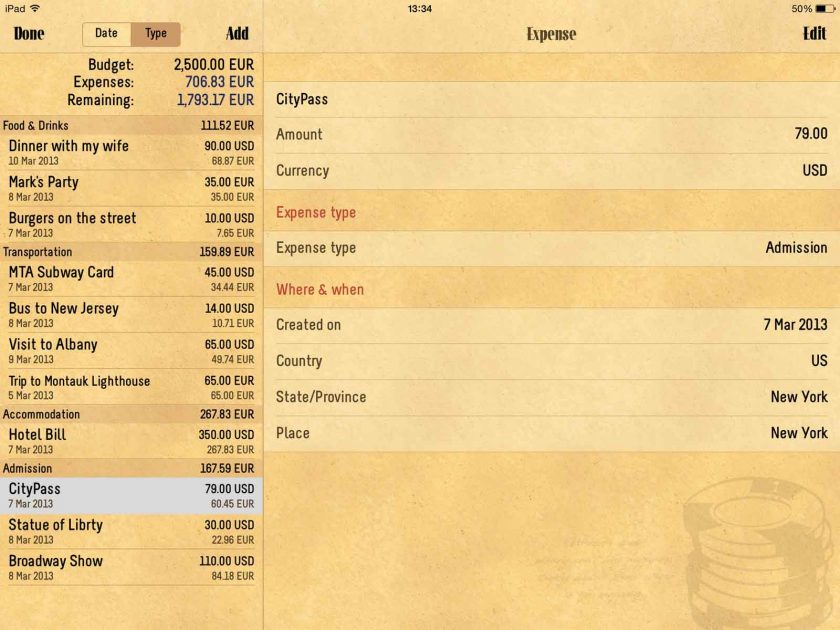 Beyond simply managing and detailing your budget and spending, the app also does some of the heavy lifting for you, categorzing expenses and more.
Other Features
Trips: Plan, organize and document your trips and keep all information in one place.
Travellers: Traveling alone, in pairs, or in a group, add all the friends who are traveling with you.
Follow Me: Let TripRider mark some locations for you without you thinking about them. Just here and there, a few times a day. Needs a mobile data connection.
Diary: Document your trip and capture every moment. You can write and share a diary for each day of your journey, add some photos, and point out the day's highlights.
Quick Notes: Use quick notes for everything you think it's important to remember.
Overview
TripRider helps adventurers get organised with their packing list and itinerary, yet it is versatile enough for keeping detailed diary notes about the trip, including maps and photos. If you love to share, all this can be exported into a trip book—bloggers would love this feature. While a lot of these features can be found in other apps, having them all in one place is a huge plus. TripRider gets a big thumbs up from ADAPT.
Pluses
The flexibility
Design: Cool Indiana Jones feel.
Ability to organise the entire trip into a PDF book
Minuses
Lack of collaboration features
Giveaway
We've teamed up with the dev team behind TripRider, Minoa, to giveaway 5 free full versions of the app. To enter, simply share this review on Facebook or Twitter with the hashtag #ADAPTnetTripRider. Winners will be chosen, announced and notified on 7th June 2015.