2020 was a significant year for sim racing; with more people stuck at home, due to Covid-19, and the wider motorsports community turning to the virtual race track, sim racing provided a much needed escape from an otherwise difficult year. It's no surprise then that last year's launch of Next Level Racing's first foldable sim racing cockpit (the F-GT Lite) was a huge success.
A lack of space has historically been a barrier to entry for newbie sim racers. But, alongside the new F-GT Lite, there are now a few foldable sim racing rigs to choose from. However, the same can not be said for flight simulator cockpits—until now.
F-GT Lite/GT Lite Flight Pack
Coinciding with the much-anticipated new edition of Microsoft Flight Simulator, Next Level Racing (NLR) has released a flight pack add-on for both the F-GT Lite and its little brother (the GT Lite).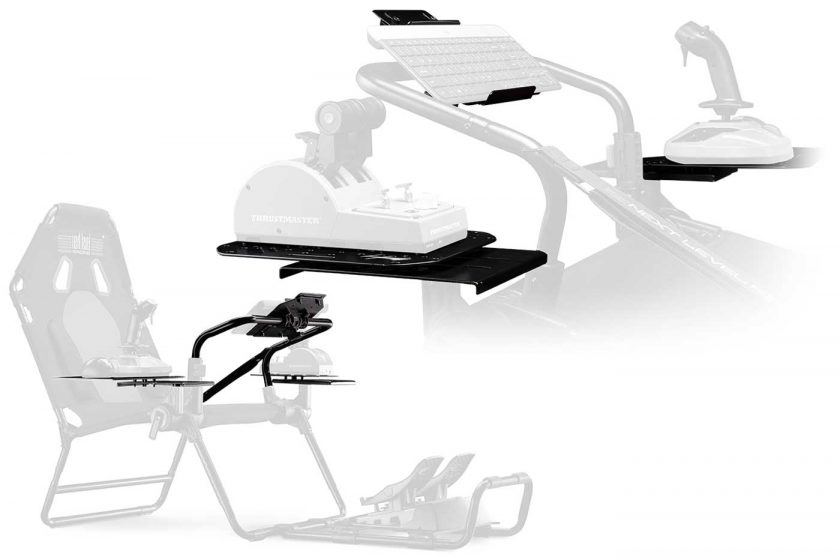 The new flight pack transforms the two rigs into fully fledged flight cockpits, offering a joystick and throttle mount on both sides. The pack also includes a side mouse tray and central keyboard tray for easy navigation, giving users a complete flight simulation solution at an affordable price point—just £89 (UK) / $99 (US).
In addition, the extra mounting points that the pack provides might prove useful for sim racing. For example, the extra real estate of both the throttle and joystick/mouse tray would allow for a handbrake to be mounted in partnership with a shifter—something that a few people have requested in the YouTube comments of our F-GT Lite review.
Next Level Racing Flight Simulator Lite
Flight sim enthusiasts that don't already own one of Next Level Racing's foldable rigs can opt to buy the complete foldable flight sim package at a slight discount of £249 (UK) / 299 (US). The Flight Simulator Lite is essentially the GT Lite with a new logo and the flight pack included. But, it's cool to see Next Level Racing providing it as an option.
Additionally, the new flight rig is compatible with most consumer wheel and pedal sets, so users can utilise the cockpit for simulation fun both on and off the ground.
On the new flight cockpit, NLR CEO Hess Ghah had this to say:
We are proud to introduce our new Flight Simulator Lite cockpit, which was conceptualised and created thanks to extensive research on the flight sim market. The new cockpit, whilst aimed at the entry-level enthusiast, offers unparalleled compatibility and versatility for users to experience true immersion at a highly competitive price point.
Let us know in the comments below whether you will be getting the new flight pack add-on and which flight sims you will be using it with.