Remember when a pack of Pokemon cards sold for less than £3 ($5)? Well, if you've got a few stashed somewhere, you may want to find them out and check the current prices online. Pokemon cards are now highly desirable among collectors; it's not unusual for original cards to fetch £100 ($150) or more!
Recently, the record for the highest price for a Pokemon card at auction was set.
The 'Pikachu Illustrator' card
A mint condition 'Pikachu Illustrator' card was sold for an incredible $54,970, making it the most expensive card of its kind in the world. The rare 'Trainer Promo Hologram' was sold at Heritage Auctions in Beverley Hills, California on November 18 and the final price actually exceeded expectations for the auction, which was predicted to bring in $50,000.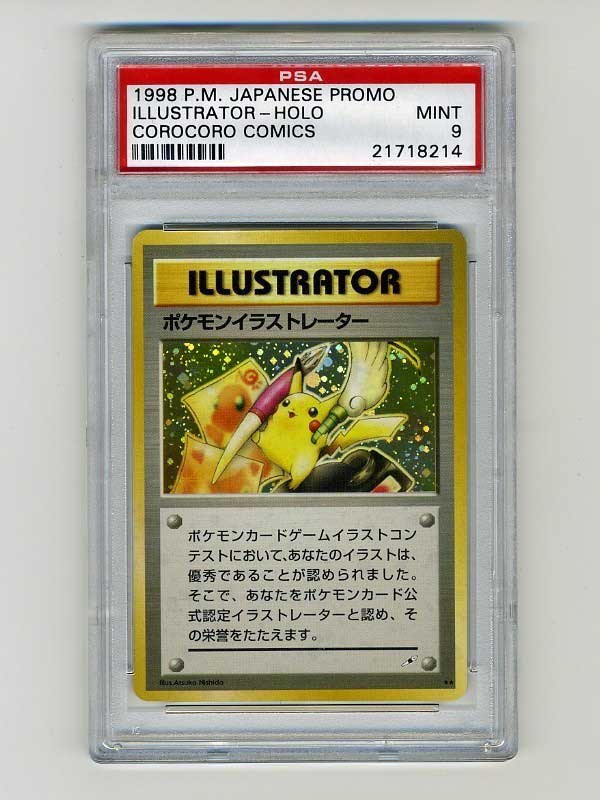 The card, designed by Atsuko Nishida, shows Pikachu holding drawing implements. It was actually gifted as a prize, to a select few, and could not have been found in any shop-bought pack. Barry Sandoval, Director of Operations for Comics at Heritage Auctions, explained:
The Pikachu Illustrator Card was given in January of 1998 to winners of the CoroCoro Comic Illustration Contest. Only 20-39 copies of this card were released, 10 of which are graded in top condition and it is unknown how many still remain with the public.
The first card in that set was sold in the early 2000s for around $23,000.
According to Bulbapedia, the card text says: "We certify that your illustration is an excellent entry in the Pokémon Card Game Illust Contest. Therefore, we state that you are an Officially Authorized Pokémon Card Illustrator and admire your skill."
The Pokemon Franchise
Interest in Pokemon card collecting has likely increased since the massive popularity of Pokemon Go earlier this year, which has proved to be a great way to encourage gamers to explore outdoors. According to IGN, Pokemon Go players took 100 billion steps in three months while catching Pokemon!
With the recent success of Pokemon Go, Nintendo has plenty of incentive to continue developing games for the franchise. This month saw the latest addition to the series being released: Sun and Moon.
Featured image: Heritage Auctions