Sixteen races. 2400 laps. 3600 miles. Over all that distance, the championship came down to two drivers, and between those two drivers, it came down to two points. In my opinion, the finale to the 2016 NASCAR PEAK Antifreeze Series was one of the most exciting races I've ever seen, including real-world races. Two points is a figure that I just can't wrap my head around. That's two passes over sixteen races. Just two.
While I'd like to say that Nick Ottinger's third-place finish in the final race was cause for celebration, the fifteen races preceding it still loom over our heads. Since Nick and I were paired together for the Pro series in 2011, we've won at least two races in every season. For 2016, we had zero wins. We showed up sixteen times and did everything in the same way that had put us in the championship fight for five years, but this time it simply wasn't meant to be.
I saw a post in the iRacing forums this week asking, "How do you cope with a streak of bad races?", and while the person who posted the topic was likely asking about just a few, Nick and I have to look at an entire season, and try to figure out how to rebound from that next year to keep it from happening again.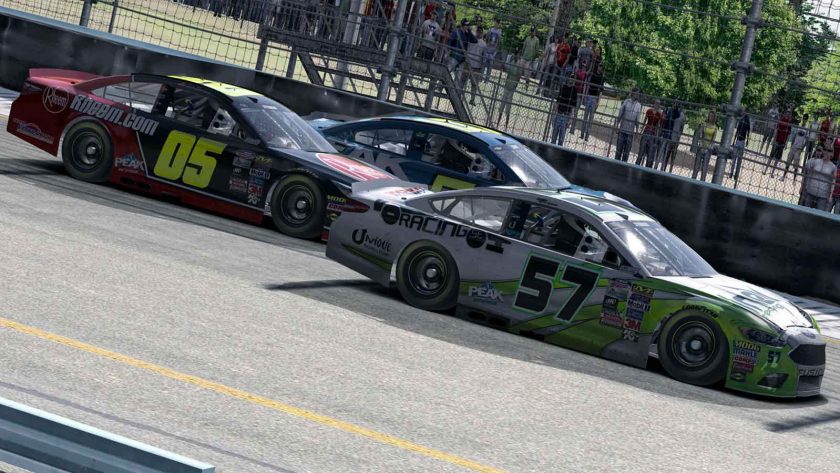 When I was brought in to shine the spotlight on what it's like to be part of iRacing's Pro and World Championship-level series, I told David Phillips that I'd submit at least one article per race with some during the off weeks. This is article #8 for 2016, and is a firm representation of how our season fell off the rails early and took a herculean effort to get it back to where we finished the season. In the years I've been writing for Sim Racing News, I have repeatedly made a mistake of saying in every final article that the season was "the most difficult", or "the worst". I'm not going to say that because it keeps biting us in the rear for the next season. It was difficult, we'll just leave it at that.
The first few races were not bad, but we were still coming off of a rough finish to 2015 with the dynamic track updates. Luckily, we had a few races to try to get a handle on the tracks using the old aero package before the spoiler and splitter got trimmed mid-season. Daytona went surprising well, Atlanta was okay, but Phoenix is where things started to come unraveled. I got caught off-guard by Kenny Humpe's pit strategy which resulted in an extra pit stop for Nick, taking him right out of contention for any decent finish.
Following the race at Auto Club Speedway, I started putting more time into our Class B Series cars instead of Nick's efforts in the NASCAR PEAK Antifreeze Series. While that has paid off with every person on our team (except for me) getting at least one win in that series this year in a high-SOF race, it may not have done the same wonders for our Class A and NPAS efforts. It's not a problem with the drivers by any means, since Nick won a Class B race at Bristol with almost no practice and then finished 2nd to fellow NPAS driver Allen Boes, and Michael Johnson won the Class B race at Road America. It seemed more like a situation where everyone tried to do their own thing and the one thing we all had in common suffered.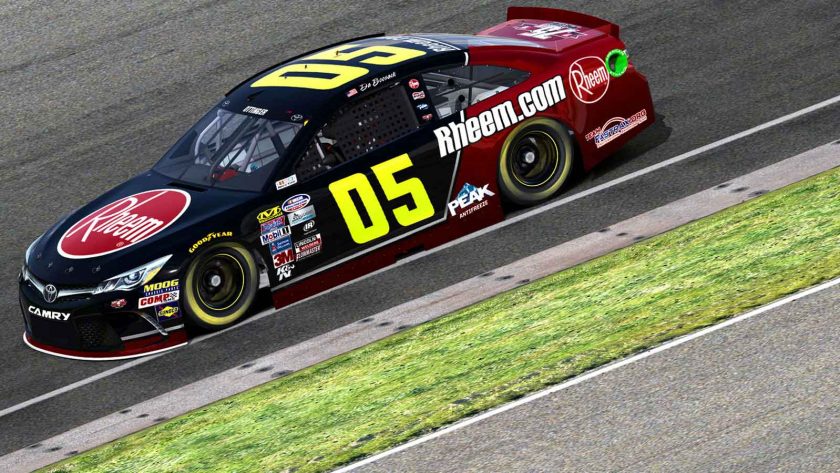 Not all was dark clouds and gloom, however. Everyone has slumps in motorsport, and those who haven't will find them in one eventually. By the time our Kentucky race came along, the setups were not great, usually having one or two simple issues that compounded themselves in the race, communication between Nick and I was lacking, and there were points where we barely spoke between races. For the Indianapolis race, I had my buddy Matt Baker fill in. He did a fantastic job, even gathered all his notes and sent them to me while I was at Charlotte Motor Speedway for the Legend Car races.
Despite all the troubles from the first 10 races, I don't think anyone can deny that we had a major turnaround for the Watkins Glen race. Nick decided to keep his setup from the 2015 race in the car, and I made sure to take our Class B race at the same track a week prior and use what we knew from that race in the NPAS race. Nick and I had both run in the same race that week, we knew how much the track gave up, how it gave up, and the effect pit stops had on the race. Even though I was forced to call the race using the Race Spot broadcast because of connection issues, we very nearly won that race. Following his 2nd place finish, Nick reminisced that the race was similar to the first time I had to call a race from a broadcast: Kentucky in the 2011 Pro Series. In that race, Nick had abandoned the general setup that our guys had come up with and built his own, I wasn't able to connect to the race session, and Nick had to work on his own car (the horrors!). He finished 37th in that race, about 16 laps shy of the leader due to a crash, but everything prior to that went surprisingly well. The bad finish wasn't enough to knock him down in points, and he claimed his World Championship license and got immediately suspended for the first race in 2012. Still, he won the next one at Phoenix so we can let that go.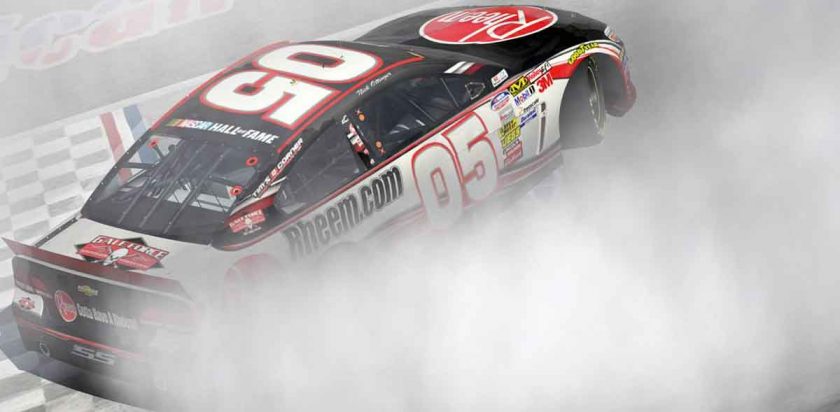 Following Watkins Glen there were a few days where we couldn't quite figure out what happened. An untouched year-old setup should not have been even close to winning that race, not to mention that I was a full lap behind the actual race by watching the broadcast (a little over a minute, for those keeping score). The final three races of the season, Darlington, New Hampshire, and Homestead, were the three best races I think we've ever had in terms of strategy. The Darlington car was not perfect, but through some trickery we managed to get near the lead on the first stop. The car for New Hampshire was nearly flawless, as was the Homestead car, and we backed both of those cars up with pit strategy that wasn't reactionary to what other cars did. Homestead was the only track I hadn't raced on with dynamic tracks, so I knew how Darlington and New Hampshire were going to change through the race, and both fell right in place. Homestead was made a little more challenging without a spotter, meaning I had to play both roles while Nick found himself smack in the middle of a fierce title fight. Nick finished 3rd, following the only two drivers that mattered in that race.
Many, including myself, have likened the NPAS race at Homestead to the 2011 race between Tony Stewart and Carl Edwards. It's true, the similarities are rather eerie, and I don't think anybody who was watching that race could take a breath during the final restart to the checkered flag. By the final 10 laps, Nick had damaged the right and left-sides of his car taking him just out of reach of winning. We both had a front-row seat to the championship fight, and couldn't be happier. Come to think of it, the third place finisher in the 2011 race wasn't mentioned much at all, and finished out of reach of the two championship contenders. However, he's become a major contender in the championship since then, so maybe we can borrow a bit from history's habit of repeating itself.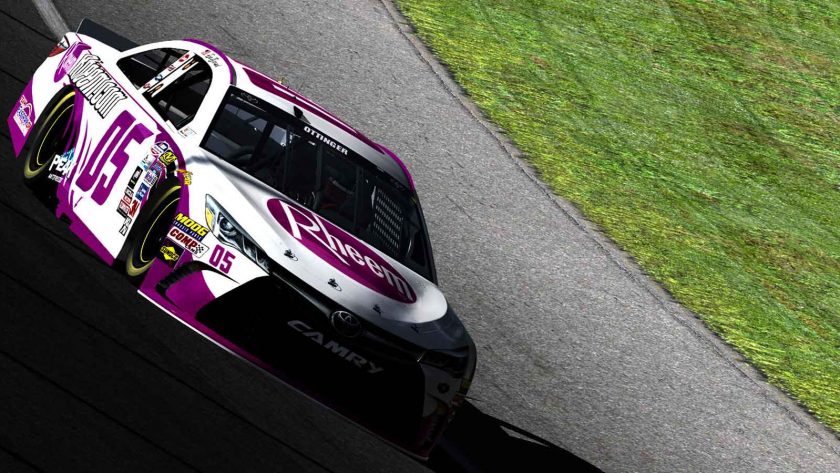 When I started writing these articles, things were pretty good in the #05 camp. We hit some struggles in 2015 and couldn't figure out how to win races again. I told Mr. Phillips that it was simply a case of us becoming happy with our 2013 run and not doing anything different in the following years. He gave me this simple quote:
"When you become complacent in motorsports, you can't move forward. Someone will come along and show you that you aren't the best, and by the time that happens, it's already too late to catch up."
Complacency is exactly what bit us that year, and we managed to turn it around and win at Indianapolis last year, a track that had been a thorn in Nick's side since he first signed up for the iRacing service. Maybe that's what happened this year, but in a different way. I've wondered if we simply accepted that we were no longer capable of top-10s anymore, but we somehow managed to turn it around and string together three fantastic races and show ourselves that we still know what we're doing, and a championship is by no means out of reach.
So to answer the question, "How do you cope with a streak of bad races?", the answer is simple: keep going. If you start finishing poorly, crashing, or get frustrated each week, stopping is not going to fix that. There were weeks where Nick and I both had a serious discussion on whether or not 2015 would be our last year in the PEAK Antifreeze Series. There were weeks when we discussed whether 2016 would be the final year. If you race, real or virtual, without the idea that your streak of awesomeness will come to an end, you doom yourself to an even harder fall when it actually does happen. Our 2013 season was amazing, but that's in the past. The 2014, 2015, and 2016 seasons were pretty bad in comparison, but it doesn't mean we can't come back in 2017 and win a bunch of races again. There were a lot of drivers who have done well in previous years that did relatively poorly this year, but in the same way, they're the only ones who can keep themselves from making championship runs again.
Finally, I'll let Mr. Ottinger himself say a few words about the season:
I felt defeated with how I have been performing for the last few seasons all together. I didn't lack confidence, but instead motivation to work harder for our team. I knew something needed to change with our performance and that starts at the top with me. The last half of the season was rejuvenating for me to do better. We had a more fun this season than in the past within GFR, however it still proved difficult. I felt we were just starting to hit our stride near season's end and it was a proud effort for us at GFR. I want us to be the best team in NPAS and will do everything to prove this in 2017.
And with that, we'll sign off for 2016. The 2017 season isn't that far away, we'll see you in Daytona.
Article by Matt Holden, in association with iRacing.