Next Level Racing has been on a bit of a product release spree of late. Having launched the Wheel Stand DD, designed specifically for direct drive wheels, and the Traction Plus platform, that brings lateral motion to consumer rigs, there's a clear intention to advance the sport of sim racing.
However, at a time when the wider motorsports community is taking virtual racing more seriously, I'm stoked to see that the Aussie brand has also focussed on encouraging newbie sim racers into the fold. Earlier this year, I reviewed the Wheel Stand Racer—a basic but robust starter rig that's ideal for those short on space. Next Level Racing has since launched a seat add-on to convert this wheel stand into a full cockpit, which you can now buy as a complete chassis.
Next Level Racing Challenger cockpit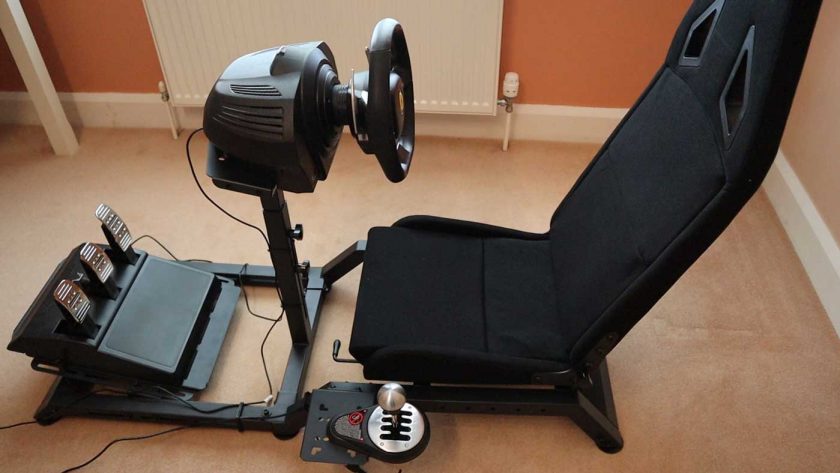 Being the cheapest ever complete sim racing rig from Next Level Racing, the aptly named Challenger is aimed at entry to mid-level sim racers. Sitting at a competitive price point, it retails for £299 (UK) / $349 (US)—about £100 more than the turbo-charged deck chair that is the Playseat Challenge (its similarly named competitor). However, I've seen some good deals online, so it's worth a quick search to see if you can pick up a bargain.
Impressively, the cheaper price doesn't result in reduced build quality. The Challenger is made from the same 4 cm square, 2mm thick carbon steel tubing that's found on Next Level Racing's flagship rig, the GTtrack. The entry-level model does, however, feature a centre post design and a stripped-down seat—but more on that later.
Assembly
You'll need to set aside an afternoon to assemble the rig but, true to form, Next Level Racing has included a hex key, spanner (wrench) and all of the hardware you need—just watch your hands on those pesky blister packs.
You'll also want to lay down a mat or sheet to prevent grease getting on your floor as the bolts leave an oil residue on your fingers during the build. Bonus tip: wear latex mechanics gloves.
The included instructions are easy to follow and most of the assembly is straightforward. However, the Challenger comes with a unique flatpack seat, that requires you to bolt the seat sliders to the base before attaching it to the chassis. This process is tricky and involves moving the sliders back and forth a few times to access the different bolt holes. You only need to do this once, though, so it's not that big of a deal.
Adjustable reclining seat
Once installed, the seat can be easily adjusted forward and back along the sliders to accommodate drivers ranging from 4ft – 6ft 9 inches. So the whole family could feasibly use this rig without having to adjust any bolts.
The seat is covered with an Alcantara-like fabric and, while the padding is minimal, its tightly packed and deceptively comfortable. For an hour or two stint, I found that the seat provided more than enough support. However, if you're planning on racing in an endurance class, then it might be worth using a lumbar cushion.
The seat can also be reclined to three pre-determined angles. Unfortunately, you can't easily do this while sitting in the seat, because the process involves removing and repositioning the two screw-in fasteners on either side. However, I ended up just leaving the seat in the middle recline position since I found that this was the most comfortable.
Centre post wheel mount
As I mentioned before, one way that Next Level Racing has reduced the cost of this rig is by designing it with a centre post wheel mount rather than the more stable dual post frame found in their more expensive models.
I'm usually not a fan of centre post designs in sim rigs but I was pleasantly surprised to find that the centre post on the Challenger didn't affect left-foot braking, even with a three-pedal set. For those wanting to use a shifter with this chassis, I also found that heel and toe manoeuvres were unencumbered.
Two screw-in fasteners secure the centre post, which can be extended to a height of 80 cm—plenty tall enough for most users. You can also raise the height of the entire frame using the included height-adjustable feet. These can be swapped out for a set of caster wheels, for better maneuverability, but unfortunately, these aren't included in the box and are an added extra.
Without caster wheels, the rig is a bit cumbersome to move around. It weighs about 24 kg and has a footprint of 140 x 48 cm, so you might need an extra person to help you lift it. That being said, it's pretty compact as far as sim racing cockpits go, so it does fit neatly in the corner of your room when not in use.
Unlike the Playseat Challenge or Next Level Racing's own Wheel Stand Racer—which has a hinged centre post—the Challenger does not fold down to help with storage. Instead, the centre post is welded directly to the chassis frame, for improved rigidity. However, when the centre post is extended, there is still a slight wobble in the horizontal direction. If you're particularly picky about these things, then that might bother you, but I found that I didn't really feel it when racing—even with the force feedback turned way up.
The Challenger is more than capable of supporting most belt and gear driven wheels on the market—which is pretty much any entry to mid-level wheel.
On that note, the wheel mount comes pre-drilled to fit most Thrustmaster, Logitech and Fanatec wheels. You can also adjust the tilt, up to an angle of 30°, by realigning the bolt to one of the four pre-drilled angle adjustment points. This is really easy to do and holds the wheel deck securely in place.
High-quality pedal deck
The footwell portion of the rig is a few inches lower to the ground than the seat. It has three slots through which the pedal deck can slide forward or back to adjust distance.
Like the wheel mount, the pedal deck can also be tilted up to 30°. It comprises a cross-brace and a pedal plate that's been lifted straight out of the top-of-range GTtrack.
Its simple design is adaptable to fit most pedal sets, with the various pre-drilled slots positioned to facilitate high or low mounting positions. The slots also enable you to adjust your pedals further left or right and position the centre post between the throttle and brake pedal. This is a great feature and helps you minimise any driving interference from the centre post.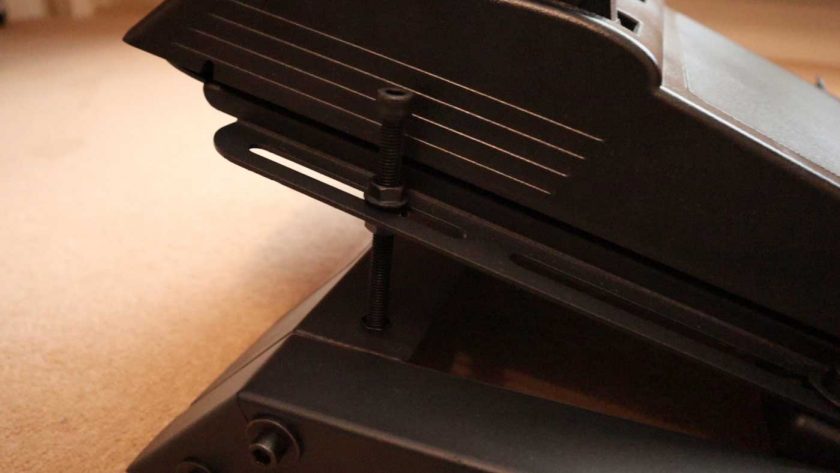 It's also worth installing the included support bolts, since the pedal plate does flex under heavy load. These do a great job at eliminating the flex, so you should have no problem running a load-cell brake pedal.
Included shifter mount
The included shifter mount is another nice addition to the Challenger cockpit, and one that you don't always find in sim rigs at this price point. It can be attached to either side of the wheel mount or, for a more realistic driving position, there are a series or mounting points on either side of the seat rails.
In addition to moving the shifter mount forward and back, the simple but clever design also allows for height adjustment. You can change the height of the shifter mount to a high or low position by inverting the mounting bracket. Alternatively, you can mount the shifter plate directly to the rig for a mid-position. This means that you should be able to fine tune your shifter position depending on the model that you are using.
As with the other mounting points on this rig, the shifter plate is pre-drilled to fit the most popular shifters. With my Thrustmaster TH8A mounted with four bolts, I found that it was super stable and I was able to confidently paddle through the gears without the shifter slipping.
Final thoughts
Costing just a little more than some of the top wheel stands out there, the Next Level Racing Challenger cockpit provides great value for a complete sim racing rig. While basic, the seat is sturdy and quite comfortable and the seat sliders work well.
The wheel, pedal and shifter mounts are all pre-drilled to fit the most popular setups and are fully adjustable to fine tune your driving position around the centre post.
While the Challenger lacks the foldability of its competitor (the Playseat Challenge), it's small footprint means that it tucks away in the corner of your room when not in use. The pedal and shifter plates are also of notably high quality and can support high loads. If you want to upgrade to a load-cell brake pedal, for example, you can confidently do so with this rig.
So, if you're new to the sim racing world or on a budget and looking for a complete sim racing rig with a seat, then the Next Level Racing Challenger cockpit is a worthy option for you.
Verdict
The Next Level Racing Challenger cockpit provides great value for a complete sim racing rig, costing just a little more than some wheel stands.
Pros
Competitively priced
Compact design
Strong carbon steel frame
Height adjustable
Tilt adjustable wheel deck
Tilt adjustable pedal deck
Included shifter mount
Pre-drilled for most consumer wheels
Centre post does not affect left-foot braking
Cons
It's a centre post design
Can't fold down like the Playseat Challenge
Slight horizontal wobble
4.5
Impressive complete rig for the price