Over the last few years, Next Level Racing has been building out its core range of dual driving position sim racing cockpits. Two years ago, I reviewed the entry-level F-GT Lite. Targeted at newbie sim racers, it's a foldable solution for those that don't have enough space for a permanent sim racing rig. Then there's the mid-range F-GT. Again, supporting both formula and GT driving positions, but in a more robust carbon steel package.
Both of these are fantastic platforms to run most belt and gear driven wheels on the market. However, with the industry moving towards more powerful direct drive wheels and load-cell or even hydraulic pedals, it's the perfect time for the Aussie brand to up their game with the F-GT Elite.
Next Level Racing F-GT Elite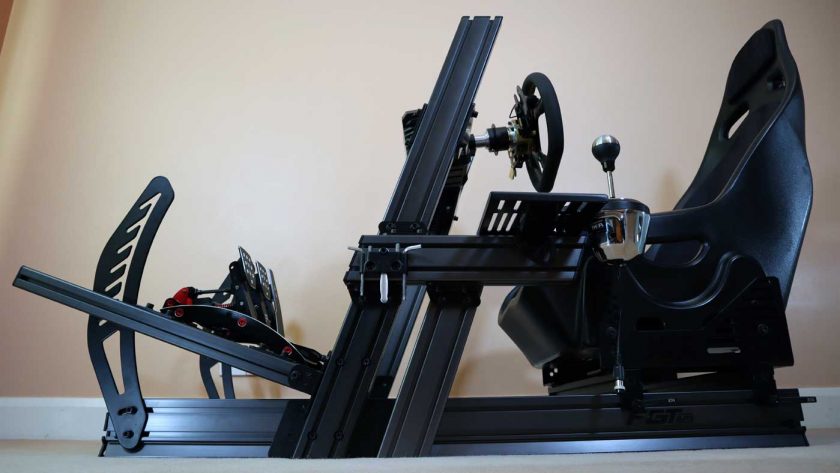 Initially teased about a year ago, with a few close-up photos, the F-GT Elite is Next Level Racing's first foray into the world of extruded aluminium profile. For those unfamiliar, this is a modular building material that has become a staple for use in higher-end sim racing setups. It's flex-resistant and fairly simple to work with, allowing for a wide range of adjustability. Plus, there's near-limitless potential for expansion and modification down the line.
The wheel plate version of the F-GT Elite, suitable for base-mounted wheels, currently retails for £899 (UK) / $999 (US), which includes shipping. For a bit of extra flair, the iRacing edition features blue power-coated brackets and comes with a free 12-month iRacing subscription for new members. This adds an additional £100 (UK) / $100 (US) onto the price, which is the same for the front & side mount edition we'll be reviewing.
Replacing the GTTrack as Next Level Racing's flagship cockpit, the F-GT Elite has been designed as an alternative to other top-tier rigs, such as the Sim-Lab P1-X and Track Racer TR160. However, rather than simply spitting out another generic aluminium profile cockpit, with different branding, the team has really considered what new innovations they can bring to the space.
Assembly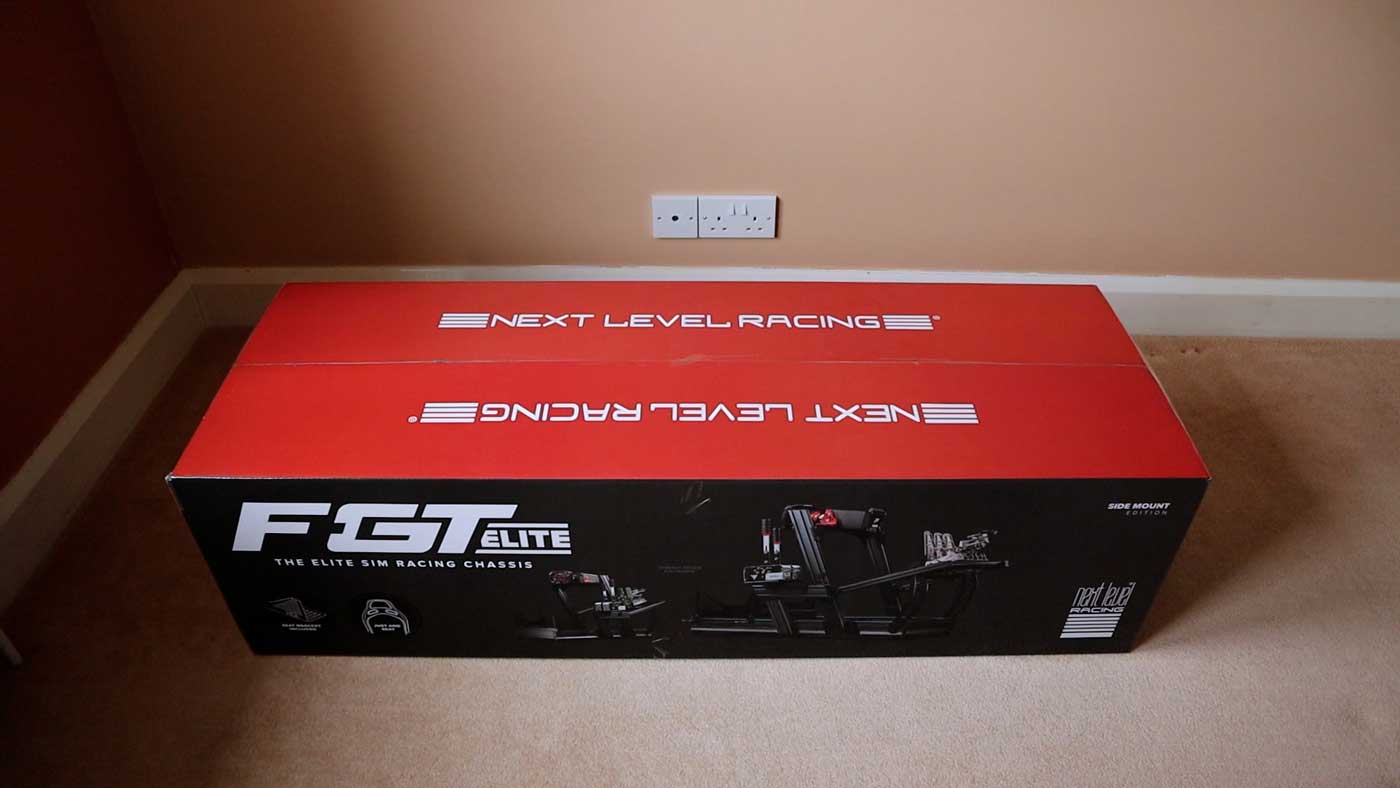 This is evident the moment you open the box; I've never seen a sim racing rig packaged this well. The EPS foam mould ensures that the aluminium profile arrives at your door unscathed. But, perhaps more importantly, all the parts are labelled and laid out in exactly the order you need them. If it's your first time working with aluminium profile, then this is something you'll certainly appreciate, along with the included easy-to-follow instruction booklet.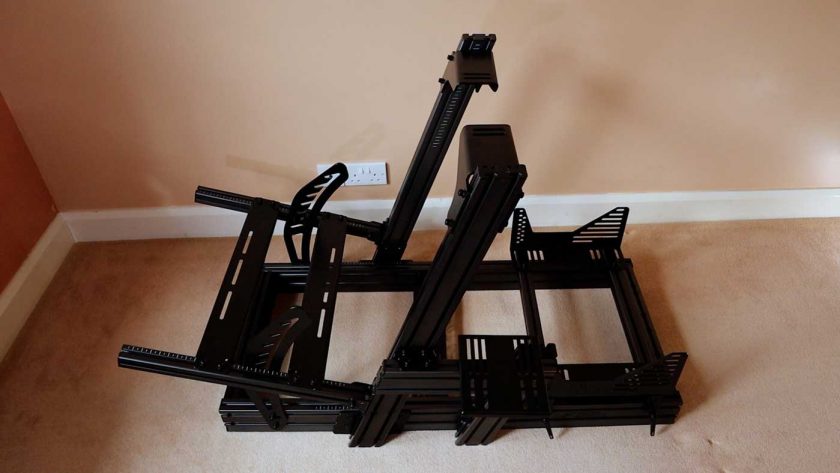 The assembly process is quite involved, so you'll need to set aside a full day or a couple of afternoons to assemble the rig, mount your equipment and fine-tune your driving position. It is possible to complete the build solo, as I did. However, Next Level Racing recommends that you get a helping hand. And I would second this, as there are some tricky angles to work with and a few occasions where you need to awkwardly hold pieces in place.
If you get stuck along the way, Next Level Racing has an excellent build guide video on its YouTube channel.
Unlike most aluminium profile rigs, which rely on unsightly corner brackets to join pieces, the F-GT Elite's base profile is pre-machined so that it simply bolts together directly. Aside from looking a lot cleaner, this ensures a more rigid connection.
Custom brackets are then used to connect other pieces of profile. These are secured with M8 socket cap screws and roll-in T-nuts which are spring-loaded to help hold them in place. To connect the wheel mount, shifter and pedal deck uprights even more securely to the base, Next Level Racing has also included full-width T-nuts. These need to be slid along the base profile before you bolt it together, which can be a little tricky to do. I had some slight difficultly with a few of the T-nuts because the tolerances are so tight. Luckily, there are plenty of extras included in the box, so I was able to replace any uncooperative components.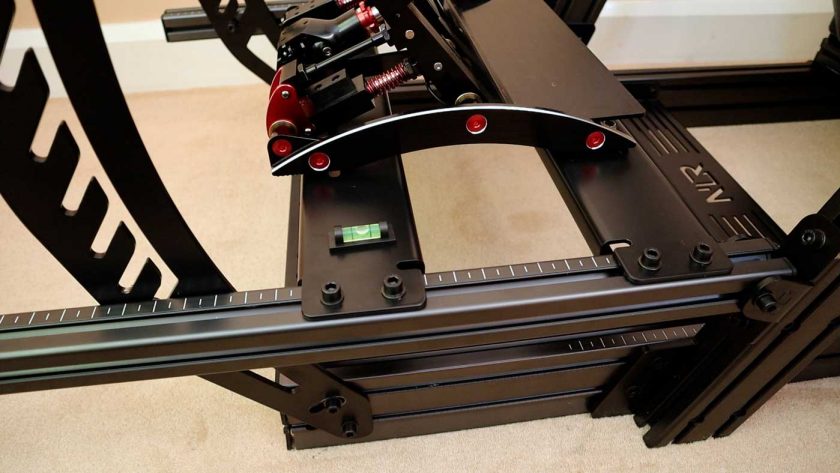 The laser etched lines along the base, wheel mount uprights and pedal deck make it a lot easier to line everything up without the need of a tape measure. Plus, the included magnetic spirit level comes in handy when levelling the wheel and pedal decks. On that note, the instructions suggest that you bolt the wheel side-mount brackets to the mounting arms before attaching your wheel. However, I think it's much easier to do the other way around, with less risk of dropping your precious direct drive wheel base.
F-GT Elite design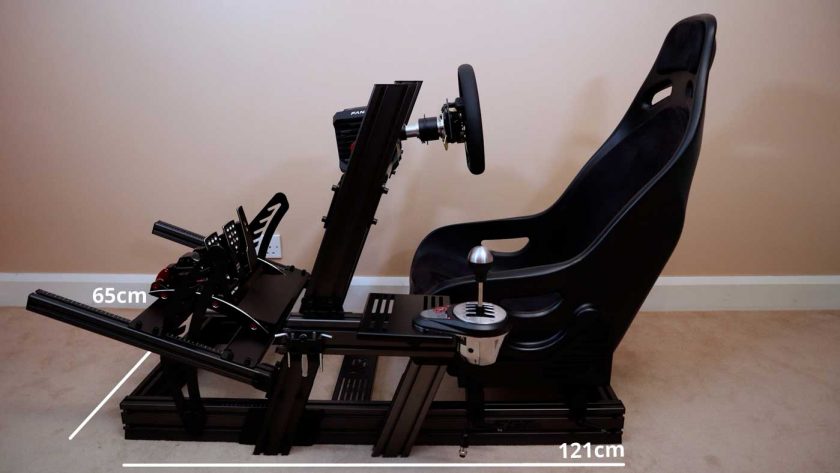 Fully assembled, the F-GT Elite has a base footprint of just 121 x 65cm. However, you'll probably need to allow for more space to accommodate the seat, pedal deck and shifter mount, depending on their orientations.
Next Level Racing has selected mid-weight 40100 profile (measuring 40 x 100mm) for the base, 4080 profile (measuring 40 x 80mm) for the wheel mount and shifter uprights, and four pieces of 4040 profile (which, you guessed it, measures 40 x 40mm) for the seat rails and pedal deck. In my opinion, it's the perfect profile choice for this rig, bolstering the build where you need it without pilling on unnecessary pounds.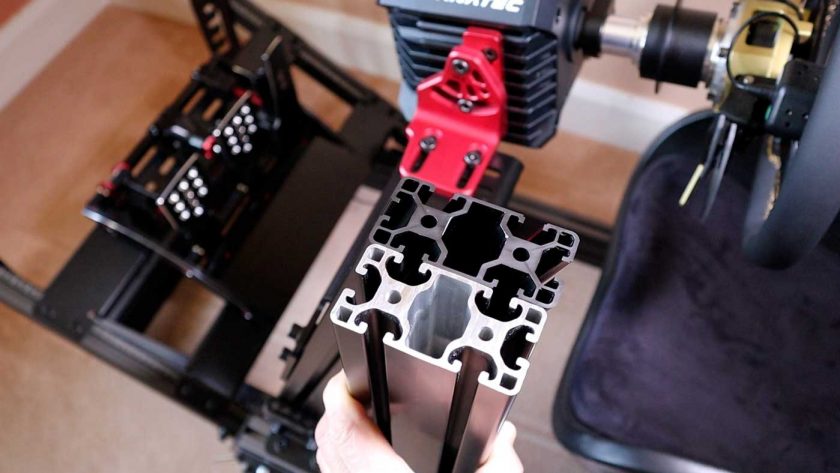 In fact, at 53kg, the F-GT Elite is closer in weight to the Sim-Lab GT1 Evo, than the 60kg P1-X that it directly competes with. In part, this is likely due to the slightly lighter grade aluminium profile utilised by Next Level Racing. However, it has the same core width as Sim-Lab profile and I didn't notice any difference in flex-resistance.
With that in mind, the post anodised carbon grey finish, applied to the profile, is absolutely gorgeous and runs right the way through the centre for extra protection. Along with the aggressive shear angle of the uprights, custom end-caps and black powder coated carbon steel brackets, the F-GT Elite really stands out from the crowd. If you're searching for an aluminium profile cockpit based on aesthetics alone, then look no further!
Next Level Racing ES1 sim racing bucket seat
Out of the box, the Next Level Racing F-GT Elite doesn't come with a seat as standard, leaving it up to the buyer's personal preference. However, you do get a set of side-mount seat brackets, which most brands only supply separately. These are constructed from beefy 5mm thick carbon steel, to ensure maximum rigidity, and have been specifically designed to support multiple seating positions, with 98 adjustment points.
The seat brackets will fit most side mounted bucket seats, but to unlock their full potential, Next Level Racing has created the ES1 sim racing seat, that you can currently pick up for £399 (UK) / $449 (US). Developed specifically for virtual motorsports, the ES1 is primarily made out of plastic, rather than fibreglass, and weighs about 16kg. The rotational moulding process used to create the one-piece shell, however, ensures maximum tensile strength and rigidity. Once the mounting bolts are securely tightened, the ES1 is a very solid seat. I didn't notice any undue flex when pushing hard on the brake pedal—certainly nothing more than you'd expect from a race-ready bucket seat in a real car.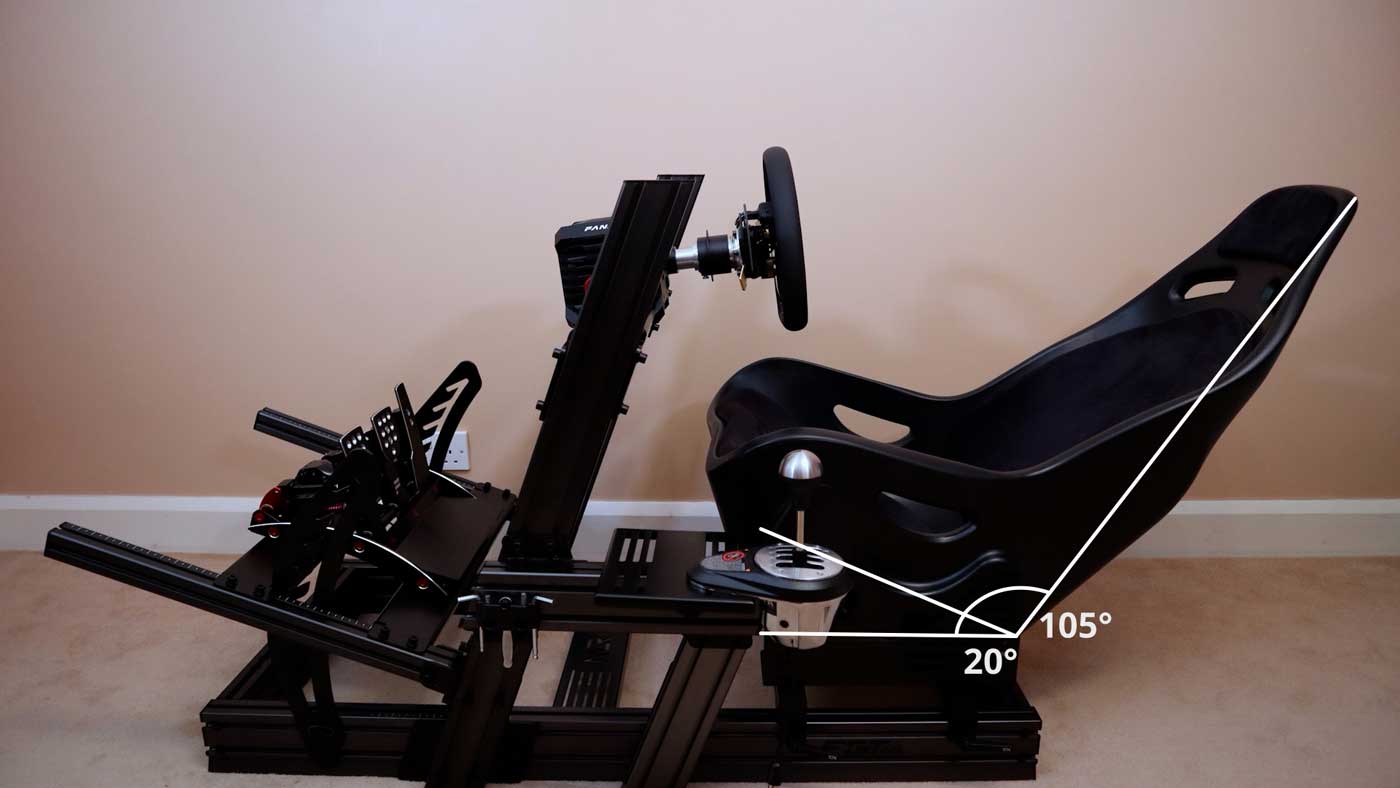 Due to the one-piece design, there's no recline adjustment in the seat itself. However, the entire seat can be tilted back as one unit by up to 20°. The seat backrest is also fixed at a slight recline angle of approximately 105° to the base. This helps to emphasise the laid-back position in a formula configuration, while also providing a realistic and comfortable GT driving position when the seat base is mounted parallel to the floor. In this case, you can also raise the height of the seat by 9cm to better replicate a rally or touring car cockpit.
The overall design of the seat is actually quite clever, with a more open shape around the shoulders and plenty of room around the legs and hips. At its tightest point, the ES1 measures a forgiving 38cm across, allowing enough space for larger sim racers to fit comfortably. However, for sim racers of average build, the sides tuck in more closely around the torso. The end result is a bucket seat that fits a wide range of body types.
Three sections of foam provide additional support around the head, back and seat. The Alcantara finish and embossed logo helps to elevate the overall look. While the firm cushioning provides adequate comfort for those longer driving sessions. Personally, I would have preferred a little extra lumbar support around the lower back, but an extra cushion does the trick.
Included 4-point harness and motion compatibility
The seat also features cutouts for a 4-point harness. So, this can easily be added if you want to use it with a motion platform. The seatbelt provided by Next Level Racing was initially designed for use with the GTTrack. So, if you're of a smaller build, you'll need to get creative with the mounting points as the harness is a little too loose. For the most part though, this can be fixed by using lower bolt points on the base profile, rather than the seat brackets.
If you are lucky enough to own the Next Level Racing Motion Platform V3 and/or the Traction Plus Platform, you'll be pleased to know that the F-GT Elite works seamlessly with both of these add-ons. For the Motion Platform V3, you get a set of adapter plates in the box, and the base profile has been pre-machined, with all the necessary mounting points, to fit the Traction Plus Platform.
Seat slider system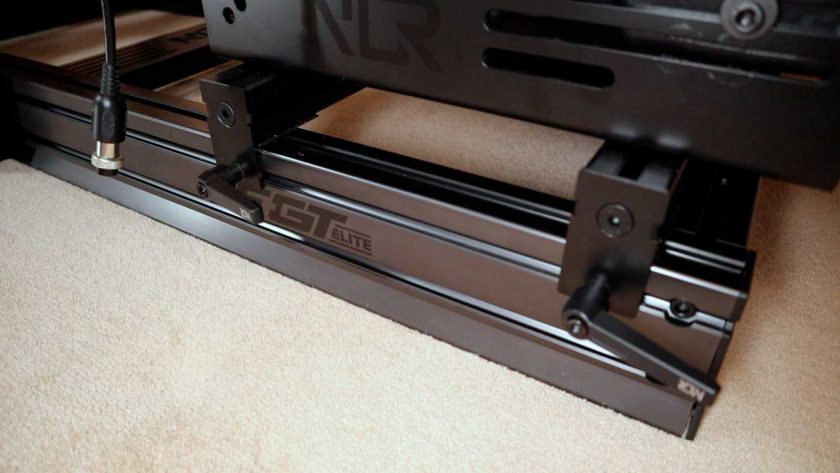 For the rest of us, the F-GT Elite comes equipped with a rather unique seat slider system. Instead of having to install a separate seat slider, Next Level Racing has designed custom slider tabs that simply bolt onto to the end of the seat rails. Thanks to a few felt pads underneath, these slide along the base profile with ease, without scratching the anodised coating. It even works while sitting in the seat, which makes getting in and out of the cockpit much easier.
While some people may prefer the swift action of a traditional seat slider, I really like this approach. Yes, it takes a bit longer to undo and re-tighten the four alloy ratchet handles, but there's no grease to attract dust and it provides a very stable and flex-free base.
Formula and GT driving positions
As you likely already know, the F-GT Elite has been designed to switch between formula, GT, and multiple hybrid configurations. Unlike with the F-GT Lite, switching between driving positions takes a bit more effort and requires you to remove and reposition a few bolts.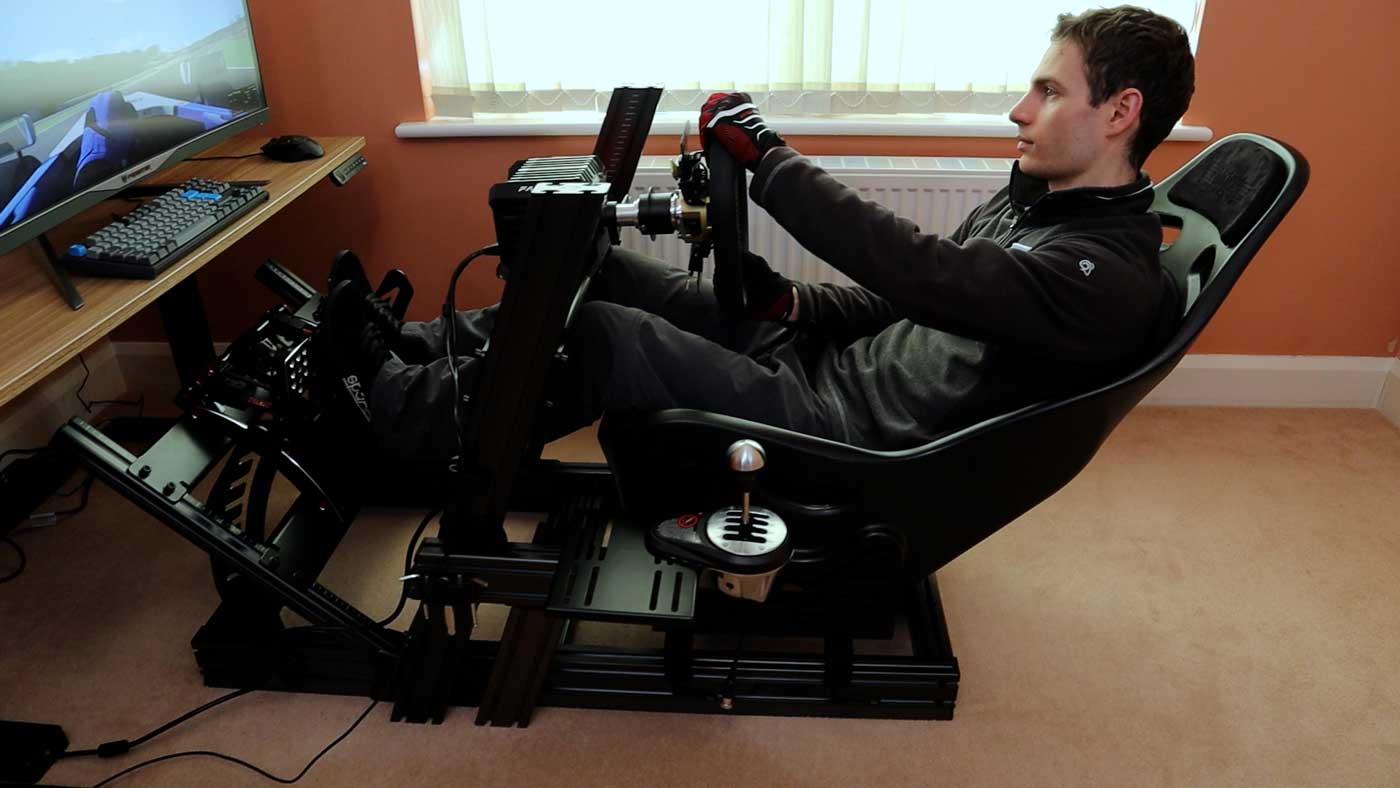 However, once you have your wheel position set comfortably, you should be able to simply adjust the pedal deck and seat around this. The trickiest part here is altering the pedal deck angle and position to your liking. But, once you get the hang of it, it's possible to transform the rig from GT to formula in about 5 minutes.
To help speed up this process, the F-GT Elite comes with its own adjustment toolkit. This attaches onto any piece of profile and consists of two hex keys and a ratchet with heads for M8 and M6 bolts. The tools are superb quality; the hex keys feature ball-ends, for those awkward angles, and the ratchet is a nice size to work in small spaces.
I found the rachet particularly useful for adjusting the steering wheel angle. This helps to dial in a realistic formula position, so that your eye-level drops down and peeks just above the wheel rim. With your centre of gravity low and your feet raised up high, the F-GT Elite makes for an immersive experience when driving open-wheel single-seaters. It's also worth mentioning here that the wheel mounting arms are shaped to allow enough clearance for your knees when driving in this position. It's a subtle but important feature and shows that Next Level Racing has really paid attention to every design aspect of this rig.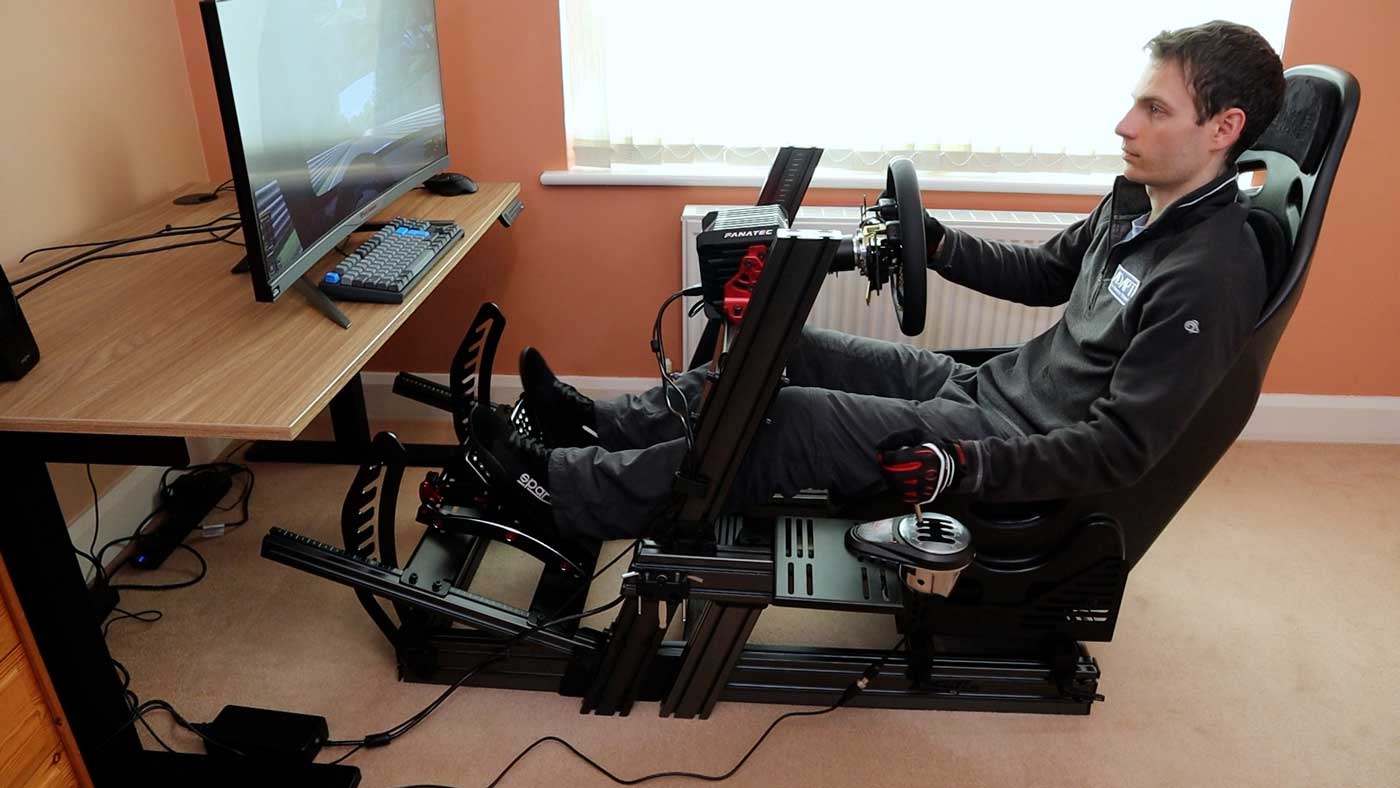 The GT and hybrid positions are also comfortable to use during long sessions and, for the most part, I was able to position my wheel and pedals exactly where I wanted them. Next Level Racing states that the rig can accommodate drivers ranging from 4ft – 6ft 9 inches. However, I think people on the taller and shorter ends of this range may experience some slight limitations.
If you're taller than about 6ft 4 inches, then you may need to look at creative ways of increasing the seat slider range. Thankfully, Next Level Racing has produced an instructional video on this very topic. On the other hand, if you're shorter than about 5ft 4 inches, then you'll likely need to increase the angle of the pedal deck, in a GT configuration, to bring your pedals forward. This is due to the fact that the minimum pedal deck distance is limited by the position of the wheel mount uprights.
Wheel mount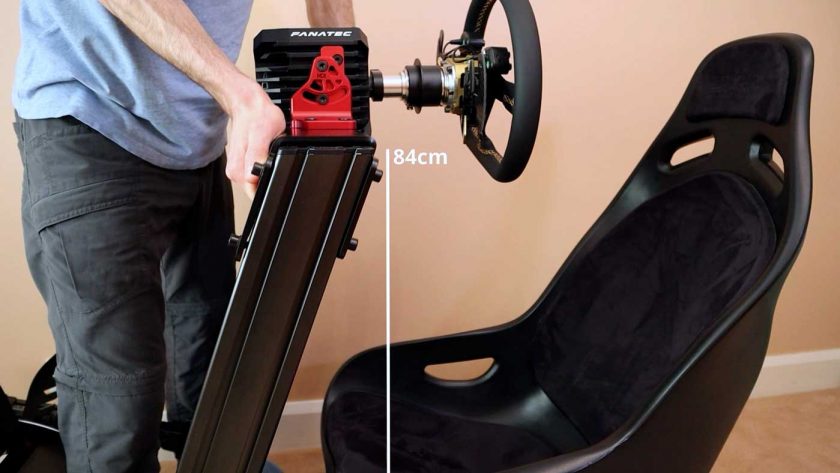 These measure 89cm in length and, regardless of whether you have the wheel deck or front & side mount edition, support a maximum wheel height of 84cm (as measured from the floor). This is substantially higher than most rigs I've tested and is a deliberate feature, enabling correct wheel alignment when the Motion Platform V3 is installed and the seat raised.
You can also lift the entire cockpit using the included shock-absorbing feet. However, I chose not to do this because the rig slides reasonably well on carpet without them. And this enables me to move it to the corner of my room when not in use.
As with assembling the F-GT Elite, it's worth getting an extra person to help you adjust the wheel height. The wheel mounting arms come with felt pads to help them slide smoothly along the profile and prevent them from scratching the anodised coating. However, I found that the internal channels were more prone to scratches from the M8 bolts and T-nuts. So, take your time and, to avoid any unnecessary marks, use the laser etched guides to line everything up before installing the hardware.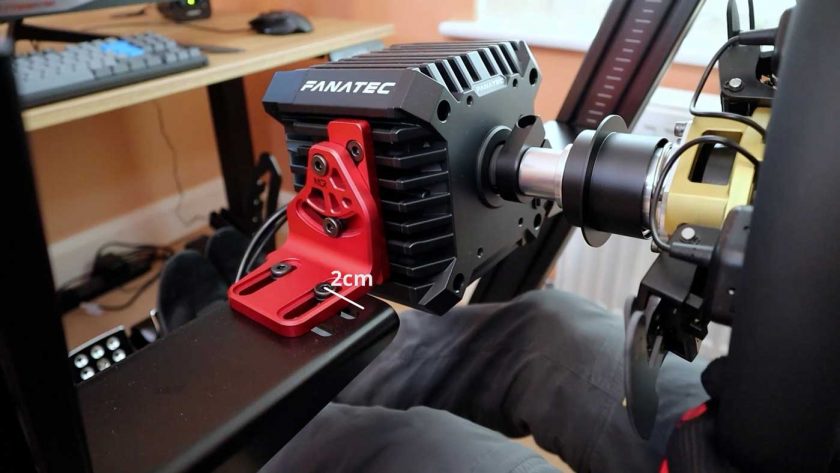 In order to adjust the wheel position forward or back, you need to move the wheel mount uprights along the base profile. And, as I touched upon earlier, you can't do this without moving the entire pedal deck as well. However, with the front & side mount edition, you can independently push the wheel back by about 2cm, which helps to mitigate for the longer steering wheel shafts typically found on direct drive ecosystems.
Of course, the main advantage of side mounting your direct drive wheel is that it distributes load across multiple surfaces to provide a more rigid connection to the cockpit. And, in the case of the F-GT Elite, it also adds a touch of style. Complementing the carbon grey aluminium profile, the 8mm spacer plates and 10mm side-mount brackets are anodised in Next Level Racing red. Aside from the fabulous finish, they are pre-drilled to fit the side-mount pattern on the Fanatec DD1 and DD2. And, if you've recently picked up one of Fanatec's new pocket powerhouses—either the CSL DD or DD Pro—you can also mount it in the same way by using some of the extra M8 T-nuts that come in the box.
For front-mount direct drive wheel bases, Next Level Racing has included a carbon steel bracket to use instead of the aluminium spacers. Again, this has been pre-drilled to fit most front-mount direct drive wheels on the market. Whether you have a Simucube 2, Simagic Alpha or a MiGE motor, you should be good to go. If you have something more exotic though, then check the Next Level Racing website for full compatibility specs.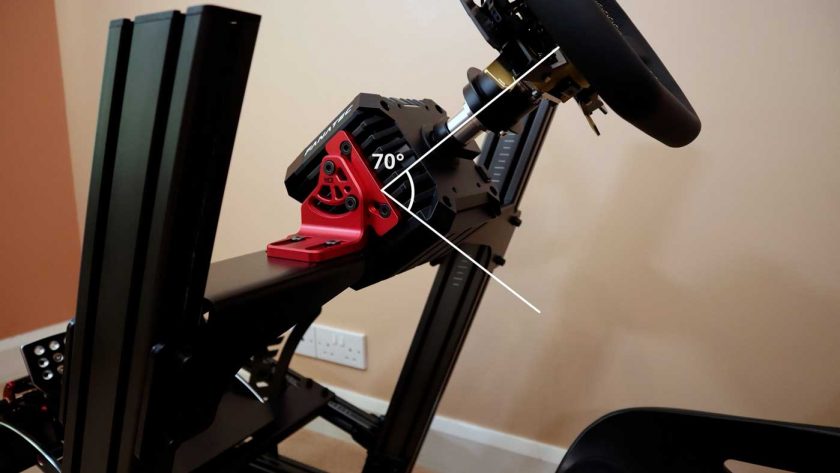 Regardless of whether you front or side mount your wheel base, you can easily adjust the tilt angle through a huge 70° range—up to 35° in either direction. This can be done on the fly by simply loosening and re-tightening the bolts on the side-mount brackets.
Once everything is secured, the entire wheel mount is impressively strong and sturdy. I didn't notice any flex while testing with my Fanatec CSL DD boosted to 8Nm. The side-mount brackets lock your wheel base in place, so that even the most nuanced force feedback characteristics are passed directly through the steering wheel without attenuation. And, even though the wheel mount uprights are quite tall, they remain stable under force, without any lateral movement.
Shifter & handbrake mount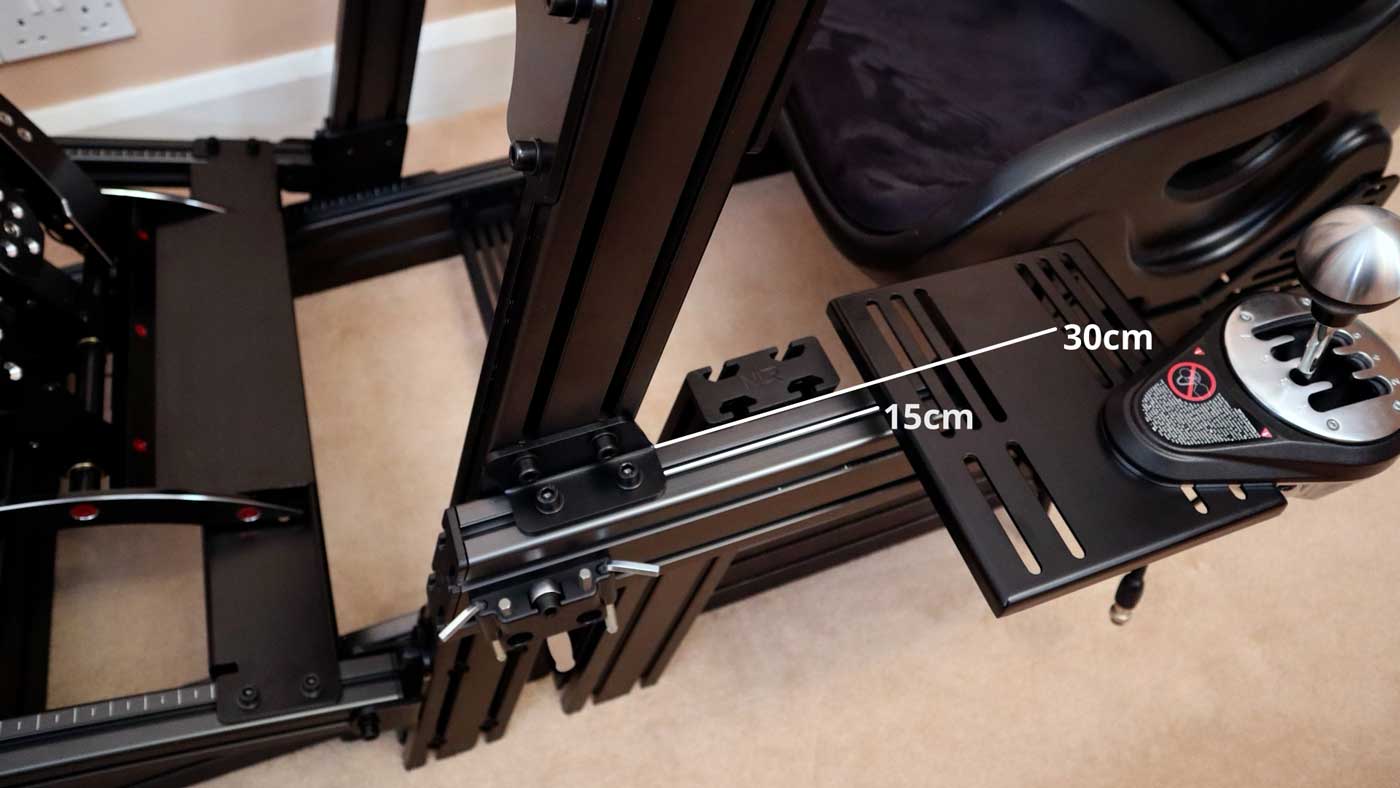 This is, in part, due to the additional reinforcement provided by the shifter support bar. It acts as an extra brace when the shifter arm is installed in its default position—attached to either the left of right wheel mount upright. In this configuration, the included shifter plate can be moved forward or back, by about 15cm, along the shifter arm. With a maximum extension of 30cm, it can also be adjusted to your desired height.
If you need to position your shifter further back still, then you can directly mount it to either side of the seat. To do this, Next Level Racing has included an extra length of aluminium profile that can be bolted to either of the seat brackets.
Personally, I much prefer the default configuration. I was able to mount my Thrustmaster TH8A in a comfortable position for GT racing. And the extra reinforcement, provided by the shifter support bar, is a huge advantage.
Either way though, the 2mm thick carbon steel shifter plate provides a flex-resistant platform for most shifters on the market. There are also additional mounting slots to pair this with a handbrake. The tilt angle can be adjusted by 30°. And, thanks to the updated dual slot design, now shipping with the F-GT Elite, it works regardless of whether you mount your shifter on the left or right side of the rig.
Conversely, the shifter arm mounting brackets are not so cross-compatible. They are shaped to match the angle of the wheel mount upright on the right side of the rig. So, while they still work adequately well on the left side of the rig, the end result is not as aesthetically pleasing. Plus, they jut out slightly, which prevents the pedal arm brackets from being able to slide through their full range. It's not a big issue, and there are ways around this, but it would have been nice to see some mirrored brackets included in the kit.
Pedal deck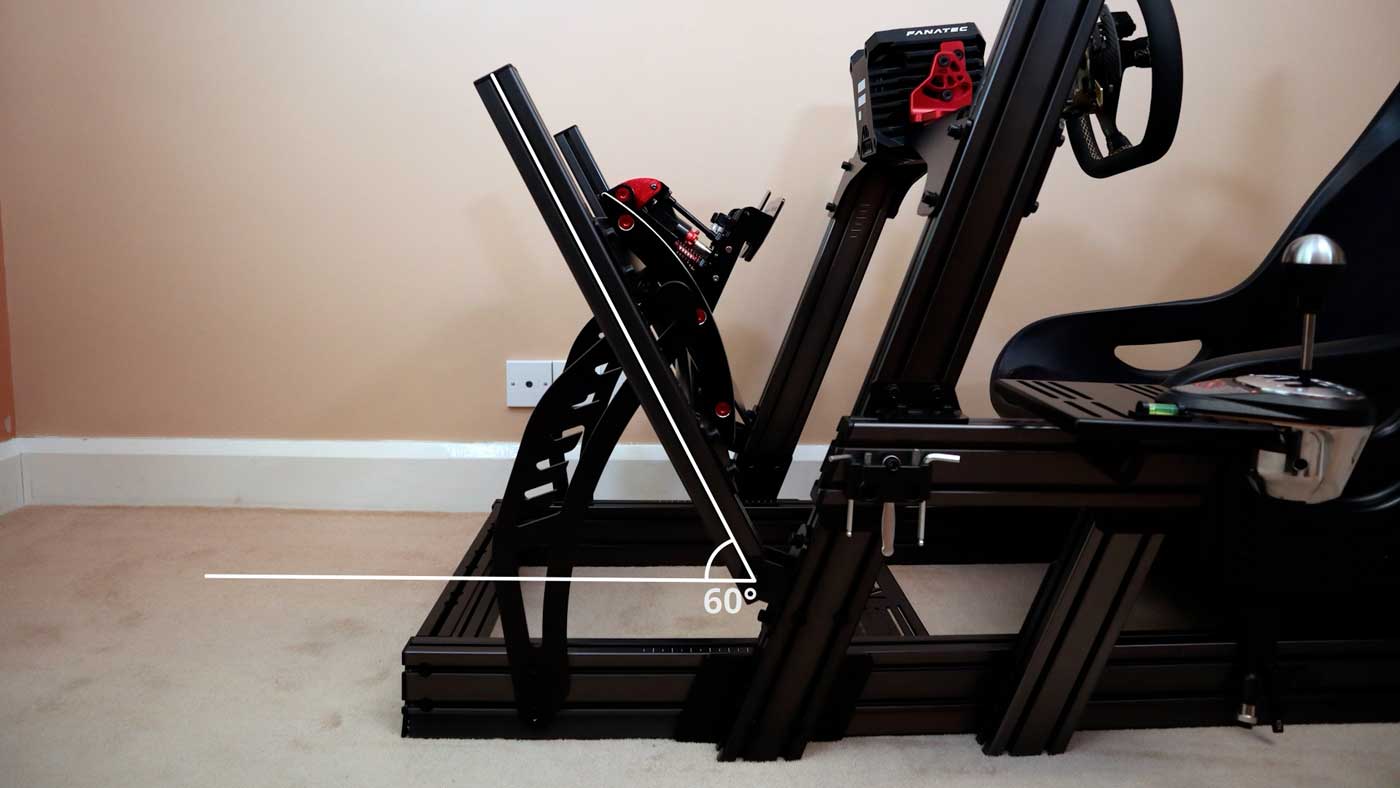 Aside from being able to raise the height of the entire pedal deck, you can also adjust the tilt angle up to 60°, thanks to the 50cm uprights. These are constructed from 5mm thick carbon steel and feature slots, through which you bolt the two aluminum profile arms. While making adjustments can be a little tricky, as with most aluminum profile rigs, the end result is a highly adaptable yet rigid base on which to mount your pedals.
These bolt through the slot pattern of the two pedal plate bars, which can be slid independently along the profile arms to match the bolt pattern of your pedals. It works most effectively when the mounting bars are positioned equidistant from the pivot point of your pedals, as with my Fanatec ClubSport V3 set.
In this case, the entire pedal deck is rock solid, even when pushing hard on the 90kg load cell and in the most aggressive formula driving position.
However, if you're running hydraulic pedals with higher brake forces, or the pedal plate bars are in a non-optimal position, then you may experience some slight flex. From other reviews I've seen and my own experience, I don't think it would be that noticeable when driving. Though, if you have something very high-end, then it might be worth reinforcing the pedal deck with extra aluminum profile.
F-GT Elite: Final thoughts
When Next Level Racing released the first photos of the F-GT Elite last year, I was hopeful that this rig was going to be something special. That doesn't mean to say that the sim racing community didn't have any concerns. After all, blueprints for DIY aluminium profile cockpits are readily available and it was hard to tell from the photos how sturdy the F-GT Elite's pedal deck actually was.
However, now that I've had some time to get to know every inch of this beautifully built cockpit, I'm stoked to share that Next Level Racing has delivered a true masterpiece. With the post anodised carbon grey finish highlighted against the fiery red side-mount brackets, and the aggressive shear angle of the uprights, you'd be hard pressed to make any DIY build look this good.
It's clear that every aspect of the F-GT Elite has been carefully designed. The bolt-together base profile and custom plate sections negate the need for unsightly corner brackets. And the rig is fully compatible with Next Level Racing's motion ecosystem straight out of the box. Plus, you get a lot of included extras; parts like the seat sliders, buttkicker mount and cable clips are things that other brands only supply separately.
Performance wise, the entire cockpit is rock solid and ready to handle any direct drive wheel on the market. The pedal deck is also surprisingly strong. Unless you're running pedals with F1 level brake pressure, then you'll have no problems at all—even with the pedal deck raised up high. And, thanks to the adaptability of the rig, you can easily reinforce the pedal plates with extra aluminum profile if needed.
While it might take a bit longer than other rigs to set up and make adjustments, the F-GT Elite allows you to fine-tune the position of your equipment down to the millimetre. So, most people will be able to craft their perfect driving position—whether in GT, hybrid or formula. However, while elegant, the design of the pedal deck means that it can't be moved independently from the wheel mount uprights. Therefore, shorter sim racers may need to think creatively to compensate.
Overall, though, the F-GT Elite is a fantastic option for any sim racer looking for a high-end cockpit—particularly one well suited for formula style racing. Once again setting itself apart from the competition, Next Level Racing has raised the bar for future aluminum profile builds.
Next Level Racing F-GT Elite cockpit
Verdict
With the post anodised carbon grey finish highlighted against the fiery red side-mount brackets, the F-GT Elite is one of the most aesthetically pleasing aluminium profile rigs on the market. And, with performance being equally impressive, Next Level Racing has delivered something special.
Pros
Gorgeous post anodised carbon grey finish
Stylish front & side mount brackets
Included seat brackets and seat slider system
Included cable clips, toolkit and buttkicker mount
Fully compatible with Next Level Racing motion ecosystem
Well packaged to protect aluminum profile
Flex free for most direct drive wheels and high-end pedals
Realistic formula and GT driving positions
ES1 seat fits a wide range of body types
Cons
Pedal deck position can't be adjusted independently of the wheel mount
May need to reinforce pedal deck for hydraulic pedals with very high brake forces