Back in the spring, when Next Level Racing's seedling aluminium profile line started to bloom, I published my review of the gorgeous F-GT Elite. Now, at the end of the year, it arguably remains the best looking aluminium profile rig currently on the market—with its little brother, the GT-Elite, coming in a close second.
While the F-GT Elite carries a premium price tag of £899 (UK) / $999 (US), the GT Elite starts at a more budget-friendly £649 (UK) / $699 (US) and can be upgraded with various add-ons down-the-line. However, with inflation hitting record highs across the world and many people feeling the squeeze, the Aussie brand has just launched cheaper versions of both cockpits.
Next Level Racing Elite Lite cockpits
Launching this month, the new GT Elite Lite and F-GT Elite Lite come in both wheel plate and front & side mount editions. Trimmed-down to the essential components, each rig offers the same core functionally of the original cockpits.
"We are proud to introduce a new, more affordable range of aluminium profile cockpits with the launch of the Elite Lite series," said Next Level Racing CEO Hess Ghah. "The Elite Lite series focuses on allowing the community to interact with the Next Level Racing's premium aluminium products, while letting the user decide what their next steps are to complete their immersive experience with the existing accessories."
GT Elite Lite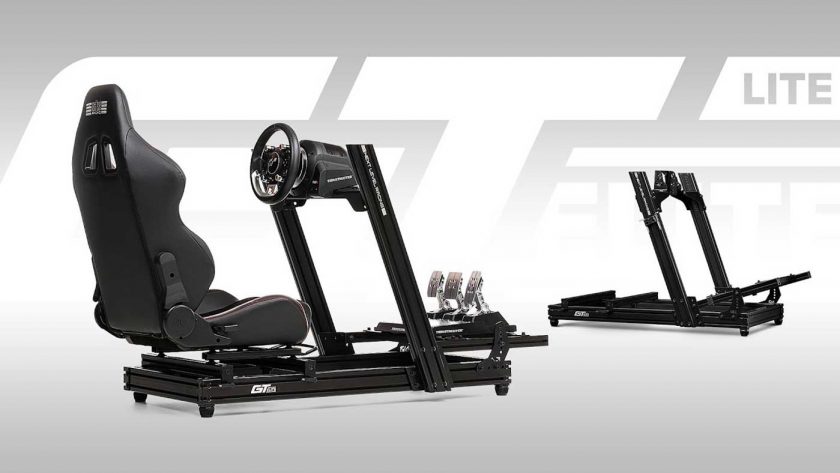 The GT Elite Lite starts at just £599 (UK) / $599 (US), making it Next Level Racing's most affordable aluminium profile cockpit to date. Utilising the same black anodised aluminum profile as the original GT Elite, the savings come from the omission of the shifter and handbrake mount as well as the seat brackets. However, these can both be purchased separately, and the rig is fully compatible with all the Elite series add-ons.
F-GT Elite Lite
Similarly, the F-GT Elite Lite ships without a shifter and handbrake mount. However, full-sized seat brackets are included to enable formula, GT and hybrid seating positions. To keep costs down, the F-GT Elite Lite is built from the same lighter-grade aluminum profile as the GT Elite. Essentially, it's a GT Elite with the Elite formula upgrade kit, but without a shifter and handbrake mount. However, starting at £699 (UK) / $699 (US), it's cheaper than buying the GT Elite and upgrade kit separately.
Next Level Racing ERS2 reclining sim racing seat
Alongside the two 'lighter weight' cockpits, the sim racing giant has also launched a 'Lite' version of the ERS1 reclining sim racing seat, that I reviewed in my GT Elite review. Retailing for £299 (UK) / $299 (US), the ERS2 is 30% cheaper than the original model and features the same classic sport seat profile. It also comes with double locking recliners and seat sliders, with the only main difference being material choice.