For many sim racers, a lack of space prevents them from being able to run a dedicated racing simulator cockpit at home. Apart from sticking to a wheel stand, there aren't many options available for those needing a sim racing solution that can be easily stored when not in use.
If you're reading this review, then you're probably already familiar with the Playseat Challenge, which goes some way to filling this gap in the market. It's essentially a turbo-charged deck chair that can be folded up for easy storage and was, in fact, my first sim racing rig. At the time, it was the only off-the-shelf solution that fit in the space I had to work with.
However, Next Level Racing has recently launched a new foldable complete cockpit that looks to address some of the shortcomings of the Playseat Challenge. So, could this be the small-space sim racing chassis we've been waiting for?
Next Level Racing F-GT Lite
Built around a series of adjustment hubs, the Next Level Racing F-GT Lite is much more than just a cheaper version of the F-GT—in fact, it's a completely unique beast. Though, like its bigger brother, the F-GT Lite is two (well…actually five) cockpits in one, allowing users to switch between Formula and GT driving positions on the fly. And, at a retail price of £249 (UK) / $299 (US), it certainly looks like a bargain to me.
Assembly
The first thing you'll notice when you pull the rig out of the box is how weighty it is—especially if you're jumping to the F-GT Lite straight from the Playseat Challenge or something similar. Personally, I was reassured by this as it tends to be a sign of good build-quality. And, on closer inspection, my hunch was proved right; with a 25 mm diameter, the powder-coated carbon steel tubing used on the F-GT Lite is beefier than on the Playseat Challenge and it's the same thickness as the tubing used on Next Level Racing's more expensive rigs.
Still, at 19 kg (42 lbs), it remains light for a complete cockpit and you'll easily be able to carry it around when folded.
On that note, because the chassis can fold down, Next Level Racing delivers the F-GT Lite to you mostly assembled. You just need to unfold it, using the adjustment hubs, and attach the pedal deck and wheel mount assembly—a process that involves just three bolts and will take less than 30 minutes.
I did, however, have some difficulty installing the shifter plate because the mounting slot was really tight. I know that a number of other reviewers have picked up on this and that Next Level Racing is working with the manufacturer to increase the tolerance. But, in any case, it was nothing that a few hits with a rubber mallet couldn't fix—so be sure to have one on hand.
Adjustment hubs
Before you mount any hardware, I would recommend familiarising yourself with the adjustment hubs and practise folding and unfolding the rig a few times. There's a knack to it and it's a little tricky at first, but you soon get used to the process. Next Level Racing has also put together a useful tips & features video which explains the process really well, so you'll soon have it dialled in to under five minutes.
Each adjustment hub comprises two or more interconnecting cogs that lock in place with a quick-release mechanism. Next Level Racing has apparently been working on the design for over two years and the result is quite impressive, with each hub able to withstand 150 kg of force—well beyond what most users will be putting through this cockpit.
The hubs are strategically positioned at eight points around the rig, which enables the F-GT Lite to fold down to a tiny footprint of just 75 x 40 x 87 cm. This means that it can be conveniently stored away in the corner of your room when not in use. With no hardware mounted, you could even stash this rig under a table or in a closet if you are really short on space.
Formula and GT driving positions
Aside from foldability, the adjustment hubs are also key to the F-GT Lite's other party trick. It can transform between four different formula and one GT driving position on the fly.
By completely raising the back leg, so that the seat is lowered and in contact with the floor, you can use the rig in an F1-like configuration. In this position, your eye-level drops down so that it peeks just above the steering wheel. With your centre of gravity low and your feet raised up high, it makes for an immersive experience when driving open-wheel single-seaters.
However, in this position, I found that the seat was a little too upright for my liking and I started to become uncomfortable after a 30 minute stint. Additionally, with the pedal deck inclined at its steepest angle, the rig is prone to bunny-hop if you put a lot of force through the pedals. I should stress though, that this is only a problem when using a load-cell under heavy braking; I didn't have any issues when applying a normal amount of force through my Thrustmaster T3PA pedals (even with the canonical brake mod).
Still, if you are using high-end pedals, you'll be pleased to know that there's an easy fix. You can either lower the pedal deck angle a little—and that seems to do the trick—or place a supportive block of some sort underneath the back leg to prevent the rig from leaning back and lifting off.
An even better solution, though, is to use the rig in a more relaxed position by lowering the back leg so that it's at a 45-degree angle with the floor. Aside from eliminating the bunny-hop issue, this allows for the seat to be reclined back slightly so that it is much more comfortable to sit it. Even though your centre of gravity is not quite as low in this position, I found that it was still really immersive for formula racing and I could happily eat up mile after mile of virtual race track for hours on end.
The GT position is also comfortable to use during long sessions. In this configuration, compared to the Playseat Challenge, the seat feels much more like a traditional bucket seat than a deck chair and provides better support thanks to the F-GT Lite's frame design.
Unfortunately, you can't make small adjustments to the recline angle of the seat because you're limited by the cog spacing in the adjustment hubs. However, you can increase the height of the front leg by 12 cm in 2 cm increments. Aside from providing more leg room for taller sim racers, this has the added effect of increasing the recline angle of the entire seat. So it's worth playing around with this feature to tailor the rig to your specific body geometry.
Seat
At first glance, in the GT driving position, the seat itself looks oversized. That's because the seat frame forms part of the structure of the chassis rather than just being attached to it like on other rigs. Larger sim racers will obviously see a benefit here but I also think that Next Level Racing has purposefully designed the proportions of the seat in this way so that it still provides enough back support in a formula position.
The seat is primarily made from a breathable mesh material, with a bit of Alcantara thrown into the mix and two harness inserts to give it that race look. It actually works quite well and keeps you nice and cool when things get a bit heated out on track. There are also two foam inserts to provide lumbar support, but for me, these are positioned a little too far apart to get the maximum benefit. Still, adding an extra cushion is always an option if you need it.
Wheel mount assembly
Attached to the left-hand side of the seat is a strap which connects to the wheel mount assembly. It somewhat reminds me of the window nets found in touring cars and adds to that immersive feel by enclosing you in the cockpit. The rig is structurally sound without it, but once you tighten this down it helps to stabilise the wheel mount and prevent lateral motion when steering.
I don't think that you'll be able to run a direct drive wheel on the F-GT Lite, but you should have no problem using any belt or gear driven wheel, even with high force feedback. On that note, the wheel deck is substantial, at 4 mm-thick, and comes pre-drilled to fit most Thrustmaster, Logitech and Fanatec wheels. You can also adjust the tilt through a huge 60° range, using a toolless screw-in mechanism. This is really easy to do on the fly and holds the wheel deck securely in place.
For further refinement of the wheel position, the wheel deck can be brought forward or back in 2.5 cm increments. To do this, though, you need to unscrew and realign the four bolts that secure the wheel deck to the frame.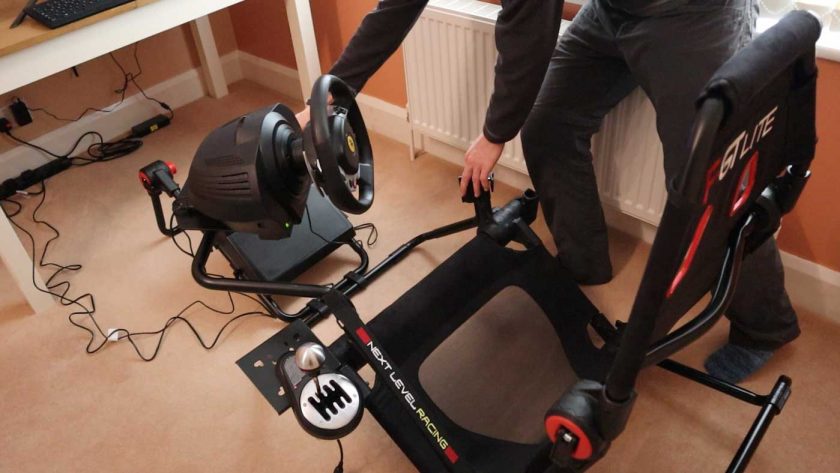 Getting in and out of the cockpit is made easy thanks to the wheel mount assembly opening outwards like a door. Again, this adds to the immersive feel of the rig and when you close the locking latch it's almost as if you've just buckled into a five-point harness. Of course, exiting the rig is a bit trickier from a formula position, but the swing arm opens quite wide—so even people with reduced mobility could find a way.
Adjustable pedal deck
As you've probably realised by now, Next Level Racing has put a great deal of thought into the design of every part of the F-GT Lite, and the pedal deck is no exemption.
The two mounting bars slide smoothly along the rails of the frame to accommodate drivers ranging from 4ft – 6ft 6 inches. These lock in place, without requiring any tools, using the screw-in fasteners on either side.
And, unlike with the Playseat Challenge, you can hard mount your pedal set thanks to the pre-drilled slots—which also enable you to adjust your pedals further left or right. Since this rig doesn't have a centre post, though, you won't go far wrong by mounting your pedals slap bang in the middle.
Like the wheel mount, the pedal deck also has a wide range of angle adjustment, by simply tilting the supporting foot at the front. Impressively, there's almost no flex and I found that the pedal deck remained super stable even while performing heel and toe manoeuvres and other quick footwork.
Included shifter mount
At times when you are dancing around the pedals, you'll most likely be changing gear using an H-pattern shifter. This can be attached to the F-GT Lite's shifter mount that—unlike with the Playseat Challenge—comes as standard.
The mount can be fixed to either side of the cockpit and, even though you can't refine the position further, it's situated so that gear shifting is comfortable in both GT and formula configurations.
As with the other mounting points on this rig, the shifter plate is pre-drilled to fit the most popular models. With my Thrustmaster TH8A mounted with four bolts, I found that there was minimal movement in the mount and I was able to confidently paddle through the gears without the shifter slipping.
Final thoughts
When I first heard that Next Level Racing was launching a foldable sim racing cockpit, I was excited to try it out. And now, having had the opportunity, I'm happy to report that I haven't been disappointed.

This is a really underserved part of the market, with many sim racers eager to take their hobby to the next level, but without much space to work with at home.
It's clear that Next Level Racing has carefully considered these requirements and, with the F-GT Lite, they've designed a rig that ticks all the boxes.
That's not to say this rig is perfect; the seat is obviously not quite as comfortable as a full bucket seat, for example. But it's easily the best foldable sim racing rig on the market today.
So, whether you're just getting started in your sim racing career or you're a seasoned veteran that needs an easily storable solution, I would definitively recommend the Next Level Racing F-GT Lite.
Verdict
The Next Level Racing F-GT Lite is easily the best foldable sim racing rig on the market today.
Pros
Unique and intelligent design
Folds down to a small footprint for easy storage
5 cockpits in one (4 formula + 1 GT driving position)
Tilt adjustable wheel deck
Tilt adjustable pedal deck (with support for hard mounting)
Included shifter mount
Stable enough for most consumer wheels and pedals (including load-cell)
Wheel mount assembly opens wide for easy access
Cons
Minimal lumbar support and padding on seat
Lacks micro-adjustability (limited by the cog spacing in the adjustment hubs)
Prone to bunny hob under heavy breaking (though only in one configuration)
4.8
5 cockpits in one foldable package