Following on from the success of the F-GT Lite—which I reviewed earlier this year—Next Level Racing (NLR) has launched a second foldable sim racing cockpit, called the GT Lite.
Next Level Racing GT Lite
Compared to F-GT Lite
You can probably guess from the name that the GT Lite is a GT-only version of the F-GT Lite. It, therefore, has a very similar design. The seat is made from the same Alcantara and mesh blend. The wheel mount opens on a swivel arm to gain access to the cockpit. And it comes pre-drilled to hard mount your wheel, pedals, and shifter.
At first glance then, you might wonder why Next Level Racing has developed this new rig. After all, the F-GT Lite can do everything the GT Lite can and more.
Take a second look though, and you'll notice a few things that might make the GT Lite a more appealing option for some sim racers.
Firstly, it's £50 cheaper at just £199 ($229 US / $399 AUS / €229 Euro). That brings the price more inline with the Playseat Challenge, making the GT Lite a very affordable sim racing rig for those on a tight budget.
Additionally, because the GT-Lite only supports a GT driving position, Next Level Racing has removed most of the adjustment hubs, replacing them with fixed joints and simple pivots. This should make it a lot easier to set up and fold away for storage.
From the pictures and video, it also looks like the seat on the GT Lite is a little smaller. In my opinion, this helps to refine the overall look of the rig.
Flight simulator add-ons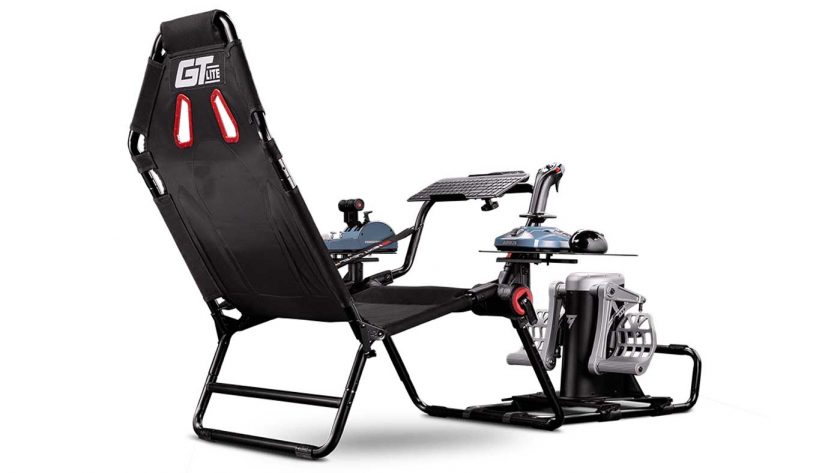 The GT Lite will be available worldwide later this month. And, for those enjoying the new Microsoft Flight Simulator, Next Level Racing will be releasing add-ons, early next year, to convert the F-GT Lite and GT Lite into fully functional flight simulators.
"The GT Lite is a product we are exceptionally excited about. We had great feedback from our customers, and the community on the F-GT Lite and our vision was how can we make a foldable cockpit even more affordable and accessible to new sim racers around the world and those that may not require formula position," said NLR CEO Hess Ghah.
"At the same time, our clear goal was to bring to the market the best value foldable sim cockpit whilst still maintaining a realistic racing position, comfort, rigidity, adjustability and hard mounting compatibility not only with wheel and pedals, but also gear shifters.
"We are very proud that with the GT Lite, we were able to deliver not only a great cockpit, but tremendous value. We are also very excited to be introducing two more products as part of our lite series launching in early 2021."
We'll be getting hands-on with the GT Lite soon, so I'll be able to give you more of my thoughts then. In the meantime, let me know what you think of this new foldable sim racing rig in the comments below. Would you opt for the GT Lite or F-GT Lite?