Two years ago, I reviewed the Wheel Stand Racer from Next Level Racing. Announced at E3 2019, this entry-level model was Next Level Racing's first product in a line of sim rigs aimed at the newbie sim racer. With a simple centre post construction and minimal adjustability, the Wheel Stand Racer was never intended to handle more advanced sim racing hardware. But, thanks to its small footprint and foldable design, it remains an ideal choice for console racers running a belt or gear driven wheel combined with a two-pedal set.
At the same time, Next Level Racing launched the Wheel Stand DD—a wheel stand built specifically to withstand the sheer forces of direct drive wheels. Now, while many people will still question whether a wheel stand is actually stable enough to get the most out of a high-end wheel, the DD does a pretty good job. The only downside is that, while portable, it isn't foldable. So, what do you do if you're really short on space; you have a less than £200 left to spend, after investing in a direct drive wheel; and you need a rig to get started with. Well, Next Level Racing's latest offering may be just what you're looking for.
Next Level Racing Wheel Stand 2.0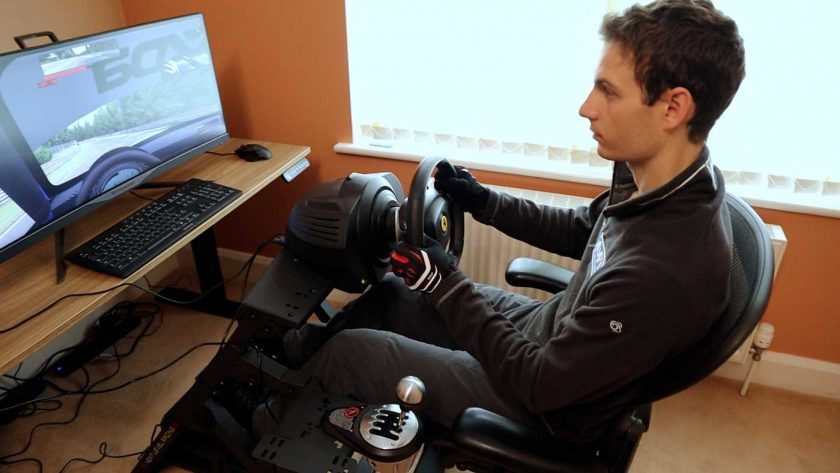 Combining the Wheel Stand Racer's foldability with the structural strength and adjustability of the Wheel Stand DD, the Next Level Racing Wheel Stand 2.0 is an evolution of the brand's original wheel stand, that first hit the market over a decade ago back in 2010. A lot's changed in the sim racing world since then, with the wider motorsports community now taking virtual racing more seriously and the advancement of sim racing hardware to match. So, it's about time that Next Level Racing upgraded its most popular wheel stand.
Aimed at the mid-level market, the Wheel Stand 2.0 is made from the same 4 cm square, 2mm thick carbon steel tubing that's used on the range-topping Wheel Stand DD. It follows a similar A-frame design and can also be upgraded to a full cockpit in combination with the GT Seat Add-on.
However, unlike its direct drive specific sibling, the Wheel Stand 2.0 has a pivoted pedal deck, which allows it to fold up for easy storage. And, thanks to a new robotic manufacturing process, it's available at a slightly cheaper price point. In fact, Next Level Racing has been able to supply this updated wheel stand for the same price as the original—just £179 (UK) / $249 (US).
Assembly
Out of the box, the base frame comes pre-assembled. You just need to unfold it, tighten the two screw-in fasteners on either side, and then fold down the pedal deck. This then secures in place with another screw-in fastener that you can simply tighten by hand. I did find that the tolerance was a little tight here, so you may need to apply slight pressure to the side of the pedal deck in order to line everything up. It's not a big issue, but just bear that in mind if you find the same.
The wheel, pedal and shifter mounting plates are neatly packaged in a smaller box, along with all the hardware you need to assemble the Wheel Stand 2.0 and mount your sim racing equipment. True to form, Next Level Racing has also included two hex keys along with some spare bolts. However, the team has chosen to omit a spanner (wrench) from the kit, in favour of self-clinching (swage) nuts. So, while you can get away without it, you may still want to have a spanner (wrench) on hand in order to ensure that the bolts are fully tightened down in key areas.
The instructions are easy to follow, but there are quite a few individual pieces that need to be bolted together and a few tricky angles to work with. So, I'd suggest setting aside a few hours to assemble the rig and make any necessary adjustments. As with the Next Level Racing Challenger cockpit, that I reviewed a while back, it's also worth laying down a mat or sheet to prevent grease getting on your floor as the bolts leave an oil residue on your fingers during the build. Bonus tip: wear latex mechanics gloves.
Stability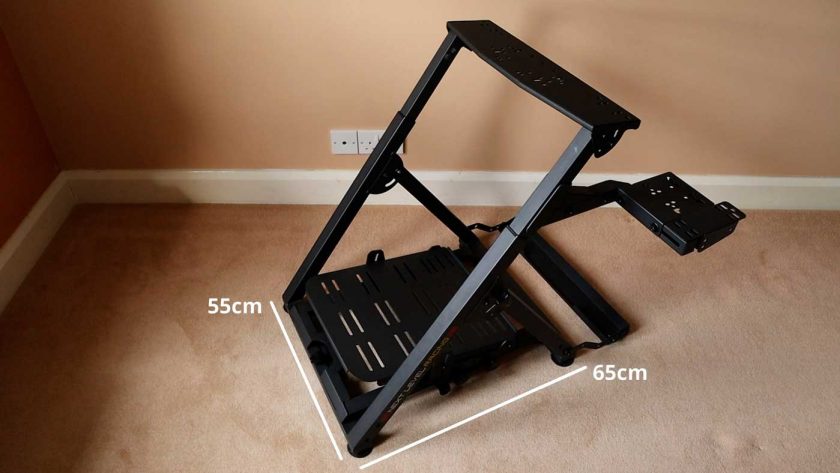 Fully assembled, the Wheel Stand 2.0 has a base footprint of just 55 x 65cm—large enough to provide a stable platform, but small enough for the cosiest of spaces. At just over 20kg though, without any hardware attached, it's not the easiest rig to lug around, especially when compared to the sub-15kg GT-Lite.
However, it is possible to slide the wheel stand on carpet and the added weight helps to keep the rig planted when throwing your virtual car into corners, with big steering wheel inputs. If you plan on using the wheel stand on a hard floor and need to regularly move it around, then it might be worth replacing the two front feet with caster wheels, like the Wheel Stand DD. It would have been nice if these were included as an option in the box. But, then again, I understand why Next Level Racing has chosen not to this in order to reduce unnecessary cost and because the Wheel Stand 2.0 is foldable.
Foldability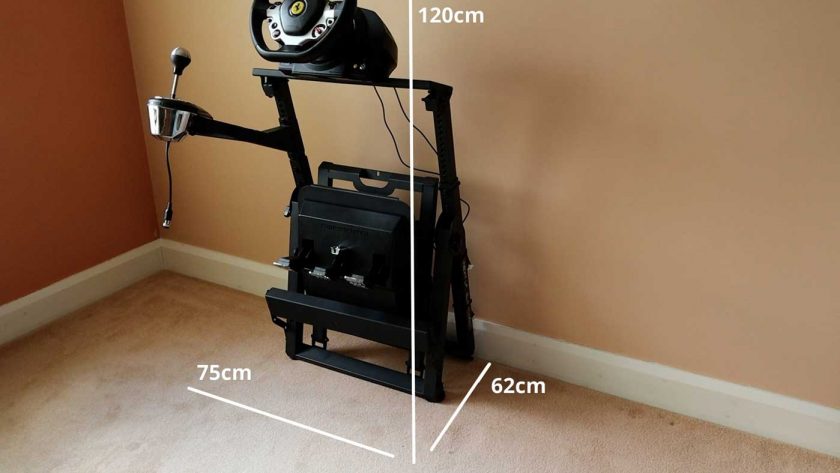 On that note, folding the wheel stand for transportation or storage is actually really straightforward and takes less than a minute. All you need to do is undo the screw-in fastener that secures the pedal deck, lift it up in line with the folding tab, and resecure it in place using the same fastener. Then loosen the two fasteners that secure the base frame and pull the legs together.
When folded, the Wheel Stand 2.0 can stand freely against a wall. In this position and with all hardware attached, it doesn't take up much floor space at all. However, if you want to stow it away in a cupboard, then you'll need to allow for a space of about 75 x 62 x 120cm. Though, this will vary slightly depending on the specific wheel, pedal and shifter set you're using.
Gaming chair cradle
As I hinted earlier, the Wheel Stand 2.0 fits perfectly within Next Level Racing's growing sim racing rig ecosystem. It's nice to know that after parting with your hard-earned cash, you don't need to buy a completely new rig when you're ready to upgrade to a full cockpit; you can simply bolt on the GT Seat add-on.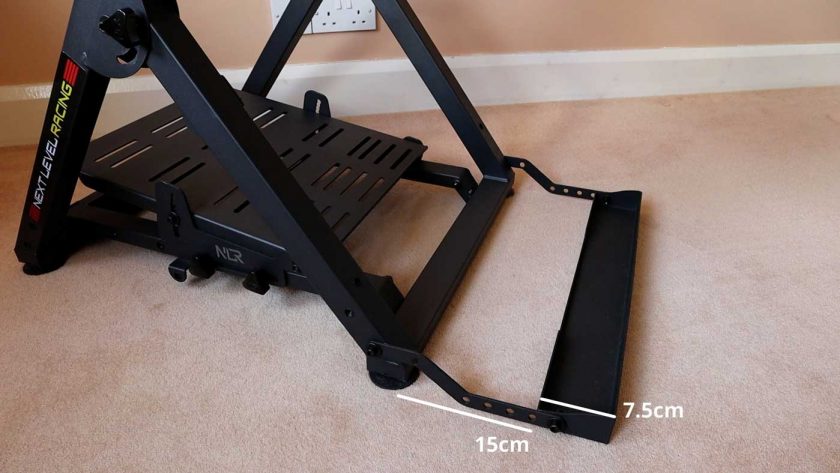 However, the Wheel Stand 2.0 has a neat little feature that allows you to integrate your existing gaming or office chair to create a pseudo-complete cockpit out of the box. The 'gaming chair cradle', as it's been dubbed, is essentially a little tray that holds the two front wheels of your office chair. It's a simple and clever idea that I'm surprised we haven't seen before.
The cradle position can be adjusted by up to 15cm, to accommodate drivers with different leg lengths. It measures 7.5cm across, allowing enough space to drop your chair's wheels in place while still limiting movement when racing. In practice, it works quite well. You'll likely still experience some slight movement, but the cradle does a good job of preventing your chair from sliding back when pushing hard on the brake pedal. Additionally, you can easily improve the performance by adding some padding around your chair's wheels to lock them in place.
Wheel deck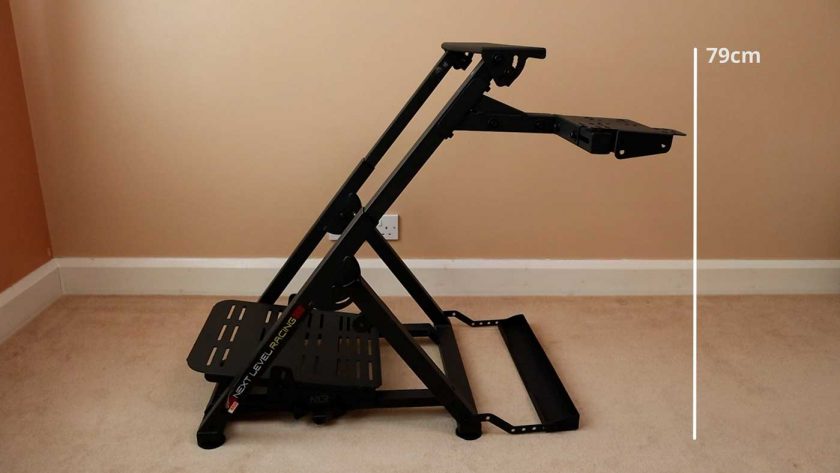 As with the original wheel stand and the Wheel Stand DD, the wheel deck on the Next Level Racing Wheel Stand 2.0 is supported by two uprights. So, you don't need to worry about a centre post interfering with left-foot braking or heel-and-toe manoeuvres. The two uprights extend from the base frame, to a maximum height of 79cm, in eight increments of 1.25cm—plenty tall enough for most users. Though, you can also raise the height of the entire frame, by an extra 1cm, using the included height-adjustable feet.
The uprights secure in place with two bolts on either side, which provides a very strong and rigid base for the wheel deck. This is beefy 3mm thick piece of carbon steel which is laser-cut into a compact shape and pre-drilled to fit most Thrustmaster, Logitech and Fanatec wheels. You can also adjust the tilt angle, through a huge 80° range, by realigning the bolts to one of the nine pre-drilled angle adjustment points. This is really easy to do and holds the wheel deck firmly in place.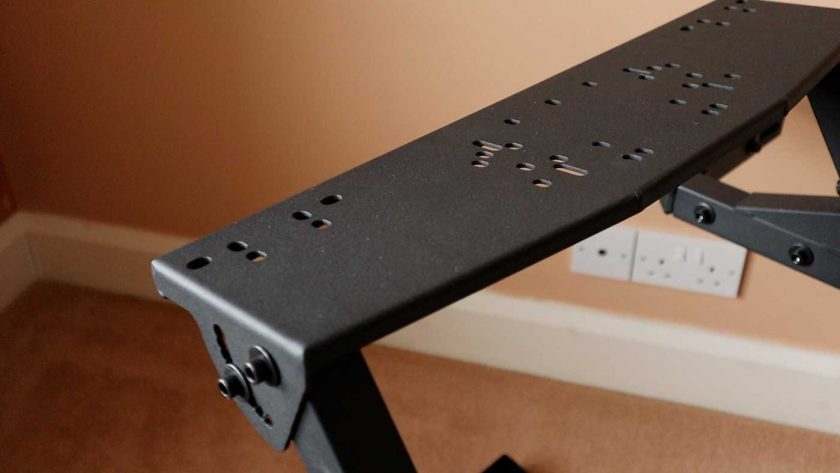 To ensure a tight and secure connection to the frame—when mounting your wheel, pedals and other equipment—Next Level Racing has also included a set of M6 washers. It's great when a brand goes above and beyond to include these useful extras. With my Thrustmaster TX, running on the highest force feedback settings, I didn't notice any flex in the wheel deck. While the TX only delivers about a third of the torque from a typical direct drive setup, I tried to simulate these extra forces with aggressive motion through the wheel. And the Wheel Stand 2.0 continued to impress, with very little movement through the wheel mount uprights—certainly nothing that I would notice during a race.
If you need the most stable platform possible, then the Wheel Stand DD is probably the way to go. But I don't think you'll have any problem running a direct drive wheel on the Wheel Stand 2.0. I wouldn't advise turning your torque settings too high, but something like the 5-8Nm Fanatec CSL DD should be absolutely fine.
Pedal deck
The Wheel Stand 2.0 is also capable of taming most higher-end pedals. Again, largely thanks to the flex-free 3mm thick carbon steel used to craft the pedal plate. Its simple design is adaptable to fit most pedal sets, with the various pre-drilled slots positioned to facilitate high or low mounting positions. The slots also enable you to adjust your pedals further left or right—ideal for times when you need to adapt three-pedal sets for left-foot braking.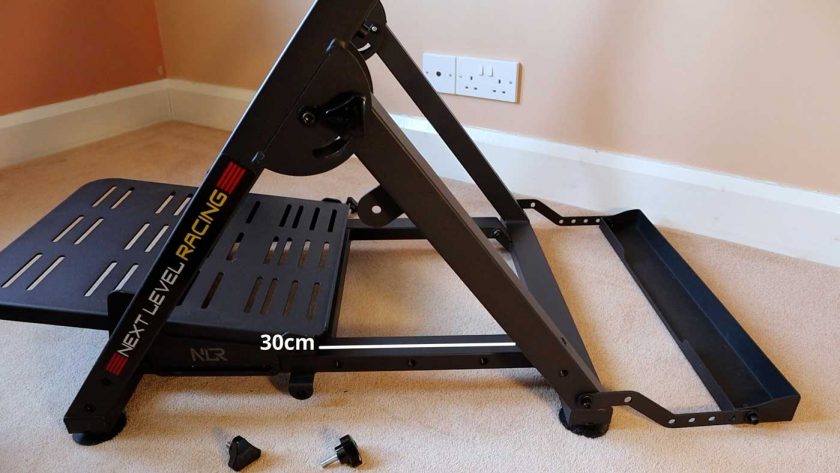 The pedal plate connects to the base via two brackets, which have pre-drilled angle adjustment points to facilitate a maximum tilt angle of 15°. So, while you won't be able to simulate a formula position very effectively, the Wheel Stand 2.0 has you covered for most other driving positions.
The distance of the pedal deck can also be adjusted, by up to 30cm, to accommodate drivers ranging from 4ft – 6ft 9 inches. It can also be changed on the fly, through a small range, thanks to the toolless mechanism. Perfect for times when you want to quickly swap out drivers. Just make sure that you fully tighten down the hand-screws before dancing around on the pedals.
Shifter & handbrake mount
At times when you are performing quick footwork, you'll most likely be changing gear using an H-pattern shifter. This can be attached to the shifter mount, either on the left or right side of the wheel stand. The shifter mount arm attaches to either of the wheel deck uprights using two bolts. It also has a thin rubber coating to ensure a snug fit to the frame and protect the powder coating at the same time—a nice touch.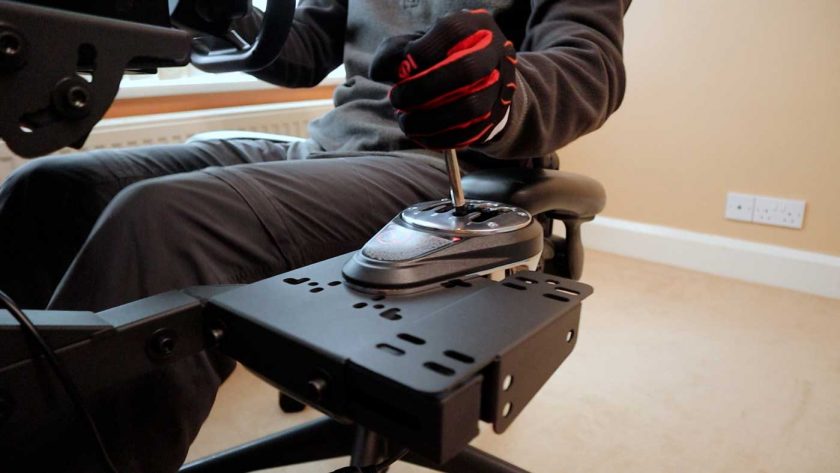 The height can be adjusted in the same way as the wheel deck. However, the adjustment range is limited by the number of exposed bolt points, so your mileage will vary. In my particular case, I would have liked to have been able to drop the shifter down a little lower. However, I was able to position it in a comfortable location and replicate a reasonably realistic driving position.
At 2mm thick, the shifter plate is slightly thinner than both the wheel and pedal plates. However, the spot welded sides provide adequate reinforcement, and it's pre-drilled to fit most shifters on the market. With my Thrustmaster TH8A mounted with four bolts, I was able to confidently paddle through the gears without the shifter slipping.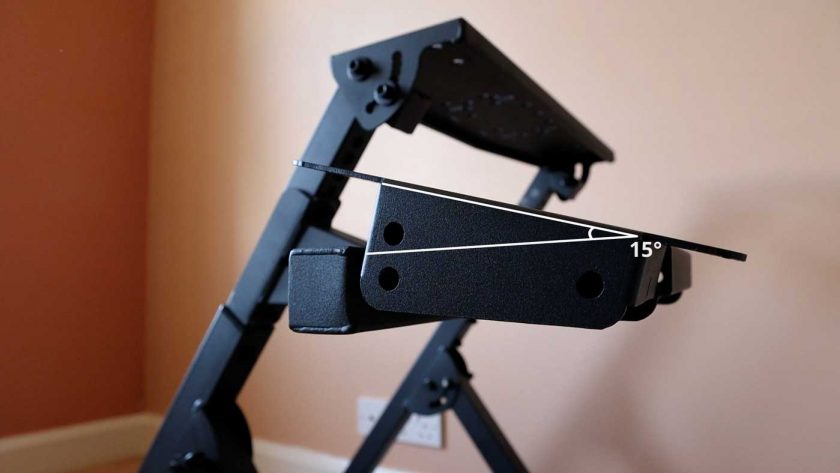 There's added space to mount a handbrake too, thanks to the additional handbrake plate that connects to the outside of the shifter mount. You can either run this inline with your shifter or at a 15° angle, depending on your preference. Either way, the entire shifter mount is very stable, with minimal flex.
Final thoughts
With the sim racing world now evolving rapidly, it's great to see brands updating their existing products as well as launching new ones. With the Wheel Stand 2.0, Next Level Racing has done a brilliant job at taking everything sim racers loved about the original wheel stand, and combining this with upgraded materials and manufacturing.
Like the original, I think this new and improved wheel stand will become a staple for new sim racers started out in their virtual racing journey. It's affordably priced and can be upgraded to a full cockpit when users are ready.
Out-of-the-box though, the Next Level Racing Wheel Stand 2.0 is everything you need in a wheel stand. The foldable design is perfect for small spaces. But, thanks to the high-quality materials and well-thought out construction, it's still able to tame more advanced sim racing hardware.
So, if you're looking for a strong and stable wheel stand that you can upgrade in the future, but you need something that you can easily store away at the moment, then you'll be hard pressed to find anything better suited than the Next Level Racing Wheel Stand 2.0!
Next Level Racing Wheel Stand 2.0
Verdict
More than a decade since Next Level Racing launched the original wheel stand, this updated model does not disappoint. With a strong and stable platform and foldable design, the Wheel Stand 2.0 is everything you need in a wheel stand.
Pros
Strong and stable base
Easy to fold for storage
High quality mounting plates
Shifter and handbrake mount included
Strong enough for direct drive wheel and high-end pedals
Upgradable to full cockpit
Gaming chair cradle to connect an office chair
Affordable price
Cons
Limited adjustability in shifter height
On the heavy side
5
Everything you need in a wheel stand