Opting for a prefabricated sim racing rig is a great option for those looking to jump straight in and take their first few laps around a virtual race track. You get everything you need out-of-the-box and it's conveniently designed to fit together into one complete cockpit.
But, if you start taking sim racing more seriously and pursue ever-greater realism—as most of us end up doing—you'll likely run into a few issues. Maybe you bolt a shifter here, or a handbrake there, and before you know it you've run out of mounting points. Or perhaps you upgrade to a load-cell brake pedal and you find that there's no easy way to reinforce the pedal deck.
The point is that you need a sim racing cockpit that can adapt as you upgrade your equipment. And that's exactly what the Sim-Lab GT1 Evo is.
Sim-Lab GT1 Evo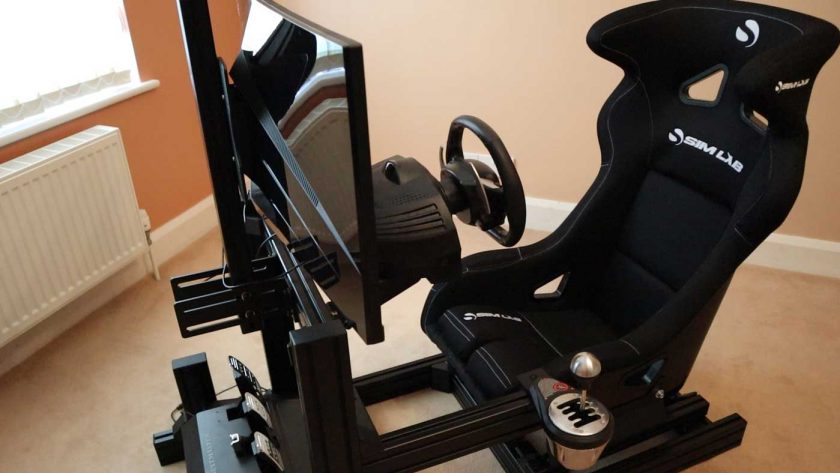 Unlike most off-the-shelf rigs, the Sim-Lab GT1 Evo is mainly constructed from extruded aluminium profile. This is a modular building material that has become very popular for use in custom sim racing setups. It's fairly simple to work with, allowing for a wide range of adjustability, and there's near-limitless potential for expansion and modification down the line.
Aimed at the mid-level market, the GT1 Evo currently retails for €399 EUR (without shipping). That's roughly £360 (UK) / $470 (US). While you could probably source the aluminium profile slightly cheaper, the advantage of purchasing a kit like this is that everything comes pre-cut (with soft edges) to fit together perfectly. All of the hardware to assemble the rig is also included, along with some spares, and the bespoke wheel and pedal decks make it a lot easier to mount your equipment and fine-tune your driving position.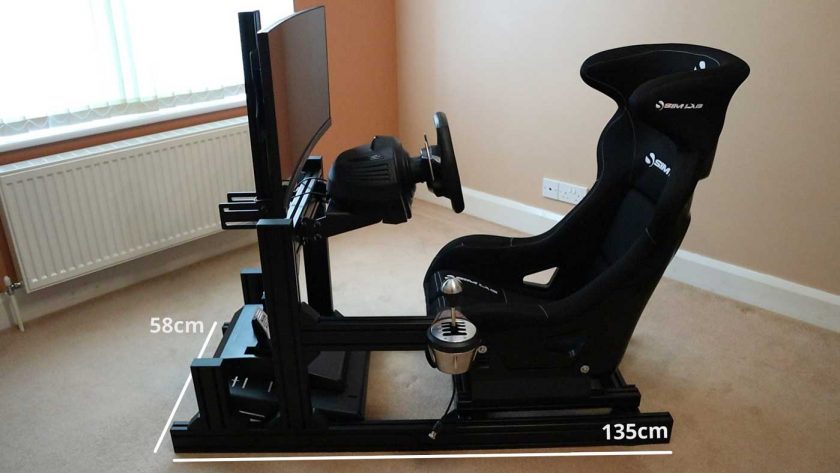 Sim-Lab has selected mid-weight 4080 profile (measuring 40 x 80mm) for most of the rig, with two pieces of 4040 profile (which, you guessed it, measures 40 x 40mm) for the seat rails. In my opinion, it's the perfect profile choice for this rig, providing the ideal balance between structural rigidity, size, and weight. In fact, with a light bucket seat attached, the GT1-Evo weighs less than 50kg and has a base footprint of just 135 x 58cm. To put that into perspective, that's about the same size as the Next Level Racing Challenger I reviewed last year, making the GT1 Evo an impressively compact rig in its own right.
Like it's bigger brother, the P1-X, the Sim-Lab GT1 Evo is available with either an anodised black or clear coating. Personally, I think the black looks particularly well finished, especially now that Sim-Lab supplies black corner brackets and end-caps to match. It's worth noting that the black finish is prone to showing more scratch marks, but these can be minimised by taking a little care during the build. Additionally, Sim-Lab packages all the pieces really well, so it should arrive to you in pristine condition.
Assembly
Assembling the rig is mostly straightforward, following a repetitive process to secure each piece of aluminium profile together. It's here that you appreciate the quality of hardware Sim-Lab has included in this kit. The cast corner brackets are gusseted for extra strength and feature anti-rotation tabs that align with the channels in the aluminium profile. They are secured with M8 socket cap screws and roll-in T-nuts which are spring-loaded to help hold them in place.
The majority of the build can be completed within an afternoon. But, if like me, it's your first time working with aluminium profile, you should probably allow for an extra hour or two. The downloadable schematic is easy to follow, but it's pretty bare-bones. So, I would recommend supplementing this with Barry Rowland's excellent in-depth build guide. Barry shares a few useful tips that you don't get from the instructions, such as which way to orientate the T-nuts for the neatest finish.
The other thing to note is that you'll need to remove some of the anti-rotation tabs from six of the corner brackets. This is to allow for them to be mounted perpendicular to the seat rails and wheel mount. While the instructions suggest doing this with a screwdriver, the updated corner bracket design makes this very difficult. So, I would recommend filing them down instead.
Sim-Lab SPEED1 sim racing bucket seat
The Sim-Lab GT1 Evo doesn't come with a seat as standard, leaving it up to the buyer's personal preference. And, thanks to the rig's flexibility, you can mount pretty much any type of car seat you want. If you live in Europe though, Sim-Lab offers a range of sport and bucket seats for you to choose from, including the sim racing specific Sim-Lab SPEED1.
While not FIA approved, the SPEED1 is built to the same design specification as race-ready bucket seats. And, at €329 EUR / £299 UK, it's a little cheaper too. The one-piece fibreglass shell, finished with either a black or white gel coating, is very lightweight and provides a strong and rigid frame with zero flex.
It's covered with an abrasion-resistant velour—available in either black, white or blue. This is well padded, to provide plenty of support, and the removable high-density foam seat cushion keeps you comfortable during prolonged driving sessions.
The seat also features cutouts for a 5-point harness. So, this can easily be added if you want to use it with a motion platform. However, the high bolsters do a great job at securing you in the seat by themselves. So, in my opinion, you probably wouldn't need a harness unless you're running the most aggressive motion settings.
Due to the one-piece design, there's no recline adjustment in the seat itself. However, the entire seat can be reclined back as one unit using compatible side-mount seat brackets. Sim-Lab supplies a standard set for €39 EUR (£35 UK / $45 US). These provide a maximum tilt adjustment of 15°, which I find provides a realistic and comfortable GT driving position. Studies have also shown that driving in this position reduces the pressure on the discs in your lower back—something that you'll certainly appreciate when racing in an endurance class.
While comfortable, it's important to note that the SPEED1 is quite narrow due to the race seat design. At its tightest point, the seat measures 33cm across. So, if you're above average build, opt for the XL version or a wider race seat like the Sim-Lab SPEED2. And be sure to check the seat dimensions before ordering.
Wheel mount
The wheel mount on the GT1 Evo consists of two 58cm uprights joined together with a 50cm crossbar. This forms a rock-solid structure to attach the wheel deck via two custom brackets. These bolt to either side of the wheel deck and feature slots that enable the tilt angle to be adjusted through a massive 60° range—up to 30° in either direction.
Before you mount your wheel, it's worth taking the time to find the optimum tilt angle for your setup. Firstly, because the adjustment is a bit tricky to do with a heavy wheel base attached. But also because the direction in which the tilt angle can be adjusted is determined by the orientation of the brackets. Aligning the brackets with the slots at the top enables upward tilt. While flipping them around allows the opposite.
Aside from this, the position of the wheel deck can be adjusted in any direction. It can be slid horizontally along the crossbar and raised vertically to a maximum height of 66cm—plenty tall enough for most users.
You can also raise the height of the entire rig using the included rubber feet. This is particularly useful if you're using a desk-mounted monitor and need to further raise the height of the wheel to match. However, I chose not to do this because the rig slides really well on carpet without them. And this enables me to easily move the rig to the corner of my room when not in use.
For further refinement of the wheel position, the wheel mount can be brought forward or back along the base profile. While all these adjustments take a little time to get just right and are not easy to do on the fly, they allow you to fine tune your driving position to a level not possible in most rigs.
Wheel deck
The wheel deck itself is robust, at 5mm thick, and made from machined aluminium. It's cut into a compact shape and nicely powder-coated in black. Alongside colour-matched M8 screws, Sim-Lab has also included a set of M8 washers to ensure a tight and secure connection to the frame. M6 washers, however, are absent from the kit. So I would recommend picking up a few to help with mounting your wheel, pedals and other equipment.
On that note, the wheel deck comes pre-drilled to fit most Thrustmaster, Logitech and Fanatec wheels. There are also mounting points for the Fanatec DD1 and DD2 as well as the AccuForce V1 and V2 direct drive wheels. Additionally, a MiGE motor adapter is available to mount OSW wheels.
Once you get everything tightened down, the completed wheel mount is impressively strong and stable. I didn't notice any flex while testing with my Thrustmaster TX on the highest force feedback settings. While the TX only delivers about a third of the torque from a typical direct drive setup, I tried to simulate these extra forces with aggressive motion through the wheel. And the GT1-Evo continued to impress, with very little movement in the wheel mount—certainly nothing that I would notice during a race.
Additionally, if you wanted to reinforce the wheel mount and make it even more rigid, there are a few easy ways to brace it with extra aluminium profile. You could either attach this to the shifter mount or the pedal deck uprights.
Pedal Deck
These are 20cm long and allow for a wide range of pedal angle adjustment. If you bolt the front of the pedal plate to the wheel mount uprights, then it can be tilted up to an angle of 25°. However, due to the size of the heel-rest on my Thrustmaster T3PA pedals, I found that this was a little too high for my optimum driving position.
Thankfully, the flexibility of the Sim-Lab GT1 Evo meant that I could bolt the pedal plate lower, using the rig's side rails instead. In this configuration, you can tilt your pedals even further, up to 45°. So, in theory, by pairing the rig with Sim-Lab's new SF1 seat, you could probably obtain a reasonably good formula position.
As with the wheel mount, getting the position of the pedals just right takes some time and patience. Accessing the bolts underneath and making adjustments is a bit tricky because the pedal plate is quite weighty. In fact, at 17kg, it's the heaviest component on this rig.
The extra bulk though, results in the pedal plate being even sturdier than the wheel deck. Made from a 5mm thick piece of high tensile strength steel, this beast can handle any pedal set on the market. And it comes pre-drilled to fit a wide range, including high-end options from the likes of Heusinkveld.
Shifter arm
The shifter arm included with the Sim-Lab GT1 Evo also works well. It reaches out 40cm from the wheel mount upright and can be adjusted to your desired height.
It's worth noting though, that due to the compact size of this cockpit, there's limited clearance between the shifter arm and the seat. With the regular-size Sim-Lab SPEED1 seat attached, there's just enough space to work with. However, if you're using a larger seat, then you may need to attach the shifter arm to the side of the wheel mount instead—for more clearance. In this case, it might be worth requesting a longer piece of profile from Sim-Lab to compensate for the extra depth.
You'll also need to figure out a mounting solution for your handbrake or shifter of choice. Some higher-end models already come with a mounting bracket for aluminium profile. But Sim-Lab also supplies custom brackets for popular models like the Thrustmaster TH8A, Logitech G27/29, and the Fanatec Club sport.
With my Thrustmaster TH8A mounted in a comfortable shifting position, I found that the shifter arm provided a perfectly stable platform to paddle through the gears. However, if you're using something a bit more heavy-duty, then you may want to reinforce the shifter arm with an upright, similar to the P1-X.
Sim-Lab GT1 Evo single screen holder
For those looking for an ultra-compact setup, Sim-Lab offers an integrated triple-monitor mount or single screen holder. The latter, which I tested, is constructed out of a length of 4080 profile and attached to the wheel mount crossbar via two brackets.
In my opinion, it's the perfect option for running an ultrawide or one of the latest generation 49″ super ultrawides. It's depth and height adjustable and mounts VESA patterns 100 x 100mm, 100 x 200mm and 200 x 200mm.
The adjustability makes it really easy to position your monitor perfectly and dial-in a realistic field of view. And, even though it adds a little extra load to the wheel mount, I found that it performed flawlessly with my setup—securely holding my 34″ Acer X34 in place.
Final thoughts
Overall, the Sim-Lab GT1 Evo is an outstanding cockpit, holding its own against rigs costing nearly twice as much.
The aluminium profile construction makes for a strong and stable frame that's compact and highly adjustable. As well as turning every surface into a mounting point, for expansion and modification, the channels in the profile serve as ideal housing for cable management. And, Sim-Lab can even supply you with covers to hide exposed wiring.
While it might take a bit longer than other rigs to set up and make adjustments, the GT1 Evo allows you to fine-tune the position of your equipment down to the millimetre. So, you can get everything positioned in the exact place you want it.
In my case, this meant that I was able to bump the seat forward, along with the wheel and pedals, to keep the footprint of the rig as small as possible. Additionally, by adding a seat slider, the rig can be easily adjusted to fit sim racers of different heights.
The bespoke wheel and pedal decks are robust and more than capable of handling high-end equipment in their standard configuration. However, if you wanted to run a 30Nm MiGE motor, for example, then there are a few easy ways to reinforce the rig with extra aluminium profile—negating the need to upgrade to the P1-X, or something similar.
This all serves to make the Sim-Lab GT1 Evo a rig that can adapt with you as you upgrade your sim racing equipment. In fact, I think it will be my daily driver for many years to come.
Verdict
The Sim-Lab GT1 Evo is an outstanding mid-range cockpit, holding its own against rigs costing nearly twice as much. I have no hesitation in recommending it to sim racers looking for a strong and stable setup at this price point.
Pros
High-quality aluminium profile and hardware
Strong, stable & rigid frame
Easy to reinforce, expand & modify
Can handle a DD wheel and high-end pedals
Very adjustable
Light enough to move on carpet
Compact size
Nicely finished in black with matching corner brackets and covers
Cons
Seat & shifter bracket costs extra
Adjustments take longer than some other rigs
5
A compact, strong & adaptable rig