With the recent Extinction Rebellion protests taking place in London, climate change and the damage that human activity is doing to the environment has been receiving a lot of media attention lately.
While it's clear that we need to reduce the negative impact that our consumption-driven lives have on the environment, it's often not as obvious on how best to do that.
That's why it's always uplifting when an entrepreneur endeavours to address this issue with innovation. One such example, that recently came to my attention, is a small Swedish start-up called A Good Company. Its
range of stone paper notebooks claims to be more eco-friendly than those made from traditional wood-pulp paper.
What is stone paper?
If you haven't heard of stone paper before, don't worry—I hadn't either. But the flexible, mineral-based medium has been around for a few years and its unique characteristics are pushing it to fast popularity. Its environmentally friendly claims, however, may need a bit of scrutiny.
Stone paper is exactly what it sounds like: paper made from crushed stone rather than from wood-pulp. Unlike the wood-pulp paper manufacturing process, making stone paper doesn't require trees, water, acids or bleach. Instead, A Good Company's factory uses 100% solar energy and sources its raw materials from the leftovers (mainly limestone and marble) of neighbouring construction projects.
The recycled construction material is refined and crushed into a fine calcium carbonate powder (basically chalk dust). This is mixed in a ratio of 4:1 with recycled high-density polyethylene (HDPE) to create small white pellets. These are then pressed, in a 100% dry and chemical-free process, into a material that resembles traditional paper.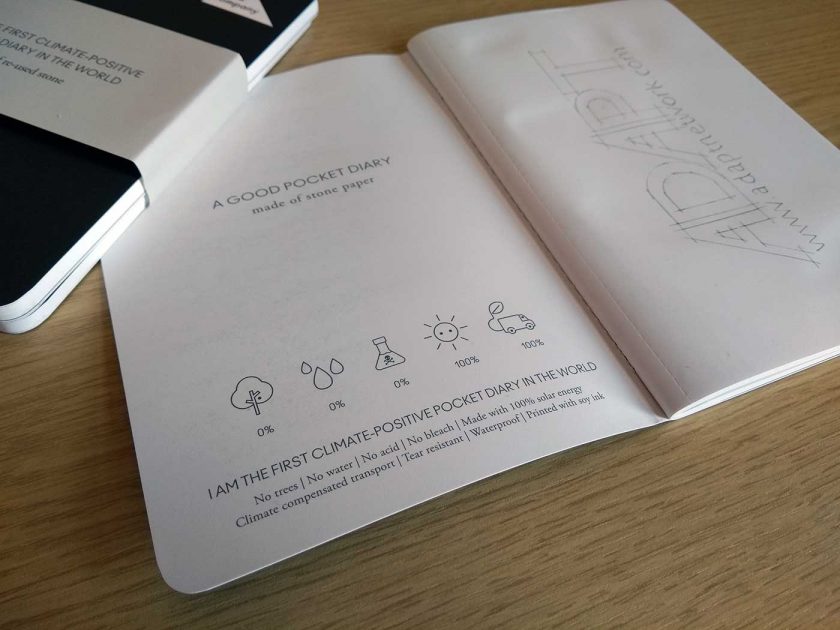 That mostly sounds good, but what about the HDPE plastic content? Yes, you read that right: stone paper is comprised of 20% plastic, used to bind the calcium carbonate powder together—that doesn't sound very environmentally-friendly.
Fortunately, a quick gander at A Good Company's website reveals that the team has put a great deal of effort into being completely transparent—an ethos that has really impressed me. In the detailed FAQ pages, they discuss the reasons why stone paper uses plastic and the environmental implications of this:
Plastic is bad for the environment. Period. However, plastics are everywhere around us and we only use recycled plastic that burns completely free. So we don't add any new plastic to [the] Earth and due to the fact that we don't use: trees, water, acids or bleach it is a way better alternative.
Can you recycle stone paper?
Similarly to biodegradable plastic rings used to package beer cans, HDPE is photodegradable. Due to the low percentage and high surface-area-to-volume ratio of HDPE in stone paper, the material is said to photodegrade within 18 months of sunlight exposure. That is, however, assuming that it is not buried below where light exposure can occur.
HDPE will also burn completely to CO2 and water, so it can be disposed of in a waste-to-energy bin. A Good Company also says that you can recycle stone paper by disposing of it in a plastic recycle bin. However, whether the stone paper will get recycled or burned will likely depend on the facilities at your local recycling centre.
That being said, A Good Company ensures that buying and using one of its stone paper notebooks is a climate positive transaction—an achievement that should not be underestimated. For every order, they plant one tree; the team says that one stone paper notebook provides enough oxygen for two humans over 20 years.
Benefits of stone paper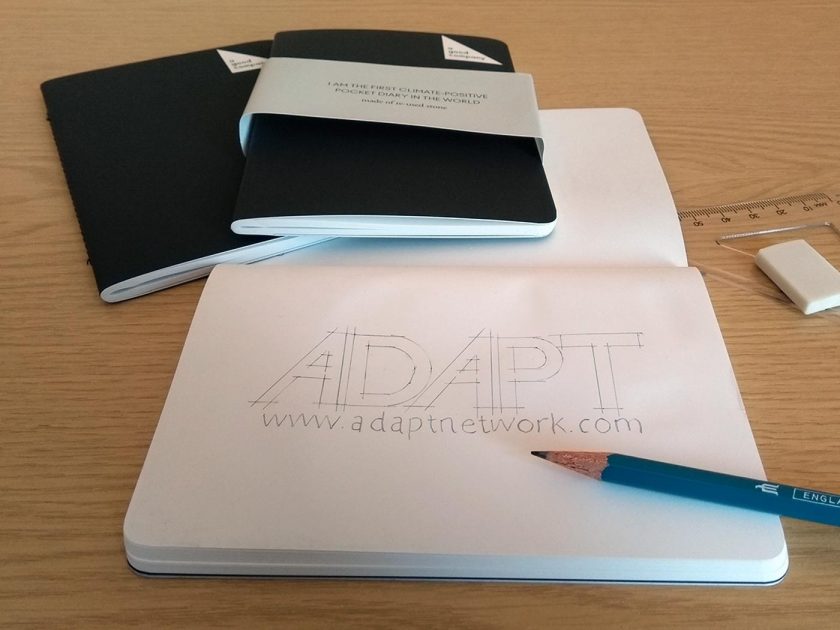 Besides the production of stone paper being a more environmentally-friendly process than that of wood-pulp paper, the medium has some attractive characteristics as a writing material.
I would compare the quality and design of A Good Company's stone paper notebooks to those from Moleskin. The pages are stitch-bound together and the sleeve on the inside back cover is a nice touch—perfect for loose pages or photos. The team sent me one of their A6 pocket notebooks to take a look at, which I think is the perfect size for use as a travel-ready diary or sketchpad.
At first touch, you can tell the sheets aren't normal wood-pulp paper. The pages are smoother, without a grain direction, and they are much harder to tear. In fact, there's a slight stretch to the stone paper (I assume, due to the plastic content).
Ink writes just as well, or perhaps even better, than on wood-pulp paper. But, I found that writing and drawing in pencil required a little more care since a sharp lead could easily puncture through the surface (strange, considering that the material is tear-resistant).
Sharp pencil leads aside, the durability of stone paper is probably its best feature; it's water and oil resistant, making it perfect for outdoor and travel use. It's water-resistant qualities are actually really impressive; if you accidentally drop your notebook in a stream or get it wet in the rain, you can be sure that your notes and scribbles are safe.
Final thoughts
While the full environmental impact of the wood-pulp paper industry is debatable, especially when you factor in sustainable forestry, A Good Company's stone paper notebooks are clearly a step towards reducing this impact.
However, adoption is not at the point where stone paper can be recycled as effectively as wood-pulp paper. Additionally, stone paper isn't cheap (yet); a pack of three 144 page pocket notebooks costs £27/$35 (although ADAPT readers get a 15% discount—see below).
Therefore, where I think stone paper really shines is as a long-term medium, like printed books (a use case that some book publishers are already exploring). So, if you're looking for a notebook that you will keep for a long time (as a diary or a sketchpad, for example) or a gift for an eco-conscious friend, then a stone paper notebook is definitely worth considering.
See the complete stone paper notebook range from A Good Company here (and get a 15% discount with code 'ADAPTNETWORK').