The market is flooded with multi-tools for cyclists, and it can be tough to sort the reliable ones from the junk. This problem becomes even more apparent when considering that most bike multi-tools are based on the same switch-out tool cluster design. On one hand, this traditional design has been tried and tested and gets the job done, but it's not without its problems—we've all had times where a traditional bike multi-tool has struggled with a tight screw, for example.
This is why Altum Designs, a London-based startup, developed their first product—the Altum MODUAL. At the London Bike Show, a few weeks ago, we had the chance to chat with Daniel Varney, founder of Altum Designs, about their innovative bike multi-tool. The MODUAL received a great response from its initial crowdfunding campaign and has since received a prestigious Taipei Cycle d&i award. I was, therefore, psyched about the opportunity to test out this "could be game-changing" multi-tool.
What is it?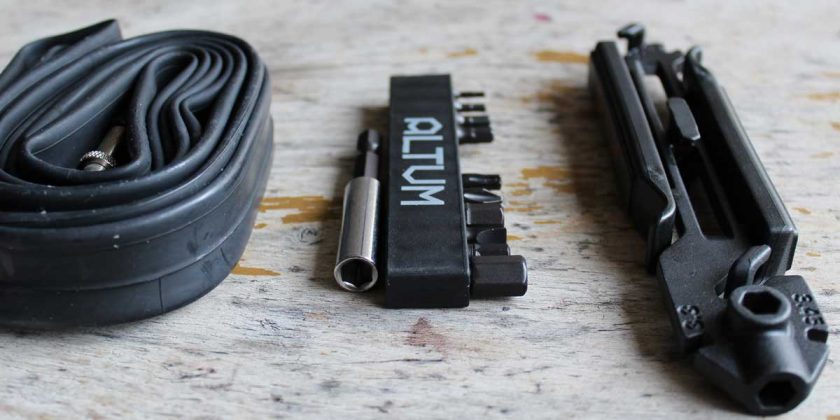 The Altum MODUAL is an innovative 14 function bike multi-tool with a unique modular design. It's made from hardened steel and comes with 10 tool bits, with the capacity to hold 4 tool bits internally. The tool can be orientated like a wrench or like a screwdriver and has tyre levers that attach magnetically to either side to form an ergonomic handle.
An accompanying tool roll, constructed from hard-wearing Cordura, can be folded up into a makeshift saddle bag and provides a custom slot for the tool and a rip-stop pouch for essentials. There's also space for an inner tube, via an external loop, and a hidden magnetic strip that keeps the tool bits safe when working on your bike.
Feature List
2 | 2.5 | 3 | 4 | 5 | 6 | 8mm hex tool bits
T25 torx tool bit
PH2 (phillips head) screwdriver tool bit
SL4 (flat head) screwdriver tool bit
Tool bit extender
Rubber tool bit holder
3.23 | 3.3 | 3.45mm spoke keys
Glass filled nylon tyre levers
Using the Altum MODUAL tool roll/saddle bag
The first thing I noticed about the MODUAL was just how well every piece fitted together into the complete tool system. I think it's the first time that I've ever seen a 'saddle bag'—or in this case, a tool roll that doubles as a saddle bag—come with the tool. This is a really nice touch and since the tool roll is designed specifically for the MODUAL tool, the whole thing packs together neatly.
That being said, when folded up into a saddle bag, the tool roll still has plenty of carrying capacity. The rip-stop pouch is great for stowing away extra tool bits and other essentials, such as a chain tool. The carrying loop at the bottom of the tool roll is perfect for carrying a spare inner tube and reminds me of using the Leatherman Tread to extend my traditional wedge saddle bag for this same purpose. I found that I could also squeeze in a second inner tube within the tool roll itself. While this made attaching and detaching the saddle bag a little trickier, the ability to carry two inner tubes under your saddle is impressive and invaluable on longer rides.
In the saddle bag configuration, you need to completely detach the tool roll from the saddle in order to access the muli-tool and other contents. This is a little frustrating, given that traditional saddle bags don't have this issue. However, it's important to note that the MODUAL's tool roll is much more than just a carrying case. When folded out it becomes a mobile workstation, complete with a magnetic strip to hold your tool bits. I found that it also worked well for storing little items, like bolts, chain pins and valve caps—no more searching around on the floor for lost hardware.
Using the Altum MODUAL tool
One of the main drawbacks of a traditional bike multi-tool is that it can be hard to reach tight spaces, due to the size and configuration of the tool bits. Small and tightly-packed multi-tools are perfect for carrying purposes but not so effective for gripping and controlling the tool.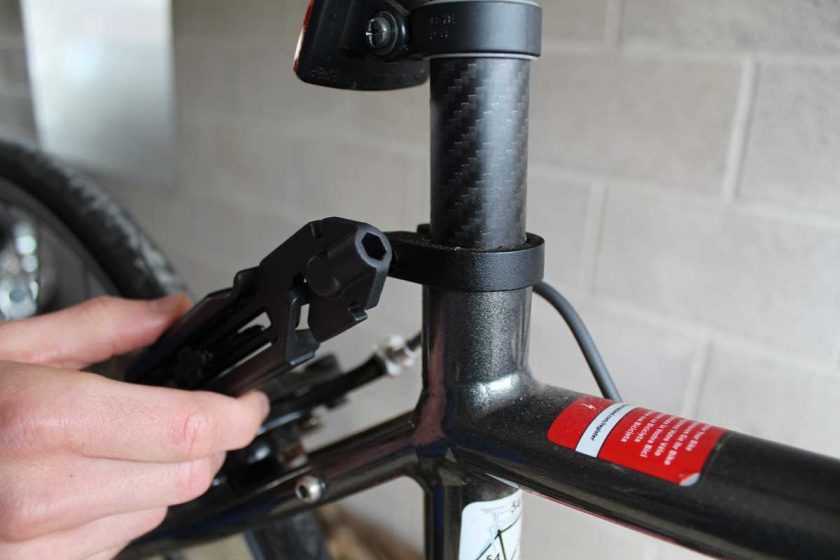 Using the Altum MODUAL tool was a completely different experience—it feels more like using a set of standard tools than a bike multi-tool, which is a good thing in my book. The tyre levers attach magnetically to either side of the tool body to form an ergonomic handle that feels similar to a standard screwdriver or wrench handle. Having a bigger handle allows for more control over the torque applied—when adjusting the height of a carbon-fibre wrapped seat post, for example, it's important not to apply too much torque.
The ability to grip the tool like a screwdriver or a wrench allows the tool to adapt to different tasks and grip positions around the bike. I found that the included 10 tool bits were adequate for most fixes and adjustments—it's clear that the selection has been carefully thought out. The inclusion of a chain tool would have been a bonus, but some people prefer to use a separate chain tool anyway, so I can see why it wasn't included.
The included tool extender is probably one of the most useful things about the Altum MODUAL. It extends the length of each tool bit by 5 cm (2″) and makes all the difference when accessing those difficult to reach spaces. The tool extender can also be used by itself as a 6.35 mm (1/4″) wrench, and a set of additional socket heads (8, 9 and 10mm) can be purchased to expand the tool's functionality.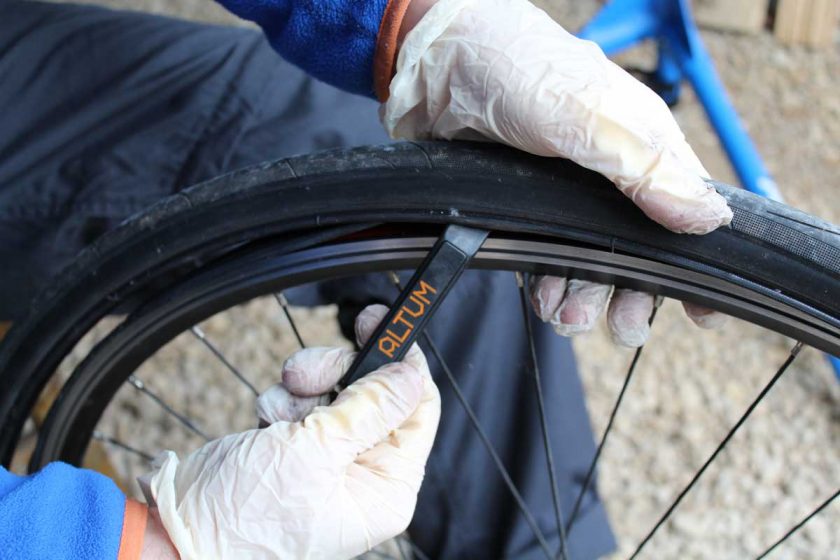 The glass filled nylon tyre levels are a joy to use and, due to their matte finish, feel more premium than other tyre levers I've used.
Note: Altum Designs have informed us that a chain tool, for the MODUAL, is now in development. This can be purchased at a later date. We'll bring you more information on this once we have a chance to test it out.
Verdict
If you're fed up with the limitations of a traditional bike multi-tool and looking for a new tool system that's just as happy in the workshop as on the bike, then the Altum MODUAL is definitely worth a look.
Pros
Excellent build quality
Magnetic design
Modular construction
Ergonomic handle
Tool extender
Tool roll/saddle bag
Cons
No chain tool (this is now in development)
Need to detach the saddle bag to access tools
Can only carry 4 tool bits in the main tool
4.5
A very versatile multi-tool