A coat has been launched on Kickstarter that promises to be everything an adventurer could ever want. With innovative features, custom created materials and even a 'Differential Weight Distribution' system, which is designed to make your pockets feel empty whatever you're carrying, the Apricoat jacket sure does seem to have it all. And at $119 (£92) (until 25th August), it's looking to be quite the steal!
Features
The Apricoat is the result of a heated discussion between two friends about what would make the best adventure jacket. After finding nothing like it on the market, they decided to make one themselves and put their ideas together to make the ultimate coat.
Made from a special waterproof material called ClimateShell™, the lightweight coat promises to keep your warm in winter and cool in summer. It also comes with 16 different pockets, one for every occasion, a compartment for a hydration pack and built in sleeve gloves.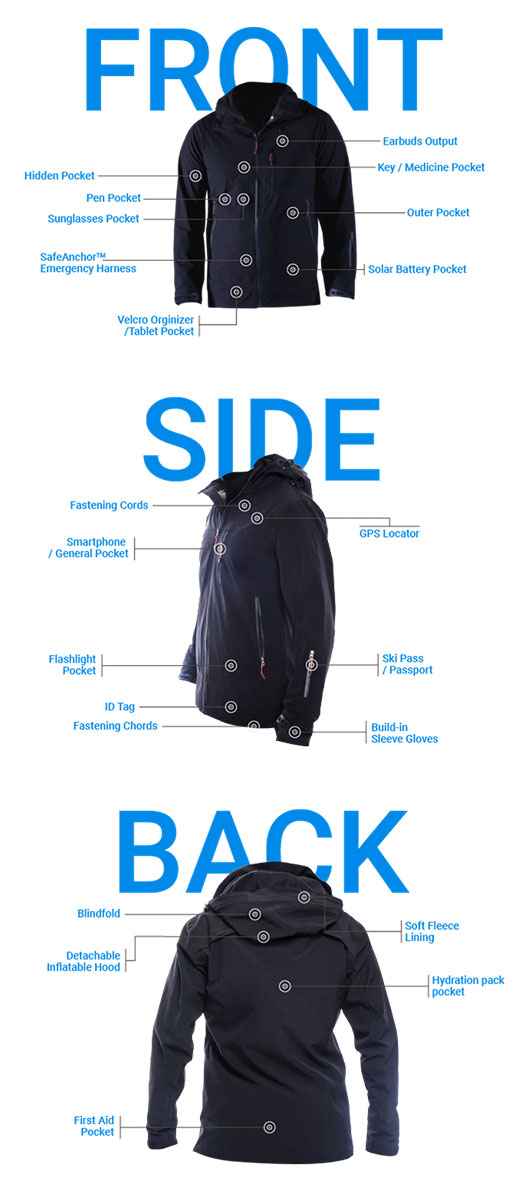 The team
With so many features packed into this coat, there's always a concern that something will under deliver. But the team behind it appear to be aware of this misconception in their amusing Kickstarter video:
Criticism
However, all may not be as good as it seems. Perhaps the most unique feature of the coat, aside from the inflatable pillow in the hood, is the built-in emergency clip. Apricoat claims, "SafeAnchor is a potentially life-saving emergency clip that can carry up to 400lbs (181 kg)". From the promotion video, it suggests stranded hikers can clip a carabiner into the clip and get hauled up out of tricky situations. However, this feature has come under fire. As Ron Funderburke, Education Manager of the American Alpine Club and AMGA-certified rock climbing guide, told Gear Junkie, "You start telling people you're going to save their lives, you better be able to back that up."
And it's unclear if the company can back up their claims. This makes it extremely dangerous if hikers start relying on a clip which may not have under gone third-party testing. After being pressed, the designer of the coat also said it was made for hikers and travelers, and not exclusively intended to be used as a climbing or rescue device.
Value for money?
But apart from the clip, which I believe is one of the ill-designed features which cannot be used, the coat does appear to offer something original. At just $119 (£92), in the Kickstarter campaign, it does appear a relatively good deal.
Personally, I would want to test its waterproof quality first and put it on for size—something which you can't do online. While the brand offers a detailed size guide, from experience it's only from trying one on that you get the perfect fit.
Time will tell if this coat really is the ultimate adventure jacket.
Editors note 12/11/18: A few backers of the Apricoat Kickstarter campaign have reached out to us to explain that they have still not received their coat. We reached out to Apricoat for a comment on this. They explained the issue and their next steps moving forward:
The entire logistics and fulfilment process following our production was carried out by Ingram Micro, a leading company in the field of logistics. Immediately following the packaging and shipping of our product, we sent our backers tracking numbers as proof of shipment. A number of packages were returned to us because our backers did not respond to the courier service regarding delivery or pick up. The packages that were returned in this manner, we shipped again on our expense. A few backers did not receive their jacket, even though the package was shipped.

We are very sorry to hear about these cases. Unfortunately, we can not get a response regarding the whereabouts of their packages due to the fact that the courier service only provides information up to 120 days after shipment.

We are currently gearing up for another round of production and will soon go live with our new Apricoat e-commerce store. At the present time we will not be able to offer refunds; however, in the near future, we hope that we can offer customers a form of compensation.