If you pay attention to the world of endurance sports and adventure GPS watches, then the name Coros will be familiar to you. Since the launch of its first GPS watch in 2018, the fledgling brand has already built a strong reputation thanks to its no-nonsense design approach and focus on high build quality.
So, with all the well-deserved attention that Coros has received for its GPS watches, you may be surprised to learn that the California-based company also makes a range of smart cycling helmets. In fact, we first came across the brand at the London Bike Show in 2017, where the Coros team showcased their very first product—a bike helmet that incorporated bone conduction audio. The idea was that riders could listen to music or make hands-free phone calls while keeping their ears open to outside sounds for safety.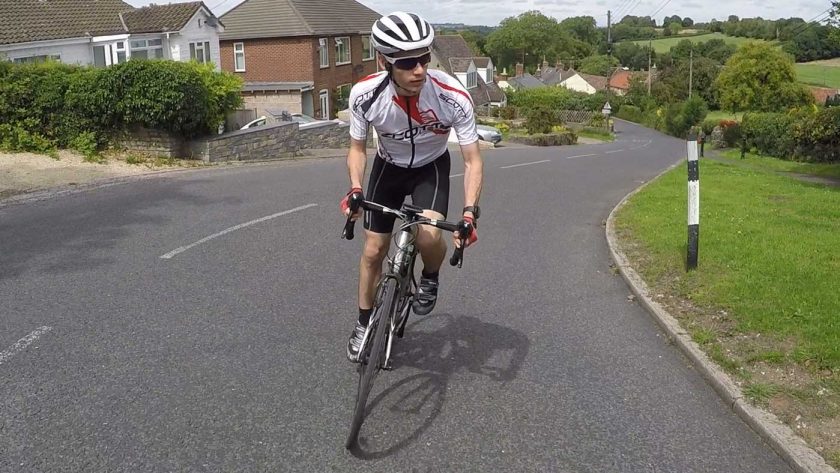 Three years later, this feature remains central to the Coros smart cycling helmet range. However, with the latest iteration called SafeSound, Coros has replaced the bone conduction headphones with more conventional pods that funnel sound directly into your ear canal.
Coros SafeSound Road
All three Coros SafeSound models—design for mountain biking, road cycling and urban riding—feature the same 'smart' technology and materials, varying mostly by shape and style. So, while this review focusses on the Road helmet, you'll still find it useful if you're considering the Mountain or Urban versions.
Design and fit
The Coros SafeSound Road helmet is a good-looking road-style lid, with a simple and sleek design. While there's nothing particularly special about the construction, it's clear that Coros has paid attention to the little details. For example, the polycarbonate shell is seamlessly bonded to the EPS liner and I press the removable EVA padding with the Coros logo and size.
Unlike with the mountain and urban helmets, the outer shell does not wrap around the lower edge of the liner. While this does leave the underside prone to scuff marks, it compliments other areas of exposed polystyrene at the front and back of the helmet. Combined with the three-tone matte finish, the SafeSound Road still feels like a premium cycling helmet, but it has an overall understated look that many cyclists will find appealing.

The two logo decals are discreetly placed, so as to not take away from this aesthetic, alongside twin reflective strips laser-cut to match the shape of the front vents. On that note, there's ample airflow provided by 16 large vents which extenuate the aero-flow design. Cooling is also aided by the deep inner channelling that funnels air over your head and out of the rear exhaust vents.
At 320g (for size medium), the Coros SafeSound Road is the lightest and most performance driven smart helmet from Coros to-date. While that's not exactly featherweight in the world of road cycling—unlike the Kask Mojito—it's still quite impressive considering that this includes a 500mAh rechargeable battery.
The interior electronics also result in a slightly bulkier profile than you might have otherwise expected at this price point. But, the sleek design helps to mitigate this, especially when worn with a pair of large-lensed cycling shades.
There isn't a MIPS-style system available, but the helmet comes in three sizes, with enough adjustability to tailor a secure and safe fit. For those looking for a size reference, my head measures 57.5cm and size medium fits perfectly. The rear cradle features a standard dial for tightening or loosening. And, although there is no height adjustment mechanism, I found that it fit securely and comfortably on my head.
Adjusting the nylon straps is also straightforward using the tri-glide splitters. The chin strap is a synthetic leather material that's extremely soft to further minimise any irritation. Combined with the plush interior padding, it's easy to forget that you're wearing this helmet after just a few minutes in the saddle.
EOSS pods
Even the two EOSS (Ear Opening Sound System) pods are easy to get used to thanks to the comfy replaceable padding. These sit on the front strap segment and can be slid up and down so they align with your ears. It's worth taking the time to adjust the straps so that the pods fit snugly next to your ears and don't move around too much when riding. I also recommend wearing your cycling sunglasses over the helmet straps to prevent the pods from rotating away from your ears.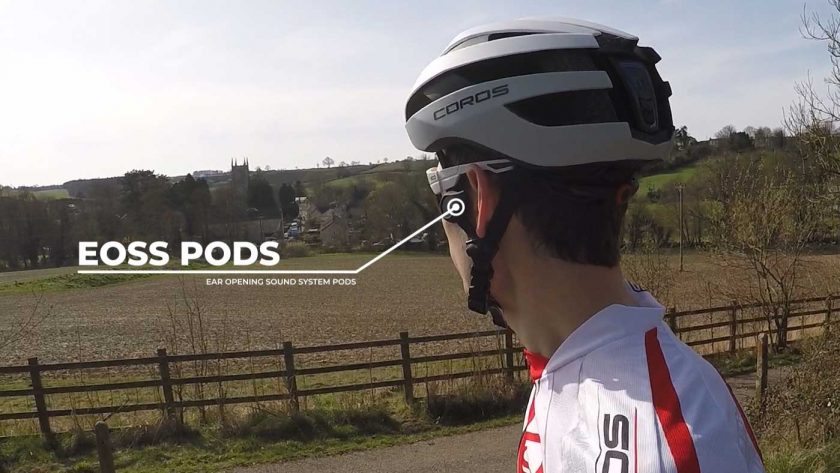 The EOSS pods themselves are directional speakers that funnel sound toward your ear canals. In my opinion, they're much easier to use than bone-conduction headphones because they still work even if you don't get the fit spot on. That being said, the system works particularly well when fitted properly, providing clear audio whilst freeing your ears so that there's minimal compromise to outside awareness and safety. When listening to music at a reasonable level, I found it easy to hold a conversation with other cyclists and hear the sounds of the road at the same time.
As far as audio quality goes, I was quite impressed with the Coros SafeSound system. I've seen that a few other reviewers have been critical here, but I think it's important to take into consideration what the Coros SafeSound headphones are designed to do—they're not supposed to be audiophile-grade. So, while you're not going to get deep bass or crisp treble, the pods produce a fairly well-rounded sound profile that will get you pumped when listening to your favourite tunes.
Additionally, I found that the pods were capable of reaching a max-volume significantly higher than I needed, even when riding at high speed or in windy conditions. There's also a slight boost throughout the mid-range, which significantly improves voice clarity during phone calls.
Integrated wind-resistant microphone
Phone calls are also of notably high quality on the other side of the line thanks to the integrated wind-resistant microphone. This is tucked away in the underside of the helmet near the middle of your forehead.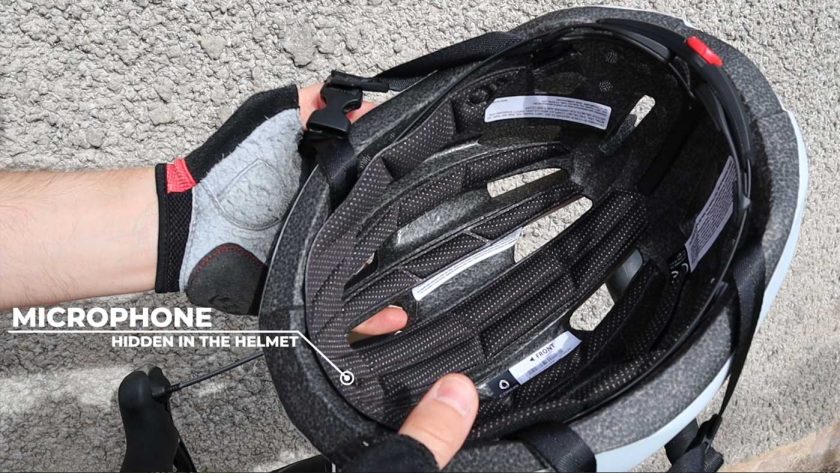 I have to say, I was not expecting the microphone to perform so well. It doesn't block out all wind noise, so you might need to speak up a little when riding at high speed. But it does a much better job than the speaker function on your phone, producing less 'echo' and relaying your voice clearly.
It's worth pointing out at this point that the Coros SafeSound Road doesn't include the walkie-talkie function found in the previous generation smart cycling helmet, the Linx. Instead, all communication functions are handled through your smart phone and the Coros app.
Coros app and SOS system
Pairing the helmet to your device is straightforward via Bluetooth 4.0. Basic music and phone call functionality works straight out of the box, but you'll need to sync it with the Coros app (available on both iOS and Android) to take advantage of other smart features and the included remote.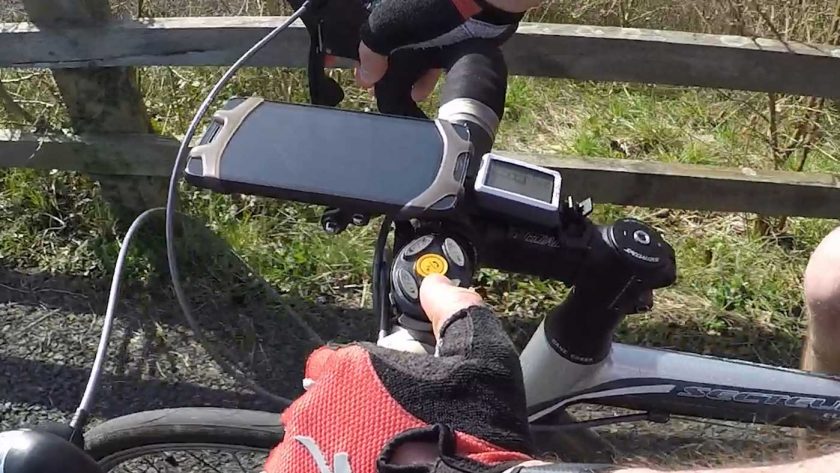 This clips into a cradle which you can mount to your handlebar with a pair of o-rings. It connects to your helmet via ANT+ and provides easy access to music, volume and call controls—useful when your phone is out of reach.
The Coros app also includes a ride tracking function which uses your phone's GPS. It only tracks the basics, but the data can be augmented with a Coros watch, if you have one. The helmet also has a neat feature that delivers regular audio feedback on your ride. You can set this to trigger at distance or time intervals, when reaching a certain speed, or by pressing a button on the smart remote.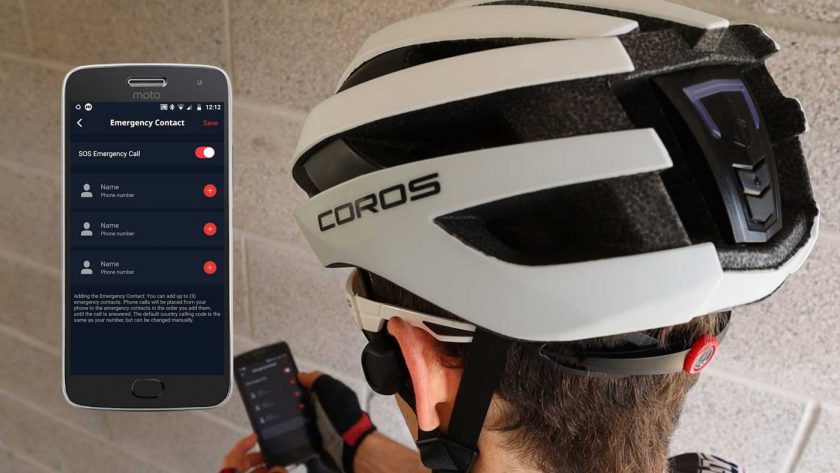 Perhaps the most valuable smart feature though, is the SOS emergency contact function. If sensors embedded in the helmet detect a crash, then the system will send a text message to up-to three emergency contacts assigned in the app. Of course, this relies on your phone having a network connection at the time, but the integrated taillight on the helmet will also flash SOS to alert any passers-by.
Taillight
This light can be switched on at any time via the app or remote. It has a slim horseshoe design and only operates in a pulse mode. But it's adequately bright and easily visible from all angles.
The rear light also serves as a status indicator. For example, it will blink blue when the helmet is connecting to your phone, or if it looses connection, and it will illuminate in sections to show the remaining battery life. You can check the battery status at any time with a quick click of the power button. This also triggers an audible battery level report, so you can do so while riding.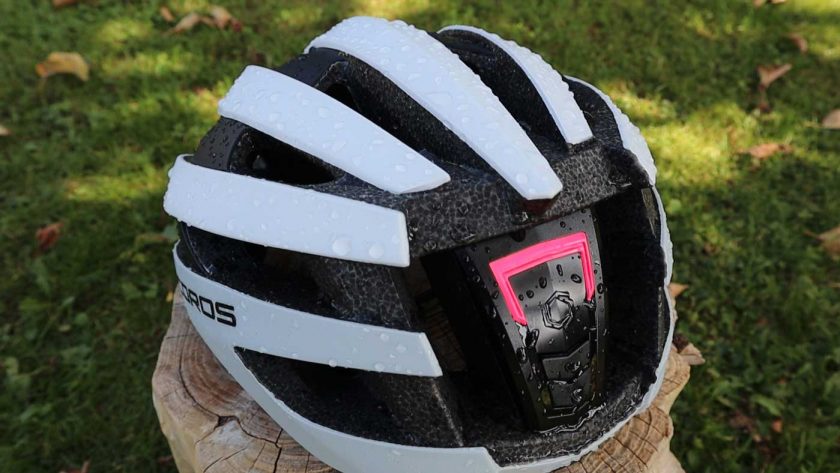 On average, you'll get about eight hours of constant play and talk time from the Coros SafeSound Road helmet before needing to recharge it. This is done via a micro USB port at the back and takes about 2-3 hours to fully charge. The USB port comes with a cover to prevent water ingress and the helmet itself is rated IPX5 water resistant so you can use in the rain without any problems.
Final thoughts
You can currently pick up a Coros SafeSound Road for about £105 (in the UK) / $120 (in the US). Considering the amount of tech packed inside this lid, along with a few spares and the remote, that isn't a bad price at all.
The integrated wind-resistance microphone does a great job, but it's the EOSS pods that are undoubtedly the standout feature. They're much easier to use than bone conduction headphones and allow you to listen to music without comprising your ability to hear surrounding sounds. If you're a regular commuter on busy roads, but still like to listen to music while riding, then that's reason enough to check out this helmet.
That being said, if you're looking for a slim ultralight helmet then this might not be the right lid for you. The extra tech results in a slightly bulkier profile than you might otherwise expect at this price. It didn't bother me though, as the sleek styling helps to mitagate this and the plush padding ensures maximum comfort.
Pairing with the Coros app also enables a number of other useful features. Most notable is the SOS emergency contact system, which could prove invaluable in case of an emergency.
Verdict
Overall, the SafeSound Road is a compelling smart cycling helmet that's perfect for commuting, weekend rides or training to your favourite tunes.
Pros
Sleek aero-flow design
Well vented and comfortable
EOSS pods keep your ears clear
Audio quality is better than expected
Microphone provides good phone call clarity
Neatly integrated taillight
SOS crash function is very useful for solo riders
Easy set up
Handy remote
Decent battery life
Cons
Slightly bulkier profile
No walkie-talkie function
4.5
Compelling smart cycling helmet