Deciding on what outdoor gear to buy can be a daunting task, particularly when it comes to clothing. These days, there are more and more brands entering the market flashing colours, logos and technical jargon at you in an attempt to win your hard-earned currency.
Last year, we reported on a new Dutch outerwear brand, Cortèz, that aimed to cut through this noise with their crowdfunded ski-jacket. The project aimed to offer a high-quality ski jacket at a budget price using a direct-from-manufacturer model. The project was a huge success with over 1000 backers, €350K raised, and a 4.9/5 average customer rating.
Building upon the success of the Cortèz ski jacket, the brand has now launched a complete outerwear collection, that also includes fleece jackets and 3-layer ski pants.
3-layer ski jackets
Cortèz is bringing back their flagship shell jacket in a second edition as part of the new collection. The jacket features the same impressive feature list as the original jacket and is constructed from a specifically developed waterproof membrane, called Dermizax. This forms part of the 3-layer fabric that Cortez says "provides maximum protection against all kinds of demanding activities and weather conditions."
With a feature list longer than some of the market-leading top-spec models, it's probably worth taking a peek at the graphic below.

3-layer ski pants
The stand-out item in the new Cortèz outerwear collection is definitely the ski pants. Specifically constructed for skiing and hiking, the paints are designed to pair perfectly with the Cortèz jacket.

Comparing the Cortèz ski pants to offerings from market leaders Arc'teryx and Norrona, the Dutch brand holds its own.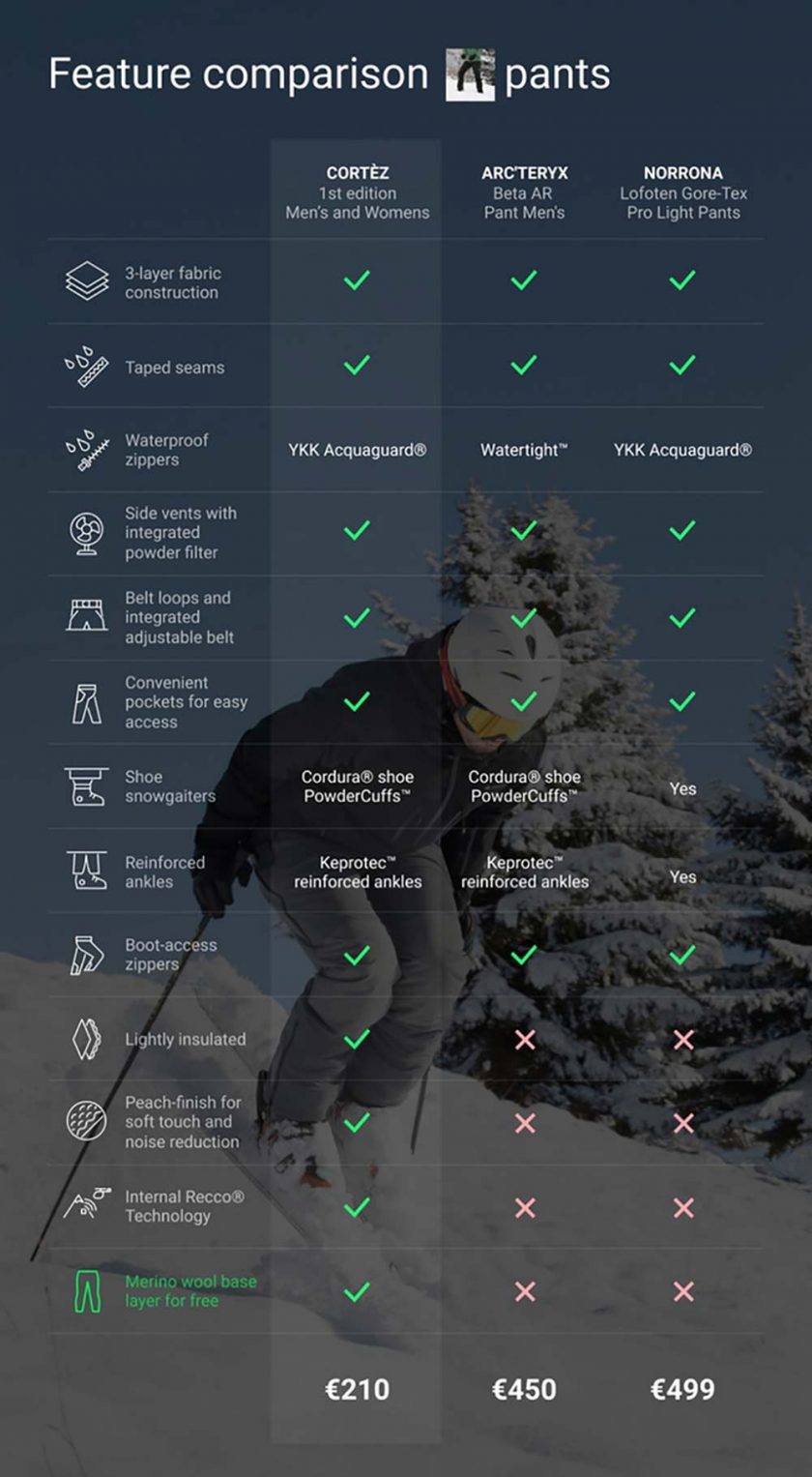 Cortèz is launching their ski pants in two colours: black and grey. However, since the Kickstarter campaign is currently €200,000 overfunded, more colours are likely to follow the initial launch.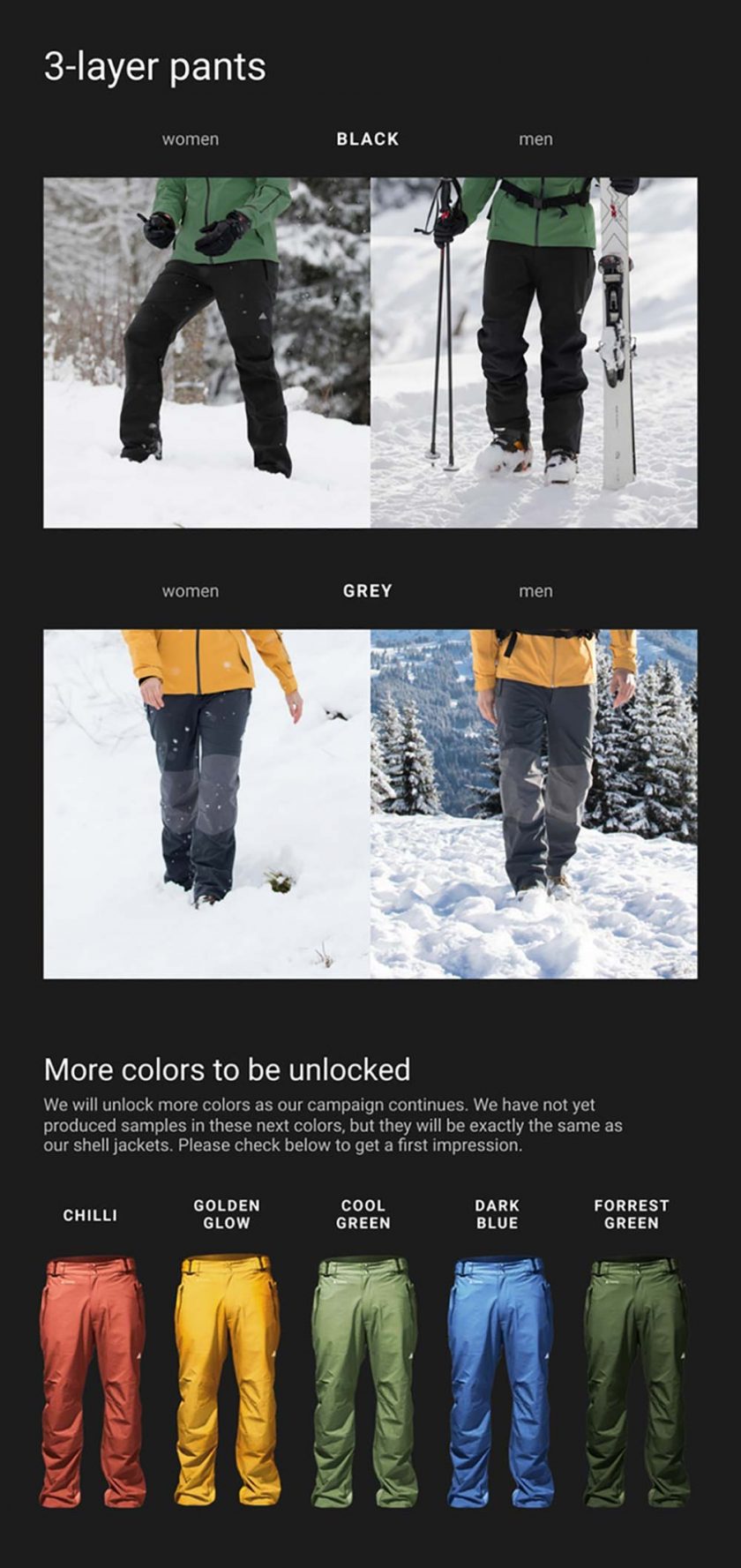 Dermizax®EV membrane
The Cortèz ski jacket and pants are constructed from a 3-layer fabric with the Dermizax®EV membrane at its core. Dermizax was developed with proprietary technology in Japan and designed to protect you in all weather conditions.
Similar to the popular Gore-tex membrane, Dermizax is a 100% waterproof, windproof and breathable. Impressively, Cortèz claims that their membrane's breathability (at 20,000+ grams) even outperforms the Gore-tex pack lite (at 15,000 grams) and the Gore-tex performance (at 17,000 grams) membranes.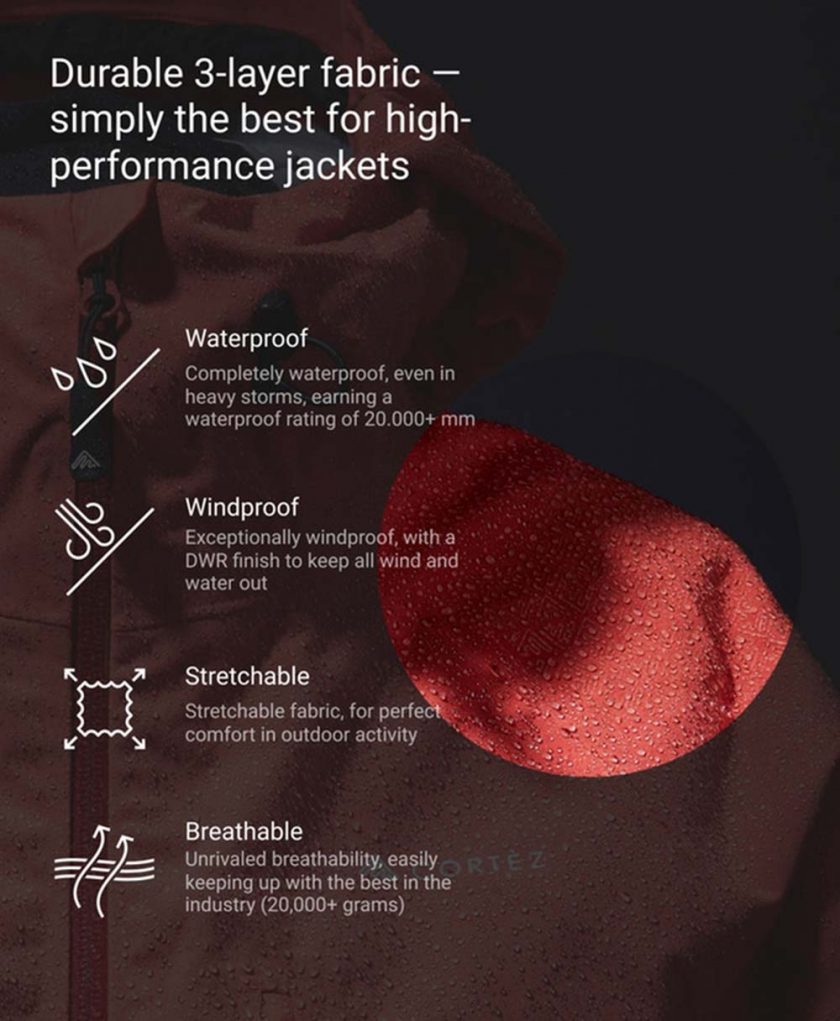 Fleece Jackets
To complete the outerwear collection, Cortèz has added a full-zip fleece jacket.
There's nothing particularly special here—the fleece jacket is made from a Hi-Tech polyester fabric which is warm, durable and breathable. However, this full-zip fleece looks to be a decent and stylish mid-layer for most active pursuits. Plus, all Kickstarter backers will receive one for free (€100 value).

Merino wool base layer
A final bonus for the Kickstarter community is the Cortèz base layer. All backers who order the 3-layer shell jacket and pants receive a nice and warm merino wool base layer set for free (€148 value). Not too shabby!
So if you're in the market for a high-quality versatile ski jacket and pants combo, then the Cortèz outerwear collection is definitely worth a look. The Kickstarter campaign finishes at the end of March and if you're quick you can still pick up the super early bird ski jacket and pants combo (with full-zip fleece and merino wool base layer) for €550 (£490 UK / $680).