I've spent a fair few soggy nights wild camping in Dartmoor and it's not the most enjoyable experience. After a long day's hike in the pouring rain, there's nothing worse than unpacking your rucksack to find a drenched sleeping bag—believe me! Over the years, I've got better at protecting key items from the rain and the odd dip in a river. But when it really buckets down, even my trusty dry bag will let a bit of water seep in.
Don't have time to read this article? You can listen to it instead.
Listen to "ADAPT Network" on Spreaker.
That's what Slovenian startup DryTide aims to prevent with its range of 100% waterproof dry bags and backpacks. Going beyond the usual 'waterproof' tag—which these days can mean different things—all DryTide bags are made out of 100% waterproof material using 100% waterproof construction techniques.
DryTide 50L waterproof backpack
Combining the features and versatility of a regular backpack with the waterproofness of a dry bag, the DryTide 50L waterproof backpack is DryTide's flagship product. At €129, which is about £110 (UK) / $150 (US), it's competitively priced against other high-end 50-65L rucksacks on the market.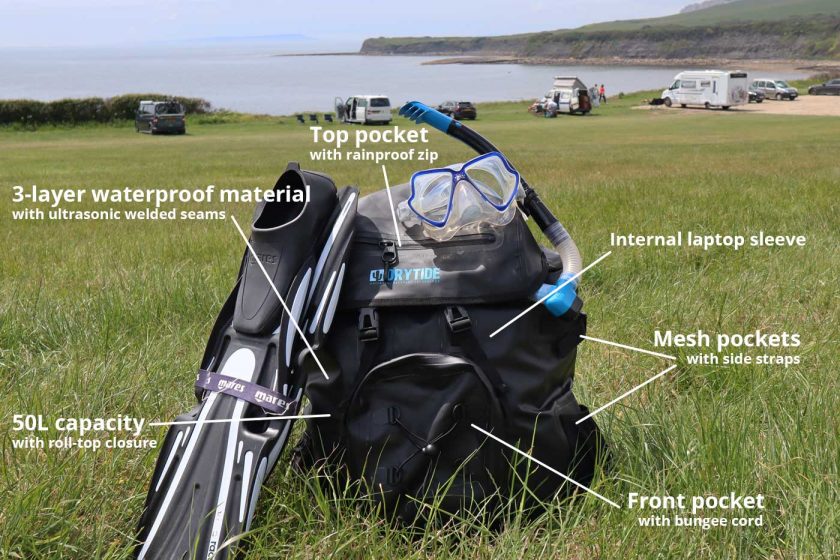 Specs
Carrying capacity: 50L main compartment
Additional pockets: Two external pockets, two mesh bottle holders and removable laptop sleeve
Waterproofing: 100% waterproof material, welded seams and rainproof zippers
Dimensions: 60 x 34 x 25cm
Weight: 2kg
Max load: 15kg
Support: Padded shoulder straps with chest and hip belt
Design & construction
On initial inspection, the first thing you'll notice is how heavy duty the backpack is. It's primarily made out of a 3-layer 100% waterproof fabric that combines two coatings of UV and weather-resistant polyethylene, with a woven polyethylene layer sandwiched in the middle.
Besides preventing any water ingress, the thick material is extremely durable and tear resistant—so you don't need to worry about scuffing or scraping the bag against twigs and branches. It does, however, result in the DryTide waterproof backpack being slightly heavier than a non-waterproof equivalent. At 2kg, it weighs about the same as my regular 65L rucksack (which features two aluminium frame stays).
The pack features three main compartments that are constructed using ultrasonic welded seams, instead of stitches, to ensure that no water can seep in. The primary 50L compartment is a top-loader design that opens and closes using a roll-top clasp. With other backpacks, that feature compartments of a similar size, it can sometimes be difficult to access items at the bottom of the bag. However, in this case, the large opening makes it much easier to fish out your gear without having to unpack everything first. It also makes packing those larger items—like tents and wetsuits—a breeze.
Once the roll-top closure is secured, the main compartment is as watertight as they come. However, for even more protection, it can be covered with a top flap that connects to two buckles on the front of the backpack. Here, you'll find a small pocket that's accessed via a rainproof zipper and ideal for storing items such as your phone, wallet and keys.
On the front of the backpack you'll find another, much larger, pocket. It's also accessed via a rainproof zipper and features a bungee cord for additional carrying capacity—perfect for stowing a waterproof jacket or fleece in a quick access location.
The rainproof zippers used on the DryTide 50L waterproof backpack are not your garden-variety zippers. Manufactured by KINZIP and coated in TPU, they are very robust and form a strong seal that's much more water resistance than standard rainproof zippers. In fact, in my opinion, you could probably rate them as fully waterproof…more on that later. The zippers are therefore quite tough to open and close; but, as an added benefit, this makes them much more resistant to pickpocketing.
In addition to the three main compartments, there are two mesh pockets (one on each side of the bag). These hold water bottles very securely, thanks to the elasticated opening. Two buckled side straps are positioned above the mesh pockets to attach longer items, such as walking poles, and can also be used to cinch the sides of the main compartment to reduce its overall size.
If that's not enough, hidden inside the main compartment you'll find a removable laptop sleeve. Made of the same 3-layer waterproof fabric as the main body of the bag, it's suitable for devices up to 15 inches; though, if you have a thicker 15 inch laptop, it may not fit (for reference, my Acer Aspire was a little too big.) The sleeve attaches to the main body of the bag via a velcro strip. This secures your device during transit while providing easy access to it when needed. A front mesh pocket provides additional organisational space for pens, cables and other laptop accessories.
Comfort & support
With a sizable internal carrying capacity and various external attachment points, the DryTide 50L waterproof backpack has been rated to carry around 15kg of gear. Like other large rucksacks, it therefore comes equipped with a hip belt and chest strap to help reduce load through the two main shoulder straps.
These are fully adjustable and thinly padded with non water absorbing foam. I would have preferred to see a thicker layer of foam for additional support on longer hikes. However, both the shoulder straps and hip belt are quite wide, so they spread the load effectively, even when carrying heavy gear. The non water absorbing property of the foam is also impressive; alongside the rest of the backpack, the padding doesn't take very long to dry at all.
While there's no structural support on the back of the backpack, to help with airflow, there is a large patch of non water absorbing foam that extends from the top of the shoulder straps to the hip belt. This results in a slightly softer fit that ensures a comfortable carry, as long as you pack the backback wisely—with any pointy objects positioned on the front side. The minimal structural support also makes the pack easy to tie down to a watercraft or conform to shape when you need to squeeze it into the boot of your car or in an overhead compartment on a train. In these scenarios, the top carry handle also proves invaluable.
That being said, if you carry the DryTide waterproof pack on your back, for longer periods of time in warmer conditions, then your back will get quite sweaty. Due to the non-breathability of the waterproof material, this is to be expected. However, thicker foam and an airflow channel would have helped here.
How waterproof is it?
Thanks to the 100% waterproof material and ultrasonic welded seams, the DryTide 50L waterproof backpack shrugs off rain with ease—even heavy downpours. If secured properly, the roll-top closure of the main compartment is completely impenetrable to rainfall and, as previously mentioned, the rainproof zippers are nearly 100% watertight too.
To test out this beast of a backpack further, I took it on a recent snorkelling trip to the Dorset coast. The first-part of the challenge was to see if it could keep my regular clothes dry while I carried them on my back when snorkelling. With my clothes stored in the main compartment and the roll-top closure secured, the backpack happily floated on the ocean surface.
I snorkelled for about half an hour, with the backpack on my back, and my clothes remained bone dry. Additionally, there was no sign of any water ingress in the top and front pockets—illustrating the impressive waterproof capabilities of the rainproof zippers. So, you can rest assured that this backpack will keep your gear dry even if you drop it in a body of water.
That being said, if submerged for a sustained period of time, it is possible for a bit of water to seep in through the roll-top closure and rainproof zippers. However, this is really only an issue when carrying items heavy enough to sink the backpack. Even then, it will likely stay afloat long enough for you to retrieve it before any water can seep in.
The second-part of the challenge involved packing the backpack with my soaked wetsuit and snorkelling gear after the session. I wanted to test the backpack's performance when carrying wet gear by checking that it kept the boot of my car dry on the way home. As you can imagine, given the results from the first part of the test, the DryTide passed with flying colours.
As a bonus test, when I got home, I filled up the main compartment of the backpack with water to check for leaks…no problem there. This also enabled me to assess the waterproofness of the laptop sleeve, which was entirerly submerged during this test. I was really impressed to find that the sleeve's interior remained dry. However, since the closure system is just a simple velcro flap, I wouldn't completely rely on it. In any case, the additional protection provided to your most hydrophobic electronics is welcome.
Final thoughts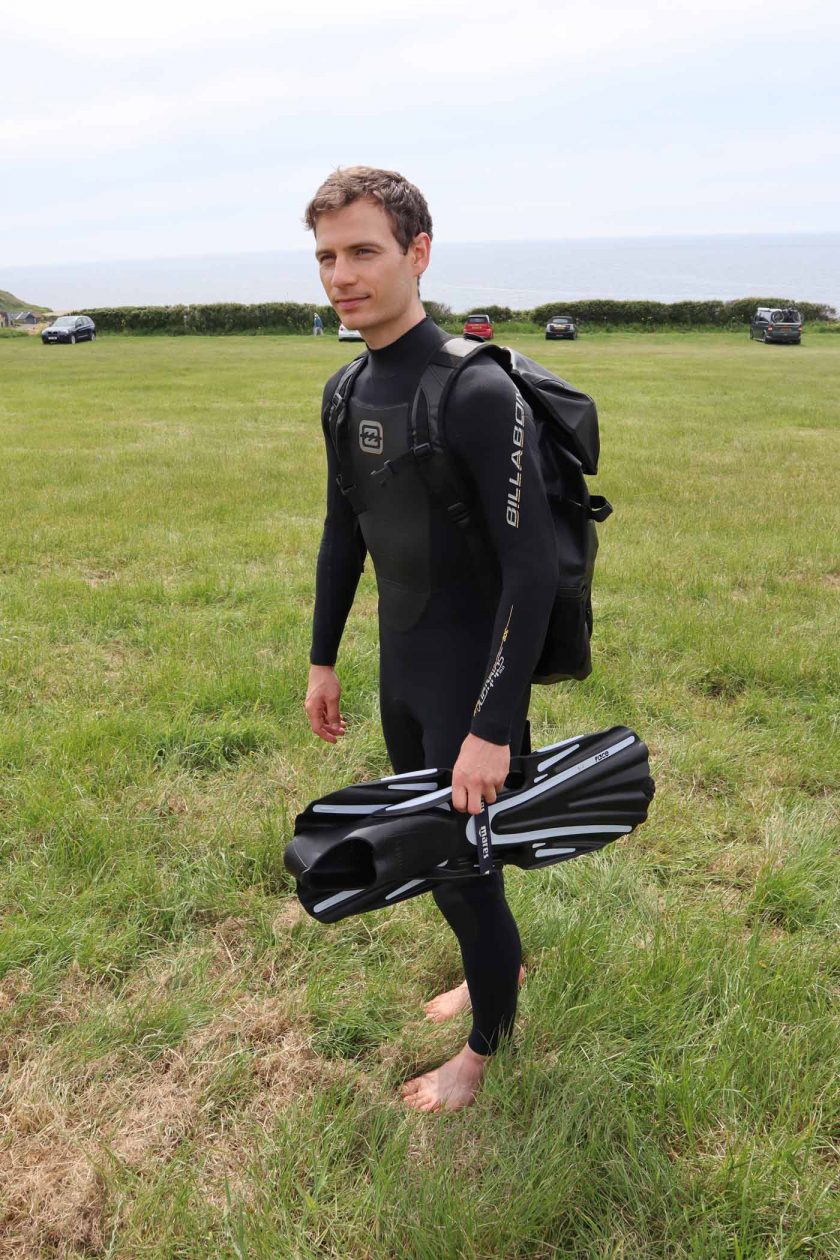 In practice, no dry bag is 100% waterproof in all situations. The DryTide 50L waterproof backpack, however, comes really close—only giving way after a significant time submerged underwater. From the moment I picked up the backpack, the high quality materials and craftmanship shone through. And, having tested it in a variety of scenarious, I really appreciate the versatility of its design.
Due to the limited back support and airflow, it won't be replacing my regular rucksack on long hikes. However, I think DryTide has made the right design decision here. In situations where long-term comfort is less important and waterproofness is paramount, the bag excels—think watersports, camping and travelling.
Overall, DryTide has produced a superb waterproof backpack. Priced against other high-end rucksacks, I think it's fantastic value for money. However, if you're looking for a real bargain, check out the DryTide 50L rainproof backpack, which is currently on sale for just €44.50—about £40 (UK) / $55 (US). This uses the same 3-layer fabric as the full waterproof version, but is slightly less watertight due to regular stitches being used, in the padded back portion, instead of welded seams. It's still plenty waterproof enough to deal with torrential rain, but water is more likely to seep in if you drop the bag in a body of water.
Verdict
The 3-layer 100% waterproof material and ultrasonic welded seams make this one of the most watertight backpacks on the market. A slightly bigger laptop sleeve and more padding would be nice. However, the versatility of its design ensures that this bag excels in most situations where waterproofness is paramount.
Pros
3-layer 100% waterproof material
Ultrasonic welded seams
Large 50L carrying capacity with easy access
Additional pockets and attachment points for organisation
Non water absorbing foam is quick drying
Shoulder straps and hip belt are comfortable
Cons
Minimal back padding and support
Laptop sleeve is too small for some 15 inch devices
4.5
Superb waterproof backpack
Pin this post