Golf is a sport that requires control and consistency. It's this discipline that drew 11-time World Surf League champ Kelly Slater to the game. Unlike with surfing and other action sports, where the culture epitomises freedom and strives to 'break boundaries', developing a good golfing technique necessitates a systematic approach.
Golfers are often told by coaches that power comes from the ground, so a good pair of golf shoes can help your game and deserves to be labelled as a 'game-improvement' tool. With the major brands developing different sole, upper, spike and water-resistant technologies, however, it's difficult to know which golf shoes to pick.
That's where this guide comes in; using the same systematic approach that you use to develop your golfing technique, and this guide as an outline, will help you choose the right pair of golf shoes for you.
Types of golf shoes
Spiked golf shoes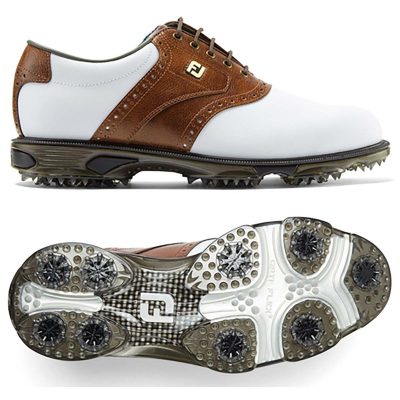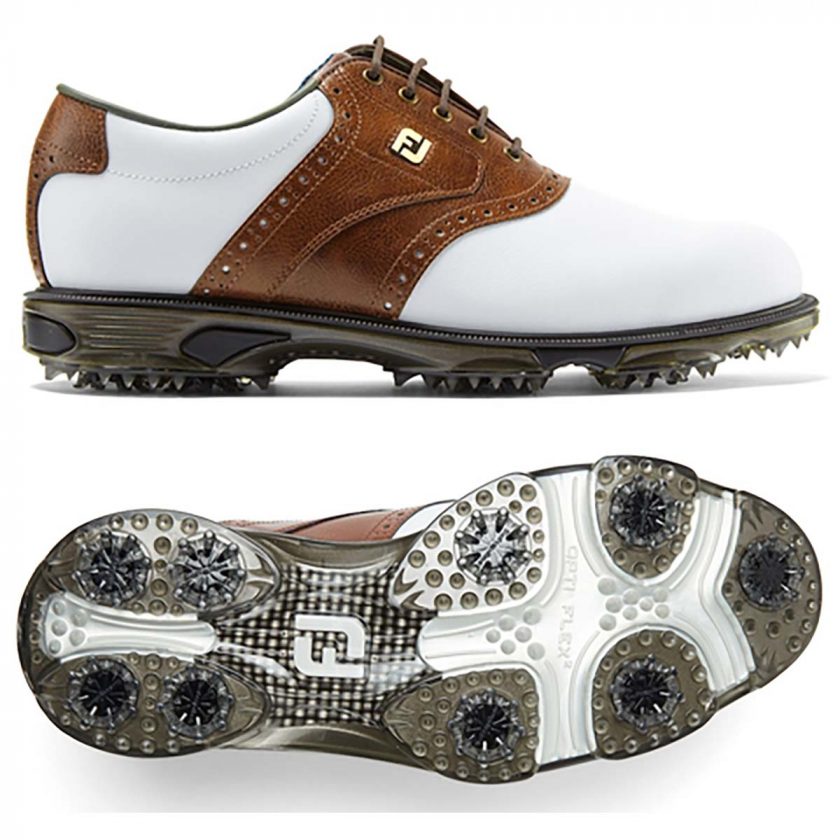 Spiked golf shoes, as the name suggests, feature spikes or cleats in the sole that provide better grip on grass surfaces. With your feet securely planted on the ground, a key advantage of these shoes is the added stability that they provide when swinging the golf club, particularly during wider swings on the fairway or tricky shots from the rough.
Since the majority of golfers still walk around the golf course, manufacturers have poured significant resources into designing treads and spike-patterns that provide comfort and grip when both walking and hitting the golf ball.
Most commonly you will find classic spiked golf shoes in leather (like these FootJoy golf shoes), which offers comfort, breathability, water resistance and style. The firm leather upper also helps to increase the stability that the shoes provide. Vegan synthetic alternatives are also available and more expensive models may feature a waterproof membrane (like Gore-Tex) to ensure your feet stay dry.
Compared to golf boots, spiked golf shoes are lighter and provide more flexibility around the ankle throughout your golf swing. Another aspect to consider is whether to opt for soft of metal spikes (see below).
Spikeless golf shoes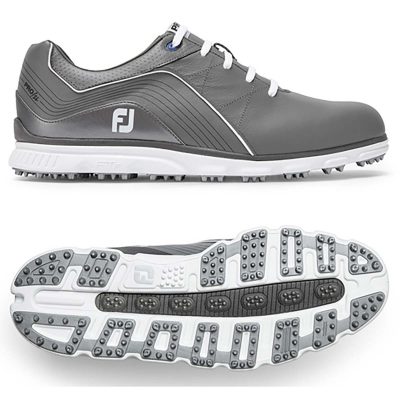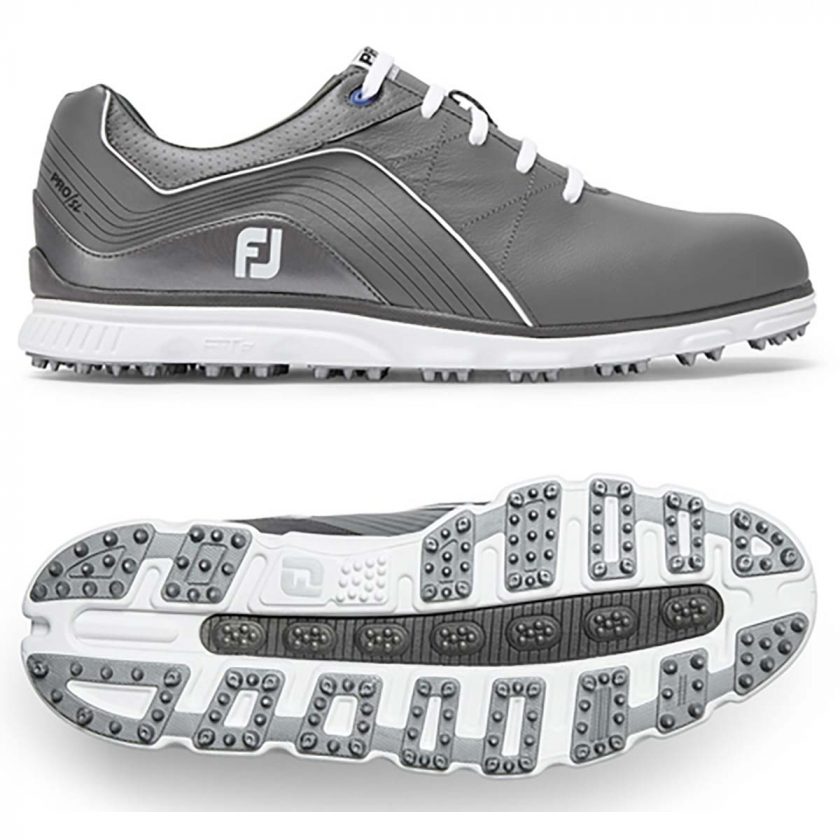 Spikeless golf shoes are the most recent advancement in golf shoe design. With a more comfortable fit and modern look, they are increasingly being found in clubhouses and out on the golf course.
In place of standard soft of metal spikes, these low-profile shoes use rubber studs or dimpled soles to provide grip. While they won't provide as much stability as a spiked golf shoe or golf boot, they are lightweight and give a slight advantage on harder surfaces, for example when the ground is dry or at the driving range.
In longer and wet grass, however, spikeless shoes may struggle for grip and won't provide as much waterproofing as a classic leather spiked golf shoe or golf boot.
Initial concerns regarding the durability of spikeless soles and the inability to replace worn spikes have been eased by the development of new rubber technologies that manufacturers claim will outlast the natural lifetime of these types of shoe.
Golf boots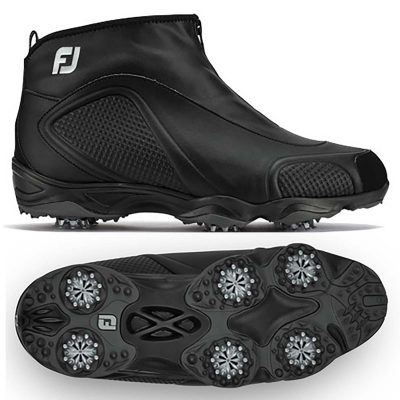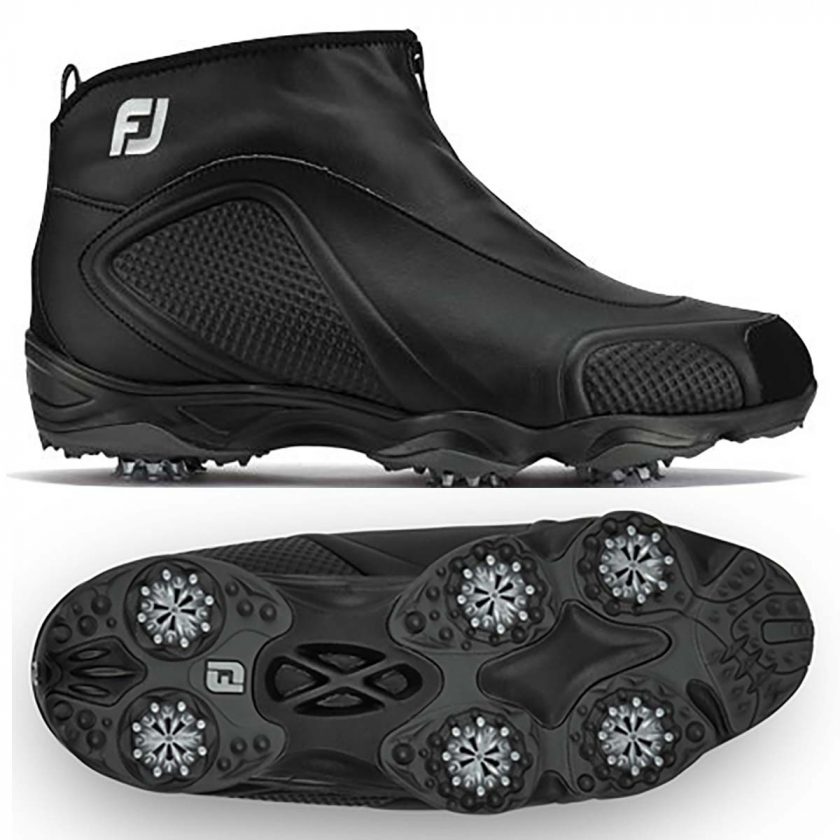 Golf boots are essentially a more robust version of classic spiked golf shoes and look similar to hiking boots.
They offer excellent traction, stability, warmth and waterproofing which makes them a great option during the winter months. You can even get golf boots with attached gaiters to keep the mud and water out.
The extra material comes at an increased cost, however, and, as well as being heavier, the ankle support does not allow as much freedom around the ankles when swinging the golf club.
Golf sandals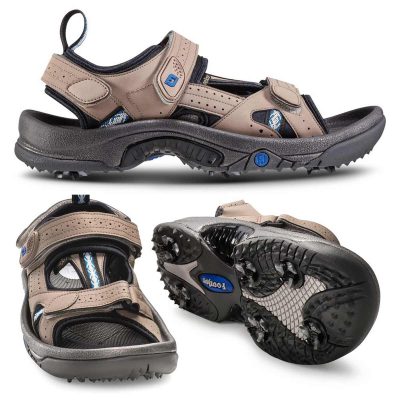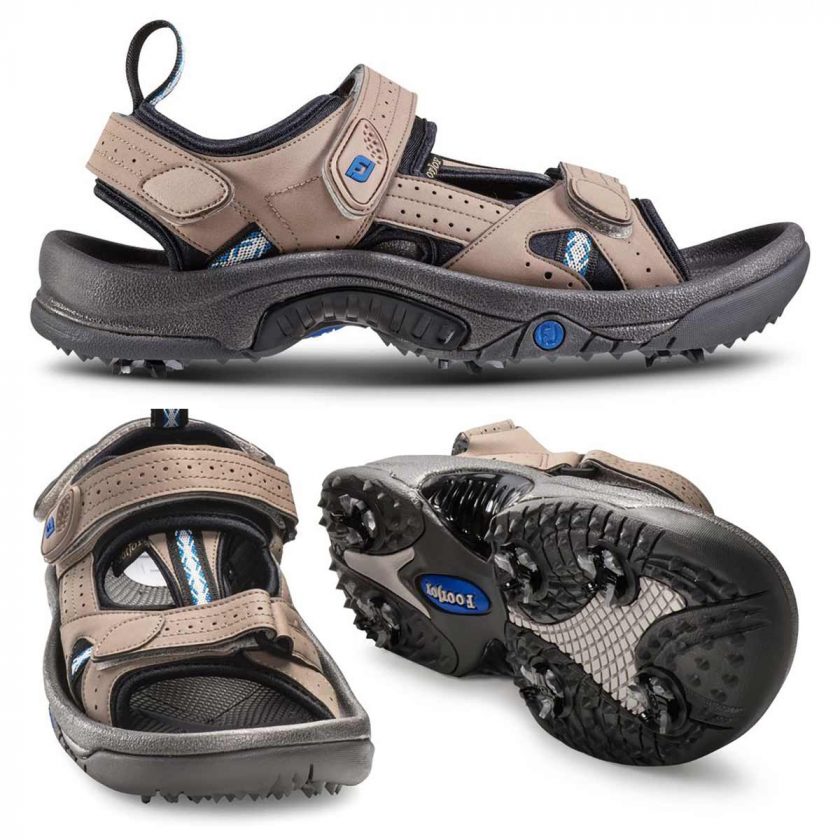 Being the complete opposite of golf boots, golf sandals are the go-to choice for putting in a heat wave.
The open, toeless design means that are very breathable and cheaper than most golf shoes. This means, however, that they offer little-to-no protection against wet grass in the rough. A golf sandal with a spiked sole will ensure that your feet remain planted, but the open design provides less lateral support than a regular golf shoe.
Additionally, while they may look similar to hiking sandals, long walks along the fairway may prove problematic due to the straps rubbing; so it's even more important to ensure you get to correct fit.
For more information on the types of golf shoes and other golf equipment, check out golftreasury.com.
Golf shoe construction and materials
Golf shoe materials have developed enormously over the past few years. While leather remains the most popular choice, due to its natural hard-wearing and water-resistant properties, man-made materials are now utilised more in both the upper and outsole to provide increased comfort, stability and waterproofing. You can also get fully synthetic golf shoes that are vegan.
Leather
Leather's natural hard-wearing and water-resistant properties mean that it is still the most popular choice for golf shoes.
To create a stretch-free, tight-fitting and waterproof layer, the leather is processed and then added to the exterior of the shoe. Most classic spiked golf shoes adopt the saddle design to provide a durable shoe with a firm upper that provides stability for your golf swing .
Another benefit of leather as a golf shoe material is that is it naturally breathable. Combine this with a breathable waterproof membrane and you have a shoe that can be relied upon all year round.
Top manufacturers may offer a one or two-year waterproof guarantee, but the cost of the material and manufacturing is reflected in the price, so be prepared to shell-out for quality.
Waterproof membranes
To provide additional waterproofing, some golf shoes and golf boots feature a breathable waterproof membrane. As with hiking boots, the most popular membrane used is Gore-Tex, but some manufacturers have their own versions. As a tried and tested material, I recommend Gore-tex over most alternatives. If you are considering a different waterproof membrane, though, read a few user reviews before clicking the buy button.
Synthetic
As a cheaper alternative to leather, manufacturers are increasingly incorporating nonporous polyester into their lower-end models. While this does a good job of protecting the outer shell and is lighter, it is not as hard-wearing or as breathable as leather.
Some synthetic materials, however, have more favourable characteristics than leather so, by combining materials, manufacturers can optimise comfort, stability and waterproofing. You can also get fully synthetic golf shoes that are vegan.
Golf spikes
If you're opting for a spiked golf shoe or golf boot, then you'll need to consider what type of spikes are right for the type of ground that you play on. This may change throughout the year, as the ground becomes harder or softer, so these shoes have spike replacement system so that you can swap them out.
Soft/plastic spikes
Plastic spikes are by far the most popular choice being used in spiked golf shoes today. They are more lightweight and far less likely to tear up the green than metal spikes since they are softer and the wider size spreads the player's weight.
Softer spikes are ideal for harder ground in summer conditions. However, modern plastic spike technology and design mean that they still offer a good level of traction and grip compared to traditional metal spikes.
There is also the added benefit of being more comfortable because the spikes can flex as you walk and flex your feet. Easily changed, you'll find plastic spikes on almost all new golf shoes on the market today.
Metal
With the advancement of plastic spikes, traditional metal alternatives are becoming less and less common. Metal spikes are still, however, being used by many PGA Tour pros. They have longer and sharper spikes that give more traction than plastic, especially on soft ground.
However, metal spikes may prove uncomfortable on hard ground. Additionally, they are infamous for tearing up greens and fairways—many golf courses even ban the use of metal spikes on their greens—so plastic spikes have become the common choice for club players in today's game.
A note on replacing spikes: Most brands of spikes have wear indicators to help you determine when you need to replace the spikes on your golf shoes. It's important to note, however, that different manufacturers may use different spike fastening systems. So, when you are buying replacement spikes, make sure that they are compatible with your shoes.
Lacing systems
Traditional shoelaces are still the most common form of fastening your golf shoes, however there are a few alternatives on the market.
With the increase in popularity of spikeless shoes, some brands have incorporated more casual fastening systems, such as Velcro, with the advantage of being quicket to put on and adjust.
Other manufacturers have even introduced mechanical fastening systems that secure the shoe in a similar way to ski-boots. These systems aim to provide consistent stability by preventing the shoes becoming loose throughout an 18-hole round.
Apart from price considerations, these mostly come down to personal preference.