After the success of its solar ovens in 2013, GoSun has launched another solar cooking device that's set to be on every solar investor and eco-camper's wish list. Named the GoSun Go, it's a portable solar cooker that promises to cook most meals within 20-30 minutes.
Steam, bake and roast
With a cooking capacity of 420ml, the cooker can steam, bake and roast food, as well as keep it hot to eat hours later. As well as this it can be used to sterilise water and boil liquids for a hot drink.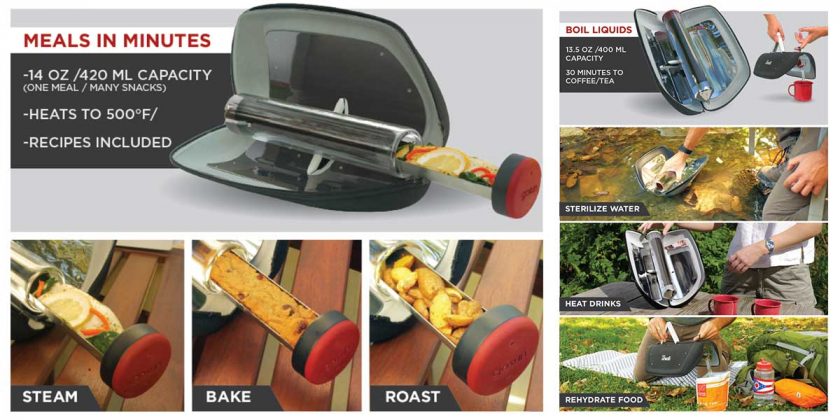 Lightweight and durable
Weighing only 900g, the solar cooker is incredibly lightweight for what it offers. It's easy to store and carry and comes in a durable compression moulded EVA foam clamshell. According to the company, it's also completely submersible and saltwater tolerant, making it ideal for any adventure on land and water.
Works in most weather conditions
One of the best features is that you don't need a blazingly hot day to cook your food. GoSun's patented solar cooking technology absorbs a broad spectrum of radiation, including ultraviolet light, which can penetrate clouds when visible light can not. This means as long as you have a bit of sun, you're in business. Likewise, the cooker never presents a fire hazard as it's always cool to touch on the outside.
While the cooker isn't on the market just yet, you can pre-order one for £75 ($99) on its Kickstarter campaign. The company plans to ship out first orders in April 2018.
Featured image and photos: GoSun/Kickstarter