Choosing a raincoat can be difficult. There are so many options on the market, all made with different materials, with different features and different specifications. This guide is designed to help you get your head around the jargon and give you the knowledge to buy the right jacket for your needs.
How to choose a raincoat for hiking
First and foremost when buying a raincoat for hiking and hill walking, it's important to look at those jackets which are specifically designed for this activity. For example, a waterproof shell that's designed for mountain biking will not be as effective when hiking. Jackets designed for mountaineering are the exception to this rule as both activities share similar requirements. Generally, a mountaineering jacket will have a slightly bigger hood to accommodate a helmet, pockets which are out of the way of a climbing harness and they are normally made from a slightly tougher/ more durable fabric.
Jackets for hiking and hill walking need to be lightweight, breathable and packable.
When you're buying a jacket, the first thing to find out is the weight.
WEIGHT – A waterproof jacket should be lightweight. It's designed as an outer shell to protect against the wind and rain, not specifically to keep you warm. That's the job of the base and mid layer. Most modern day jackets range from 300g – 700g, and, for hiking, you'll want to be able to fold the coat up neatly to store in a backpack.
Once you've found out the weight, the next thing to find out is the coat's construction.
MATERIALS – Despite all rain shell jackets appearing to be one layer of fabric, they are actually made up of several. Most utilise a 2, 2.5, or 3-layer design. The outer layer and middle layer are the same in all three of these styles. The third and innermost layer is where the differences lie.
All coats have an outer shell fabric which is coated with a chemical Durable Water Repellent. This helps to keep the outer layer from absorbing water. The middle layer is the actual waterproof layer/membrane, usually made with Teflon (ePTFE) or Polyurethane (PU). The job of the membrane is to keep water out but still, allow water vapour to escape. This is accomplished through microscopic holes that are small enough to keep liquid water from passing through, yet large enough to let liquid vapour (your sweat) escape.
In a 3 layer design, there is an internal fabric whose primary purpose is to protect the waterproof layer. The advantage of three-layer fabrics is that they are typically more durable. But the breathability of the coat can be reduced.
In a 2.5 layer design, a very thin polyurethane laminate or other coating is painted on the inside to help protect the waterproof layer. It's only seen as half a layer as it is painted on. The coats are often slightly lighter than 3 layer designs, but are a little less durable and can feel slightly more clammy. This is because the laminate doesn't do as an effective job in transferring sweat from the body.
In a 2 layer design, the waterproof layer is bonded to the outer fabric only. Some feature a separate fabric liner for protecting the exposed membrane and improving wearing comfort. But many leave the membrane exposed.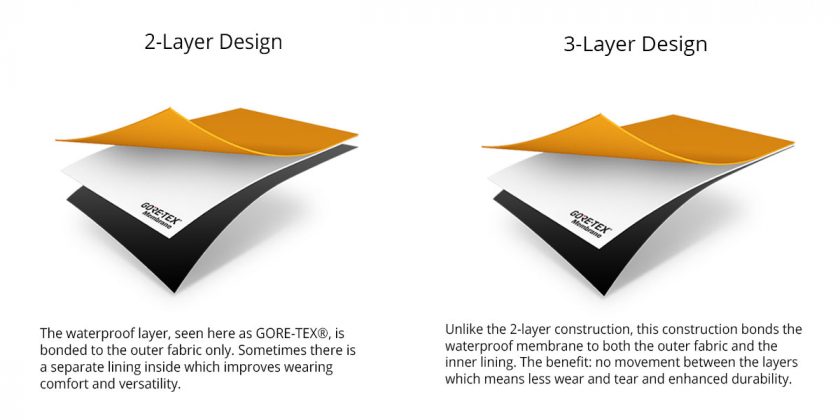 Waterproof layer 
Different brands use different waterproof membranes. The waterproof ability of these layers is measured in millimetres. The higher the number, the more waterproof the fabric. You should be looking for a coat with a waterproof standard of at least 16,000 – 20,000 mm. This means they will perform well in moderate to heavy rain and snow. Coats with a 20,000mm + rating are more advanced and are designed specifically for extreme conditions.
The breathability of the coat is measured in grams, i.e. how many grams (g) of water vapour can pass through a square meter (m2) of the fabric from the inside to the outside in a 24 hour period. For most high energy aerobic exercises, a breathability of around 10,000 to 15,000-gram range should be fine. Those going on long hardcore expeditions should look for garments with breathability in the 20,000 plus range. Again, the larger the number the more breathable the fabric.
The leading waterproof fabric in the industry is GORE-TEX. It's been around for many years and has been extensively tried and tested. But in the last 20 years, other companies have developed similar materials to rival GORE-TEX. These include:
Many of these companies have also brought out variations on these fabrics such as GORE-TEX Active Shell, Dry.Q Active, DryVent 2.L and 3 Layer H2No. These variations promise different degrees of breathability and insulation and are designed for certain levels of aerobic activity. Make sure to check the label to see what waterproof and breathability standards they offer.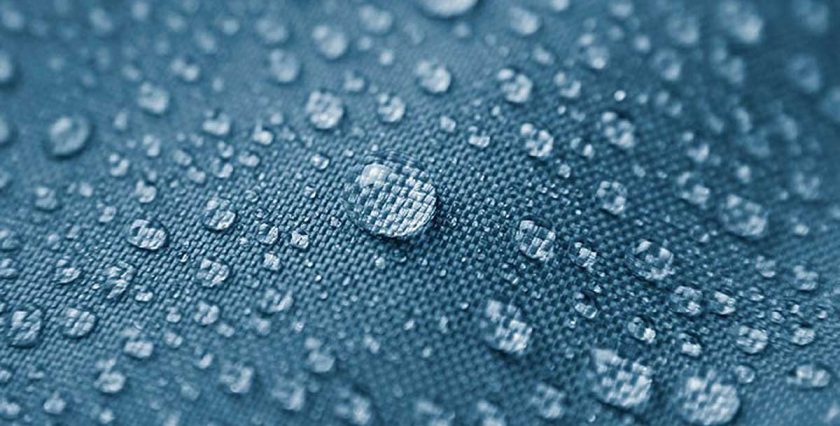 After you're happy with the weight and material of the jacket, check the seams.
SEAMS – It's important to ensure that the seams on the jacket are sealed/taped. Seam sealing involves covering the tiny holes made by the needle in the sewing process so they don't leak. Jackets can be either "fully taped" or "critically taped." A fully taped garment has every seam taped, while a critically taped one has tape only on high exposure areas like the neck, shoulders, and chest. Without adequate seam sealing, you'll get wet even with the best waterproof/breathable fabric.
Happy with the seams? Now on to the fit.
FIT – Always try before you buy. Every brand has a different size guide and the length of the coat and arms can vary extensively between each coat. For hiking, I recommend a coat that ends just halfway down your bum. Longer coats can restrict your movement, especially when climbing over boulders and difficult terrain. Likewise, the jacket shouldn't be too short so that it rides up when moving.
The jacket's arms should end just past your wrist. I always opt for a coat with velcro cuff straps. This allows me to tighten them when the rain sets in. In terms of fit, you want a coat that allows ample movement but not too baggy. Remember to factor in space for a mid layer and base layer underneath.
HOOD – The fit of your hood is really important. I would recommend one with a peaked hood and one that can be tightened/loosed via a drawstring at the back and/or sides. Make sure there is ample room for your head but that the hood doesn't restrict vision. (Mountaineers need to make sure their hoods are helmet compatible.)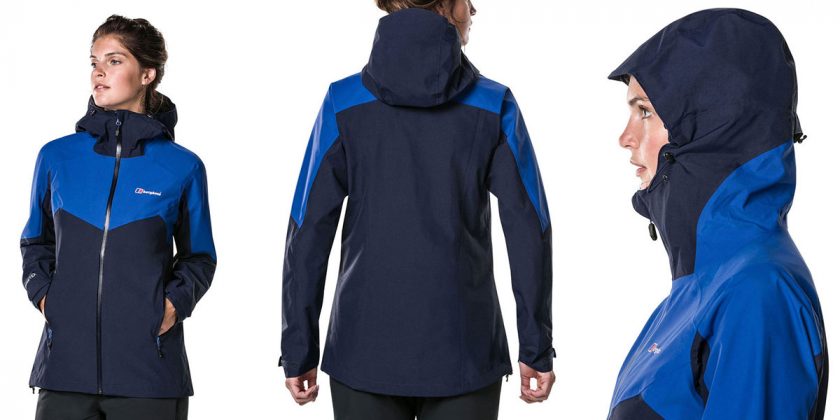 ZIPS – Zips are one of the most important aspects that often gets overlooked. You want a zip that goes all the way up to your chin. Ensure they are waterproof, or, if not, hidden with storm flaps to prevent water from getting in. Many coats also come with under the arm zips, this can help to cool you down and help with ventilation.
POCKETS – Take a look at how many pockets the coat has. Is there ample storage space? While not vital, an internal phone pocket and map pocket can be very useful.
MY ADVICE – I consider a good quality raincoat to be a worthwhile investment. So it's better to spend a bit more money on a quality jacket that'll last for years, rather than a cheaper non-lasting alternative. That being said, a more expensive coat doesn't necessarily mean a better one so check the jacket's features before buying.
Buy a jacket for your needs. If you do a lot of hiking in extreme weathers, then a 3-layer coat is worth the investment. But if you're more of a fair weather adventurer a 2-layer coat is more affordable and has the benefit of being slightly more breathable.
Likewise, my advice, if you're looking for a bargain, is to wait for the sales. New jackets sometimes don't vary that much to their predecessor—only perhaps in design tweaks and colour. So you can bag last year's top of the range coat, for a much cheaper price. Check the major outdoor outlets as well as the brand's website. Some coat colours are more popular than others and so manufacturers often sell off the less popular colours at a very reduced rate.
For more gear guides, check out my top picks for the best women's waterproof jackets of 2017 -18.