Loaded Boards has announced a new partnership with Unlimited Engineering, through which the brand has launched a DIY electric conversion kit that can turn any longboard into an electric skateboard.
The kit comes in three flavours and, thanks to the modular design, it's upgradable.
Depending on the option you choose, the kit comes with one or two custom-built in-hub motors that replace your rear wheels and fit on your favourite set of trucks.
A carbon mounting plate for the batteries—again, one or two depending on the option you choose—and a set of Orangatang Caguamas wheels and bearings complete the setup.
Each setup is user-tunable via the mobile app for speed, acceleration and braking. Loaded is also providing factory-tuned complete builds for those looking for a reliable off-the-shelf electric ride.
Update (May 2020): Loaded is currently running a sale with $150 off all electric conversion kits and completes, so we've updated the information in this article to match.
Solo Kit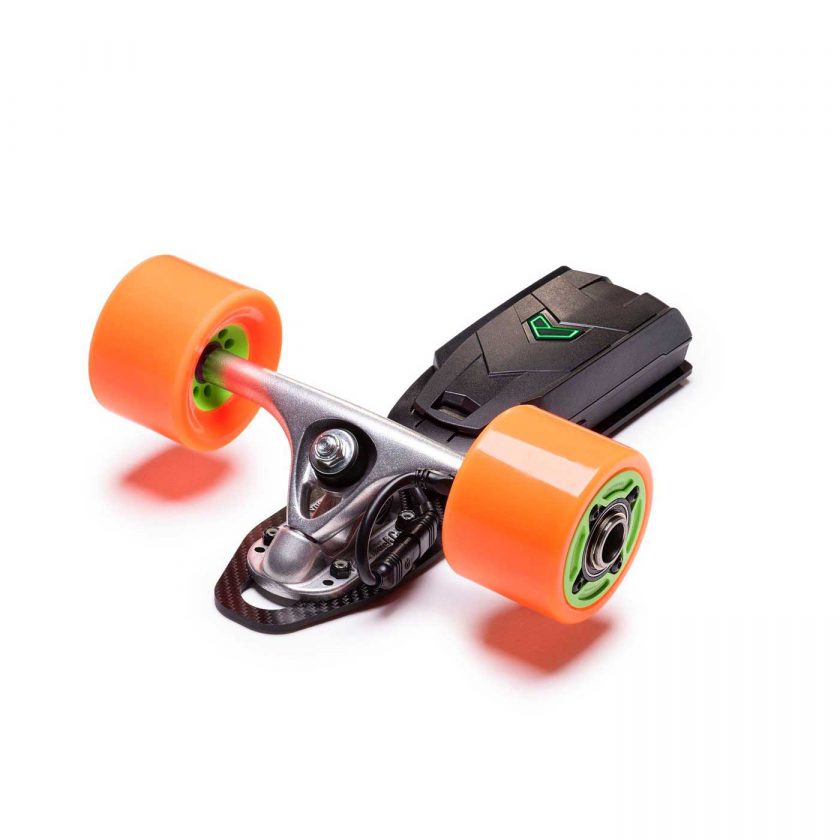 Clean and mean, the Solo Kit is the cheapest and lightest of the three available electric drivetrains.
At $619 (US) / £500 (UK) it includes one motor powered by a single battery and weighs 4.4 lbs (2 kg). It has a range of 7 miles (11 km) and a top speed of 23 mph (37 kph). For a single motor, that's impressive, plus it can tackle hills of up to a 9° incline.
This base kit looks perfect for smaller cruiser style decks (up to 33″), and it's upgradeable if you need even more power or range in the future.
Kit: 1 Motor, 1 Battery
Top Speed: 23 mph / 37 kph
Range: 7 mile / 11 km
Weight: 4.4 lbs / 2 kg
Torque: 9° Uphill
Price: $619 / £500 (on sale)
Omakase Solo Complete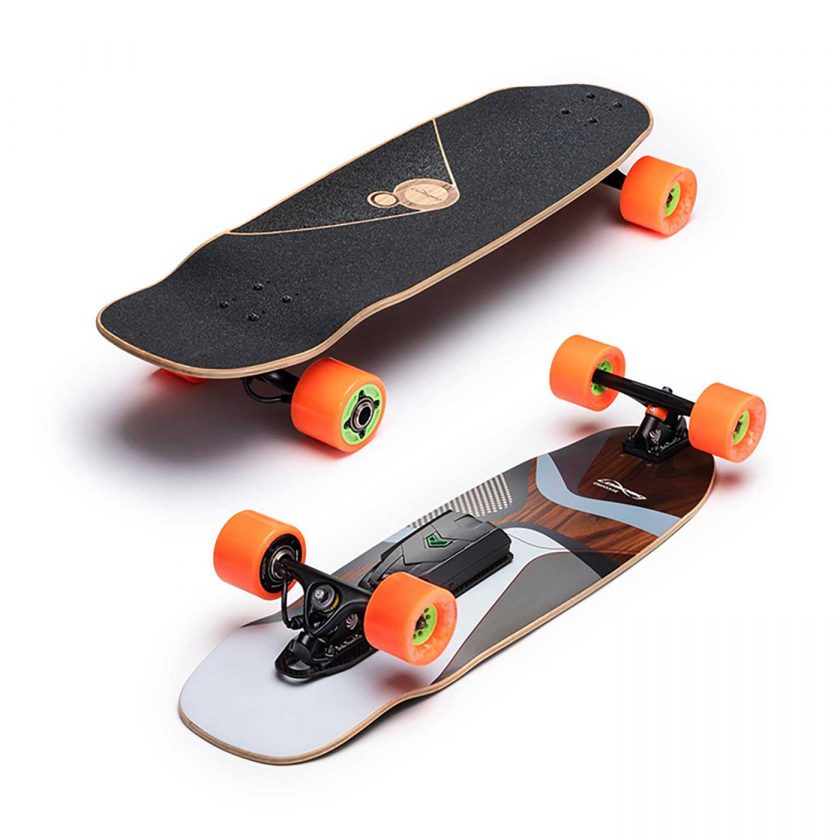 Designed specifically for the Solo Kit, Loaded has crafted a brand new mini-cruiser deck. The Omakase is wide and stable yet still compact and nimble.
The complete ultra-light build includes Paris V3 180mm 43° Trucks, a custom Orangatang Nipple Bushing setup and comes with an exclusive graphic (always a nice bonus).
Cruiser Kit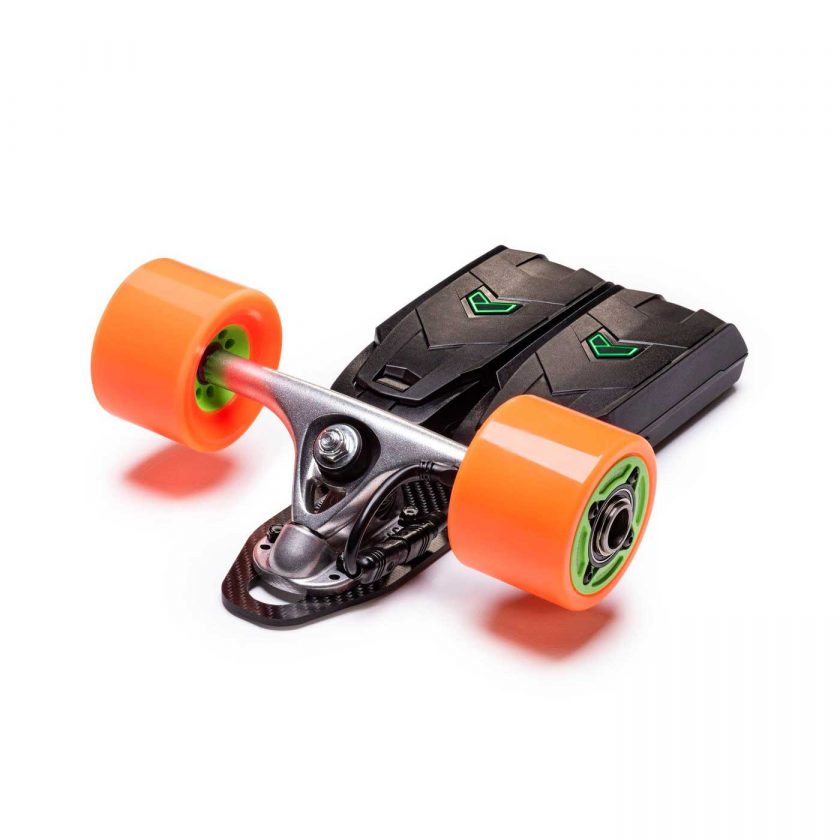 The Cruiser Kit is beefed up with an extra battery, which nearly doubles the range to 13 miles / 21 km. The extra juice bumps the price up to $949 (US) £765 (UK) and adds a little weight.
Even with the added weight, though, the Cruiser Kit is the most efficient drivetrain in the range. Plus, it's easily upgradable to the Race Kit if you want even more speed and torque.
Kit: 1 Motor, 2 Batteries
Top Speed: 23 mph / 37 kph
Range: 13 miles / 21 km
Weight: 6.6 lbs / 3 kg
Torque: 9° Uphill
Price: $949 / £765 (on sale)
Icarus Cruiser Complete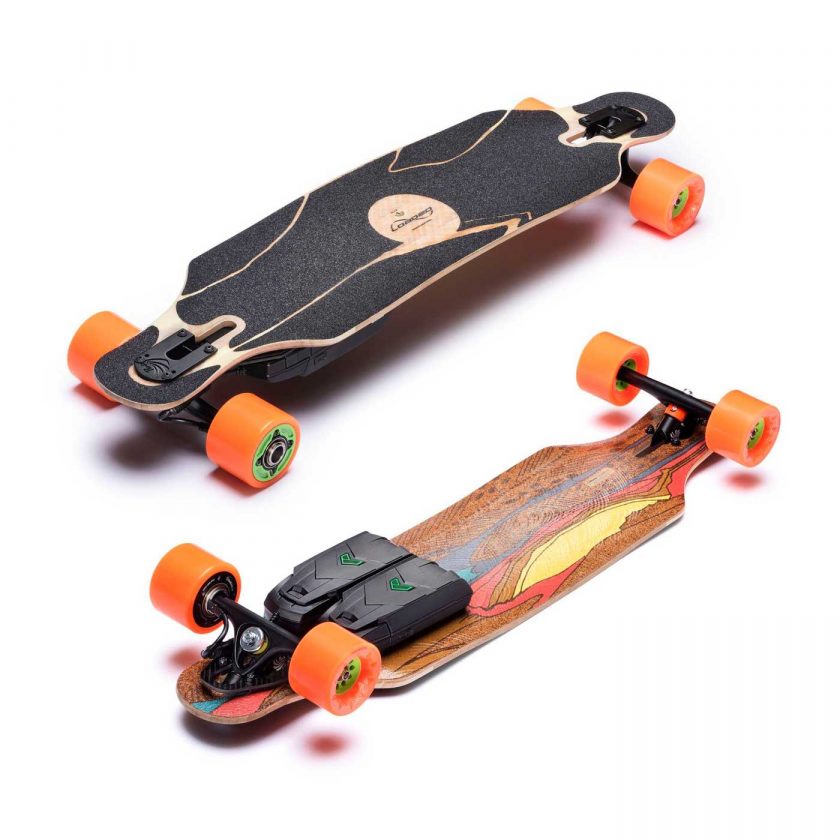 Loaded has combined its best selling drop-thru deck with the Cruiser Kit to create a playful and responsive electric skateboard. The low centre of gravity and stiffer Flex 1 Icarus deck is well suited for electric cruising at high speeds—just don't go dropping curbs on this beauty.
The complete build costs $1199 (US) / £966 (UK) and includes Paris V3 180mm 50° Trucks.
Basalt Tesseract Cruiser Complete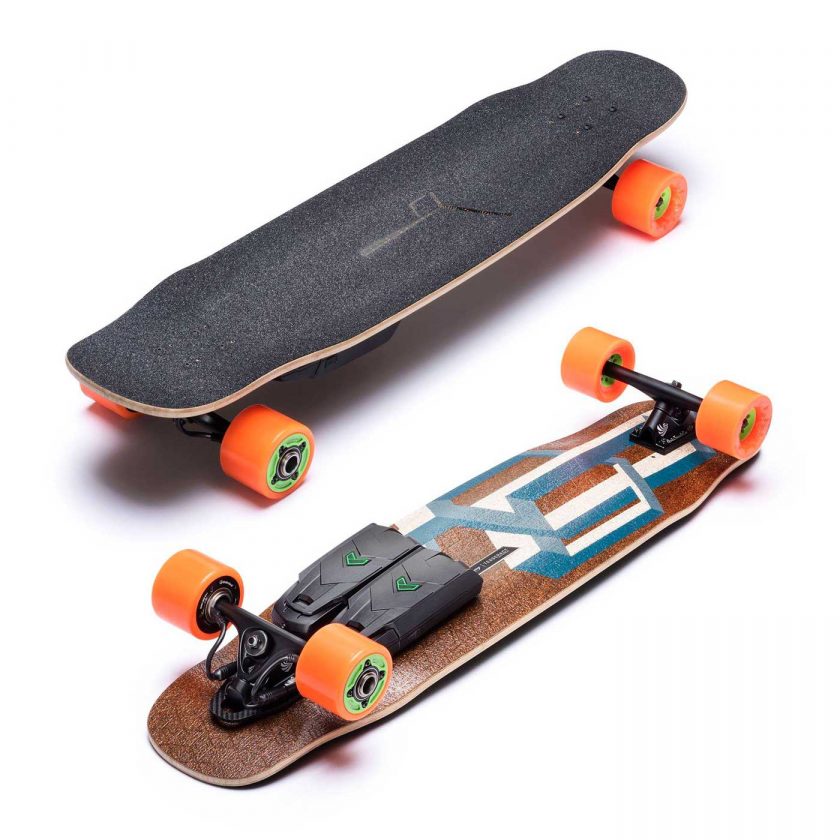 For the most stable ride in the range, Loaded has combined its flagship freeride deck with the Cruiser Kit.
Great for anyone looking for stability at high speed, the complete build also costs $1199 (US) / £966 (UK) and features Paris V3 180mm 43° Trucks.
Race Kit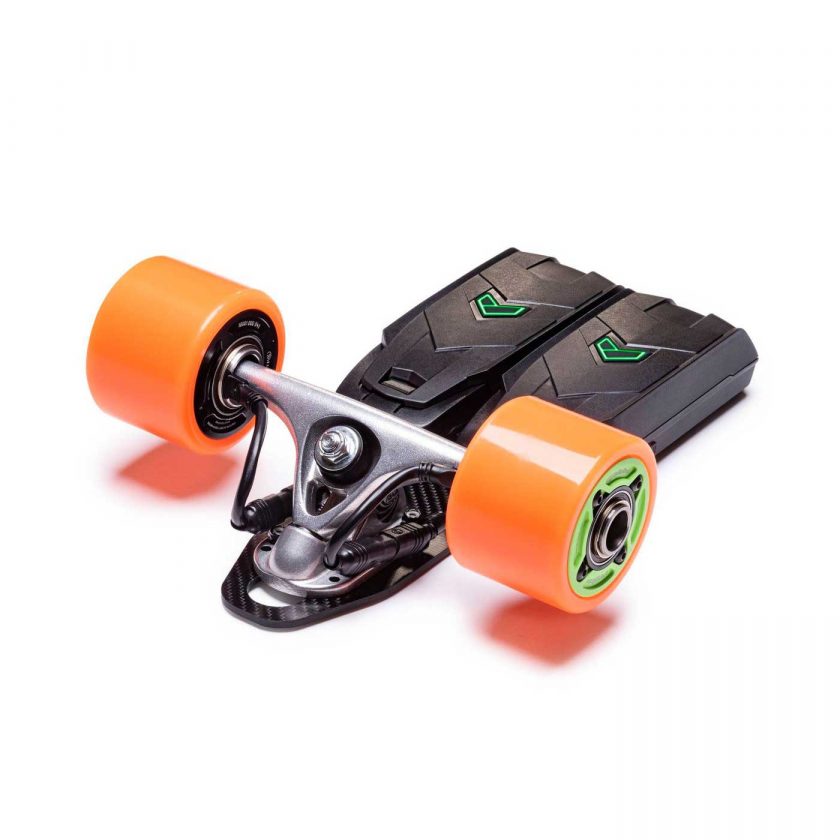 And then we have the fully loaded Race Kit. Designed for longer boards over 33″, it comes with two motors and two batteries—hold onto your helmets.
The extra power boosts the top speed to an impressive 27 mph (43.5 kph). At $1199 (US) / £966 (UK), it's the most expensive drivetrain, but the added torque means that this beast can gobble up hills of up to a 20° incline—yum yum!
Kit: 2 Motors + 2 Batteries
Top Speed: 26 mph / 42 kph
Range: 13 miles / 21 km
Weight: 9 lbs / 4 kg
Torque: 20° Uphill
Price: $1199 / £966 (on sale)
As with the Cruiser Kit, Loaded has paired the full Race Kit with the Icarus and Basalt Tesseract decks to build the most capable off-the-shelf electric skateboard in the range.
I'm pretty excited about this conversion kit and by the sound of it, Loaded's founder Don Tahmas is as well.
"Our goal as a brand has always been to grow the action sports market as a whole (as opposed to viewing it as a fight for market share)," he said in a press release. "What drew us to the Unlimited product, aside from the general performance and the stellar team, are a number of innovative features that we feel will help grow and expand e-boarding in new directions."
"Included in this is the ability to electrify any skateboard so as to retain the skate feel and to promote numerous brands and styles. Additionally, the ability to fine tune your ride to your personal preferences (acceleration, deceleration and max speed) is mind-blowing!"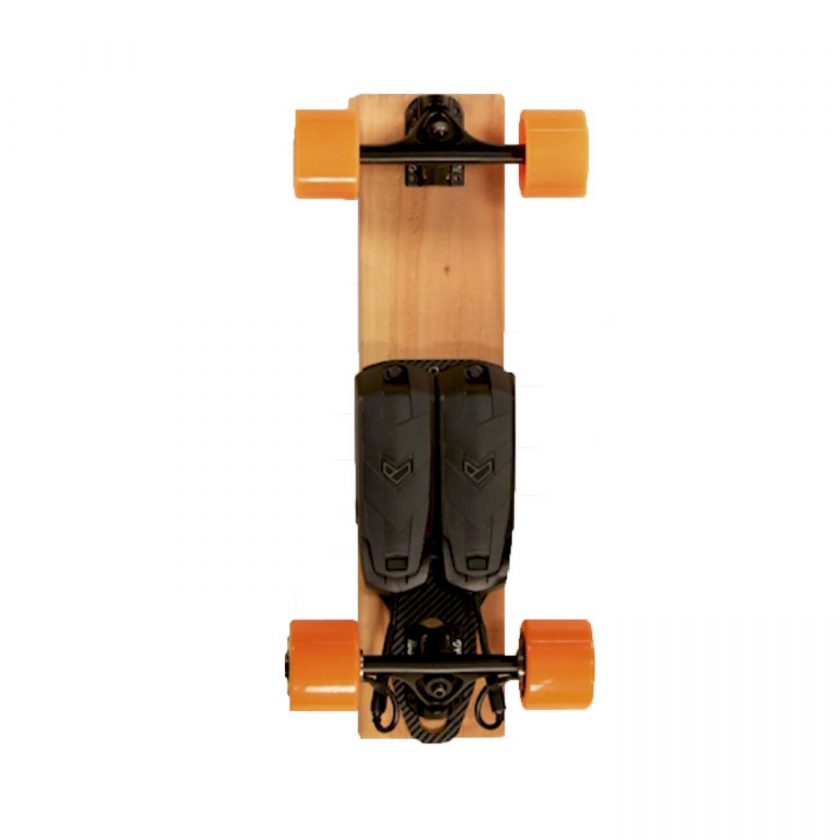 As the first of its kind, this new conversion kit creatives so many possibilities—you could even strap one to a 4 by 2 for an ultra-minimalist e-skateboard.