When I think of waterproof shoes, I think of tough hiking boots and trail running shoes. But, rain falls everywhere—at least here in the UK—and it's certainly no fun to traipse around town with wet feet, after stepping in a puddle!
Loom Footwear waterproof sneakers
Cue the Loom Footwear waterproof shoe. Designed with casual use in mind, this urban-styled sneaker is perfect for overcast days in the city. And, while it's probably not the best choice for serious hiking—for that, you need something with a fancy waterproof membrane and sticky Vibram sole—the Loom waterproof shoe is surprisingly capable off-road.
To find out just how outdoor-ready this stylish stomper really is, the Hong Kong-based team sent us a pair of Loom waterproof shoes to try out. Available in both Men's and Women's sizes—presumably shaped on different lasts—they retail for $99 (US) / £79.40 (UK) and ship worldwide for free. You can also use our exclusive Loom Footwear discount code to get 10% off.
Design and materials
Out-of-the-box, the Loom Footwear waterproof shoe looks like a regular athletic sneaker. While some people might prefer more aggressive styling, I rather like the understated look. The two colour choices—black or white—pair well with both casual and outdoor trousers/pants. And, the minimal branding works to accentuate the clean lines of the shoe.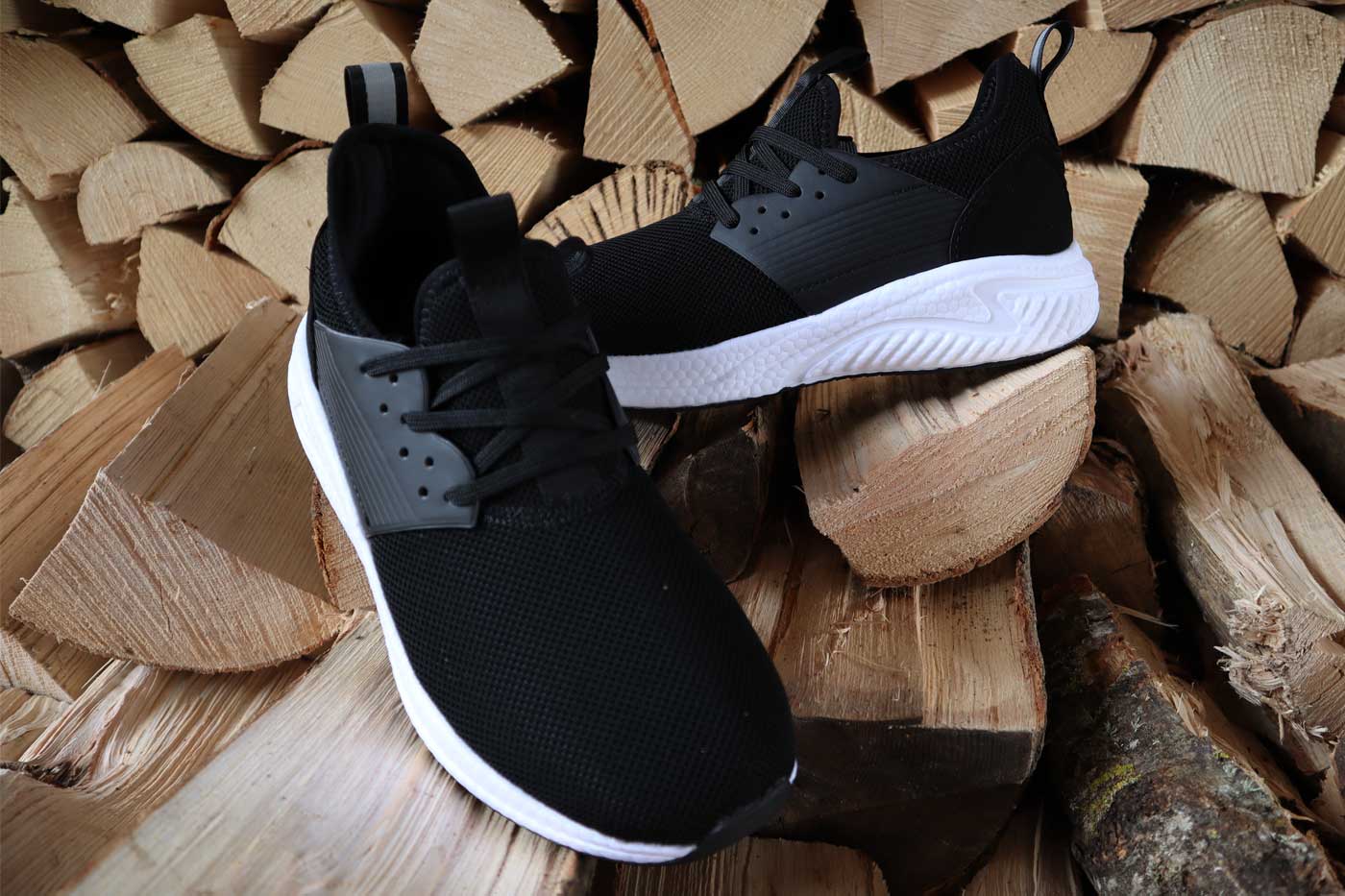 The shoe upper is made predominantly from merino wool, with a waterproof and breathable knit layer providing extra durability. The outer layer is designed to interface with the merino wool interior and complement its natural characteristics. The end result is a 100% waterproof and breathable shoe that's very comfortable to wear thanks to the temperature-regulating, anti-odour and antibacterial properties of merino wool.
A rubberised quarter panel provides even more protection from scuffs and scrapes on the trail. However, the eyelets are not reinforced, so you'll need to take some care when tying the laces to maximise the longevity of the shoe. I didn't have any issues during my testing, but I know some reviewers have seen the eyelets tear after repeatedly tying the laces tight.
Fit and comfort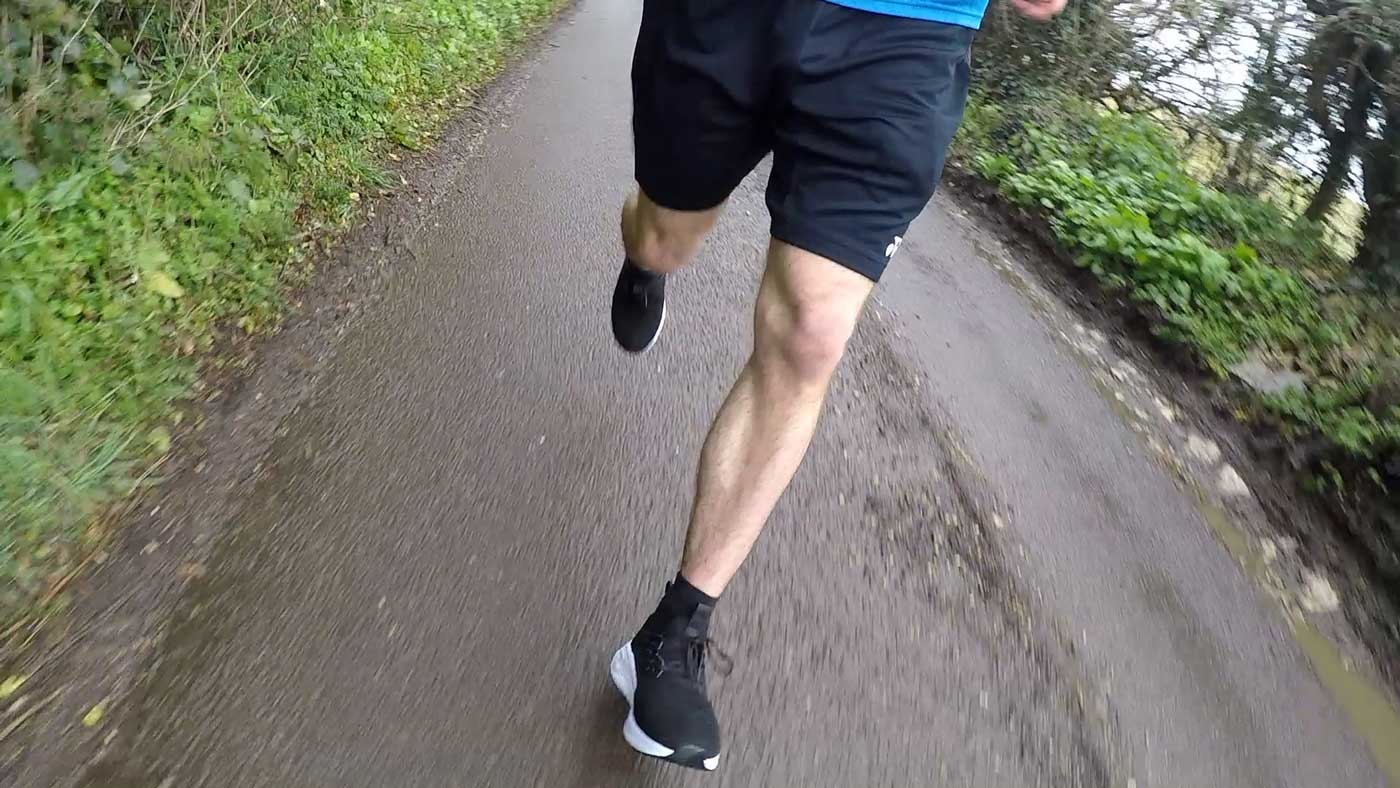 Thankfully, the Loom Footwear waterproof shoe features a slip-on design and pull tab that gets you out the door faster without having to fumble with the laces every single time.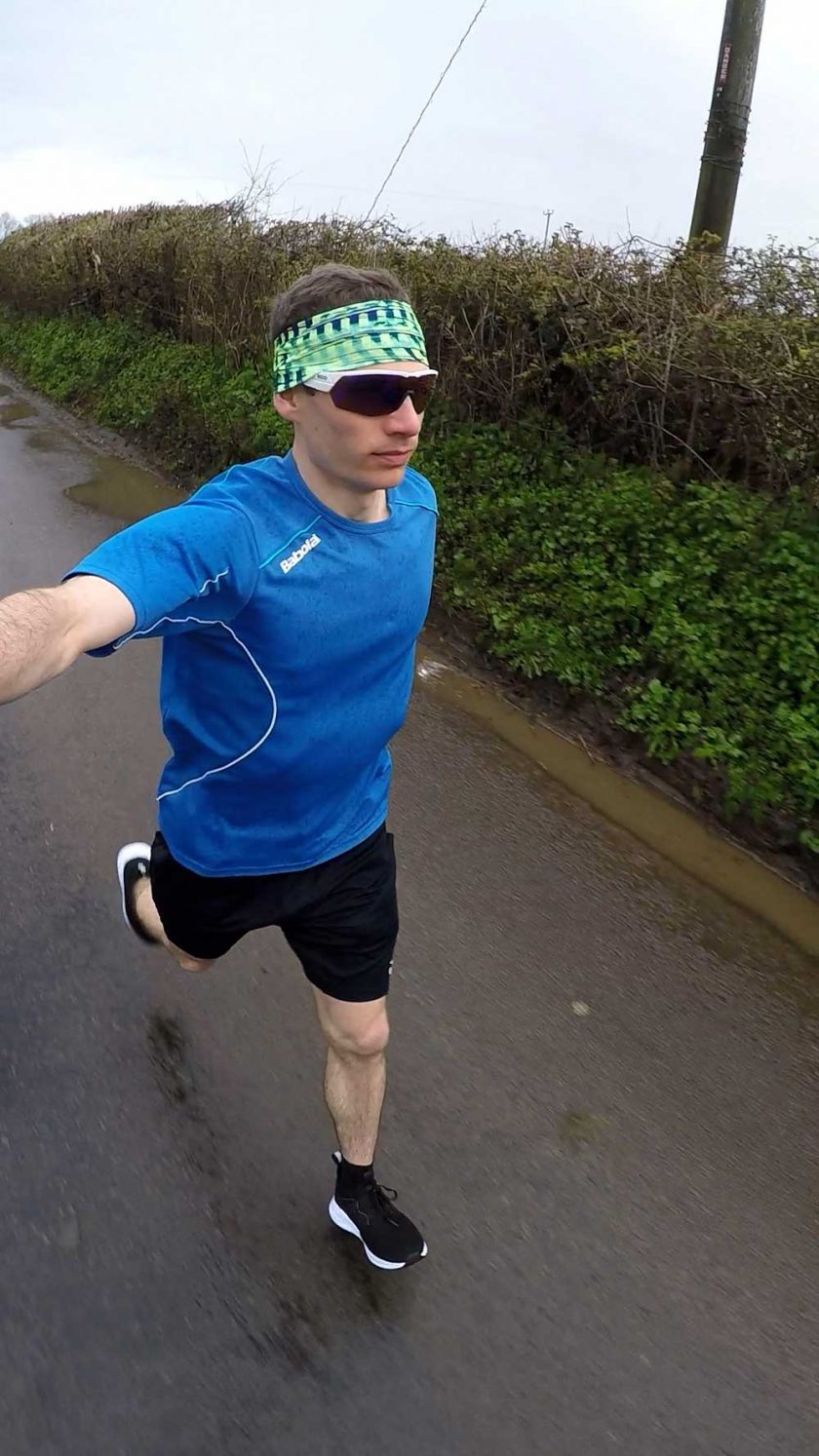 With the laces tightened up, the shoe feels nice and secure. The double eyelet pattern extends right to the top of the shoe, which enables you to tie a heel lock and stabilise your foot. That being said, I would have preferred more padding around the heel collar to provide an even more secure fit around the ankle.
Additionally, because the laces are quite flat, I found the shoe had a tendency to untie itself mid-way through a run—even when using a double knot. It's not a big deal, and I didn't experience this issue when walking or hiking, but it's worth mentioning.
Sizing and wide foot fit
Loom sizes its shoes based on the US system, but there's a size chart on the website to convert to UK and EU equivalents. The team suggests going up a size if you're between sizes. Most other reviewers seem to agree, however, I actually found the shoe to be sized on the slightly larger-side. My normal street shoe size is a UK 8 / EU 42. However, I found the Loom Footwear US 9 to be plenty big enough, even with my wide feet. I would have actually preferred a slightly snugger fit.
I normally like to size my running and hiking shoes with about a thumbnail's width between my longest toe and the front of the shoe. This allows room for the shoe to flex, which is especially important when heading uphill. However, the toe box of the Loom Footwear waterproof shoe is nice and wide, which provides ample space for your toes to spread out, without requiring as much extra length.
Insole, midsole & outsole
Those familiar with the Hoka One One Clifton series will note the resemblance in midsole shape. Compared to the Clifton 7, which is my go-to road running shoe, the Loom Footwear sneaker has a similarly extended heel and rounded sole. Combined with the neutral footbed, I found that this complimented my natural footstrike and gives the shoe a smooth transition from heel to toe.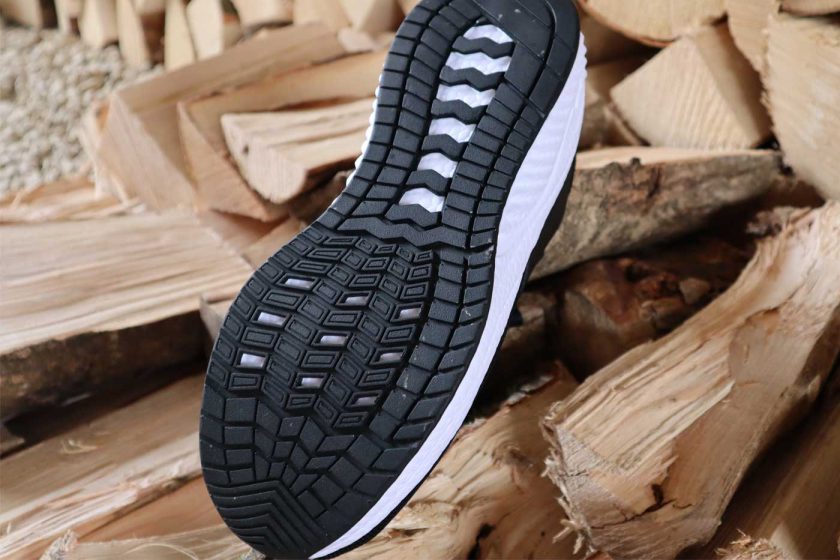 However, the midsole is not as well cushioned and the included insole does little to compensate for this. While this is likely due to the 'Excelcast' sole being designed to deliver maximum energy return, it doesn't provide enough vibration dampening over the longer distances. It's for this reason that I don't recommend the Loom Footwear waterproof sneaker as a dedicated running shoe.
That being said, the trainer comes into its own as a crossover shoe, from easy trails to paved city walking. There's enough tread to bite into loose dirt off-road, without interfering on harder surfaces. And, like the Relance R1-01 running shoe I reviewed last year, it has a larger stack height and drop to provide better arch support when walking. To be more precise, that's a 35mm stack height and 10mm drop, compared to the 29mm stack height and 5mm drop of the Clifton 7.
Is the Loom Footwear shoe actually waterproof?
Regardless of the overall performance though, most people are going to be buying these kicks due to the waterproof claim. And, as I hinted at earlier, this is a big selling point; there aren't many urban-styled sneakers on the market with this feature.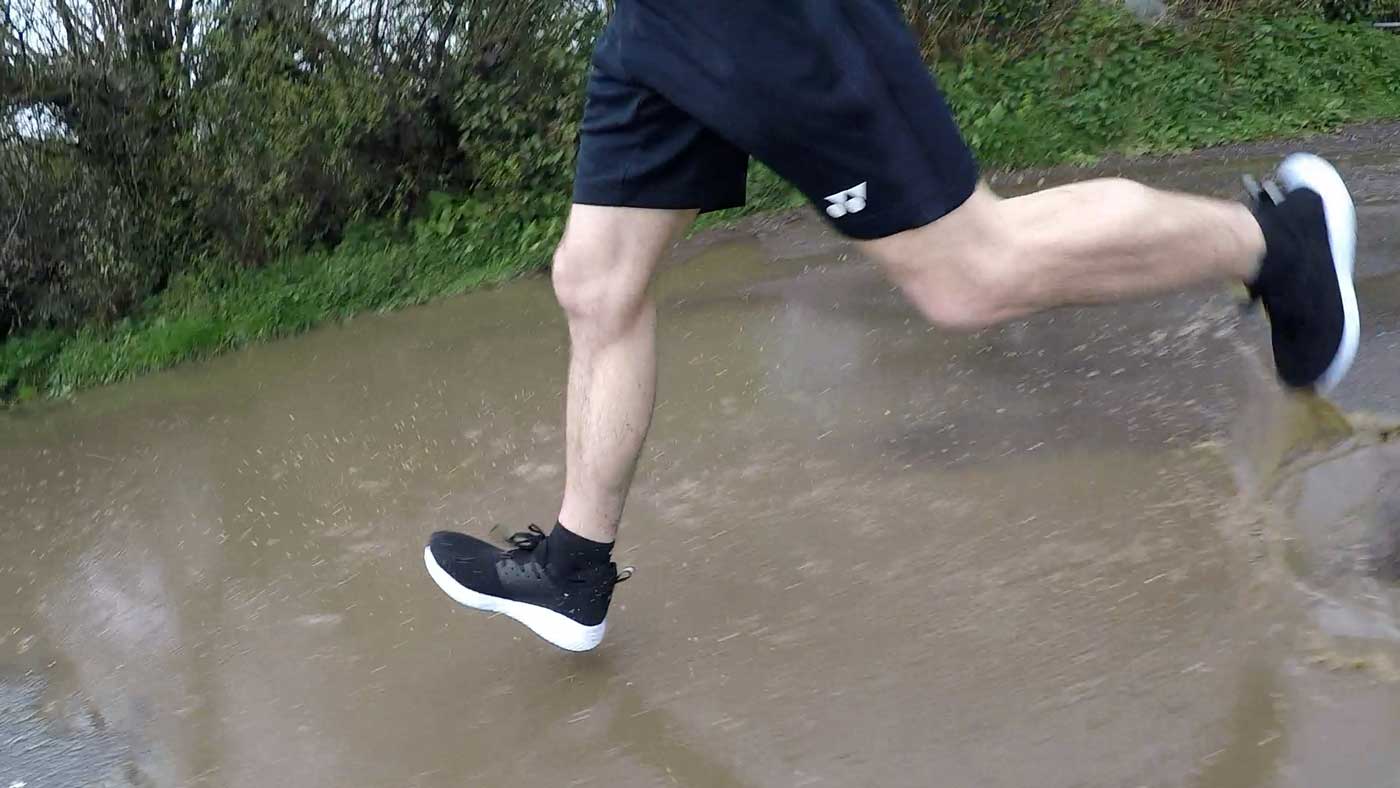 Well, after running in the rain, jumping in a few puddles and crossing the odd stream, I'm stoked to report that the Loom Footwear waterproof shoe is 100% waterproof. In fact, the waterproof treatment is so good, you can actually submerge the shoe in water and your feet will remain completely dry! Of course, water can still seep in if you step in a puddle that's more than ankle deep, but I'm really impressed with how hydrophobic this shoe is.
On that note, I'm not sure how long the waterproofing will last. Loom Footwear recommends that you "rinse [the shoes] under water and spot clean," rather than machine washing them, to prevent the waterproof treatment from wearing off. In any case, there are plenty of products on the market that will enable you to re-apply the waterproof coating.
A note on Loom Footwear's ethics and environmental impact
Regular readers of ADAPT will know that animal welfare and environmental ethics are extremely important to us. In fact, along with "adventure is everywhere," our motto is to "protect our playground" and we have a sub site dedicated to vegan outdoor gear.
I once read that the footwear industry is actually one of the world's worst polluters. So, I'm stoked to see Loom doing what it can to be more environmentally friendly.
Loom says that its manufacturing process puts sustainability first by consuming less water and electricity than other competitors, reducing carbon emissions. It also sources materials from cruelty-free farms and only uses Merino wool shorn using ethical shearing practices. While it's difficult to verify this, I appreciate Loom's statement of commitment.
Final thoughts
At first glance, the Loom Footwear waterproof shoe looks like a regular urban-style sneaker. The minimalist aesthetic pairs well with both casual and outdoor wear, but it would be nice to see a few more colour options.
With a forgiving fit and supportive sole, the shoe is perfect for long days on foot. While I wouldn't recommend the shoe for serious running or hiking, it's more than capable of eating up a few miles on the road or trail. Whether you're walking around town, jogging in the park or tackling the Cornish coast path, the Loom Footwear waterproof shoe handles varying terrain with ease.
Of course, the shoe really shines in the wet. Rain, sleet or snow, these shoes will keep your feet bone dry. The waterproof coating is actually really impressive and compliments the natural breathability of the merino wool construction.
Overall, the Loom Footwear waterproof shoe is a good choice for all-round active wear. If you have a job where you're always on your feet or need something for a weekend city break that can also handle some off-road adventure, this shoe could be just what you're looking for. And, at $99 (US) / £79.40 (UK), with free worldwide shipping, it's priced competitively too. Plus, you can use our exclusive Loom Footwear discount code (below) to get 10% off.
Loom Footwear discount code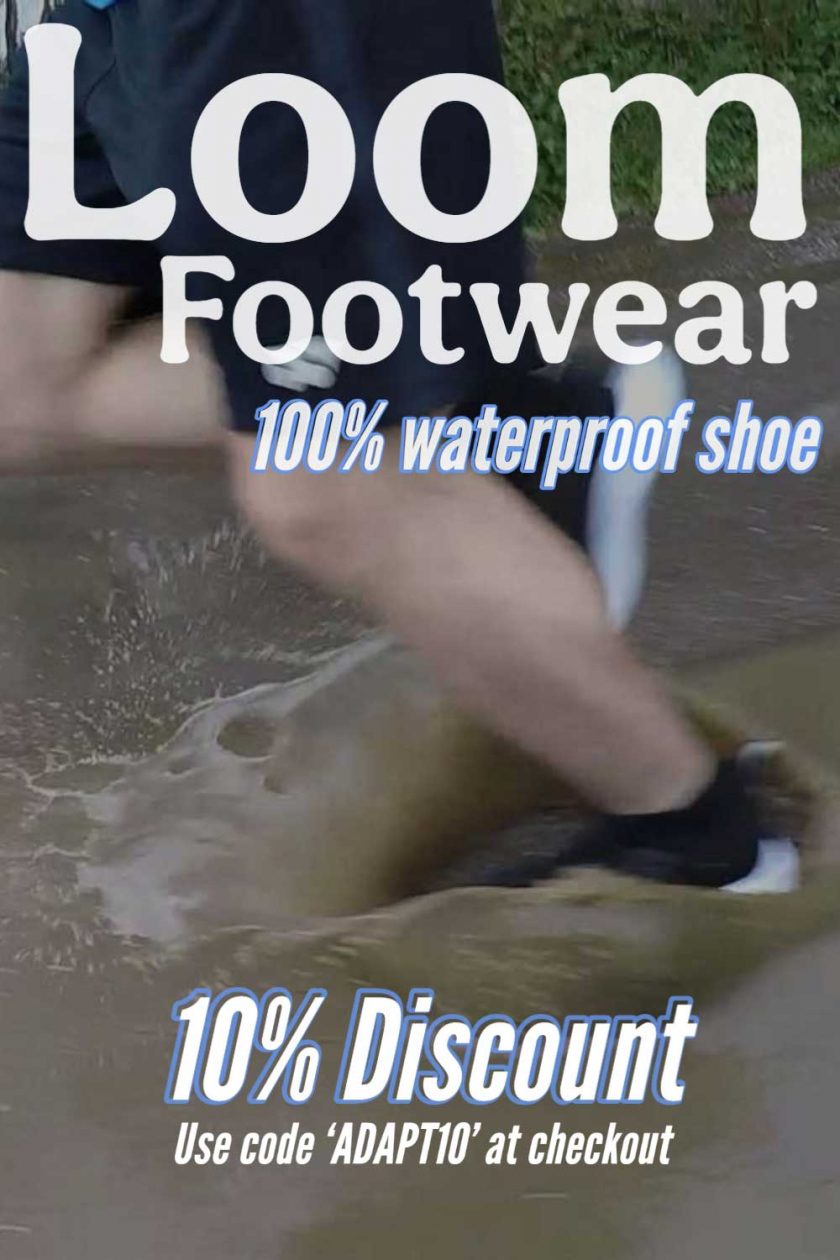 We've partnered with Loom Footwear to give you an exclusive 10% discount off the Loom Footwear waterproof sneakers. Simply use coupon code 'ADAPT10' at the checkout.
Loom Footwear waterproof shoe
Verdict
With a minimalist urban style, supportive sole and impressive waterproofing, the Loom Footwear waterproof shoe is a good choice for all-round active wear. While I wouldn't recommend it for serious running or hiking, the shoe is perfect for long days on foot, especially in the rain, sleet or snow.
Pros
100% waterproof
Minimalist urban style
Breathable, temperature-regulating, anti-odour and antibacterial merino wool construction
Supportive sole
Forgiving fit
Competitive price
Cons
Limited shock absorption when running
Eyelets are not reinforced
Limited colour choice
4
Impressively hydrophobic