The Lumapod is an innovative new tripod that utilises a unique tension mechanism for lightning-fast setup and ultra portability. Instead of relying on the clunky framework supporting traditional tripods, the Lumapod employs three Kevlar ropes to secure a telescopic pole.
Having just launched on Kickstarter, the tripod is proving really popular with outdoor photographers, blowing past its initial £31,000/$40,000 goal in just 90 minutes and currently sitting at over £200,000/$250,000 raised from over 1,700 shutterbugs.
Ultra-compact design
Traditional tripods are often heavy and clunky, which makes them difficult to carry around with you. This is something that particularly affects outdoor and travel photographers, who have a limited amount of space in their suitcase or backpack.
Speaking with the Lumapod research team, well-known Instagrammer @ladyvenom said, "My current tripod almost always ends up staying at home." New York based portrait photographer Calvin Chiu also told the team that he could not "justify bringing a bulky tripod for one or two shots."
The Lumapod, developed by avid photographer and designer Martin Grabner, aims to solve this problem. Its novel design enables it to fold down into a small cylinder, comparable in size to a bottle of water, that you can easily fit in a camera bag or backpack.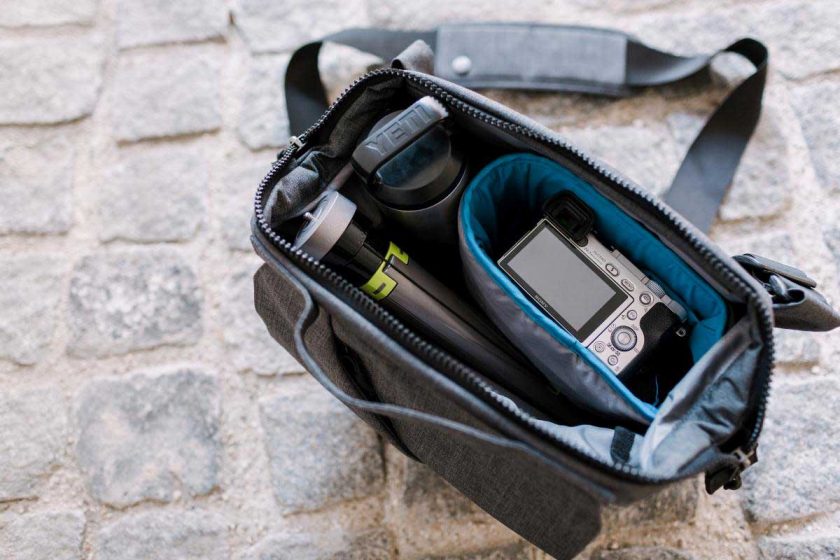 Simple and fast setup
Additionally, the Lumapod can be set up in a matter of seconds (4 seconds to be precise), empowering you to take full advantage of every photo opportunity. The innovative design means that you simply need to twist the top of the Lumapod to unlock it, extend the telescoping body, pull out the legs and you're good to go.
Tensioning technology
To ensure that the Lumapod is reliably stable, three Kevlar ropes connect the top of the tripod to the base and each leg is constructed from solid high-grade aluminium.
"At Lumapod, we have developed the fastest and most compact tripod in the world," says Grabner. "Our patented tensioning technology means any photographer can set up a professional-quality tripod in four seconds—and still carry that same tripod in their day pack."
Traditional tripods rely on each tripod leg withstanding a portion of compression force. This means that the structure needs to be rigid and is, therefore, often heavy and clunky. The Lumapod takes a different approach by utilising the Kevlar ropes as tensioning components to reduce the amount of compression force applied to the main body.
"There is a simple mechanical principle behind our design: replace compression parts (traditional legs) with tensioning components (Kevlar ropes)," Grabner continues. "Much like how the mast on a sailboat withstands wind with its tensioned ropes, we use the same theory to achieve stability. It's no rocket science but the key to our design is being able to lock and tension Lumapod in any position."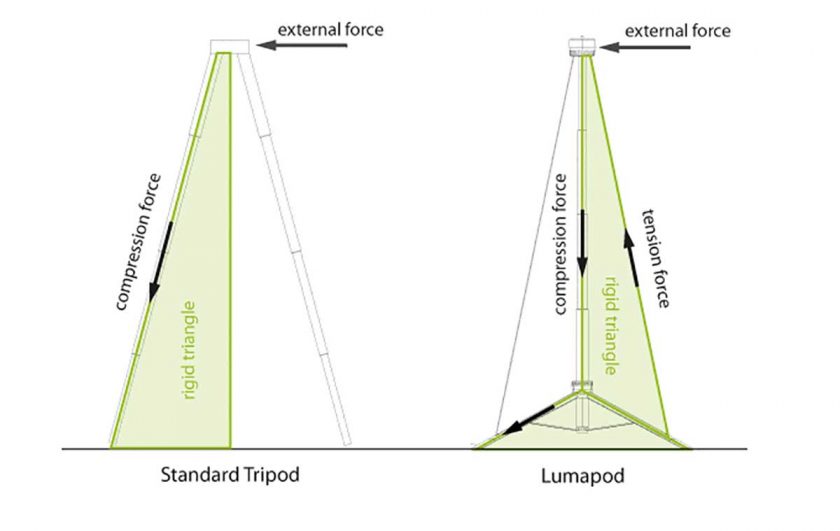 Two models: Go85 and Go120
The Lumapod comes in two models, optimised for different use cases.
The smaller Go85, at 85 cm/33.5 in, is designed to be as compact and lightweight as possible and folds down to an ultra-compact 29 cm/11.4 in. It comes with a mounting kit for a smartphone, GoPro and lightweight cameras (up to a maximum load of 1 kg/2.2 lbs) and can even be used as a selfie-stick.
Unlike the Go120, it does not have interchangeable legs. However, it is equipped with integrated terrain levellers to accommodate for those situations with uneven ground.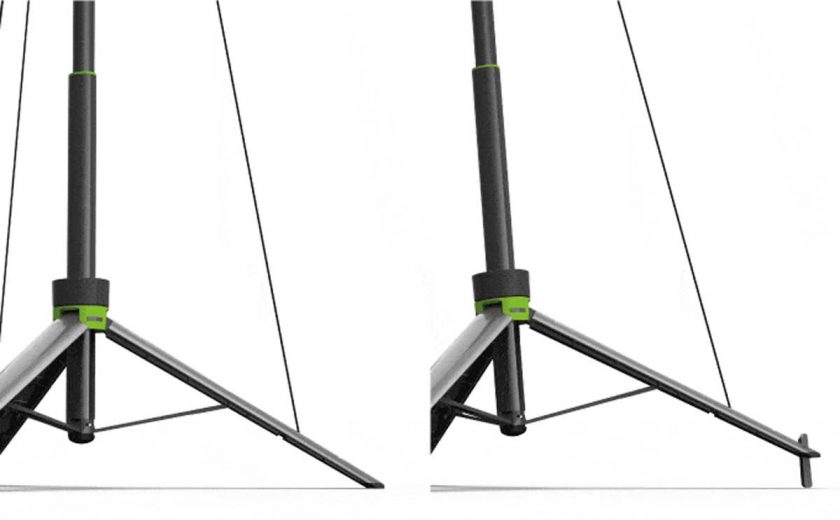 The larger Go120 has the same features as the Go85 but with an overall larger height, at 120 cm/47.3 in, and build that will support cameras that weigh up to 2 kg/4.4 lbs. It packs down to a respectable 39 cm/15.35 in and has modular leg extensions which enable the standard terrain levellers to be swapped out for wheels or other base accessories.
The Go120 also comes with an aluminium z-plate to provide more flexibility when positioning your camera.
Gallery
Kickstarter campaign
Lumapod's Kickstarter campaign runs through 25 October 2018, with backers getting about 40% of retail price. The Lumapod Go85 can be picked up for as little as £60/$80 and the Go120 can be bagged for around £90/$115. The first tripods are expected to ship out in May 2019, so stay posted for a hands-on review around that time.