Way back in 2016 (wow…time flies) we published a piece about the Pinch Hold Mug—a novelty drinking receptacle without a handle. Instead, the mug features a rocky handhold which requires the drinker to pinch the hold, in a similar way to holding a rock handhold on a crag or indoor climbing wall.
At the time of writing this post, the Bristol-based shop that originally sold the Pinch Hold is out of stock and, as far as I can tell, you can't find them anywhere else online. So, if you're looking for a fun way to drink tea while training your climbing grips, you'll have to look elsewhere.
Update (May 2020): The Pinch Hold Mug is back in stock at Dick's Climbing.
Thankfully, a quick search online directed me to a cool little Etsy shop, called Cabresia, which sales these unique rock climbing mugs.
Based out of Slovenia, Tina (the owner of the store) is herself a rock climber and hand makes the climbing holds out of epoxy—so each mug is a one-of-a-kind.
"I wanted to share my passion for rock climbing and that is why I decided to create these unique rock climbing ceramic mugs," Tina says.
Based on the 5-star reviews from previous buyers, it's safe to assume that these climbing mugs are pretty strong. It also looks like you can hold them in different ways using a variety of finger grips.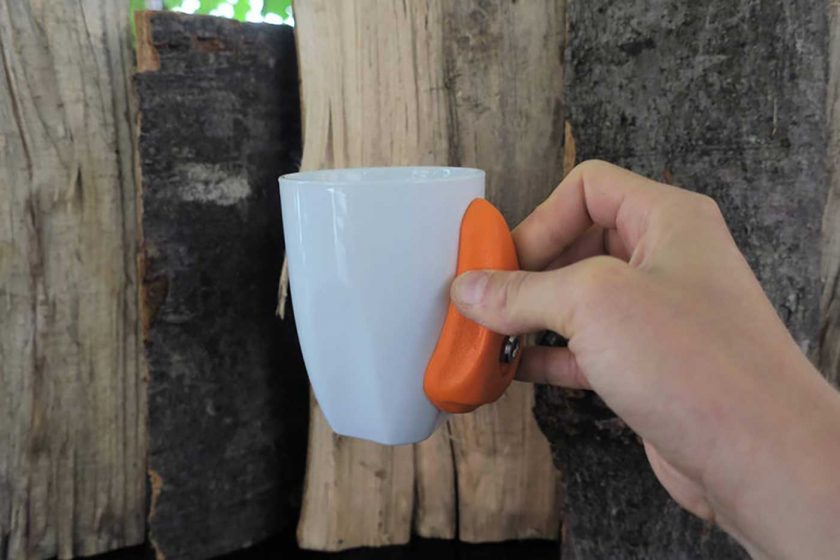 Still, Tina is keen to point out that the mugs are not dishwasher or microwave safe due to the adhesive used. So, if you do decide to pick one up—or should I say 'grip one up' (no I probably shouldn't)—bear that in mind.
If you're looking for something for cold drinks, with summer fast approaching, Tina also sales drinking glasses complete with climbing holds. If you do, let us know your thoughts about it (whether it's a good training tool or just for fun) in the comments below.