Regular readers of ADAPT will know that I'm a fan of the Scientia saddle from Selle Royal—in fact, it's been my go-to road bike saddle when I'm not testing out a different perch. So, when I heard that the Italian brand had launched a sleek new saddle bag range, I was keen to take a look.
Before I get into any details, it's worth pointing out these saddle bags utilise Selle Royal's integrated clip system, so they're only compatible with Selle Royal saddles.
The new range comprises three models—each with a different size and shape specifically designed to cater to the needs of leisure, commuter and touring cyclists.
The Small, Medium and Large models all share the same contemporary styling—I think they look slick in 'melange grey'. More importantly, they are all tear and scratch-resistant.
Selle Royal 'Small' saddle bag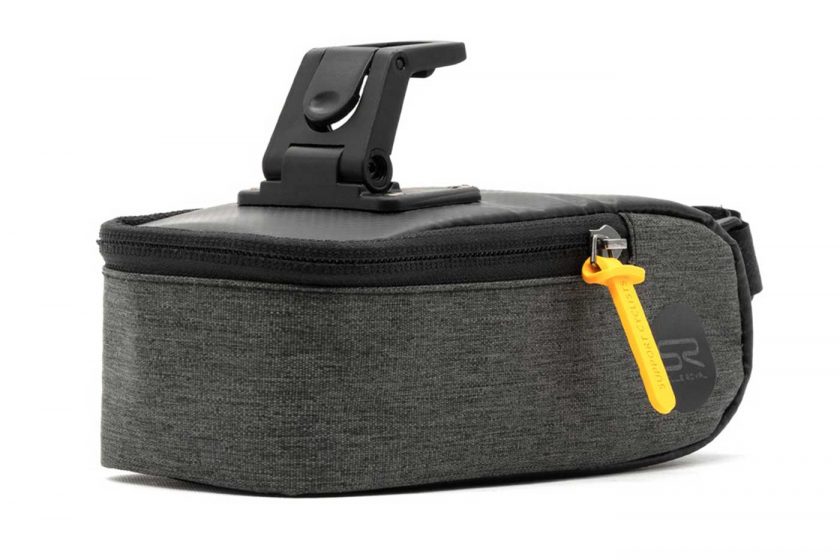 The smallest model of the range has a capacity of 0.6L and is the ideal companion on short recreational rides. There's enough space to hold a multi-tool, inner tube and personal items such as keys and a mobile phone, while the compact shape means that it fits discreetly under the saddle. The small saddle bag also features a water-resistant cover and zipper.
Capacity: 0.6L
Dimensions: 16.5 cm x 8 cm
Material: Water-resistant
Price: £10.40 / € 11.90 (on sale)
Selle Royal 'Medium' saddle bag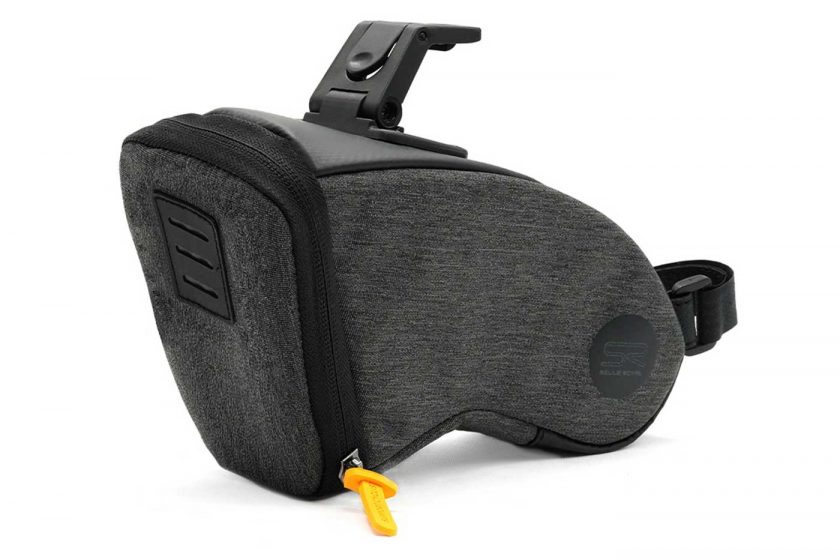 With a 1.2L capacity, the medium saddle bag has a classic wedge shape and provides enough space for longer rides and weekly commutes. From personal items to small tools, you could probably even squeeze a compact bicycle pump in there too. Like it's little brother, the medium bag is constructed from a water-resistant material. In addition, though, it features a small internal pocket, for better organisation, and an attachment loop at the back, which enables you to clip on a rear light or other accessory.
Capacity: 1.2L
Dimensions: 21 cm x 9 cm
Material: Water-resistant
Price: £13.89 / € 15.90 (on sale)
Selle Royal 'Large' saddle bag review
Selle Royal sent us one of their large saddle bags to test, so I was able to get hands-on with the product. Take a look at the video below for a quick overview.
In my opinion, Selle Royal's large saddle bag is the most interesting of the new range. It has an unusual shape (a bit like a teardrop) and a massive 2L capacity, meaning that it's more like a small seat pack than a saddle bag. In any case, it's been designed for touring so that make sense.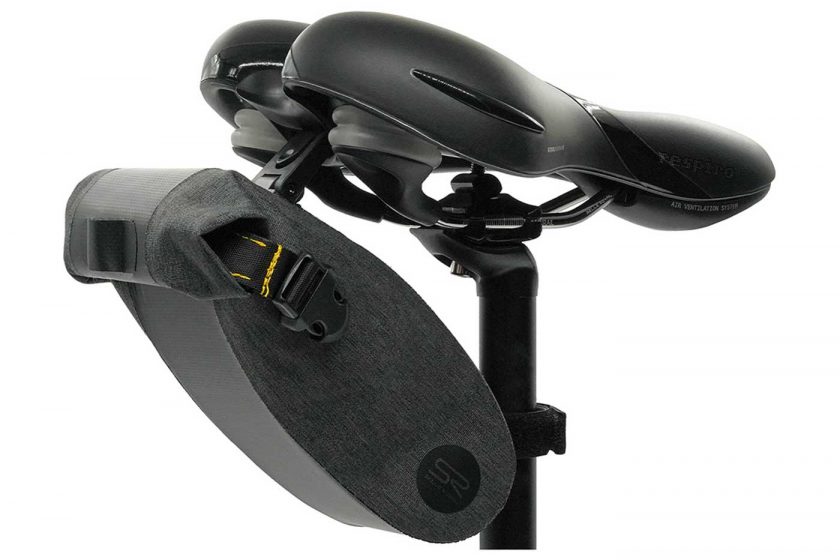 Like the other two models, the large bag easily attaches to any Selle Royal saddle using the integrated clip system. The clip on the bag has a hinge which allows to you to adjust the angle of the pack and align the Velcro loop with your seat post to secure it. You can then lock the saddle bag in place, with a quick turn of an Allen key, to prevent any movement when riding. It's definitely worth doing that last part—at least with the large bag—as I found that the pack occasionally bounced against the underside of my saddle if I forgot to tighten the hinge.
I run my saddle quite far back on the rails, which allows ample space for the saddle bag to fit neatly under my perch. Considering this pack has a 2L capacity, I was really impressed with how compact it looks once installed.
Unlike the medium bag, there are no organisation pockets inside the biggest pack. This is by design, though, to open up as much space as possible. And there's plenty of that; with a width of 10.5 cm and a length of 23 cm, I was easily able to stow a GoPro and GoPro pole (just as an example) alongside my regular saddle bag contents.
If you're not carrying as much, the roll closure system allows you to adjust the effective size of the bag and provides easy access to the saddle bag contents. The attachment loop is well positioned at the back of the closure and is a great place to clip on a rear light. This is particularity useful with the large bag, since its size means that it can block rear lights attached to your seat post. The attachment loop is strong enough to hold a large rear light, however, it will droop if the light it too heavy so it's best to use this with smaller blinkers like the Cateye ORB or Lezyne Femto Drive.
Another nice feature, not always found in saddle packs at this price point, is the fully waterproof construction. For touring, this is invaluable; you can rest assured that any water-sensitive electronics will remain dry in wet and windy conditions.
Capacity: 2L
Dimensions: 23 cm x 10.5 cm
Material: Fully-waterproof
Price: £17.39 / € 19.90 (on sale)
Verdict
Overall, I found the bag to be an excellent addition to my Selle Royal saddle. The new range is a big step up from the previous version, providing three distinct options depending on your needs. If you have a Selle Royal saddle, with the integrated clip system, then you can't go wrong with adding one of these stylish saddle bags.
Pros
Competitively priced
Fully waterproof construction
Scratch proof
Stylish design
Flexible capacity up to 2L
Attachment loop for rear light
Cons
Only fits Selle Royal saddles
May block rear light on seat post
5
Perfect companion for any Selle Royal saddle
Music in video: Side Road (instrumental version) – Jenny Penkin (licensed by Artlist – get two months free with our link)