Whenever you go hiking, whether it's a multi-day excursion or even a day trip, it's always essential that you're prepared. Weather can change quickly, especially if you're in the mountains and it can be easier than you first think to get lost. Here's a list of the six most essential things you need to carry wherever you go. As well as this, we'd always recommend taking extra warm clothing and high-calorie foods like nuts, dried fruit, protein bars etc.
Emergency Survival Bag
A survival bag/bivvy bag is an essential part of any hiker's kit. In emergency situations, it can be used by itself as a sleeping bag/shelter, but can also be used like a waterproof jacket for your sleeping bag or even a stuff sack.
There are a lot of bivvy bags on the market, which can make it hard to choose and you can expect to pay anywhere between £10-£50.
The main thing to look for is the quality of the material. Make sure it's strong and waterproof. The TACT Bivvy by Survival Frog is a good example. It's ultra lightweight, weighing 136g, durable and can be packed down to the size of a hand. It's also made from HeatEcho™ material which reflects 90% of your body's heat back to you, making this one of the most compact but effective bivvy bags.
Whistle
A whistle is one of the cheapest pieces in the survival kit—but it could be the one that saves a life. Three sharp blasts from the whistle is an Internationally Recognised Distress Signal.
Many outdoor backpacks now include a survival whistle built into the buckle clips, but it's advisable to buy a dedicated whistle for reliability and sound strength. Some now feature several items in one like this simple survival paracord bracelet which features a powerful whistle, a flint fire starter and a striker for fire starting.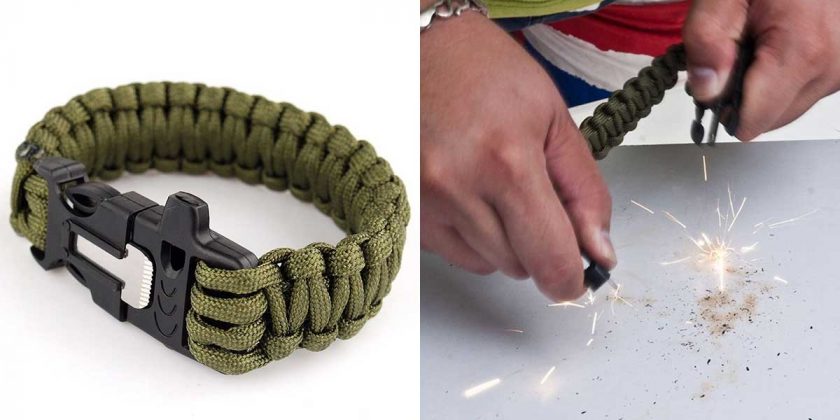 This multifunctional whistle is a little more equipped with seven features in one: a whistle, compass, thermometer, magnifying glass, signalling mirror/reflector, small torchlight, and small storage container.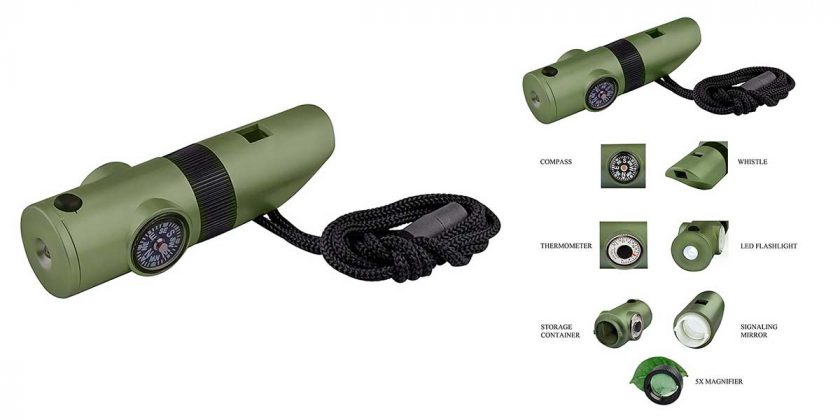 Water Purification
In an emergency situation, gaining access to water is a priority. In order to drink the water, you can either boil it using a trangia or you can use a water purification system. Water purification tablets have been on the market for a long time. While they do work, you can be waiting for up to an hour to drink the water you've collected. That's where gadgets like MSR and Lifestraw come in.
The LifeStraw enables you to suck up water straight from a stream/container without any purification tablets. It can filter up to 1000 litres of contaminated water without the need for iodine, chlorine, or other chemicals. Weighing only 56g, it's designed for ultralight portability. You can keep a pocket-friendly best water bottle filter; check details about the best water bottle filter on WFC.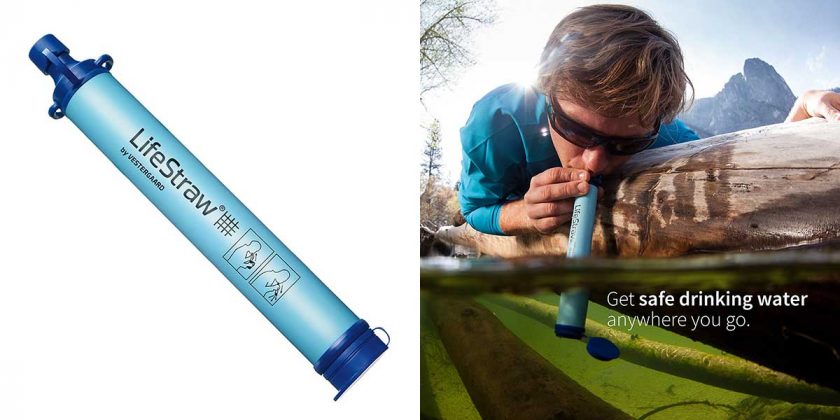 The MSR Trailshot is a pocket-sized water filter that can fill up a one-litre bottle in 60 seconds. Unlike straw-based filters, the MSR is fitted with a hand pump which draws the water up the tube. This means you can not only drink water straight out of a stream but can also fill up any container.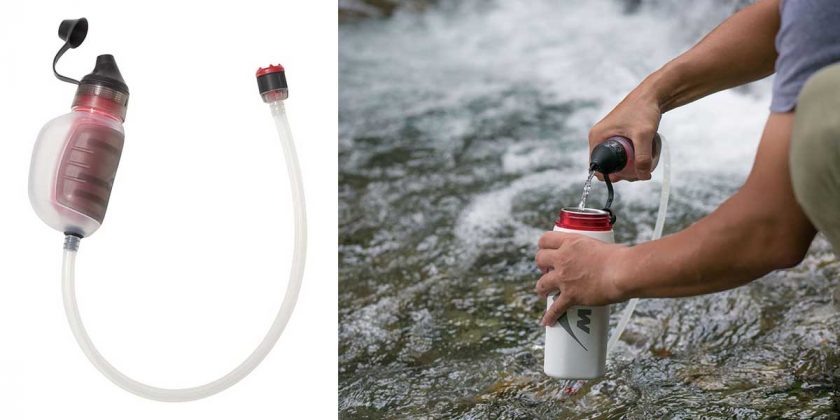 Knife
A survival knife is a vital piece of the kit. It can be useful in a multitude of situations including:
Cutting firewood
Making shelter
Cooking
Digging (only in survival situations, otherwise, use a camping shovel)
Hunting
First aid (cutting bandages etc)
It's useful to get a knife with a small light attached—so you can see what you're doing at night. BlizeTec's survival knife comes with four additional features: an LED light, seatbelt cutter, glass breaker and a fire starter.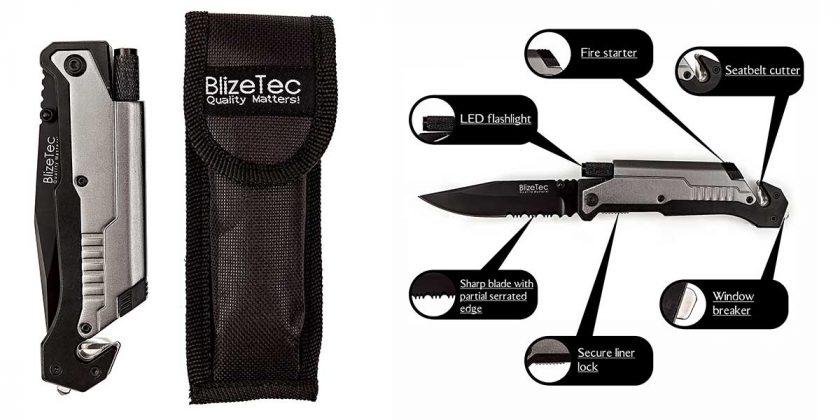 Fire Lighter
A fire could be the factor between life and death in the outdoors. It can purify water, cook food, keep you warm, and scare away predators, so a fire lighter is a pretty vital piece of kit. A simple magnesium flint stone lighter is all you need and would prove more reliable than matches in wet weather.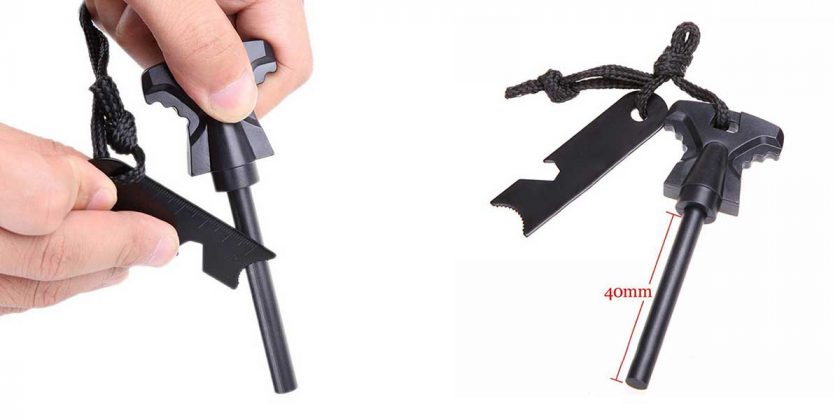 In order to start a fire, you need three elements: heat, oxygen and a combustible material (tinder). Examples of tinder include:
dry grass
leaves
dry pine needles
birch tree bark
cattail fluff
dandelion head (seeds)
You can also use:
cotton balls
tissue
clean tampons
Once a flame is present, keep the fire going by using kindling. Examples include cedar bark, leaves of any type and small twigs. Make sure they are dry.
Map & Compass
Whenever you go out for a hike, make sure to take a map of the area and a compass. While some trails have markers, in the event of adverse weather conditions, these may not be clear and it becomes easy to lose your way. Pack your map in a waterproof case and opt for a compass that is large enough to read but easy to store.