Video games can be an incredibly fun and rewarding experience for people of all ages, but for some, it can become an unhealthy habit. If you spend more time gaming than you'd like, you may wonder how to quit it. 
Fortunately, there are many helpful tips and tricks that can help you break away from your gaming habit. This blog post will look at tips for quitting playing and finding a way to a healthier and more productive lifestyle.
Tips to quite playing video games
1. Understand why you play video games
At first, it's important to understand why you even play them. This can help you identify the triggers that lead to your gaming behaviour, so you can better address them.
For some people, playing video games may be an escape from the stress and worries of everyday life. Others might find this activity a way to connect with friends, relieve boredom, or even find a different reality.
It's important to take the time to understand the reasons behind gaming to better identify and address the underlying issues causing you to engage in this behaviour.
2. Set realistic goals
Decide how much time you would like to spend away from video games and then stick to it. Make sure to give yourself ample time to adjust to the changes in your life.
Set a reasonable goal, such as playing video games at most an hour or two a day or not playing on weekdays. If you do this, you will most likely stay committed and focused on achieving progress.
Set short-term goals, such as going one day without playing video games, and then build up from there. Doing this will help you create good habits that can last for a lifetime.
3. Find a positive replacement activity
This could be an activity that helps you build relationships with others, boosts your confidence, and encourages personal growth.
Examples of positive activities include: joining a club or organisation, taking up a hobby like painting, learning a new skill, reading books, going for walks, starting a blog, or volunteering in the community.
Choose something that interests you and give it your full attention. This will help you focus on healthier goals and make quitting video games easier.
4. Cut back gradually
Stopping your gaming habits abruptly can lead to severe withdrawal, which can be overwhelming and difficult to manage. Instead, start by reducing the time you spend playing video games each day or week.
Replace this time with activities that you enjoy and find rewarding. Consider setting yourself a limit to only playing video games on weekends or special occasions.
This way, you can slowly wean yourself off without experiencing breakdowns. However, it requires patience and dedication.
5. Get rid of all temptations
You will need to take active steps to get rid of everything that tempts you to play.
Start by getting rid of any physical media or digital downloads that you have associated with playing video games. Delete any games from your computer and console, and, if possible, consider selling or donating them. If it isn't feasible to completely remove the games, make sure they are not easily accessible; store them out of sight and out of mind.
6. Understand your triggers
They can be emotional, such as boredom or feeling down, or physical, such as having a game controller nearby. Identifying and addressing your triggers to break your gaming habits is important.
Start by keeping a journal where you will write down the emotions that you feel when you don't play. This can help you become aware of any patterns and feelings associated with gaming. Knowing what triggers you can help you make better decisions when facing similar future situations.
Once you have identified your triggers, take steps to avoid them. If boredom makes you upset, find new activities, such as walking or picking up a hobby. If you're feeling down, try talking to a friend or engaging in an activity that will lift your spirits.
7. Avoid relapses
Relapsing can be a huge obstacle when trying to quit playing video games. It's important to be aware of the potential triggers that could lead to relapsing and have strategies in place to help avoid them:
a. Monitor your thoughts
Track your thoughts throughout the day and become aware of any related to video gaming. Then, take action to refocus your attention on something else.
b. Create a relapse plan
Before you even consider playing video games, create a list of activities you can do if you feel the urge to play. It could include exercising, meditating, or talking to a friend.
c. Don't beat yourself up
If you relapse, don't be too hard on yourself. Acknowledge the mistake, learn from it, and move on. The key is to keep going and never give up.
8. Set up a support system
When you struggle to resist the urge to play, you will want someone to turn to for help. Ask family, friends, and mentors to support you and make sure they understand how important it is for you to quit playing video games.
It's necessary to have an understanding network of people you can turn to when you are tempted to relapse or simply need some encouragement.
You don't have to do it alone, so don't hesitate to reach out. There are many resources available online, such as Gamers Anonymous, that can provide a safe and non-judgmental space for gamers who are trying to quit.
You can also find like-minded people on different forums or social networks like Twitter or Facebook. Many former gamers meet in person to discuss their concerns or just share useful advice. Remember that before meeting someone, it's essential to check information about those people on Nuwber or other websites you trust to avoid getting scammed. 
9. Seek professional help
Therapy and counselling can provide you with strategies and tools to help you better manage your gaming habits.
A therapist can also help you identify underlying issues contributing to your inability to quit playing video games. Additionally, they can help create a plan for you to follow that will keep you accountable and motivated to take up other hobbies. They can also help to provide you with emotional support when things get tough.
10. Reward yourself
Create a reward system for sticking to your limits. For example, you could reward yourself for not playing games for an entire day. You can also consider buying something you've always wanted for not playing.
Make sure you give yourself credit for every day that passes without your addiction. Acknowledge how far you've come and remind yourself why it's worth staying on the right track.
Putting down the controller
Quitting video games can be difficult, but it's possible with determination and the right support system. By understanding why you play video games and setting realistic goals, you can start making positive changes to your life.
Make sure to find a replacement activity that will keep you engaged, cut back gradually, set strict limits, eliminate all gaming equipment, avoid temptation, and seek professional help if necessary. Consider joining a support group, rewarding yourself for progress, and staying determined.
Quitting video games is an achievable goal, so don't be afraid to take the first step.
Share this post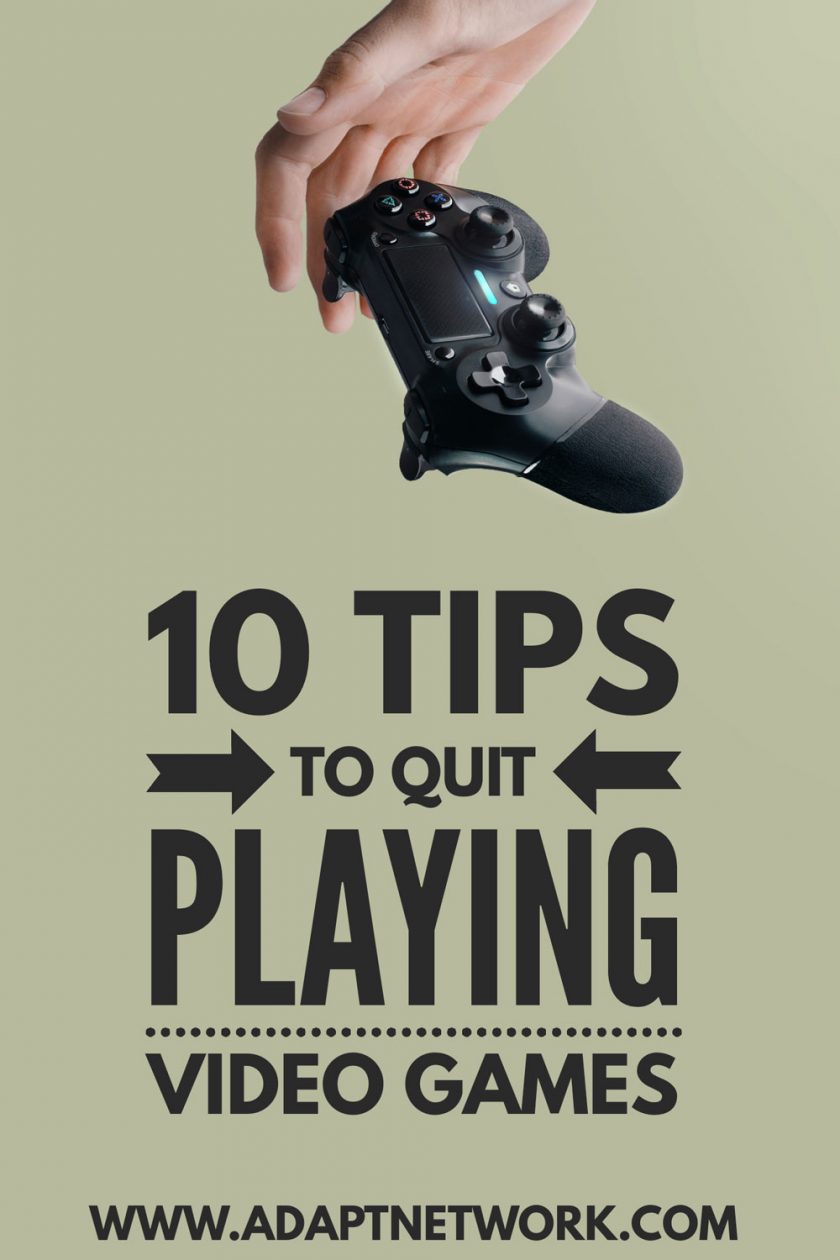 Featured image: Created using photo from Lucas Ortiz/Unsplash