Pressure washers are really handy pieces of kit. The high-pressure stream they produce makes quick and easy work of removing dirt from a variety of surfaces that would otherwise be difficult to clean. While you should avoid cleaning certain items with this method—it's not a good idea to start blasting your mountain bike, for example—you'll be surprised what you can do with the power of water.
Related: Don't clean your mountain bike with a pressure washer—check out our bike cleaning guide instead
In fact, most pressure washers come with different nozzle attachments or a variable nozzle that allows you to change the spraying pattern to suit the task at hand. Many also have a reservoir to add cleaning solutions that are specifically formulated to clean a diverse range of materials.
So, to help you maximise the use out of your pressure washer, we've put together this list. Be sure to check number eight; it's a little unusual!
Should I buy or rent?
Before we get started, let's address a big question that people often ask: is it better to buy or rent a pressure washer?
If you have the spare cash available and think that you will use a pressure washer frequently, then purchasing one is well worth the investment. However, if you're unsure, then it might be more economical to rent (at least to try one out first).
As you look for a model to buy or rent, it's worth taking the time to research what's on the market. Reading product comparison pages, like this one at thebestelectricpressurewasher.com, is a good place to start.
10+ uses for a pressure washer
1. Driveway and garage floor
Driveways and garage floors get used on a daily basis. As our cars pick up mud from the road, this gets transferred onto these surfaces and a significant layer of dirt builds up over a relatively short period of time.
Unless you have a gravel drive, using a pressure washer to clear this muck away every few months will stop moss buildup and ensure that your car tyres don't lose grip (especially important if your driveway is sloped).
2. Decks and patios
Similarly to driveways, wooden decks and stone-tile patios pick up mud from the bottom of dirty shoes and boots. You'll be surprised how different these surfaces look after cleaning them with a pressure washer—often they can come up like new.
You can also use the high-pressure stream to remove weeds and moss from between the stone tiles. Be careful here, however, since this can lift up loose patio grout.
3. Fencing
As fences become weathered over time and organic material is deposited from the rain and wildlife, lichen and moss can grow on the surface and leave patches of discolouration.
A quick blast with the pressure washer will lift this right off. You'll want to vary the intensity and spraying pattern depending on the type of fence you have, however, so that you don't damage the material.
4. House exterior and roofing
Pressure washers are a great option for cleaning the exterior surfaces of your house because they can effectively clean large surface areas quickly.
Whether your house walls are constructed from brick, stone or wood, or whether your house has a vinyl cladding, you can use a house and siding soap that's been specially formulated for this. Simply add the soap into your pressure washer's reservoir and rotate the nozzle to the soap dispenser setting. Then rotate the nozzle back and spray the soap off…simple, right?
5. Garage door
As with the exterior surfaces of your house, a pressure washer will make light work of cleaning your garage door. This is especially convenient if your garage door regularly comes under attack from birds.
6. Camping grill
With grilling comes great responsibility, and one of those tasks is cleaning up after. With conventional cleaning methods, it can be difficult to remove some of those chared-on vegetable remains. But with a power washer, you can make your grill spotless and ready for the next camping cookout in no time.
Related: Solari: The take-it-anywhere solar cooker
7. Vehicles (car, motorcycle, boat)
I accidentally typed 'cats' instead of 'cars'. Don't use a pressure washer to clean your cat (or any other pet). But you can use a pressure washer to wash your car, motorcycle, or boat. Just make sure you don't use a super-powerful setting or you can blast the paint off, especially if there are chips already in the paint.
You can also get a special solution to use in the pressure washer that's formulated to wash cars. It goes in the same soap reservoir as the house and siding solution.
8. Harvested fruits and vegetables
This is a bit of an unusual addition to this list, but especially useful if you're a keen gardener and grow your own food.
A pressure washer can be a quick and easy way to wash off your freshly harvested fruits and vegetables. For example, if you've recently dug up some potatoes, you can lay them out on the ground and wash off the excess mud with the water jet.
Be careful not to damage your harvest though. Use low pressure and avoid this method with soft fruits.
9. Lawnmowers and garden tools
Like your car, your lawnmower deserves a bath every once in a while.
The high-pressure stream does a great job of the cleaning the blade and removing caked-on grass underneath the mower. This can make a big difference in the efficiency of your lawnmower—saving time and money in the long-run.
10. Trash can
I don't think I need to go into detail here, but if you have a trash can you know how pungent it can get in the summer months. Whoa, buddy. A little pressure washing with soap and it's ten times better.
11. Knocking down spider webs and wasp nests
This is another use you might not have thought off. A pressure washer is an easy way to knock down old spider webs and wasp nests on the outside of your house. FYI, it's a good idea to spray the wasp nests with wasp spray before blasting the nests with the pressure washer—you don't want angry wasps flying at your face.
Pin this post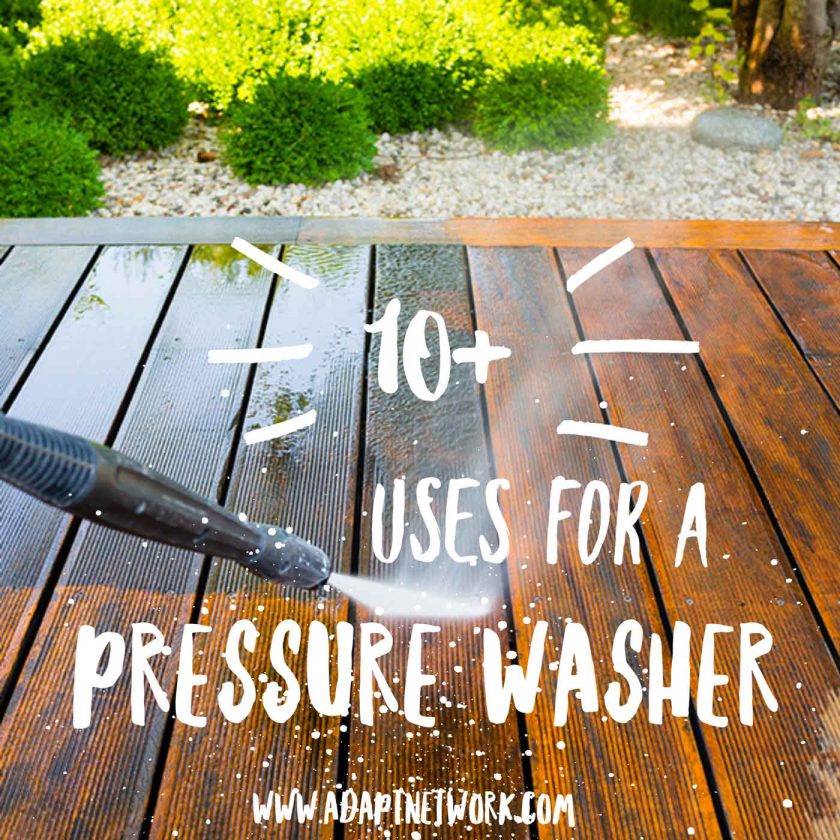 Do you have an interesting use for your pressure washer that you think we should add to this list? Let us know in the comments below.