In the age of new technology, most everyday services have largely moved online, including mortgage applications. A lot of homeowners and first-time buyers are choosing the convenient quickness of online mortgage services, but it's easy to get stumped with a bad deal.
Here are some handy tips to make sure you get the most out of your online mortgage application.
Online mortgage application
Firstly, you can get a head start on the process by using a mortgage calculator to figure out how much you'll be allowed to borrow, based on your income. That way, when you go to a lender or broker you already have a vague idea of what you'll be borrowing, so there will be no nasty surprises.
Online mortgage calculator tool
One quick tip to reduce your mortgage is to pay as big of a deposit as you can afford, and you'll be able to work out what the upper limit is through a mortgage calculator tool, like this VA Loan Calculator.
Something you should be particularly aware of is that it will be very hard to get a mortgage if you don't have a great credit score since this is used to prove your reliability to the lender.
Check your credit score
Luckily, there are lots of websites that allow you to check your credit score for free. If you always keep up to date on monthly payments and you're not in a lot of debt, your credit score should be enough to apply for a mortgage with most lenders. Don't worry if not, though; some websites have ways for you to boost your credit score for free. Other ways of helping your score include paying off any debts you have and making sure you're registered to vote.
Be aware that you don't have to settle for the first deal you find or are offered, either. It never hurts to shop around and, with the Internet at your fingertips, you can be sure that you've definitely found the best deal, as long as you've done your research.
Online mortgage broker
In addition to researching for yourself, using an online mortgage broker such as Trussle will prevent a lot of problems before they even occur. In general, using a broker instead of going straight to your bank makes it much more likely that you'll get the best rate available since many brokers have exclusive deals thanks to their partnerships with certain banks. However, an online service carries specific benefits on top of this.
For example, an in-person mortgage broker will have specific office hours which can be awkward if you work during the day. With online advisors you can log in at any time of the day or night, making it incredibly convenient for all. Additionally, you'll save time and money. Online services will generate thousands of mortgage deals in seconds, which saves you from having to chase up lenders about the progress of your application. Many online mortgage brokers are also free to use. Don't worry, though; if you can't or don't want to use a mortgage broker, you still have plenty of options for getting a good deal online.
Overall, common sense is your best tool when browsing online mortgage services. By using these tips, you can be reassured that your mortgage deal is among the best.
Pin this post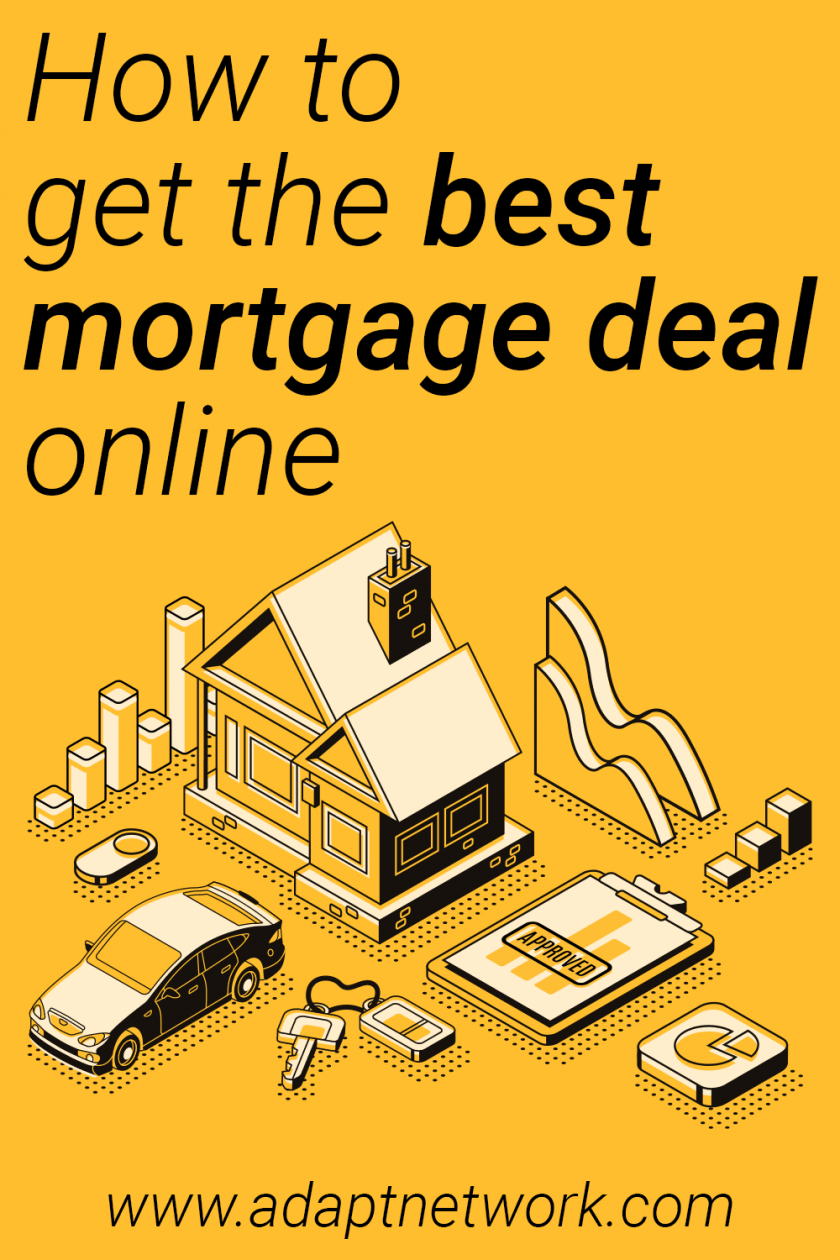 Featured image: Created using graphics from Vectorpouch/Freepik