Koi are cold-blooded, which means that the water temperature determines the body temperature. If you own koi, you might be familiar with this fact already: if the water drops below 50°F for an extended period of time, your beautiful pets will probably die. Fortunately, there are ways to prevent this from happening. Here are tips and tricks on how to prepare your pond in order to protect your Koi in Winter.
Use a de-icer
If the water in your pond gets too cold, a de-icer can help. It's basically a heating rod that prevents ice from becoming solid in the water surrounding it. The energy produced from using a deicer melts away any existing ice, preventing deadly formations of true ice from forming. In order for this to work, you need to make sure that the de-icer is positioned at an angle so that when ice forms around it, it will not be able to grow over-large and smother other parts of the pond. Keep in mind that deicers work best if they're submerged under three or more inches of water. This means that you might want to put them at the bottom of your pond instead of just hooking them up to a regular electrical outlet.
Insulate your pond
The insulation will keep the water from getting too cold, thus protecting your koi from dying. You can use a few different types of insulation:
Plastic sheeting
The most inexpensive way to insulate your pond is with plastic sheeting. It's cheap and easy to install, but it's also fragile. If you're using this product, make sure that it is secured tightly with stakes or rocks around the perimeter of the pond so that it does not blow away in strong winds due to its sheer volume. This is recommended for smaller ponds with fewer fish.
Rubber pond liner
A rubber liner is another good choice for insulating your pond since the rubber has an excellent insulation value. This type of insulation can cover up to one-third of the total surface area of the water, which makes it ideal for large ponds with many koi swimming about in them. For this type of insulation to work, the rubber cover needs to be secured tightly against the edge of the pond. Make sure that it is not punctured or damaged in any way by sharp edges on rocks or stakes.
Fiberglass insulation
This type of insulation will work best for areas where temperatures can drop below 20°F, but it's harder to install than plastic sheeting or rubber liners because you'll need to drill holes. Fiberglass insulation should never come into direct contact with water. Be sure that there are a few inches between the bottom of this product and the water level so that heat can still escape from underneath it. As an added bonus, if installed correctly, fiberglass insulation can be aesthetically pleasing.
Grow shrubs around your pond
If you grow large shrubs around the perimeter of your pond, you will help insulate it. The branches act as snow fencing, preventing snow from piling up on top of the ice-coated walls. This leaves room for air to circulate between the ice and whatever insulation material is in place, letting heat escape while keeping cold air out. When choosing shrubs for this purpose, make sure that they are evergreens. Their dark green foliage will help to reflect heat back onto your koi's pond during the day while their branches prevent snow from accumulating over the ice.
Add extra oxygen to your pond
Putting extra oxygen into your pond can improve the chances that koi survive during extremely cold weather because it reduces carbon dioxide buildup at night when koi respire. If there is too much carbon dioxide in the water, little bubbles will come off their gills, giving them little energy to move about or get food. An aerator can be used to add more oxygen into the water.
Build a shelter for your koi
If you want to protect your koi from winter but don't feel comfortable with the idea of leaving them outside, consider using wood or scrap metal to build a shelter around their pond. Whether you're building a lean-to or hut, remember that it should be about two feet wider than the maximum width of your fish's bodies so they can still move around freely inside without bumping into any walls. Also, make sure there are no sharp edges sticking up off your shelter (or out of the ground) anywhere near where your fish might swim because even small injuries can quickly cause them to get sick.
Keeping your koi safe in the winter takes a little bit of effort, but with these tips in mind, you can rest assured that even when temperatures plummet, your beloved fish will be safe and sound. From getting a de-icer to make sure ice doesn't form, to insulating the pond to keep cold air out, every little bit helps.
Pin this post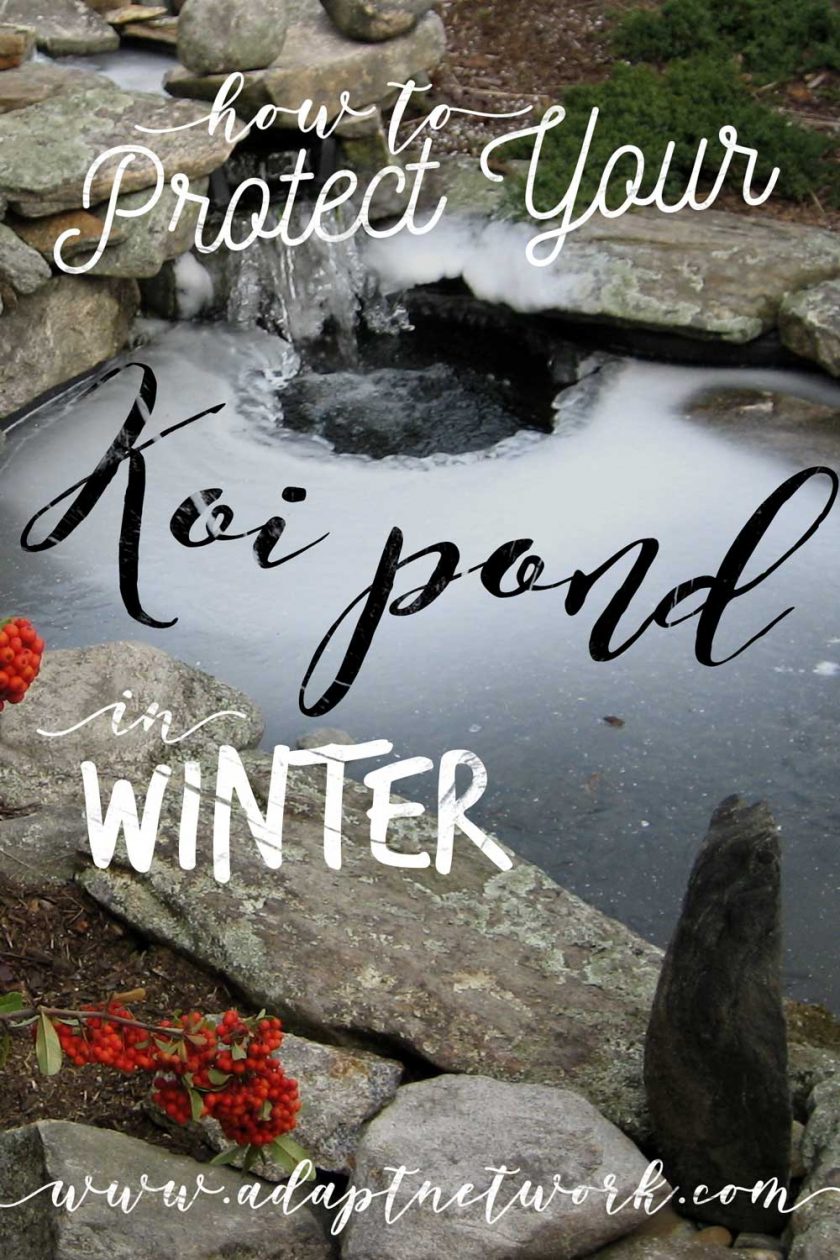 Featured image: Created using photo from Liz West/Flickr