Your basement is a valuable space that often goes unused. However, with a bit of creativity, you can turn it into something amazing! In this blog post, we will discuss some innovative ways to use your basement. Whether you want to use it as a home office, a playroom for your kids, or even a spare bedroom, there are plenty of options available to you. So don't let that unfinished basement go to waste.
Ideas on how to use your basement
1. Home office
A basement is an ideal spot for a home office. It offers plenty of privacy and a quiet atmosphere, making it perfect for working from home. Plus, you can use existing shelves and storage to organise any papers or documents you need to keep in the space. For example, you could install a desk along one wall and use the other walls for storage. Additionally, if you have a window in your basement, be sure to make use of it by opening it up and letting in some natural light.
2. Home theatre
Transform your basement into a home theatre with the help of a projector, comfortable seating, and plenty of cosy blankets! Set up the projector on one wall and arrange comfy chairs or couches beneath it. To take the experience to the next level, invest in surround sound speakers for an immersive audio experience. And don't forget about snacks—keep a mini-fridge stocked with all your favourite movie treats!
3. Renovating your basement
Sometimes a little bit of renovation can turn your basement into the perfect space. Take some time to assess what you have and think of the basement renovations that you need to conduct – if you have exposed pipes or ductwork, consider painting them for a more cohesive look. Or, if there's carpentry work needed, such as new built-in shelving or cupboards, consult a professional to ensure it's done right. Plus, don't forget about lighting – opt for energy-efficient LED lights that will bring plenty of brightness without running up your power bill!
4. Playroom/rec room
If you have kids at home, consider making your basement into a playroom or rec room. This is a great way to keep the little ones entertained while giving them their own special space. You could set up some colourful bean bags and toy boxes, or even install a mini basketball hoop for shootouts! Plus, you can also add a few pieces of furniture like a sofa or loveseat so that adults can join in on the fun too. Also, don't forget to add some board games or puzzles to the mix for a variety of activities.
5. Spare bedroom
If you need an extra bedroom, why not convert your basement into one? It's usually easy to soundproof a basement so that it remains quiet, making it perfect for a guest room or even as a permanent place for someone to stay. You can decorate it however you want – from choosing cozy furniture like couches and beds to using bright colors on the walls, to adding decorations that reflect your personal style. For instance, if you're a fan of books, why not add a few bookcases and some comfortable reading chairs to the mix?
6. Home gym
Another great use for your basement is as a home gym. Not only will you be able to exercise in the comfort of your own home, but it can also save you money on gym memberships. Get creative when it comes to setting up the space – add some mirrors to help with form and technique, or install a TV so that you can watch workouts on YouTube! And if you don't have enough room for bulky equipment, consider investing in resistance bands or bodyweight exercises instead. For example, you could set up a pull-up bar, do jumping jacks, or even practise yoga!
7. Bar/entertainment area:
A basement can also make for an excellent entertainment area, especially if you have a bar. You could set up the bar along one wall with plenty of seating and invest in some classy glasses and decorative accessories. And don't forget about the lighting—the right lights can give your space a warm, inviting atmosphere that will be perfect for cocktail parties or game nights. Additionally, this is also a great opportunity to express your creativity by adding unique pieces like vintage artwork or memorabilia to create a one-of-a-kind look.
Basement note
No matter what you decide to do with your basement, it's a great opportunity to create extra space for your home. And by using these innovative ideas as inspiration, you can be sure that the finished product will be perfect for your needs. So get started today and see how easy it is to turn this often-neglected space into something amazing!
Share this post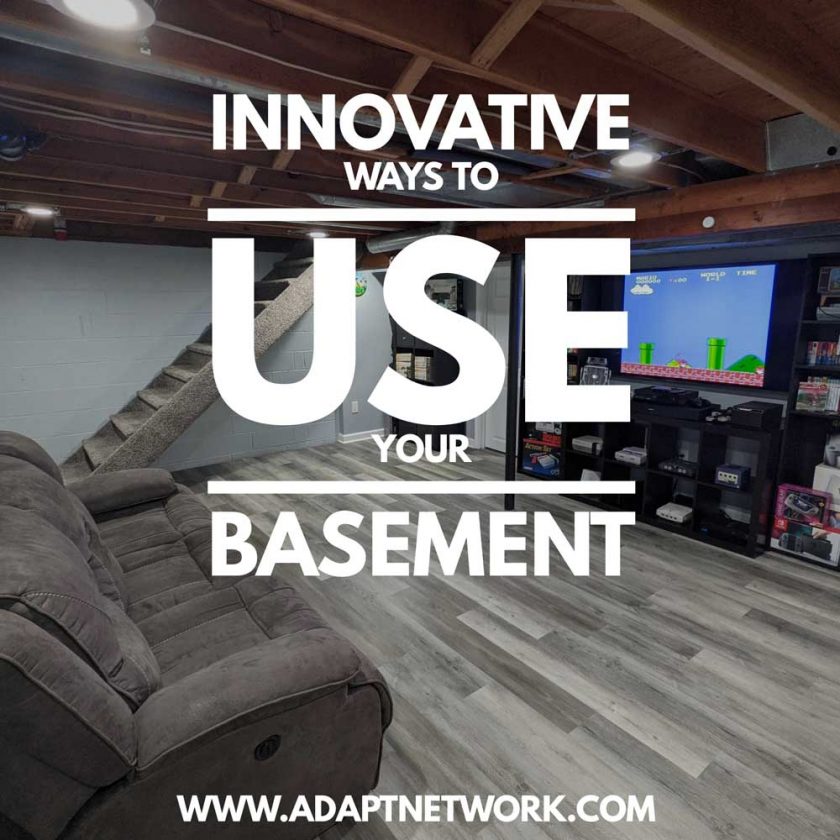 Featured image: Created using photo from hackopsv2/reddit