Have you ever heard of the term digital nomad? Are you curious to know about what they do for a living? Well, to put it simply, digital nomads are those who work remotely while travelling. They earn their expenses through the internet and have the liberty and flexibility to travel wherever they desire while working.
As such, if there is a Wi-Fi connection, they can make do with their work. It differs from the usual office worker, whereby it is necessary to go to the office. For a digital nomad, anywhere can be a workplace. Hence, if you ever saw someone typing away on their laptop outside a café with a strong internet connection, they might be digital nomads.
Enticing, isn't it? Digital nomads are not bound by the restriction of going to the office and they can travel to their hearts' content. They have an image of having a fulfilled work-life balance that can be envied. Hence, some people opt to become digital nomads and they are content with their chosen lifestyle.
However, before becoming a digital nomad, there are some tips and tricks that can be adapted to become a successful digital nomad. Here we lay out helpful information on all you need to know about digital nomads to aid you in your digital nomad lifestyle.
How to become a digital nomad
Create a regular work schedule
To become a digital nomad, it is important to put a great significance in time management. It is crucial to maintain a delicate balance in living life as a digital nomad. Hence, it is advised to create a regular work schedule. By doing so, you will have a clear image of when you should focus on work, when to travel, when to relax and how to divide your time in general.
Establishing a work schedule and actively following it through can aid in the smooth sailing life of a digital nomad. In addition, you will not be troubled with stacking workloads as you have set out a time to concentrate on managing them. As such, you will not be disturbed with unnecessary worry while enjoying your travels.
Moreover, by being true to the routine, you will also have time to relax and enjoy yourself. Therefore, you will be able to unwind, take a breather and thoroughly enjoy the life of a digital nomad. In addition, developing a work schedule can positively impact your sleep patterns.
With a set schedule, you are aware of the activities that you are supposed to complete in the allocated time. Hence, you will not blindly overdo your travelling activities and overlook your workload. However, when the workloads pile up, you will face sleepless nights trying to complete them all, which can negatively impact your digital nomad lifestyle.
To avoid such troubles, create a regular work schedule and discipline yourself to follow the divided time truthfully. If it is time to work, pull out your best laptop and find a great Wi-Fi connection to start your task. Similarly, if it is time to travel, you should stop your work and enjoy the occasion. By doing so, you will have a content digital nomad lifestyle.
Do not multi-task
Multi-tasking has great benefits if done correctly. However, if it is mismanaged, it can negatively impact your digital nomad's lifestyle. Hence, to continue living as a fulfilled digital nomad, taking things one step at a time is a great habit to implement. This is because, by focusing on a single activity instead of many at the same time, your brain can process the task quicker and smoother.
In other words, not overloading yourself with myriads of things to do at the same time can lessen the distress you will have to face. As such, you will be able to establish a healthy pattern in terms of your working habits.
Moreover, aside from multi-tasking, you should avoid wasting your time. Though it is tempting to scroll through your social media and surf the internet, it will only slow down your progress. Nonchalantly wasting time instead of focusing on your workload can affect your life as a digital nomad. Hence, you will not be able to gain a healthy work-life balance due to your actions.
After you are done with your task in the allocated time, you can reward yourself by taking a short walk outside and recording the beautiful scenery you witness with your GoPro camera. It can help you to de-stress after long hours of working.
Make sure to save your expenses
As you are enjoying your trips, it is important to have a significant amount of savings to aid in your journey. Imagine you are joyfully spending money and experiencing a great adventure but when you are about to move to your next location, you are out of funds.
That can certainly invite a feeling of terror and uneasiness to digital nomads. Not only will your day be ruined, but your globe-trotting will also be interrupted as you have no money to accommodate your trips. Therefore, to avoid such a tragedy, it is important to establish ground rules for yourself.
By setting some rules to follow, you will be mindful of the amount of money you spend and how much is left of your savings. For instance, you can set a certain amount of savings goal. Then, you can make sure to never let your overall funds dip below the appointed sum. Therefore, you will have a clear image of your total savings.
In addition, you can download an app to phones such as OPPO Reno or iPhone to track your money flow. By doing so, you will be informed of how much money you spend in a day and where you spend it.
Exercise regularly
Living as a digital nomad can be stressful as you will be met with various things along the way. Moreover, trying to get a smooth sailing life may be difficult at times. Hence, it is important to fight back the accumulated stress from continuing to pile up.
One of the greatest ways is to exercise regularly. It is proven that incorporating exercise into your lifestyle gives tremendous benefits to your health. Not only will you find yourself to be in a positive state, but you will also not get easily tired even after a day of sightseeing.
You can do many activities, such as going for runs, doing yoga, or riding a bicycle. Overall, exercising regularly can help impact your life as a digital nomad positively. Therefore, start exercising now to gain the benefits that come with it to stay fit and live a healthy as well as a fulfilled life.
Conclusion
Living life as a digital nomad may sound interesting as you can explore the world without being tied up by the duty of having to go to the office daily. However, it also has its pros and cons. As such, it is important to be able to change your daily lifestyle to adjust to the nomadic lifestyle. If you feel comfortable with such ways of living, then you will be able to experience a great adventure ahead of you.
Pin this post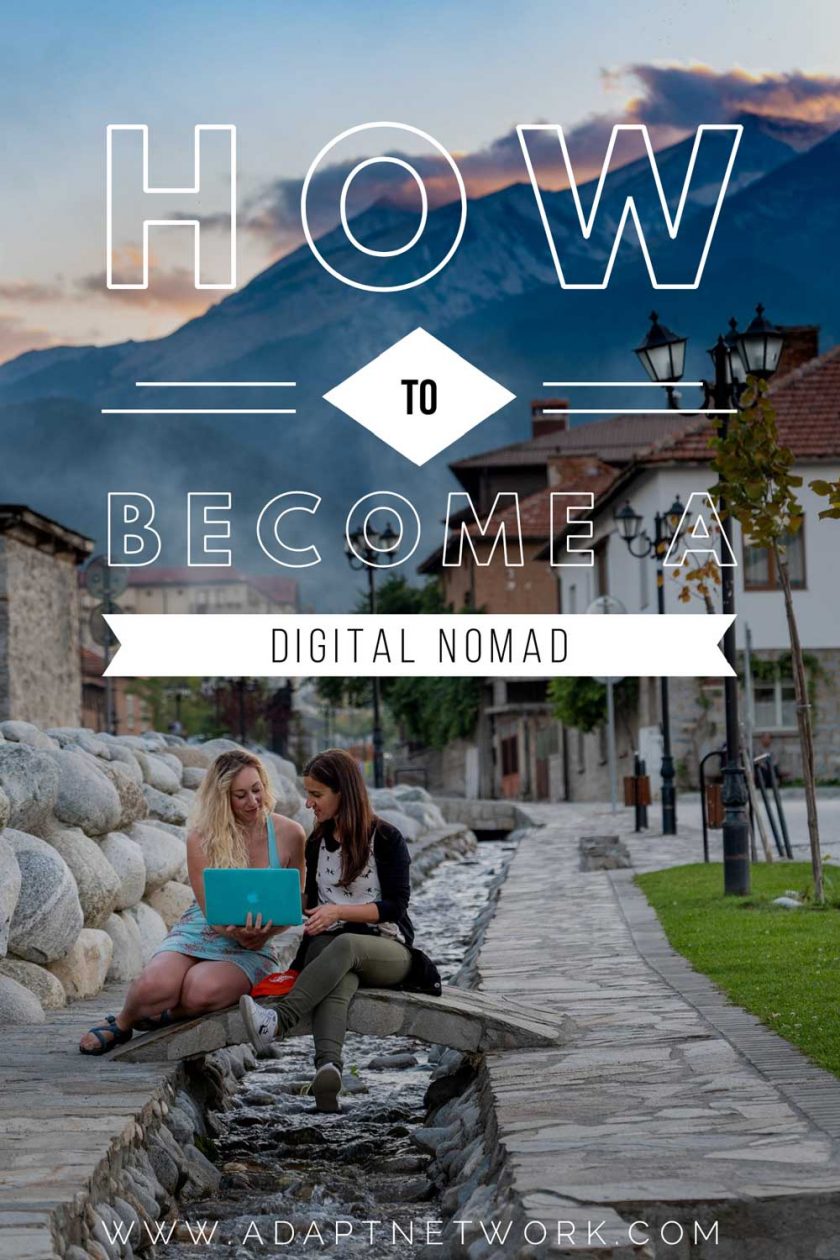 Featured image: Created using photo from Matthias Zeitler/Pixabay