Recently SETT SURF founder and surf blogger James Marshall caught up with Trim Surf Magazine's Matt Luttrell for a heart-to-heart chat about surfing and how it impacts our lives as surfers.
1. Tell me about your most recent surf
My most recent surf was out at Concessions, Ala Moana Beach Park. I would say it's my regular spot, just because it's so convenient, being a town surfer. It was pretty small, about 40 days ago; I just had my second child so I definitely feel very dry and the gills need to be wet [laughs].
But yeah, it was waist high, I had my mid-length board…I find as I get older that I really like the small days a lot, just because there is a lot less people. I know I sound like an old crusty bastard when I say this, but I really enjoy going out and not surfing the best peak or the best break but surfing a place where I have a bit of solitude and a bit of space. I look at being out in the water as my time of worship, that's my church.
I would say for most people it would have been a really underwhelming session, but for me it was awesome. Every time I am out in the water I am really thankful and appreciative that I am sliding on waves because, if you don't slide on waves you don't understand how good it is and how fun it is.
2. Thinking a bit further back do you remember your first surf, when you caught the surfing bug?
Well, I grew up in Texas and I surfed in the Gulf of Mexico. I surfed in Corpus Christi and I would take trips with my friends to New Smyrna, Florida. But I wouldn't really say I was surfing, I was more playing on my stomach. When I moved out to Hawaii is when I would say 'I had my first surfs.' But really, I always go back to my real first wave.
I'll never forget that wave. It must have been late June and there was a little south swell running. I was surfing a break called Wenches and very few people were out; there are more crowded breaks all around it. I caught this left at sunset and I remember the light, I remember the sun glowing off of the wave. It had that dreamy turquoise colour to it in the golden light of sunset. I took off on the wave – I'm a goofy footer – so I bottom turned and started going down the line, faded and came back up, and I…tapped the lip, I wouldn't say I tagged it as I was on a 9' long board, but I basically careened off of it, came back into the flats and around the section and then I kicked out at the very end. I sat on my board in disbelief. I had been daydreaming about the first time I would get a real wave for the longest time, especially as I was riding the wash and not really doing anything. I just felt such harmony in that ride, and I felt such control…whereas I had never really felt that before.
I paddled back out and it was just me and my two buddies out there. Paddling out I felt like I was gliding back out there. I have never forgotten that wave and never forgotten that sensation. You still get it, maybe not to the same effect, but you still get that same great feeling on a great wave. That was my first great wave and I remember I had chicken skin, what the Hawaiian's call goosebumps. It just felt…like I said everything was in tune.
I love being out in the morning at sunrise, and I also like being out in the water at sunset. I just love that golden light. I don't want to sound too spiritual but it was almost like the heavens opened up – that's how I felt. I still remember that wave perfectly. Perfect. Shoulder high – I wouldn't say it was head high but shoulder high – perfectly groomed where you have that perfect glass and you could see the water droplets coming out, individual droplets coming out of wave lip. It was just…magic. And I know that's why we sound like such morons to non-surfers because we can talk about this one wave that lasted, maybe 10, 12 seconds? But to me, I can tell you the only other vivid memories I have like that are of getting married and the birth of my two children, y'know. Those memories of surfing are so visceral. It feels like you're on a magic carpet ride… people talk about snowboarding or skiing being so awesome – and it is – but…it doesn't hold a candle to surfing.
Maybe that's because with skiing and snowboarding the majority of the time you are actually riding, you're going down and you have that glide. Whereas with surfing, the majority of the time you are not on the wave; you're paddling, you're jostling for position, you're trying to outwit the other surfers out there because you're going for this limited resource. That is why when you are on the wave, maybe what, 5% of the time you're out in the water, maybe if you're lucky, if you're good – that's what makes it even more special. The confluence of all these magical things happening and then being in the right spot at the right time for the right wave – Its just special.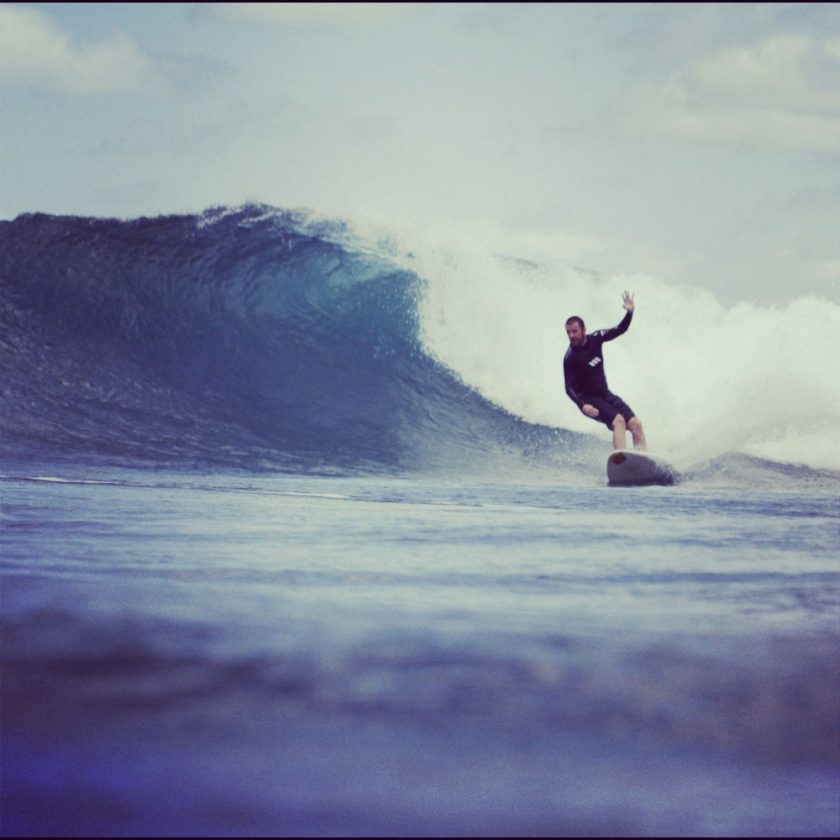 3. Tell me a bit about your favourite break
I would say my favourite break in the world has got to be Raglan in New Zealand. Not only Raglan, but Indicators. Being a goofy footer, I mean, that place is just heaven. The only way it could be better is if you could wear boardshorts, if the water wasn't quite so cold. But, I don't mind wearing a wetsuit. Raglan is just…man, everyday I got it, it was pretty consistent, and it always was offshore. I loved sitting in the line up because there was this cabin on the point, and it always had a fire going, so there was that wood smoke and it made you feel like you were really on vacation…everything smelled so good there. So yeah I love Raglan, that's my all time favourite. And the people, that's what it boils down to as well, the people were awesome. There is no other place in the world where I have gone and surfed an area or a country's best wave or most well known wave and had a great experience with the locals. The locals there were super, super cool.
In terms of my favourite wave here in Hawaii, it's a wave called Point Panic. You actually can't board surf it, you can only body surf it. It is regulated by the DLNR (Department of Land and Natural Resources) and I think since the late 70s or early 80s it has been a body surfing only spot. It is the most perfect right handed almond shaped barrel and it works from like 3 foot Hawaiian and it can hold 8 foot plus and maybe starts closing out at 10 foot which really is looking at 20 foot faces. Oh my god, it's a machine. It's just perfectly suited to body surfing because with a board you would almost be a little too fast and would have to do a few cutbacks to really stall out speed. But for bodysurfing it's just the perfect speed so you can go out there and get some epic barrels. What makes it awesome as well is you can walk down stairs right into the water at Kewalo Basin. You can park and almost be out in the actual break in 3 or 4 minutes so its super convenient…I don't like it for the convenience because that means its more accessible, I quite often like breaks that are out of the way, or a long paddle so that way it makes it less crowded. That is one of the only places I like going to when it's crowded because I don't mind being in a crowd of bodysurfers. If you and another guy take off on the same wave it's just you and him; if his fins hit you or his head hits you its not like getting cracked by a surfboard.
But I love bodysurfing out there. We had some good swells this past season and its always fun seeing Mark Cunningham out there because when you see that guy bodysurf, it makes you realise that what you're doing isn't bodysurfing…you cant really call what you're doing bodysurfing compared to what he is doing, or maybe there should be a different term for what he's doing because the way in which he rides a wave is just, its poetry – absolute poetry. The guy makes all these barrels, he is always in the perfect spot. He is always just, its not like he is a wave hog, he is just there, automatically in position for the best wave of the day and he rides it phenomenally.
Favourite wave in Hawaii: Point Panic. But, in the world: Raglan.
But then again I have only surfed in 10 or so countries so I am pretty…I'm not well travelled when it comes to surfing y'know…maybe I haven't found my perfect wave yet; I hope I haven't found my perfect wave yet.
4. How about your favourite board?
My favourite board – easy. It is a Hot Buttered Drifta. It was hand shaped by Terry Fitzgerald. Basically it is a single fin with two trailers on the side, double wing swallow tail. The board is 6'2" by 20" wide by 3" thick. He originally shaped that shape in the 1980's right before Simon Anderson came out with the thruster. It's the most versatile board I have ever had. It is good in 1 foot to 8 foot. That was the only board I rode at Raglan, I had magical sessions on it at Uluwatu, Balangan, Bingin, and great sessions here in Hawaii.
The board was originally made and designed for point breaks, for J-Bay. But his son, Kai, rode the original out at South Narrabeen. South Narrabeen is where I surfed the majority of my sessions when I was living in Manly, Australia. South Narrabeen is just a violent shorebreak the majority of the time but when it gets good it's all time. But it just doesn't get that good all that often.
It has a really flat rocker, I love flat rockers, and I like boards that paddle well, because, y'know, I'm not doing airs…I don't need to be riding a board that a pro is riding. So my favourite boards always have a really low rocker and are paddling machines. Because if you're not on the wave, you're not having fun.
I had a magical session on it out at Margaret River, although that's where it got its first ding…although thankfully my head didn't get dinged out there – Margaret River is scary. It feels like the end of the Earth, and its just the ocean…you're there on the corner of the continent and then there is just Indian Ocean all the way to Antarctica. Maybe because I read about of the shark attacks there but I felt just…uneasy, the entire time. I had read a year earlier about a guy getting bitten in half out there – he got bit in half! Granted you still got a better chance of being struck by lightening than you do being taken down by a shark, and it wasn't a murky day, we weren't out at sunset or sunrise…but man, you still felt like there were some big apex predators out there lurking.
Back to the board, that Drifta, I mean it is…oh god it is such a magic board…I only pull it out if it is head high or better. I don't take it out on crappy days: I don't want to ding it. I got it the day after Christmas in 2008 and it's just…everything…you just feel like it was made exactly for you. It doesn't matter if I have been long-boarding for six months and I'm outta shape. I can go paddle on that board and I am going to get a good wave, I'm just gonna. It turns well, but really it paddles well and it just has that speed. It's just perfect, absolutely perfect.
I always wonder what is going to happen to that board when eventually it breaks, because I don't want to be the guy who like hangs it up and stops riding it. I want the board to eventually die like everything should; y'know, everything is born, has a life and then it dies. But man, tears will be shed when that thing is no longer with me because it's…magic is such a, everybody uses the 'magic board' term, but I bet I could ask him to shape me the same board 20 times more, and I'm sure it'll be a good board, might even be a great board, but will it be as good of a board as this is? Man, I don't know. I have got some monster waves on that thing up at Jocko's on the North Shore, just because it has that paddle power, and for it being 6'2" it can handle some pretty hairy drops. I wish I was good enough or really skilled enough to take it to Pipe. I still want to paddle out in late March when everybody is gone and there are only a few people out on a 4 foot day (I don't want to get too crazy). I just want to paddle out, and sit on the shoulder, wait my turn and be like 'look, all I want is one fucking wave. One wave. Who do I need to give $100 to?' You get me a wave that's barrelling and I'm going to have a photographer there in the channel and I just want one shot of me on that board in the barrel at Pipe. Obviously that is everyone's dream but I'm going to make that happen. Maybe it'll be more than $100 [laughs]. Just to say that thing was in a Pipe barrel would be fun. And then if it were to get broken it would be funny to say that it was the one time I surfed Pipe and a lip took it out, but hopefully that doesn't happen – touch wood [knocks the table].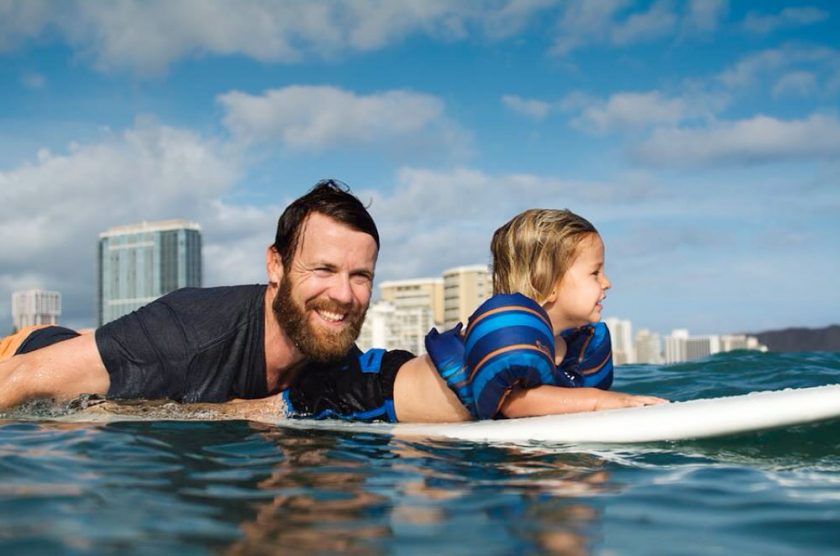 5. Do you have anything that sticks out in your mind, or memorable story?
I wouldn't say it's a particular session. My favourite part is that it's not about being the best surfer, it's about being…it's about being a cunning surfer. Because you don't have to be the best paddler to get waves and it's all about getting waves. I feel like a lot of surfing is just studying your surroundings, whether you're going to a particular break over and over to see the particular peaks and how it works, swell directions, that's definitely one of the things that makes it interesting.
I like the fact that it's like a chess match. You're sizing yourself up with people, with your competition. You are not going to paddle out and sit by the best guy in the water catching all the waves, right, because if you do that then you'll be catching very few waves. You always look for the guy or girl that, they're just not in that right position, they just kind of just miss the wave. So if you're right there and they miss the wave, then you don't feel bad about taking it.
I always look back to a session at Impossibles on the Bukit Peninsula. The peak I was sitting on had 10 guys, all sitting packed together. A set comes, an outside set and no-one gets it because it was about 10 yards outside. So I paddled out, I sat about 10 yards deeper than them and about 5 feet over to the side – not inside of them but actually outside – obviously when you paddle out to a new spot you don't want to look too aggressive or your gonna get bad vibes from people. So I wait, and all of a sudden another set comes and I'm the only one in position so I take off on this wave. Impossibles is just…its one of the longest waves and you go so very fast. I was on my Drifta and that board just handles speed like its going out of style. I paddled back out and sat in the exact same place. Now, you would think that people are going to become aware of it, but they don't. So again another set comes and again I take the wave…and this happened for three straight hours; no one paddled out and sat next to me. The 10 guys sat there catching the smaller inside ones and not taking the set waves. I realised the majority of people are sheep…they're not willing to beak away from the group even though it's obvious. Again, that's the reason I like surfing by myself, I'll go find a wave by myself and it doesn't have to be the best wave, but I like sitting there in the water be myself…not Margaret River though, I will not surf there by myself – If I'm going to get eaten I at least want someone there to tell my friends and family [laughs].
6. You have made quite a big commitment to making surfing a part of your life with Trim magazine, can you tell me a bit about that?
I love surfing. I love storytelling. And I love magazines. It seemed like the perfect job. But starting a magazine in this day and age almost seems like a bat shit crazy idea. Nonetheless, I love it. The good, the bad, the ugly. Being told no. Being ignored. It reminds you how unimportant you are. And in that way, surfing and the ocean are the greatest teachers for an entrepreneur. It reminds you how important patience is.
7. I want you to try and articulate what surfing is, and how would you articulate that feeling?
Why cant we put it into words? I think the reason people have such a hard time putting it into words is there are just so many things going on when you're riding a wave, especially a great wave.
There is obviously the energy of the ocean – how do you describe the energy of the ocean to someone who has never surfed a wave before? It would be like trying to explain colours to a blind person. There is just that energy of the ocean, once you take off on the wave there is that anticipation. But when you're flying down the wave, and you're feeling the breeze, you're feeling the droplets of water…Y'know I love the way the surfboard hums when you're on a great wave and its clean. There is the hum as the board is tracking and as the fins are working on the inside rail and outside rail. Then just laying it on the rail and getting into the sweet part of the wave…there is just nothing out there that can make you ever feel that alive. And another thing is, you're not thinking…maybe you're thinking 'wow this is awesome' but that's all you're thinking about. Your mind is present and consumed by the joy of this ride. You're not thinking about 'Man, I gotta go to the bank tomorrow, or ' What am I going to cook for dinner tonight?' You are so in that moment and nothing else matters. I mean the world would be burning down but you are on that wave, and that wave is everything.
That's why surfers are such crackheads for it: that's why they're willing to give up relationships, that's why they're willing to give up jobs, that's why they're willing to do everything that doesn't make sense to the outside world, because it's just that awesome to get that kind of wave. I…I just want to go surf now because I just want to feel that exhilaration. I just want to feel that moment.
Maybe that's one of the things that makes it so great about surfing is that it's a selfish pursuit – its all about you and your joy, your ride…I don't believe its completely selfish because I feel the best times you can have surfing is when you actually give someone else a wave, because its hard to give someone else a wave, especially if you want it, but seeing that person come back and be excited, its, y'know about sharing.
You don't need every single wave – as I get older I realise I don't need that many waves…I can go out, I can get one wave and be completely satisfied, I'm not going to be completely stoked but I am just thankful that I got one more wave because that's one more wave than the majority of people on Earth get to surf.