It's a bit of a different world at the moment. The Covid 19 pandemic is something unprecedented in recent history and it's taken a lot of adjustment to find a way to continue to live in a semi-normal manner. This applies to everything from shopping to socialising to eating out and especially to working—this is probably the area that's taken the biggest battering so far. With thousands of redundancies, employees on furlough and working remotely, the job world has been turned on its head. So if you're planning to TEFL abroad, you'd be forgiven for wondering if circumstances will ever make that a possibility at the moment? After all, we have no idea how long we'll be continuing to live under some form of restrictions. Is it the most sensible idea to plan to live and work abroad at the moment? Let's take a look at what's happening globally in the teaching industry.
It's not exactly surprising, but the online teaching market has spiked over the last twelve months because of the vastly increased number of people looking to work from home. It's ideal for many because it allows a reasonably flexible working life, other commitments can be undertaken and it can be fitted around daily life to some extent. And as a teacher it's an easy world to slide into because you have the ready-made skill set to get started straight away. All you need is your TEFL qualification, any supporting documents and preferably a degree. This last isn't essential, but it's definitely your best bet to finding a well-paid teaching role abroad.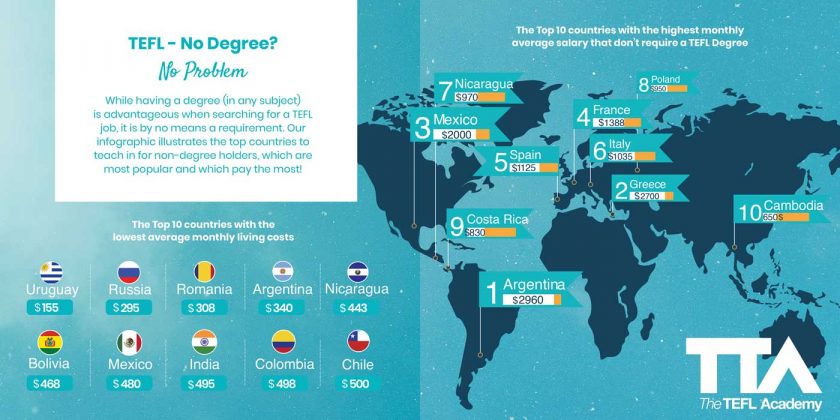 So it's easy at home – but what about abroad? Are there any options still out there at the moment?
Since April this year we have ricocheted between lockdown, to looser restrictions and then back to lockdown again and then into the current tier system. At best travel abroad is going to be uncertain for a while, and at worst it's going to be complex, limiting and in some cases simply unavailable. This has clear implications for the TEFL industry, not least because thousands of roles per year are filled in countries which rely on teachers coming in from abroad.
How has it affected the market so far?
Apart from immediately reducing the number of teachers available, it's also played a large part in reducing the incoming flow of them planned for the future. There are complexities in getting visas approved, for example. There are delays and uncertainties due to the rapid-changing state of government policies both home and abroad. The path to TEFL abroad is no longer a clear one and no-one is 100% certain what the market will look like as we continue to pull through this pandemic. What is certain however, is that if you're looking for a teaching job abroad immediately you're going to be disappointed. There are going to inevitably be delays so you'll need all of your time and patience skills.
Asia
TEFL jobs in Asia obviously felt the impact first, but now we can look at what they did and how they handled the TEFL situation because they're ahead of us by months. Recruitment in China certainly took a hit. But in line with their progression forwards, some schools have still been able to secure visas for around a hundred of their teachers; it's difficult, but it's not impossible. The Head of a TEFL school in China had this to say:
While the Western world was largely disconnected from the initial stages of the pandemic…we had to deal with the crisis as early as January. We have spent the last ten months navigating many obstacles, but we are finally at a stage where we can obtain visas for our teachers to live and work in China. While there were many discouraging moments, we've always had confidence in ourselves to roll with the punches. We are now being rewarded for our hard work and patience, and have over 100 teachers set to arrive in China by the end of this year.
And that's just one school. As time goes on, it's likely that more and more schools will follow suit and gradually numbers of non-native EFL teachers will start to rise.
However, there is a further complication in that not all employers are happy to have teachers from abroad due to Covid. If they recruit from teachers already in the country, there's no visa situation to deal with. A spokesperson from United Learning said that many employers are looking for applicants already working in the country to avoid arranging visas from abroad:
The beginning date is highly speculative and something not even the schools or training centres are aware of. So a select number are willing to wait but most others will only consider viable candidates that can take the job within the country.
Which is a completely understandable point of view. Conversely, and perhaps unexpectedly, there has actually been a surge in applications by teachers wanting to live and work in China precisely because of the Covid situation. They have seen how effectively it's been dealt with in Asia during the pandemic and they feel that they will be safe there. Along with the fact that it offers some of the best teaching positions in the world!
Europe
Some employers and recruiters have actually seen benefits because of the pandemic. There's freedom of movement if you have an EU passport, so there's no need for a visa. This means a smoother transition for outside teachers coming to live and work in different European countries, and it's more attractive. There are more highly skilled and qualified teachers looking to work closer to home, and some employers can be more selective than usual because of the high uptake in positions.
But it's not such a good story for the newly qualified ones. The competition will be stronger than usual so it's vital to make your CV as strong as it can be so you put yourself in the best possible situation.
Challenges and changes
Employers and recruiters now have a preference for teachers coming from inside their country, which means for those moving on that they can command a higher salary.
Countries like China have so many teaching positions available that they can't possibly fill them all with teachers who are already in the country. Plus the fact that lots of them have returned to their home countries because of the virus. Patience is key here, but if you have a visa and any supporting documents that are needed then there are employers who are willing to give chances. There are opportunities out there, you might just have to look more carefully and give things a little more time.
Interviewing potential employees doesn't create a problem because Skype has always been used as part of the interview process due to the nature of the job, so things carry on as normal there. Employers are looking for their potential teachers to be resilient and adaptable. Life is very unpredictable at the moment with restrictions constantly being tightened and then loosened and then we have ever-changing different rules to live under, so being able to cope with multiple situations competently is a huge plus when you're looking for a TEFL job.
What the sum of all this tells us is that although the teaching world has been rocked by coronavirus, it remains a steady one. The pathway to TEFL employment has changed slightly, and might continue to, but good teachers will always be needed so the industry is a safe one. If teaching EFL abroad is something that you're certain you want to do then it's important to get qualified—and don't wait for things to settle down before you do so because you want to be first out of the starting blocks when the opportunities begin to flow again. Be prepared, be patient and be practical and you'll put yourself in good stead to get to where you want to be.
This post was written by Simon O'Toole and brought to you by TEFL.