The outdoor clothing company Patagonia is all about enjoying our natural playground and living in greater harmony with it. ADAPT Network shares exactly the same ethos and that's why I was super excited to share the latest developments in a cool project from the great people at Patagonia.
'Worn Wear', a project that has been going for a few years now, seeks to highlight the stories that we share with the gear and clothing we use on each adventure. Whether it's a pair of board shorts—or wetsuit if you're a cold-water surfer like us—that's seen countless waves on morning surfs, or a mountaineering jacket that's protected you against the elements during steep ascents. The point is, that the gear we use can become a part of us—sharing those awesome moments that can only be found in the great outdoors.
Inspired by the years of use Keith Malloy was getting from his surf gear, he and his wife, Lauren, created the Worn Wear blog where folks can share a story about their favourite piece of Patagonia clothing. The clothing company's founder, Yvon Chouinard, helped get things started when he wrote about the grandfather of all fleeces. As a bonus, everyone who gets their story published by the team, receives a 'Worn Wear' patch to sew onto to their favourite piece of kit (probably not a good idea to sew it to a Gore-Tex jacket though).
Check out the video below, presenting some of the epic stories behind some well loved and used outdoor gear.
In this world, dominated by a throw-away culture, it's unusual to become attached to clothing in this way. While that's not necessarily a bad thing, the world can learn and benefit a lot from adopting a similar ethos to these outdoor adventurers, who almost treat their gear as a part of themselves. For one thing, people would throw away a lot less and repair and recycle a lot more!
That's exactly what Patagonia's 'Worn Wear' project is about. "One of the most responsible things we can do as a company," says Patagonia, "is to make high-quality stuff that lasts for years and can be repaired, so you don't have to buy more of it. The 'Worn Wear' program celebrates the stories we wear, keeps your gear in action longer and provides an easy way to recycle Patagonia garments when they're beyond repair."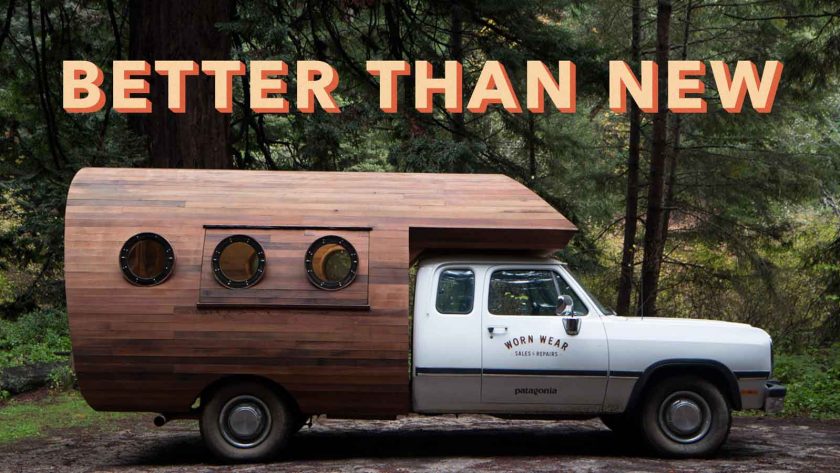 One of the coolest aspects of the project, is the dedicated gear-repair center that Patagonia runs in Reno, Nevada. "The biggest step we can all take to reduce our impact," explains Patagonia, "is to do more with what we have. Laundering, ironing and drying can shorten the life of your clothes as much as wearing them does, so we offer tips for cleaning and care to extend the life of your clothing. When that first bit of sharp rock finally bites into your favorite jacket, don't worry, we've got your back. Patagonia employs 45 full-time repair technicians at our service center in Reno, Nevada. It's the largest repair facility in North America—completing about 30,000 repairs per year. We've also teamed up with the repair experts at iFixit to create do-it-yourself repair guides for our craftier customers."
In the latest development of the project, the 'Worn Wear' team, went mobile, in a custom kitted-out repair van. Check out the video below, showing some of the rad people they met, whose gear they repaired as they toured the US.
If you missed it this time, don't worry—an update on Patagonia's Facebook pages reads "We will be doing another tour in the fall. Stay tuned!"