With the global environmental movement highlighting the growing pollution problem of our transport choices, measures to phase out the internal combustion engine are gathering pace across Europe.
The first electric vehicle was developed way back in the 1830s, but we've only just started to see EVs with ranges and charge times that are good enough to compete with their petrol-powered counterparts.
Thankfully, even though Dyson just scrapped plans to enter the electric car market, competition is fierce amongst the world's top auto manufacturers. Electric model line-ups continue to grow and their prices are fast becoming more affordable. It's no wonder then that automotive research group Sophus3 found that electric cars are now the fourth most searched-for car category online in the UK.
So, if you're considering ditching fossil fuels for quiet and clean electric power, read on for our top five EVs that you can buy now in 2019.
Tesla Model 3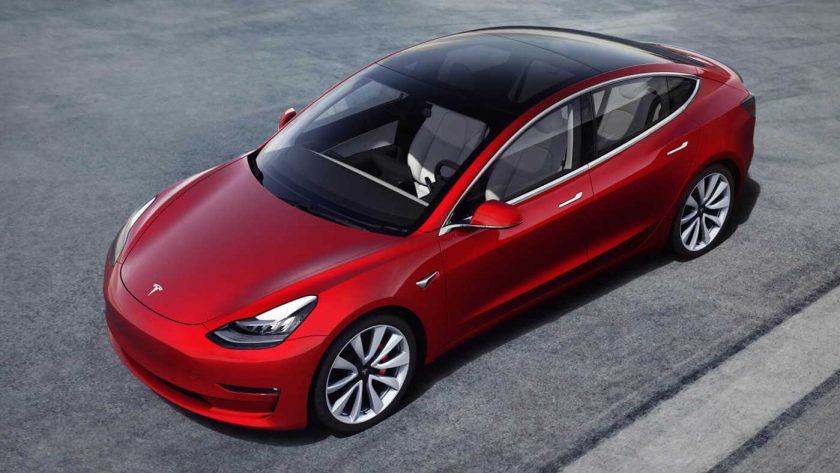 Tesla has been leading the industry with its battery technology for electric cars and renewable energy storage. That being said, making the switch to a Tesla electric car has been out of reach for many people due to the high price point…that is, until now.
The more affordable and long-awaited Tesla Model 3 finally arrived in the UK this year. Starting at £38,000, it might be the least expensive Tesla available but few are likely to be disappointed. The base model packs an impressive 50 kWh battery, delivering a 254-mile range, and the ability to sprint from 0-60 mph in just 5.3 seconds. It even comes with the same Autopilot drive assistance system found in Tesla's flagship Model S.
For those looking for even more performance, the dual-motor version has a combined power of 192 kW delivered through an all-wheel-drive system. This beast will eagerly chase down a BMW M3, with a supercar-rivalling 0-60 mph time of 3.2 seconds. For £52,000, you also get an increased range of 329 miles, thanks to the beefier 75 kWh battery.
Hyundai Kona Electric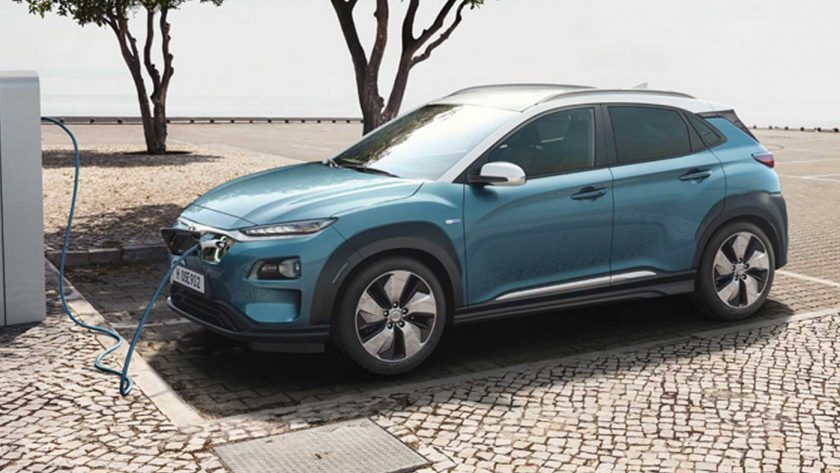 The electric version of Hyundai's Kona is arguably one of the most versatile and accessible electric cars on the market right now. It's affordably priced and has a crossover body shape that swallows passengers and luggage with nonchalant ease. Plus it comes in two versions to suit your driving requirements.
The base version comes with with a 39 kWh battery that powers a 100 kW electric motor. This combo delivers a reasonable range of 180 miles and a not-to-shabby 0-62 mph time of 9.7 seconds. The more expensive model, though, will get you 279 miles on a single charge and from 0-62 mph in just 7.6 seconds. That's thanks to a higher-capacity 64 kWh battery and a punchy 152 kW motor.
An overnight recharge on a 7.2 kW home wallbox will take around nine-and-a-half hours and cost in the region of £9 (on most UK household tariffs). That's right…almost 300 miles of driving could cost you just nine quid—about four times cheaper than the same distance in a petrol car.
So, while this eSUV doesn't have the same driving chops as the Telsa Model 3, it's hard to beat as a practical family EV. Starting at around £30,000 in the UK (after the government subsidy) the Hyundai Kona Electric makes for an affordable transition into the world of electric cars.
With regulation being discussed to ban the sale of new non-electric cars by 2030, it could be a good time to sell your old petrol or diesel car and use that money to put towards a Kona. For instance, if you live in Chicago and you're thinking of jumping on the bandwagon, you can simply type 'sell used car Chicago' in a search engine to find your local used-car dealer.
Nissan Leaf e+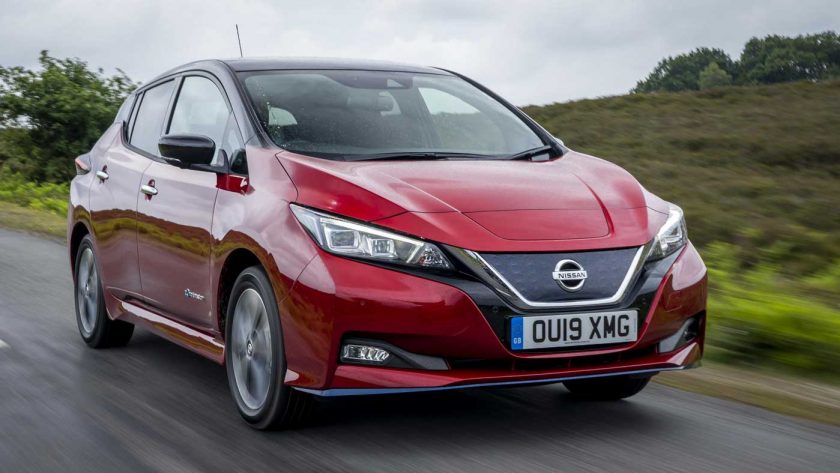 The Nissan Leaf was really the first mass-market electric car being sold at a reasonable price point. Now Nissan has released an upgraded e+ model and, while it carries over a lot of the same mechanicals from the 2018 Leaf, the battery-tech is better-than-ever.
Starting at around £28,000, the Nissan Leaf e+ sports a bigger 62 kWh battery which promises a real-world range of up to 239 miles. That's certainly enough to cover most families' weekly mileage—this EV has some serious practical creds.
Fresh bodywork brings the Leaf e+ in line with the latest Nissan family look found in models such as the Qashqai. The interior is a bit of a let-down, but that doesn't stop this little EV being a very viable electric hatchback for families. Like the Hyundai Kona Electric, you can expect to get about 300 miles from a tenner of electricity—revealing the true cost savings available with an EV.  
BMW i3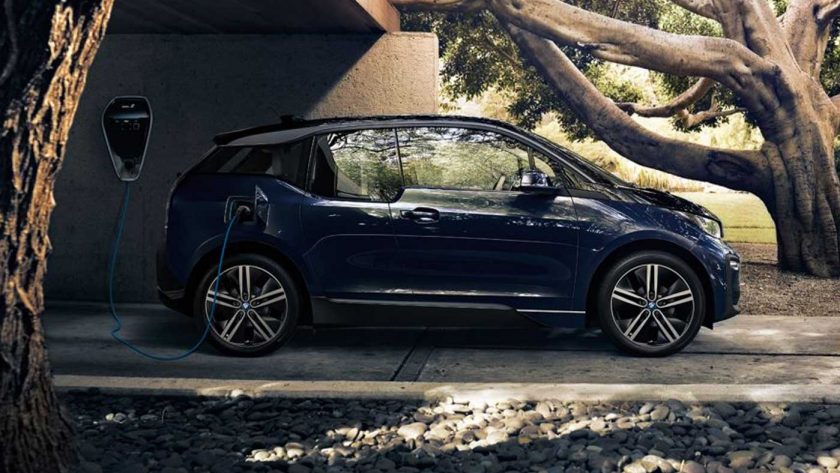 The nimble BMW i3 is the go-to city car on this list, with a minimalist interior to maximises internal space. The clever use of F1-spec carbon fibre and pillarless doors further accentuate the futuristic styling and reduce weight—which is particularly important when considering range.
Up until autumn 2018, you could pick up an i3 with a plug-in range-extender. But BMW has decided to remove the get-you-out-of-jail petrol engine for 2019, further defining the i3 as an urban run-around. That being said, this little EV still has a decent range of over 150 miles and the surprisingly pokey 125 kW electric motor will accelerate you from 0-62 mph in just 8.1 seconds.
The i3 really is a great city car. With the tightest turning circle you've ever driven, this tiny BMW is extremely agile around town and there's plenty of room in both rows of seats for passengers, although a small boot does limit the amount of luggage space.
Starting at around £31,500, the i3 feels every inch a small BMW to drive, with agile handling and that precision we've come to expect from the German brand.
VW e-Golf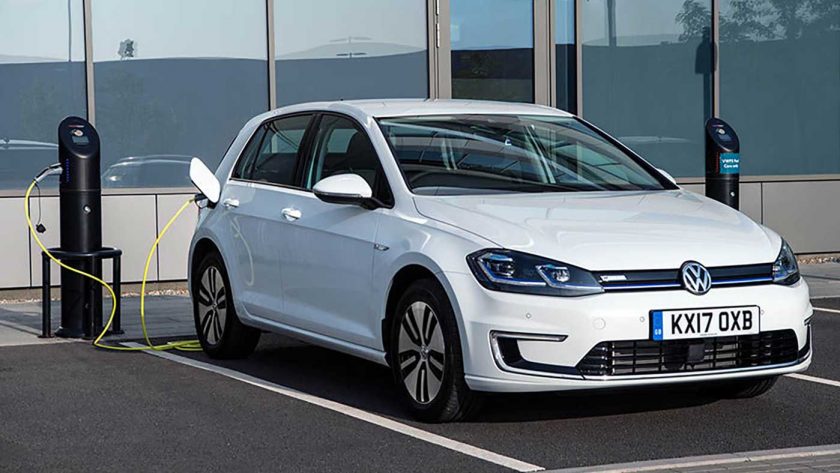 The first-generation Volkswagen e-Golf wasn't heavily marketed in the UK and remained a niche player. Its 118-mile range (realistic range was less than 100 miles) strangled demand to the tune of just over 120 units sold in the UK.
Thankfully, with the Mk7.5 update, the e-Golf has become a real contender as a daily electric driver, mixing conventional looks with cutting-edge technology. The juicier 35.8 kWh battery pushes the optimal range to 186 miles and the 100 kW e-motor is capable of punting the hatchback to 50 mph in 6.9 seconds and 62 mph in 9.6 seconds.
You can pick up a base model VW 3-Golf for around £27,500 (after the government plug-in grant). For many, this makes the e-Golf an ideal stepping stone electric car. That being said, Volkswagon is due to be unveiling the new Mk8 e-Golf later this month, so it's worth waiting to see if the Mk7.5 comes down in price.