For watersport lovers, owning a boat or jet ski is the ultimate dream. To go out on the water whenever you please is a luxury and comes with a corresponding price tag. Because of that, you must choose the right watercraft. There are pros and cons to both boat and jet ski ownership. Before making your decision about the best vessel for you, you should educate yourself on watercraft ownership. From the price of boat insurance to where you can get high-quality jet ski covers, there's plenty to think about, starting with these five important factors
Boat vs Jet Ski
The initial expense
Whether you buy a boat or a jet ski, you will be making a significant financial investment. However, the initial cost of a boat is considerably more than a jet ski. Both boats and jet skis have a broad price range that depends on the type, brand, and age of vessel: the price of jet skis starts at around $5,000 and reaches $20,000, while boats can be purchased for as little as $15,000 but on the higher end of the spectrum are sold for well over $100,000.
If you don't want to compromise on the boat or jet ski style you are looking for, one way to reduce your initial output is by buying a second-hand vehicle. Like cars, water vessels depreciate significantly over time, meaning that you could pick up a bargain. However, if you plan to purchase a new vessel, you must take this potential depreciation into account.
Running costs
The initial price tag of your vessel is just one factor to consider before purchasing your boat or jet ski; you must make sure you can also afford the running and maintenance costs. These costs include fuel, storage, cleaning, insurance, and repairs.
As a general rule, jet skis are cheaper to run than boats. Their smaller size means they are more fuel-efficient and are more affordable to store and clean. Fuel is one of the most consistent expenses you must budget for as a boat or jet ski owner. Research the efficiency of the vessel you are considering buying before going ahead with the purchase to avoid nasty surprises.
Storing your boat or jet ski
Whether you use your watercraft every day or only take it out onto the water in the summer months, you will need somewhere to store it safely. Many people prefer to keep their boat or jet ski at home with them, as it saves money and allows them to easily access different local bodies of water.
It is not a good idea to park your watercraft in your driveway or yard. Not only does this leave it vulnerable to vandalism, but your neighbours may consider it an eyesore and complain to the municipality. In fact, it is against the law to store your water vessel on your property this way in some areas. A garage is an ideal location to store your watercraft, but while jet skis can easily fit in garages alongside other vehicles, even small boats can take up an entire garage.
If you have enough outdoor space and accommodating neighbours (or perhaps no neighbours at all), storing your boat or jet ski in your yard could be a cheap and convenient solution. However, when keeping any vehicle outside, you must protect it from the elements to avoid rust or sun damage issues. Just as you would use durable truck covers to shield a truck parked outside, you should invest in a high-quality boat or jet ski cover.
Another option for storing your boat or jet ski is to pay to keep it at a marina. This is a fantastic option for many people, as it is secure and allows direct access to the water. However, if you live in an area where there are many bodies of water to enjoy, you may find you still need to transport your vehicle on occasion. The cost of storing boats or jet skis at a marina is usually calculated by the size of the vessel, so boats are generally more expensive to house. You should consider all these factors before purchasing your boat or jet ski: No vehicle is a one-time expense only.
Transporting your watercraft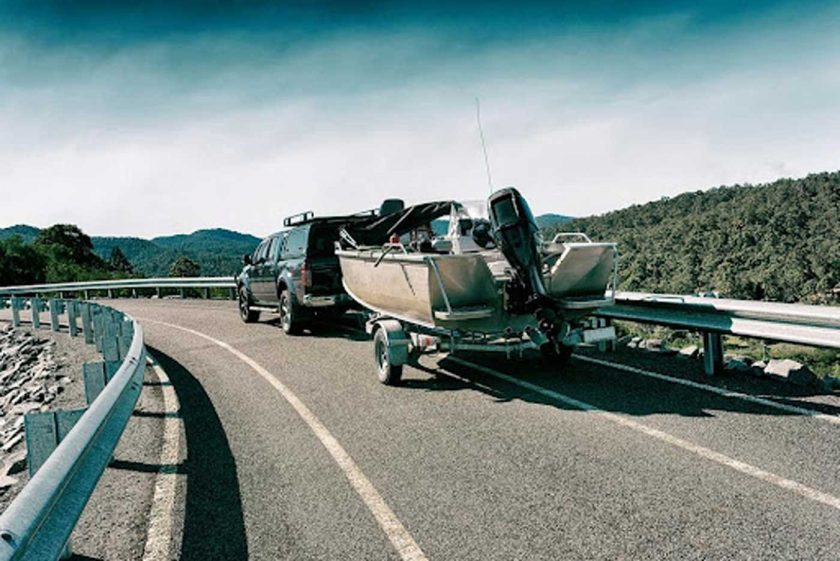 Unless you plan to exclusively use your boat or jet ski on the body of water where it is stored, you will need to transport it whenever you want to use it. The smaller size and weight of a jet ski (the heaviest jet skis are typically around 1,200 pounds, whereas boats can easily weigh five times that) make them easier to transport. You must ensure your car or truck is powerful enough to tow a trailer with your watercraft and that you are comfortable driving it. The larger and heavier the watercraft, the more challenging it will be to pull.
How do you plan to use your boat or jet ski?
Perhaps the most critical question you should ask yourself when deciding whether to buy a boat or a jet ski is what you plan to use it for. There's no point buying a jet ski just because it's cheaper if what you want is a boat. Take time to consider how you see yourself gaining the most enjoyment on the water. Both vehicles offer the opportunity to try out water activities such as flyboarding, snorkelling, fishing, and swimming, but, in general, boats are more versatile because you can take more people and equipment with you. You can even live on your boat if you want to!
Pick the right vessel for you
The decision of whether you should buy a jet ski or a boat is a personal one: You need to consider how the watercraft will fit into your life. Do you have the resources to maintain and store the vessel? How will you use it? The more time you take to consider these questions, the more likely you are to make the right choice for yourself. One thing is for sure: Whichever watercraft you pick, it will bring you hours of fun on the water.
Featured image: MAGNIFIER/Shutterstock