Whether you are a new motorcycle rider or a veteran with many years of experience on a bike, there are several things that you can do to ensure that any time you head out for a motorcycle joy-ride, you return in the same condition as you left.
Riding a motorcycle is one of the most exciting and pleasant ways to get around, however, it can also be one of the most dangerous. Accidents that involve motorcycles can often turn fatal. Because of this, it is important as a motorcycle rider that you are always following all the basic rules and requirements of proper motorcycle safety, even if you have been riding for 20 years or more. Let us look at some of the ways motorcycle riders can become and stay safe motorcycle riders.
Motorcycle safety tips
Always wear proper motorcycle gear
Never ride a motorcycle wearing shorts, a t-shirt, and sandals. Even jeans may not provide enough protection when it comes to road rash. Appropriate gear may consist of a DOT-approved helmet, eye protection in the form of goggles, glasses, or sunglasses, a leather jacket, leather pants or motorcycle chaps, ankle boots, and non-slip motorcycle gloves. Many people complain that wearing all this type of gear can be way too hot in the summer months. However, wearing this gear may save your life if you should happen to be involved in an accident. If you are bothered by the heat, you can find motorcycle gear that contains specialised ventilation and cooling features.
Know the weather conditions before riding
Anytime you are planning to go for a motorcycle ride, even if you are only going to the store for a few things, you should always know the weather and plan accordingly. Avoid driving a motorcycle in snowy or icy conditions and always avoid severe weather conditions. When it comes to rain, you may be able to ride if you have the proper rain gear, but keep in mind that the stability of a motorcycle can become severely compromised on wet road conditions and visibility can become dangerously low. Also, if you are riding at 60 miles per hour, raindrops can actually hurt when you come in contact with them. That is why if it starts to rain incredibly hard, you may want to consider pulling off the road and finding shelter until the rain passes.
Inspect your bike before heading out
Before you leave the driveway, you should inspect your tire pressure, mirrors, lights, fuel level, oil, turn signals, brakes, handlebars, and horn as well as give your bike a good once over to check for any loose bolts, noticeable damage, or leaks.
Obey traffic rules and use hand signals
Always follow the local and state traffic laws for where you are riding, and in addition to always using your turn signals, you should know your motorcycle hand signals and use them as well. Using hand signals can make you more visible on the road and they allow you to communicate your intentions with other vehicles on the road. Also, you should always drive within the posted speed limits. Many times speed limits are set to take into account upcoming curves or other changes in the road that you may need to be cautious of before proceeding. Additionally, excessive speeding is one of the largest causes of motorcycle accidents in the United States.
Stay visible when on the road
Many motorcycle accidents are caused by other drivers who are not aware of or who do not see a motorcycle that is near them as they change lanes, enter an intersection, or make quick turns. That is why it is important to stay as visible as possible when sharing the road with other drivers. You can choose to wear a reflective vest or bright-coloured clothing when riding to increase visibility. However, visibility is not only about clothing, as a rider, but you should also always do your best to avoid other drivers' blind spots, especially when it comes to larger vehicles. Also, you may want to drive with your headlight on at all times, even during the day, as well as always use your turn signals and hand signals. Hand signals are an excellent way to stay visible as well as communicate with other drivers.
Always be aware of your surroundings
Whenever you are driving a motorcycle, you should have heightened awareness 100% of the time. You should be watching for other drivers, sand, dirt, oil spills, slippery surfaces, potholes, or any other obstacles that could appear in the road and cause you to need to swerve or come to a quick stop.
Follow at a safe distance
Whether you are in a car or riding a motorcycle, you should always allow enough space between you and the vehicle in front of you to provide ample stopping room in the event of an emergency braking situation.
Stay in your comfort zone
Make sure you stay in your comfort zone at all times when driving your motorcycle. This means if you are a new driver and not used to having passengers, you may want to avoid giving someone a ride on your bike until you become more comfortable and experienced. Also, if you have trouble seeing at night, maybe only drive during the day hours, and if you are going on a long-distance trip, make sure to plan a route that has plenty of places where you can stay the night to avoid driving during the evening hours. Also, you may want to avoid gravel roads, windy roads, or other roads that may present some dangers to a novice driver.
Never drive tired or under the influence
Drinking and driving is never good whether you are in a car or on a motorcycle. However, when you are on a motorcycle, balance, reaction time, and being fully mentally aware are essential to avoid accidents. Alcohol or other illicit substances impair all of those. Also, if you are tired and experience drowsiness, this can often be as dangerous as driving under the influence.
Take a motorcycle rider course
One of the best things you can do to become a safe motorcycle rider is to take any and all motorcycle safety and rider training courses. Many states may offer beginner and advanced motorcycle training courses that teach you safety, how to react in certain emergency situations, and basic skills you can use to be a better rider.
Conclusion
Becoming and staying a safe motorcycle rider is a goal that every responsible rider should strive for. Riding a motorcycle is a great responsibility and always being safe on the road is crucial to preventing accidents.
Pin this post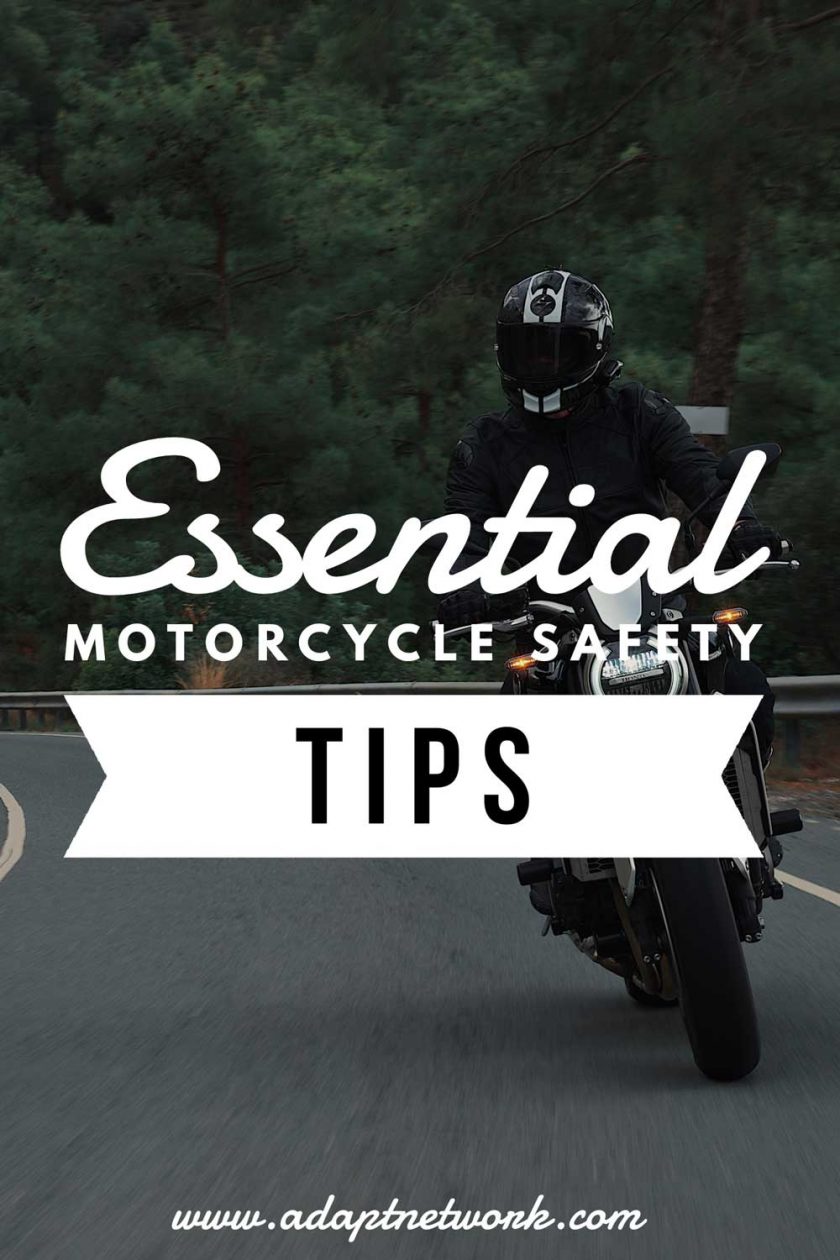 Featured image: Created using photo from Alexey Malakhov/Unsplash